Regular price
$85.00 USD
Sale price
$85.00 USD
Unit price
per
Sale
Sold out
Arianrhod, the Welsh goddess of the moon, handmade wooden statue carving from ecological material. Arianrhod was the Celtic goddess of  fertility goddess, rebirth and the weaving of cosmic time and fate, handmade wooden statue, statue carved from ecological material.
Material: ecological ash tree.  Сoating: varnish.Height 8 inch/20.5cm. Width7.6inch/12.5cm. Depth1.6inch/4.3cm.
We ship our products from Spain to the EU. To the USA and other countries, the goods are shipped from USA(USPS) or Ukraine (DHL)
Color shades and textures may differ slightly from actual products. It depends on your monitor or phone settings.
The statues are very easy to clean. Wipe clean with a dry towel or tissue.
Arianrhod is a goddess from Welsh mythology who conceived two sons through magic. The most likely proto-Celtic variant of her name is Arganto-rotā, which means Silver Wheel, making her a moon goddess.
Like Cerridwen, her symbols were a cauldron and a snowy owl. Her Silver Wheel, which was sometimes depicted as a wheeled ship on which human souls went to their starry home, could symbolize the zodiac and its signs (wheel spokes).
Arianrhod was called the Silver Wheel, the Supreme Mother of Fertility, the Star Goddess, the Heavenly Goddess, and the Goddess of Reincarnation. The constellation Northern Crown was considered her palace. She was the guardian of the Silver Wheel of Stars, the symbol of time and karma. This wheel was also known as the Paddle Wheel, a ship that transported dead warriors to the Moon Realm (Emania). Her first lover was Nivre (Sky or Firmament of Heaven). She also had Lleu LLau Giffes and Dylan by her brother Gwydion. Arianrod controlled beauty, fertility, karma, and reincarnation.
Arianrhod is mentioned as one of the three mythical queens of Britain, but there is evidence that she was worshiped as both a virgin goddess and an earth mother. In "Triads" she is called one of the three blessed (white) ladies of Britain.
Associated with the constellation Northern Crown, which is also known as "Caer Arianrhod."
Arianrhod, known throughout the Celtic lands, can transform into an owl and rule over the moon, stars, and sea. Being the goddess of predictions and dreams, she allows petitioners who turn to her with an open heart and mind to look into the past and into the future for a second. Arianrhod, who also has reincarnation, karma, and magical realms, meets the dead and leads them to the next level of existence. She is the main embodiment of power and female power, and her role as the keeper of time is represented by the wheel of the year. Arianrhod is one of the five goddesses of Avalon along with Blodwedd, Brenwen, Cerridwen, and Rhiannon.
We tried to do it for you with great pleasure and put effort into this wooden goddess statuefrom ash tree for your complete delight.
The design of our wooden goddess statue is a one-of-a-kind artwork created by my team and me.
Share
View full details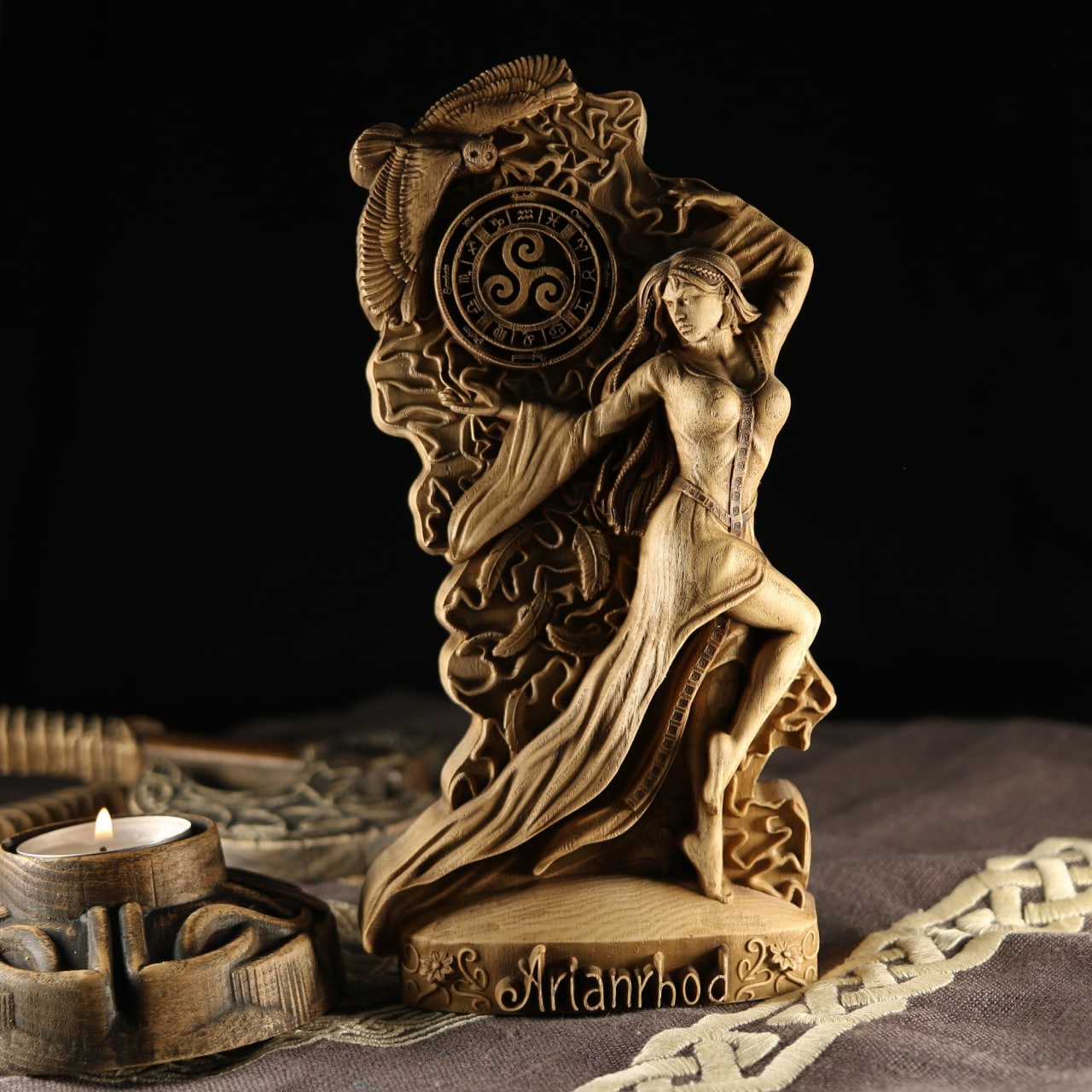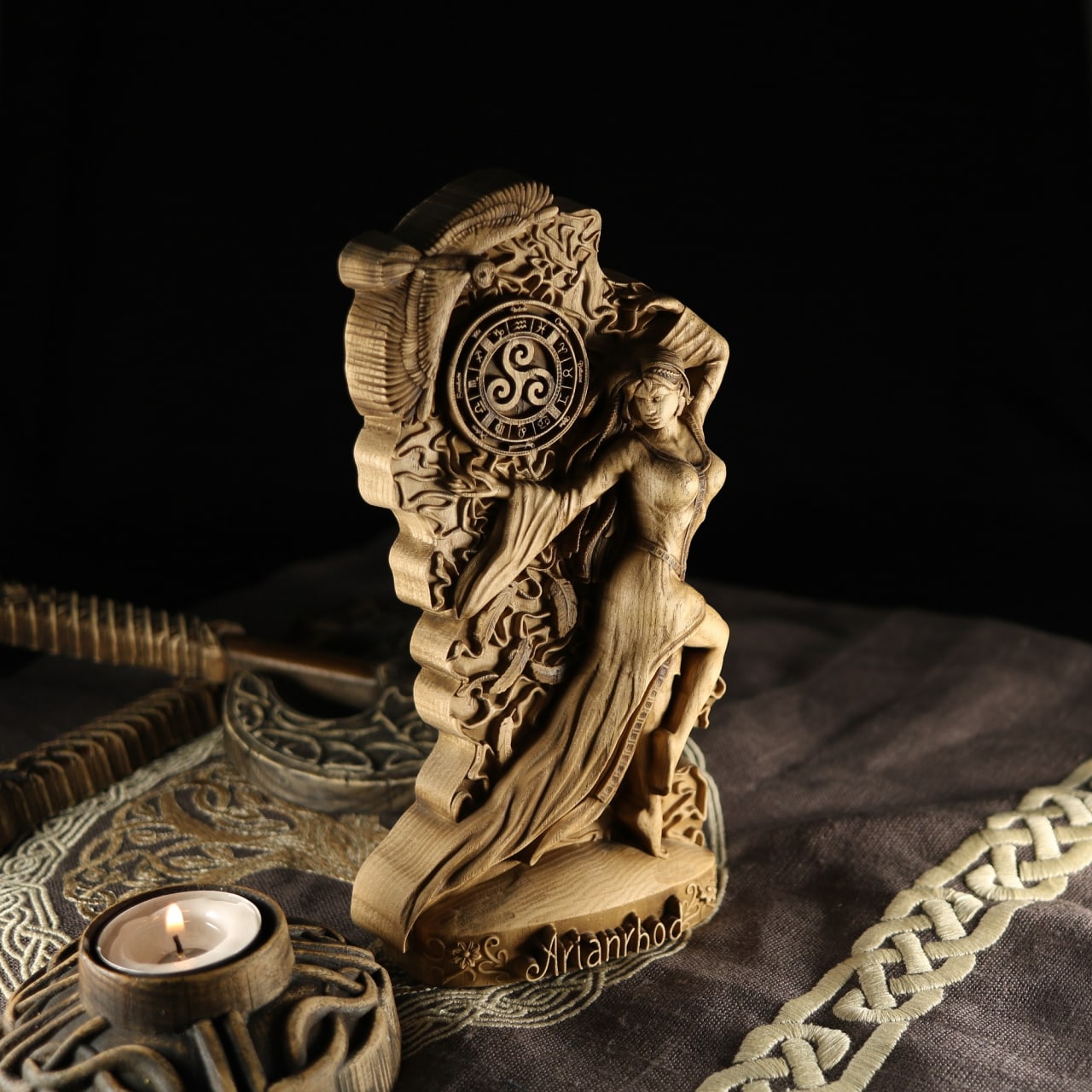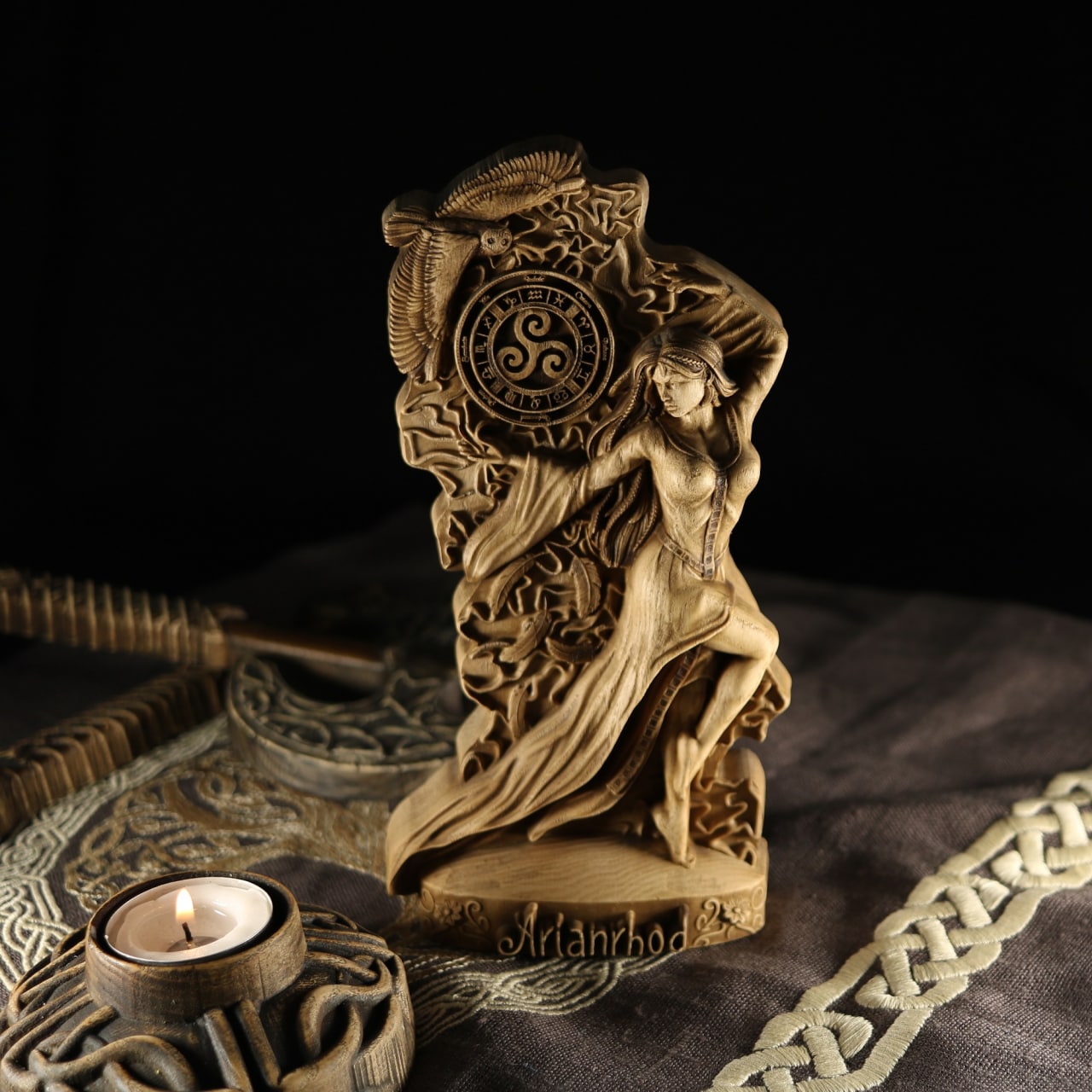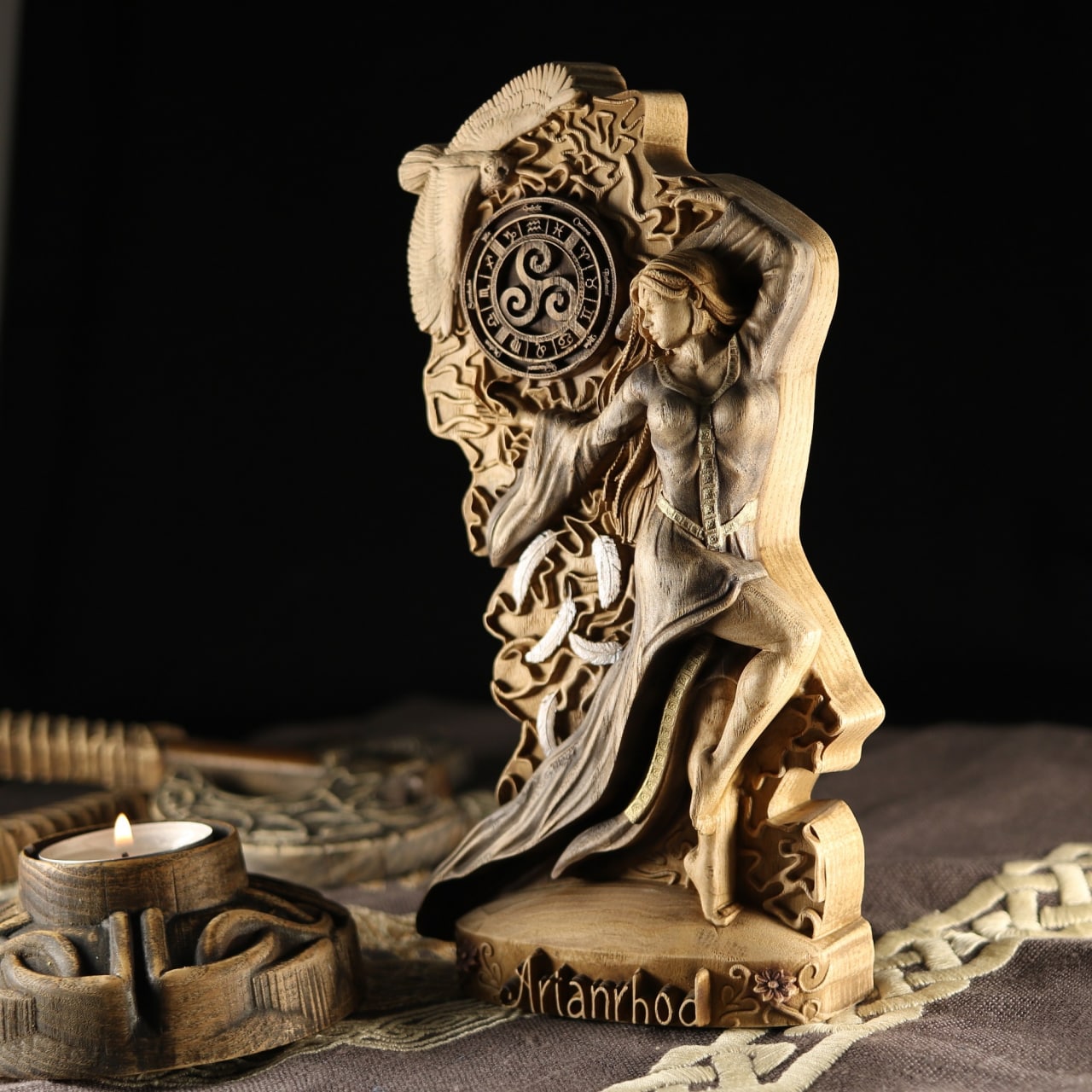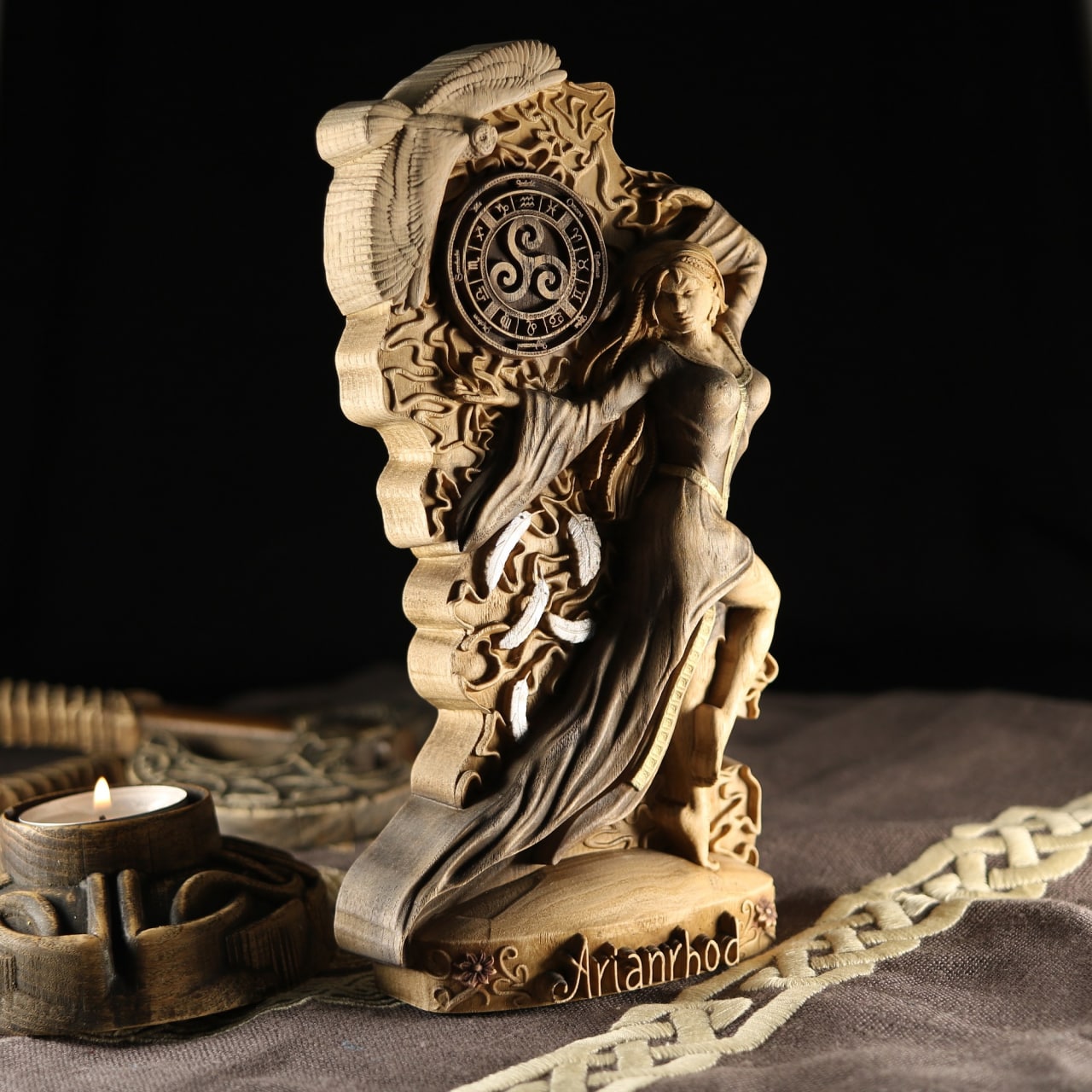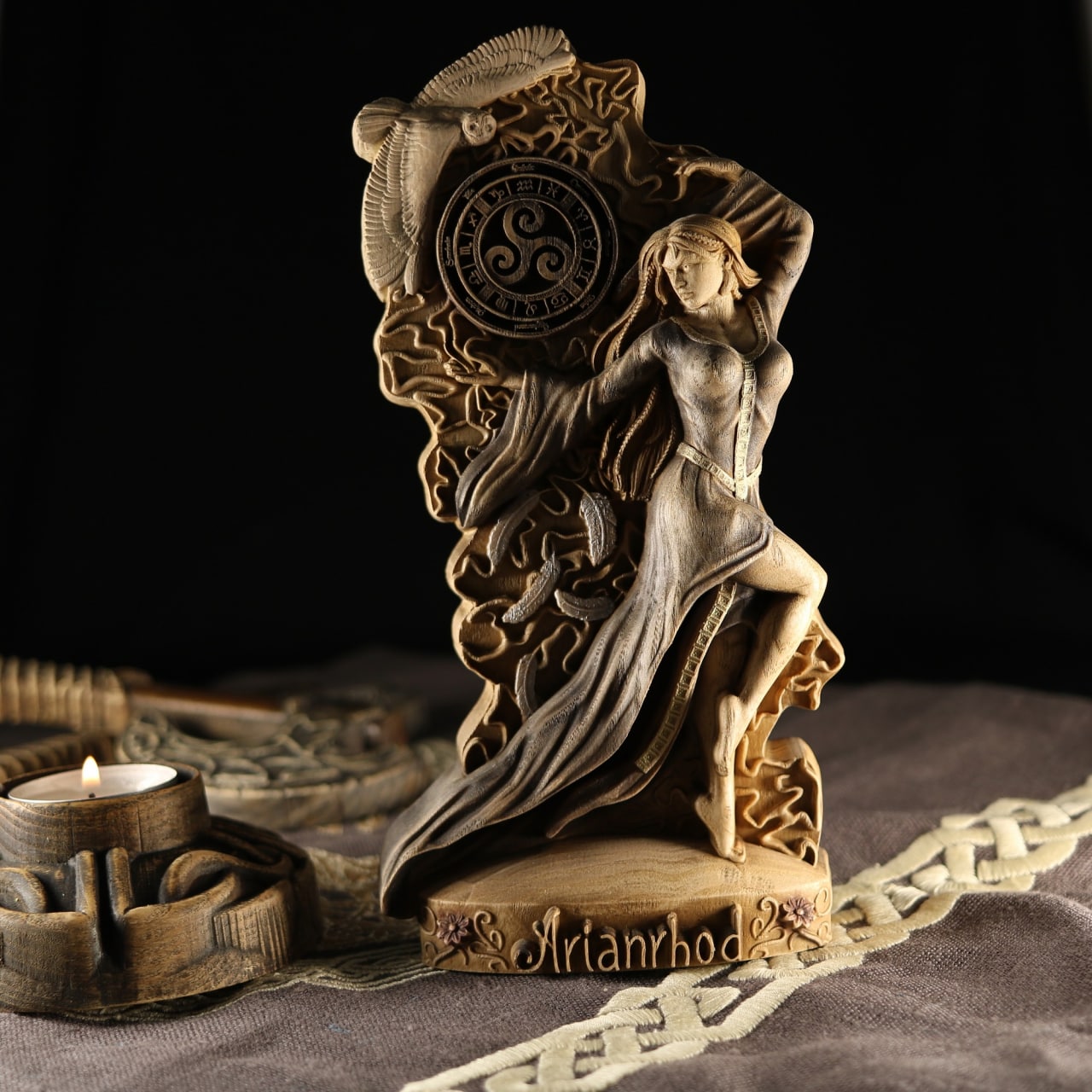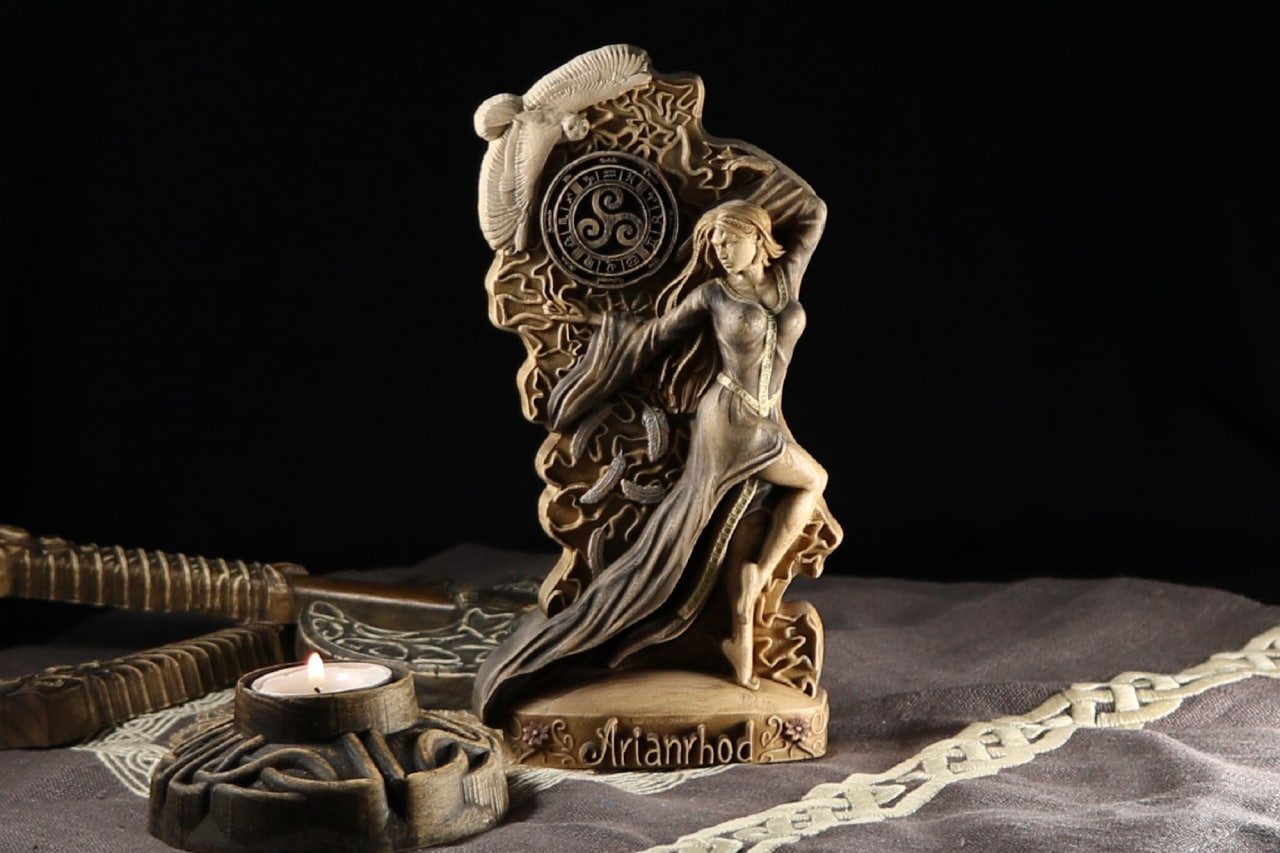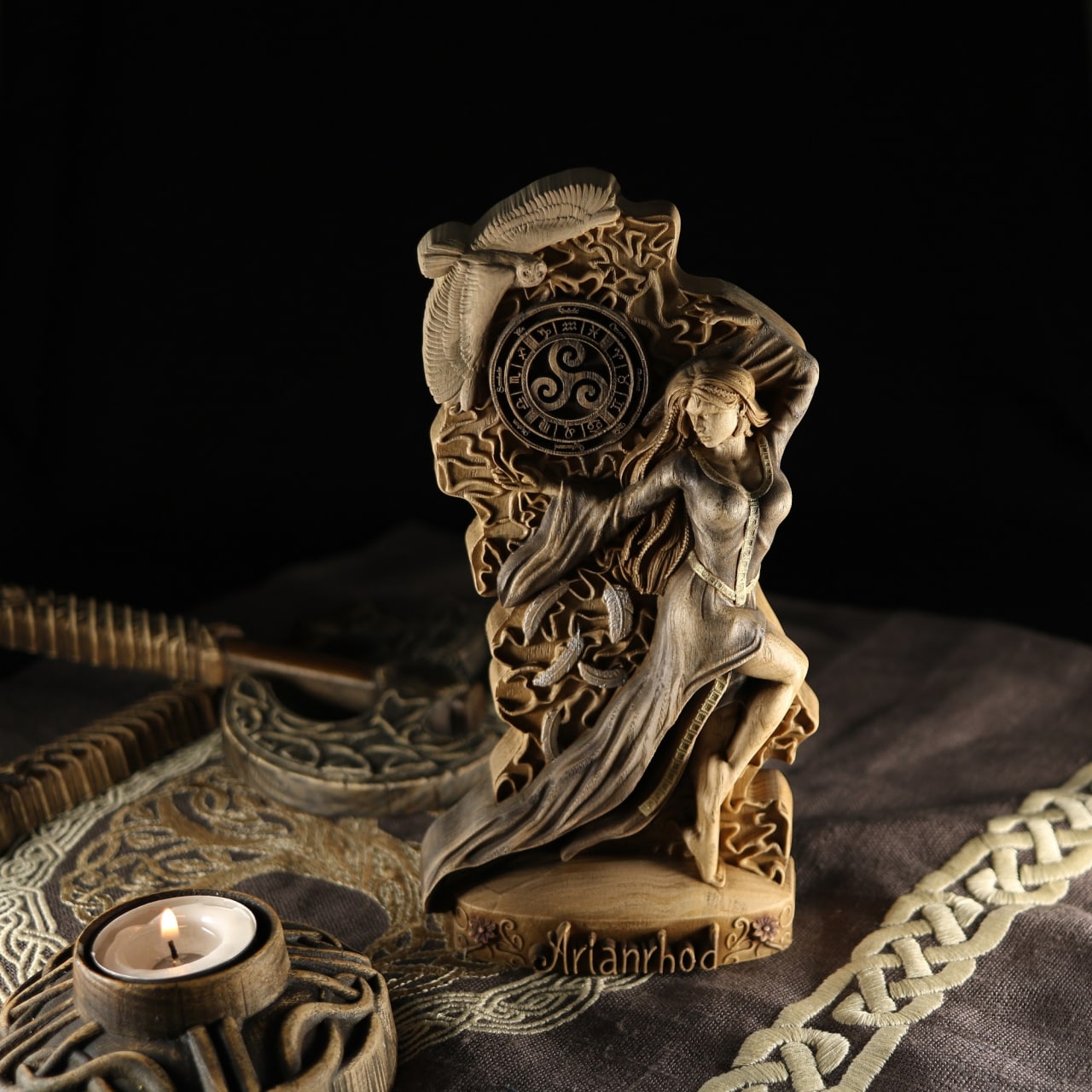 Our Advantages
Worldwide Shipping

Free shipping on most orders.

Hassle-Free Exchanges

If any sculpture comes in a damaged state, please let us know.

Absolutely Unique Designs

We create concept, model, adjust and carve. All of our models are nowhere else to be seen.