Regular price
Sale price
$94.00 USD
Unit price
per
Sale
Sold out
Azazel, fallen Cherubim and one of the leaders of the Guardian Angels, was known for marrying earthly women. Now, you can have your own little piece of him with this wooden statue.

This sculpture is made from ecological ash tree material and is hand-carved by skilled artisans. It's then given a coat of varnish to protect it from the elements.

The perfect addition to any occult or pagan decor, this statue is sure to please any fan of Azazel. Order yours today and add a touch of the otherworldly to your home.


Azazel Statue Characteristics
Material: ecological ash tree
Сoating: varnish
Height 7.9 inch/20.3 cm
Width 5.5 inch/14 cm
Depth: 1.6 inch/4 cm

Features
Color shades and textures may differ slightly from actual products. It depends on your monitor or phone settings.
The statues are very easy to clean. Wipe clean with a dry towel or tissue.

Shipping
We ship our products from Spain to the EU. To the USA and other countries, the goods are shipped from a warehouse that is located in the USA.
We tried to do it for you with great pleasure and put effort into this wooden sculpture, a wooden statue from the ash tree for your complete delight.


Mentions of Azazel can be found in the Bible, in the chapter describing the ritual of the "day of atonement". It was believed that on this day it was necessary to make two sacrifices as a sign of atonement: one - to Yahweh, and the other - to Azazel. For this purpose, they chose two goats, on which the people, as it were, shifted their sins. The animal intended to be sacrificed to the demon was taken to the desert, where, according to legend, Azazel lived.

Azazel angered God for going against him and his commandments. For disobedience, the traitor angel's wings were cut off and tied to a desert rock. God commanded to cover it with darkness until the Day of Judgment, and then betray it to the purifying fire. Thus, Azazel became a demon expelled from paradise.

He was punished for teaching people cunning and deceit. The fallen angel sent men on the path of war, giving them weapons, and taught women coquetry and the ability to apply cosmetics to seduce the male sex. It is believed that fornication and depravity are also his work because until that moment humanity had not even thought about betrayal, rampant life, and the fall into sin.

The fallen angel was put on a par with Prometheus, believing that he opened people's eyes to things they did not know about. However, most consider Azazel to be an insidious Lucifer, a strong demon of the second order, a wingless angel chained in hell to rock for sins and disobedience to the Lord.

Azazel has another name in the religion of Islam - Azrael. According to it, he is one of the four archangels, the closest helpers of Allah. He leads a crowd of servants who are engaged in seeing sinners and pure people to the next world. According to the Koran, on the day of the Last Judgment, after the horn of Iraphael, all the creations of the Lord will perish. Azrael will be the last to leave the world.

Given the fact that Azazel has incredible strength, he is a huge danger to a person who wants to get something with the help of a demon. Even in black magic, his image appears extremely rarely - only professional masters turn to him, even with caution. It is believed that the demon can fulfill any desire, but you will have to pay for it with something expensive - health, the life of a loved one, love. That is why knowledgeable people avoid Azazel, preferring to leave the demon to the authors of books who describe the insidious fallen angel with interest and often make him the mystical hero of their works.

We tried to do it for you with great pleasure and put effort into this wooden sculpture from the ash tree for your complete delight.

The design of our wooden products is a one-of-a-kind artwork created by my team and me.

Share
View full details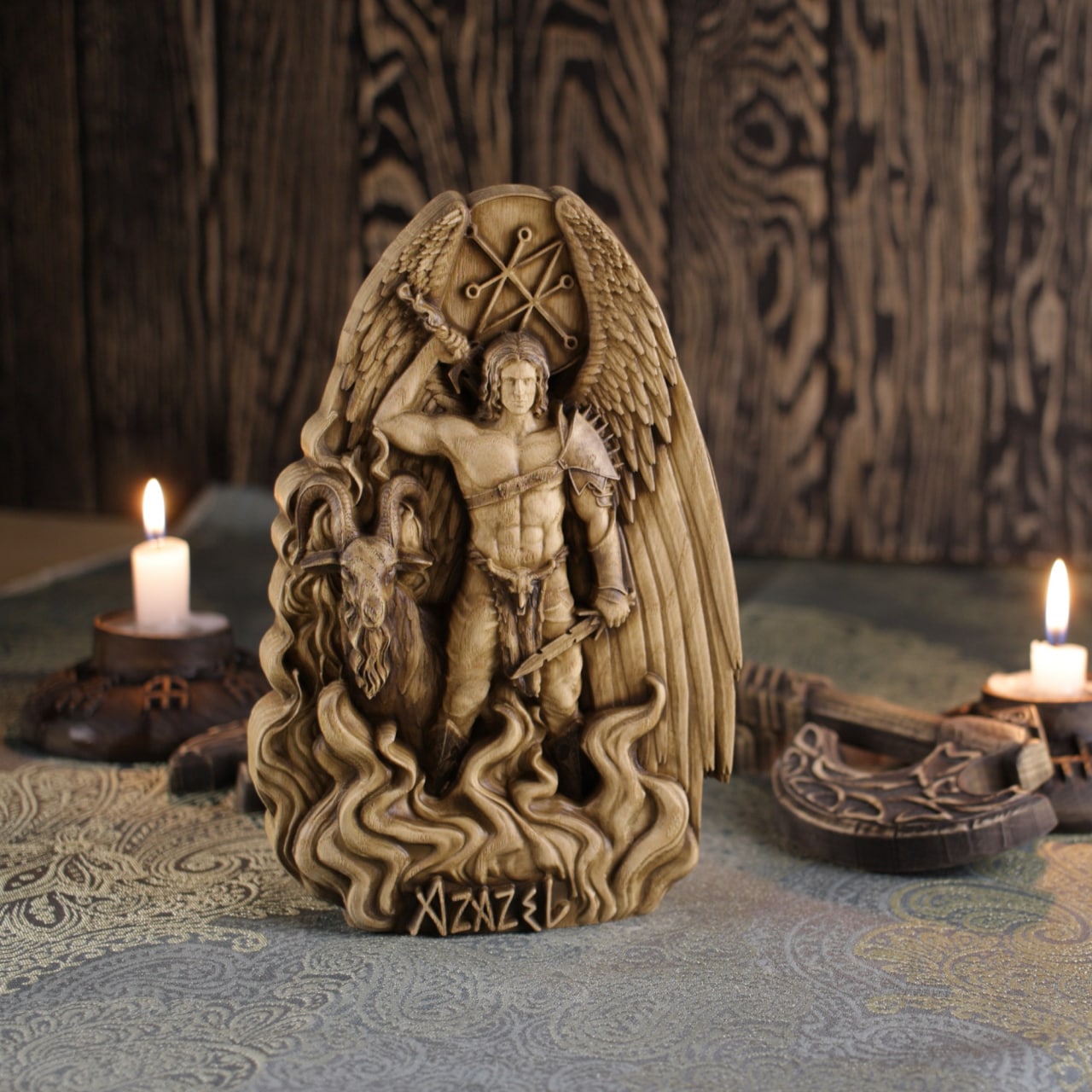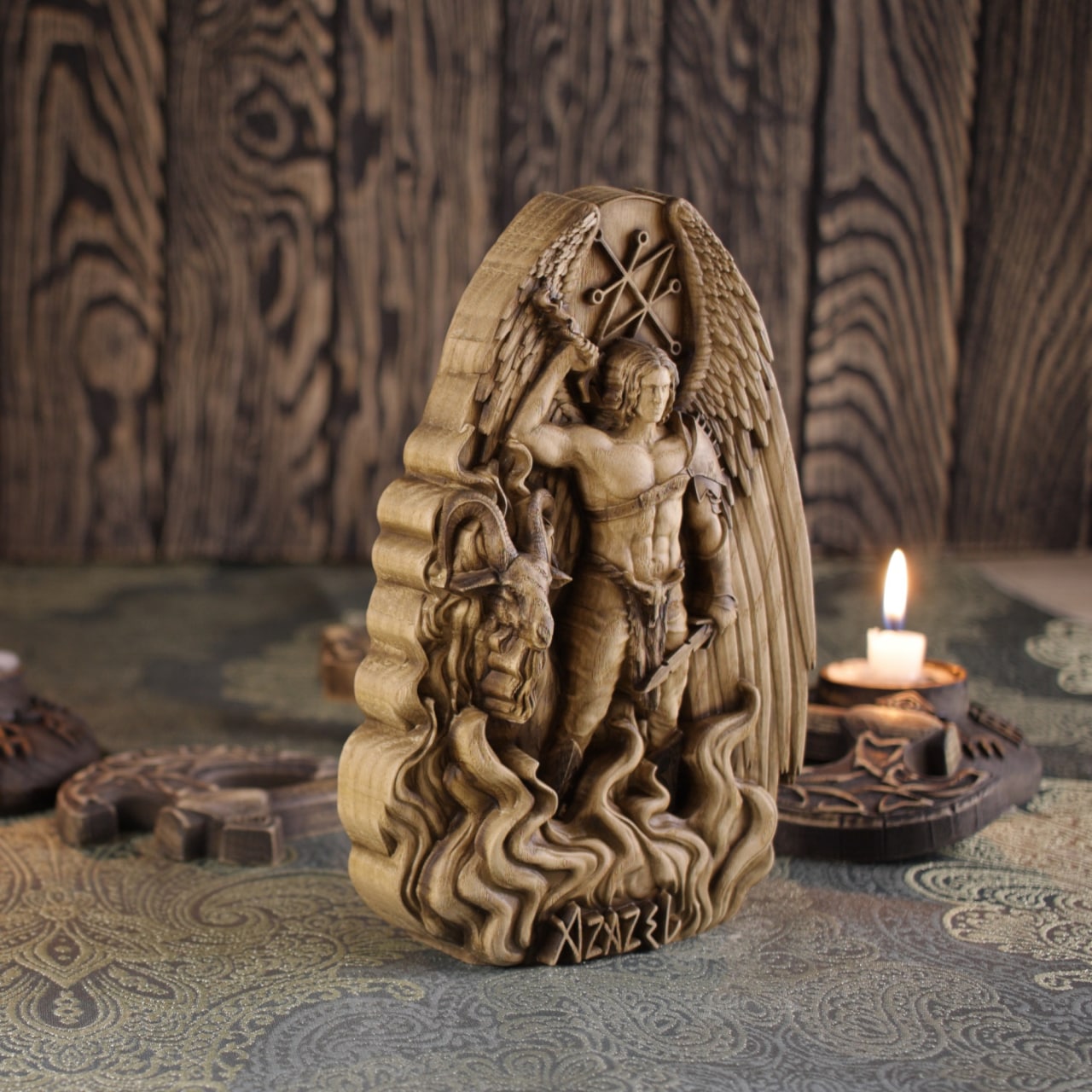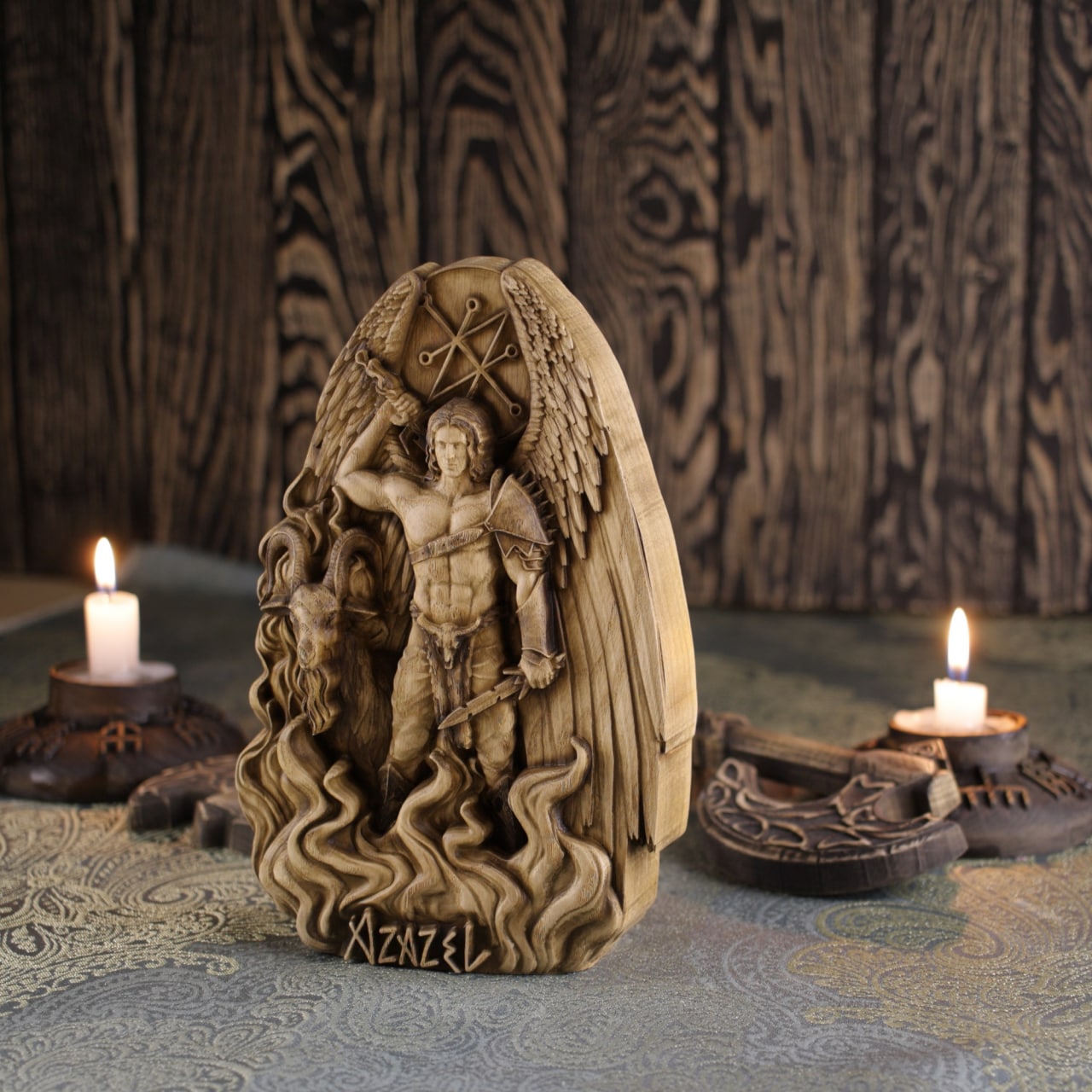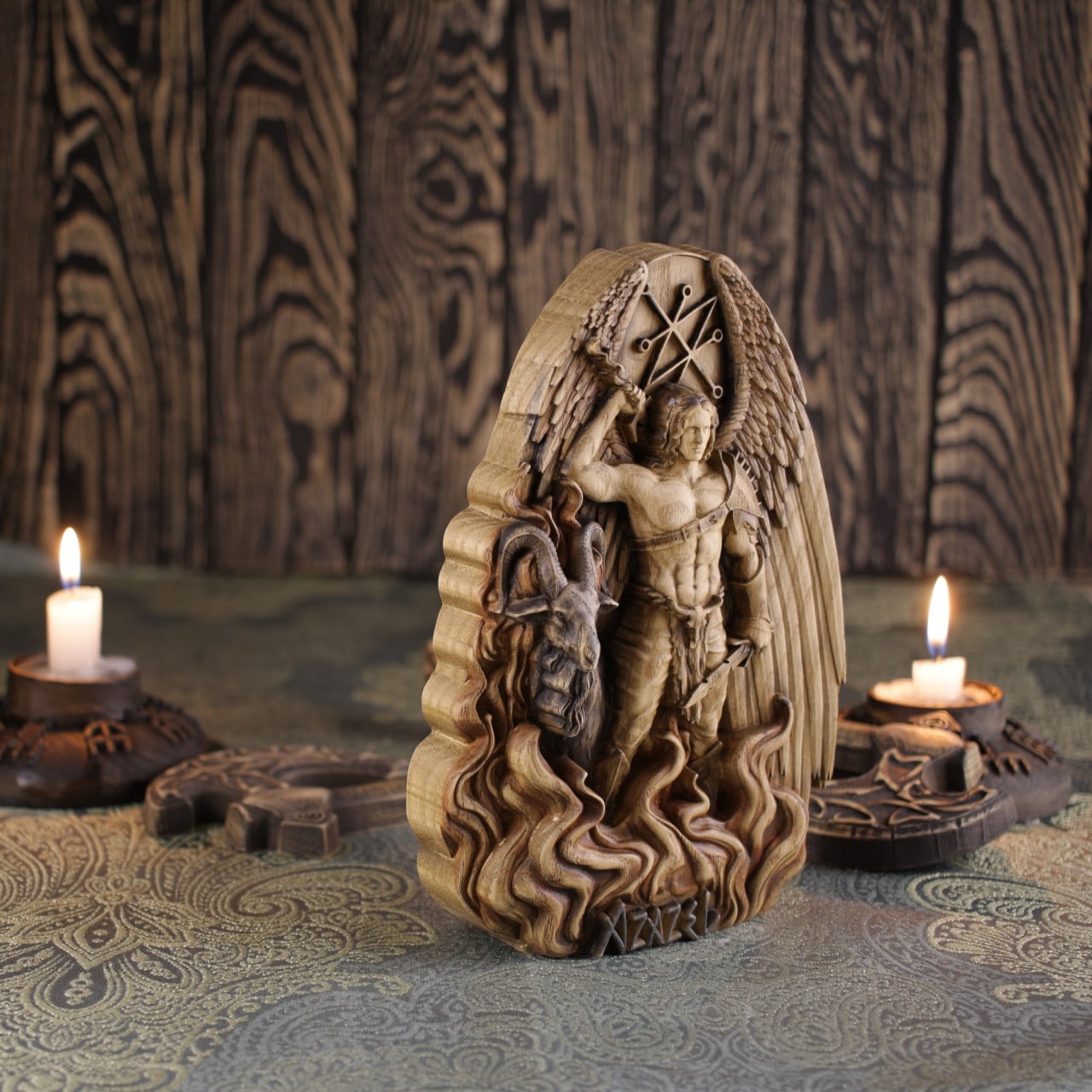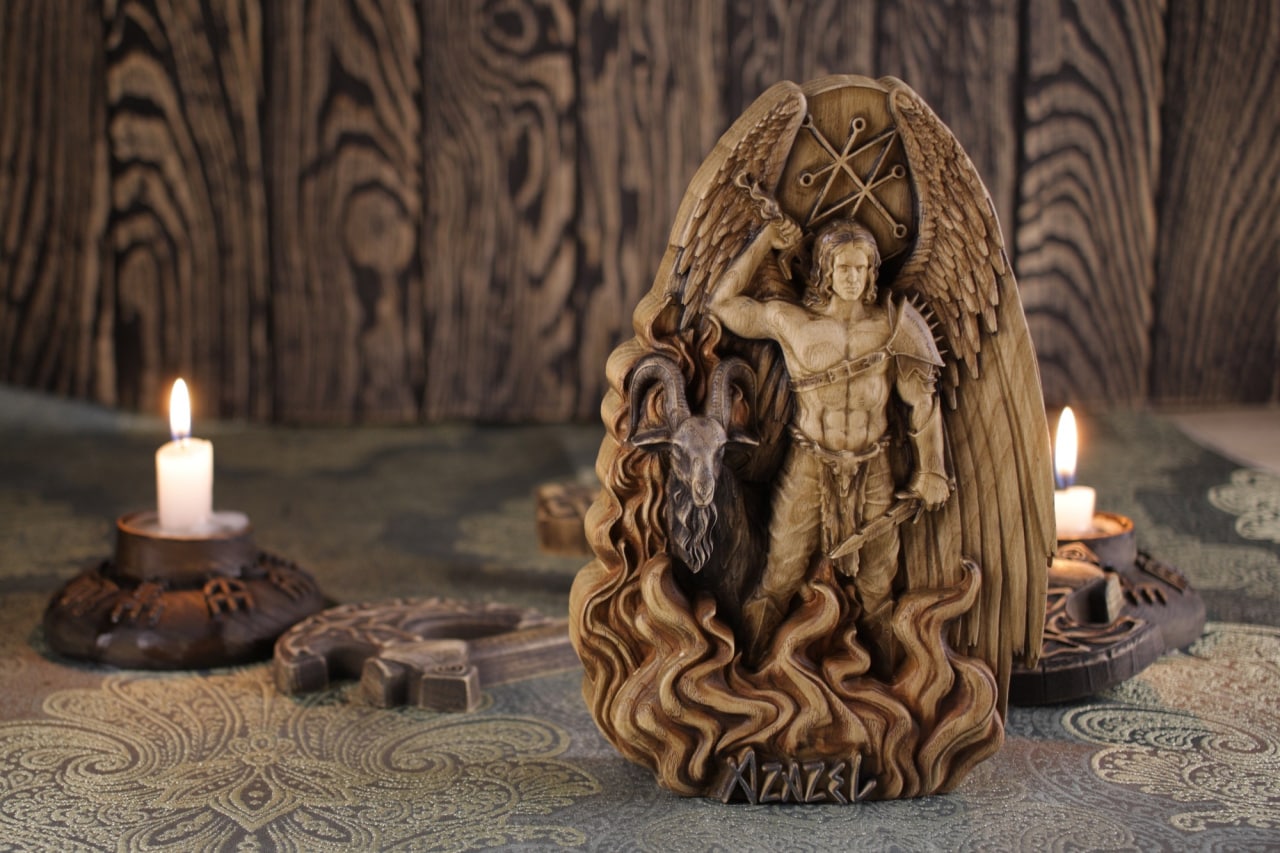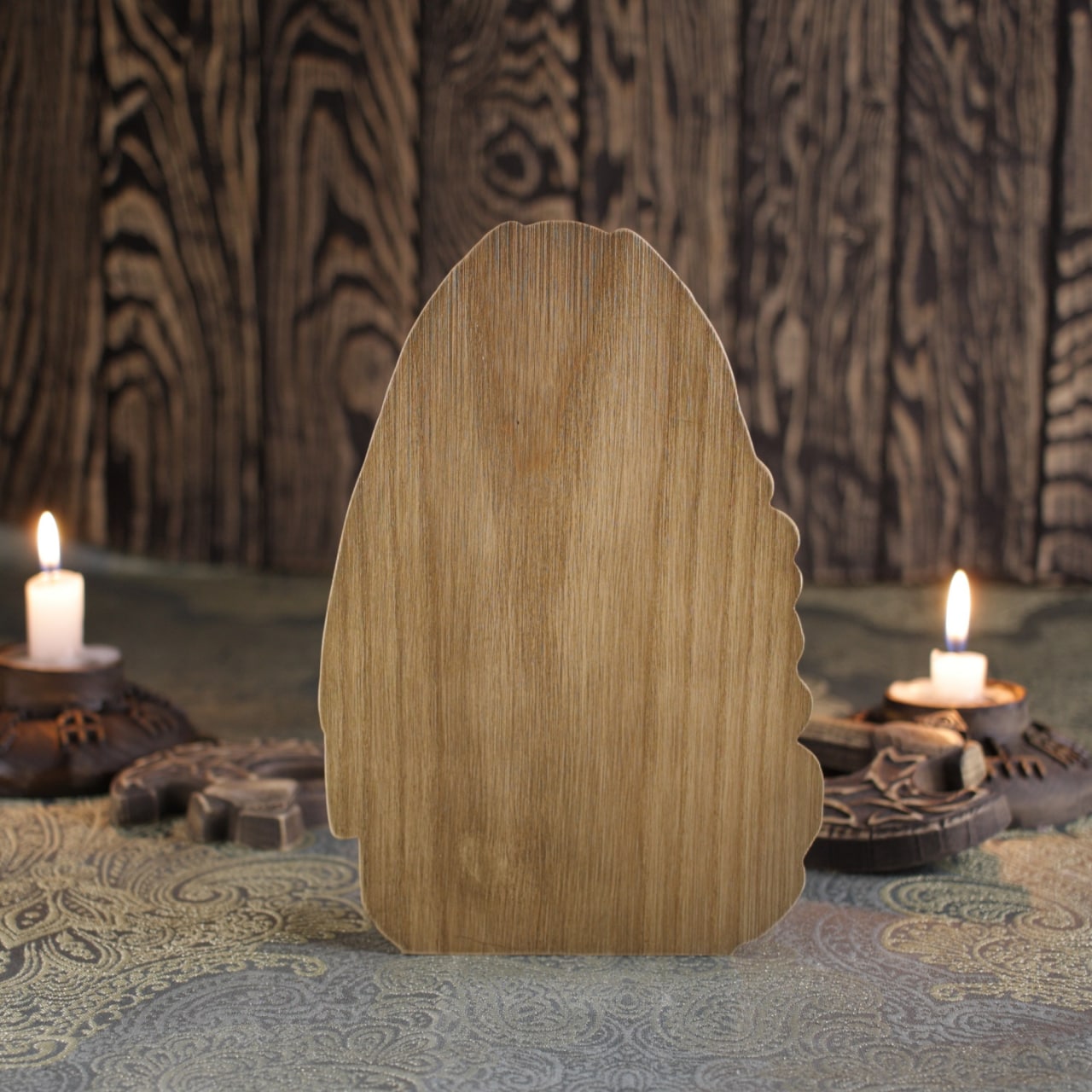 Our Advantages
Worldwide Shipping

Free shipping on most orders.

Hassle-Free Exchanges

If any sculpture comes in a damaged state, please let us know.

Absolutely Unique Designs

We create concept, model, adjust and carve. All of our models are nowhere else to be seen.