Regular price
Sale price
$82.00 USD
Unit price
per
Sale
Sold out
Nemain is the queen of war and chaos. Her name means "terror" in Irish. She is the daughter of Ernmas of the Tuatha Dé Danann. She is one of three war goddesses, along with Badb and Morrígan. She is sometimes depicted as a crow or raven.

This exquisite statue depicts Nemain in all her glory. Standing upon a base of lush green grass, she gazes imperiously into the distance, clad in armor and wielding a sword. Her wild mane of red hair flows around her shoulders, and her eyes seem to shimmer with mischief.

Nemain is the perfect addition to any collection of Irish mythology figurines. She would also make an excellent gift for anyone who loves Celtic art or mythology. Handcrafted from ecological materials, this statue is sure to be treasured for generations to come.


Nemain Characteristics
Material: ecological ash tree
Сoating: varnish
Height 8 inch/20.3 cm
Width 4.9 inch/12.5 cm
Depth: 1.7 inch/4.3 cm

Features
Color shades and textures may differ slightly from actual products. It depends on your monitor or phone settings.
The statues are very easy to clean. Wipe clean with a dry towel or tissue.

Shipping
We ship our products from Spain to the EU. To the USA and other countries, the goods are shipped from a warehouse located in the USA.
We tried to do it for you with great pleasure and put effort into this wooden sculpture, a wooden statue from the ash tree for your complete delight.


She is a warrior goddess, like Maha and Morrigan. Although the warrior goddesses themselves do not take part in battles, they often show their power and protection, for example, instilling fear in the army of one of the parties.

The name Nemain means "fіerce"; the goddess was famous for sowing panic among the warriors, she was the frenzied chaos of war. In addition to her terrifying functions, she as a goddes also stands for (sexual) ecstasy and the fertility associated with it. It is not a quiet figure but passionate through and through in everything that she does and evokes.

She is the tribal goddess of the Nemeters (a tribe that lived in the area on the Rhine between the Palatinate and Lake Constance before Romanization). She is therefore also a protective goddes of the sanctuaries. In the Alps, a group of goddesses called nemetials was worshiped for a very long time. The holy places that the Celts always found in the forest were under their protection. Hence the forest as such and the abundant water in Nemetia are sacred to her. She is associated with thermal waters and fertility rites.

The root relationship between her name and the СеІtic word for ecstasy ("nemаіn") suggests that she was worshiped with the sexual magic rites that were frequent at this time. In the popular religion of Europe, ritual sexual intercourse between priest and priestess was the act in which the sexual energy established the connection to the divine forces and through which, among other things, the farmland was blessed to be fertile. In contrast to Christianity, which is hostile to pleasure, sexual pleasure was accorded the meaning of sacred power.

She is complex: Ecstasy can be experienced in sexuality, but it can just as easily be translated as "war frenzy". On the one hand, fighting ability and on the other hand, artistry and healing powers are assigned to it. She is the mother of mourning and lamentation, in her sign are the howling ecstasies of sorrow and lamentation. These very often have a very cleansing and healing effect.

This applies both to the bereaved as well as to the departed, who can orientate themselves through these complaints and are purified. The goddes guides the spirits of the dead to their final home for this ritual lament. Nemaіn belongs together with Morrigan and Badb to a goddess trіad.


We tried to do it for you with great pleasure and put effort into this wooden sculpture from ash tree for your complete delight.

The design of our woodеn products is a one-of-a-kind artwork created by my team and me.
Share
View full details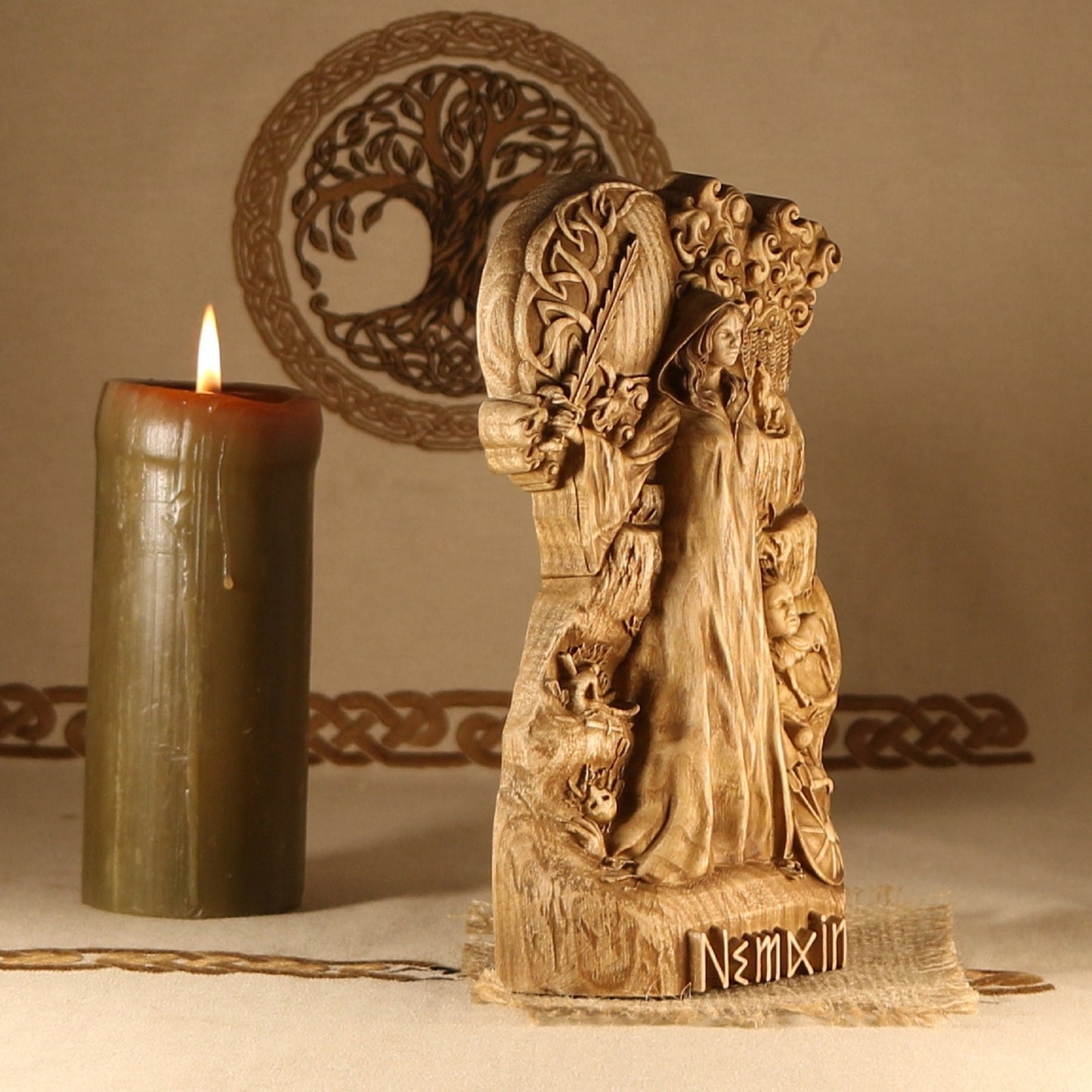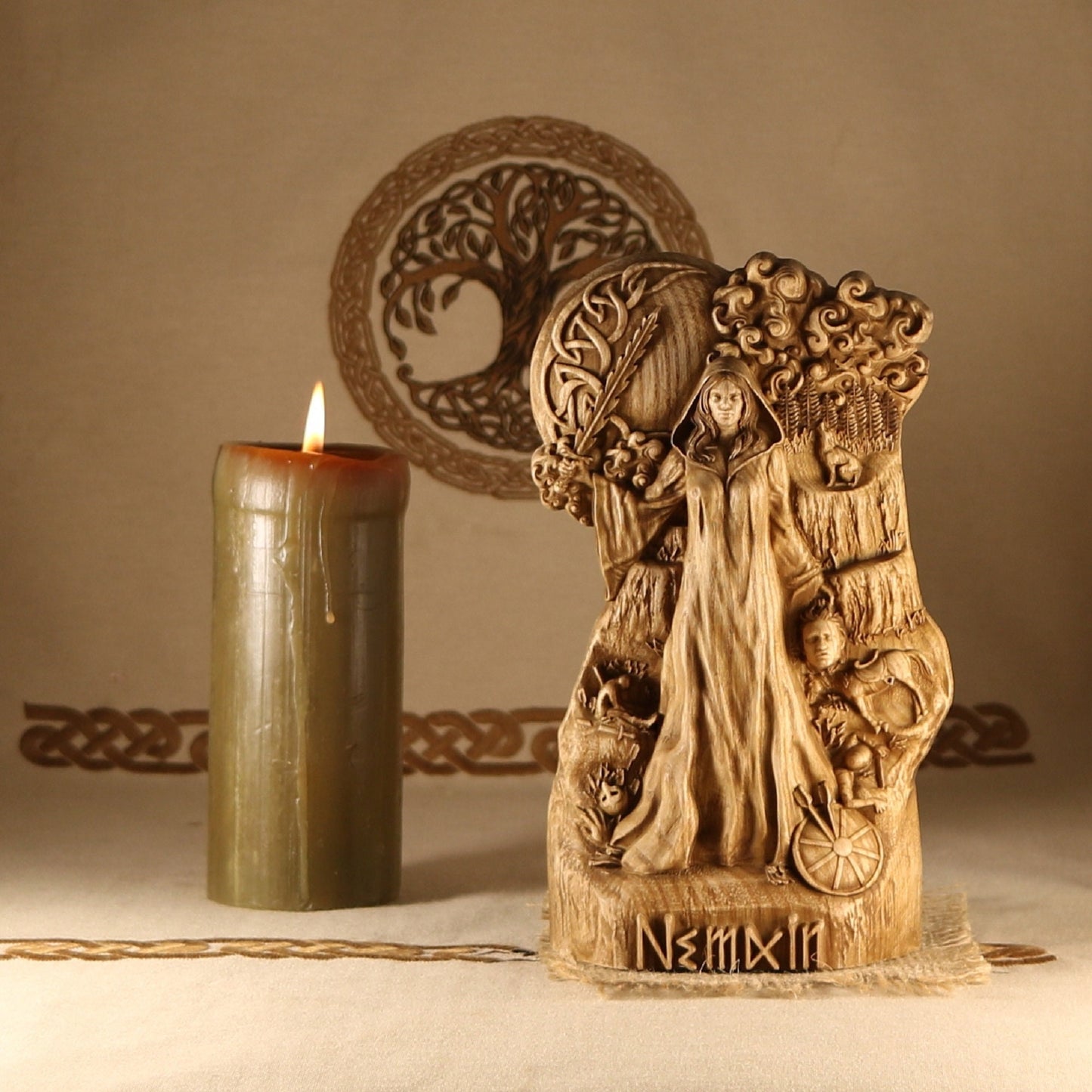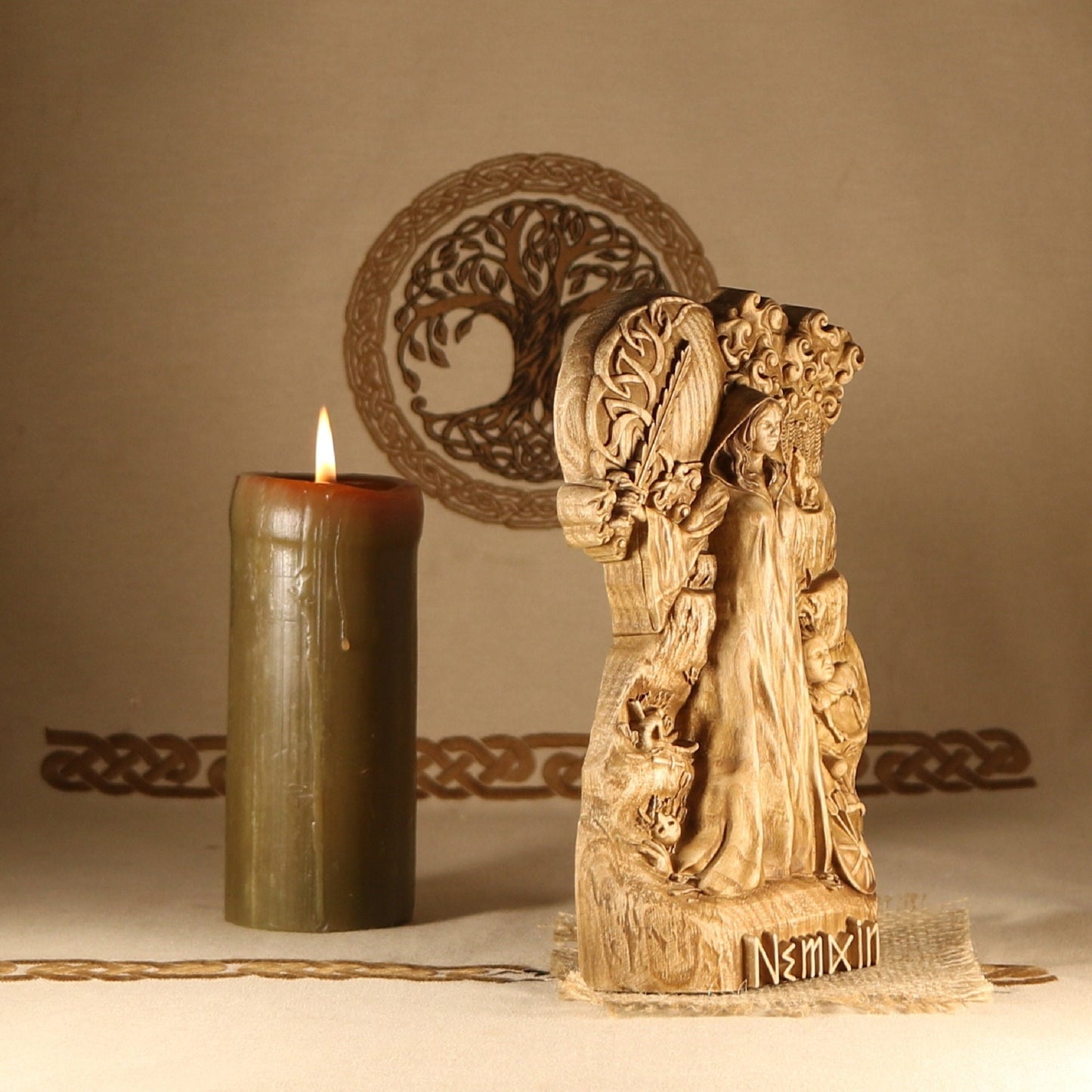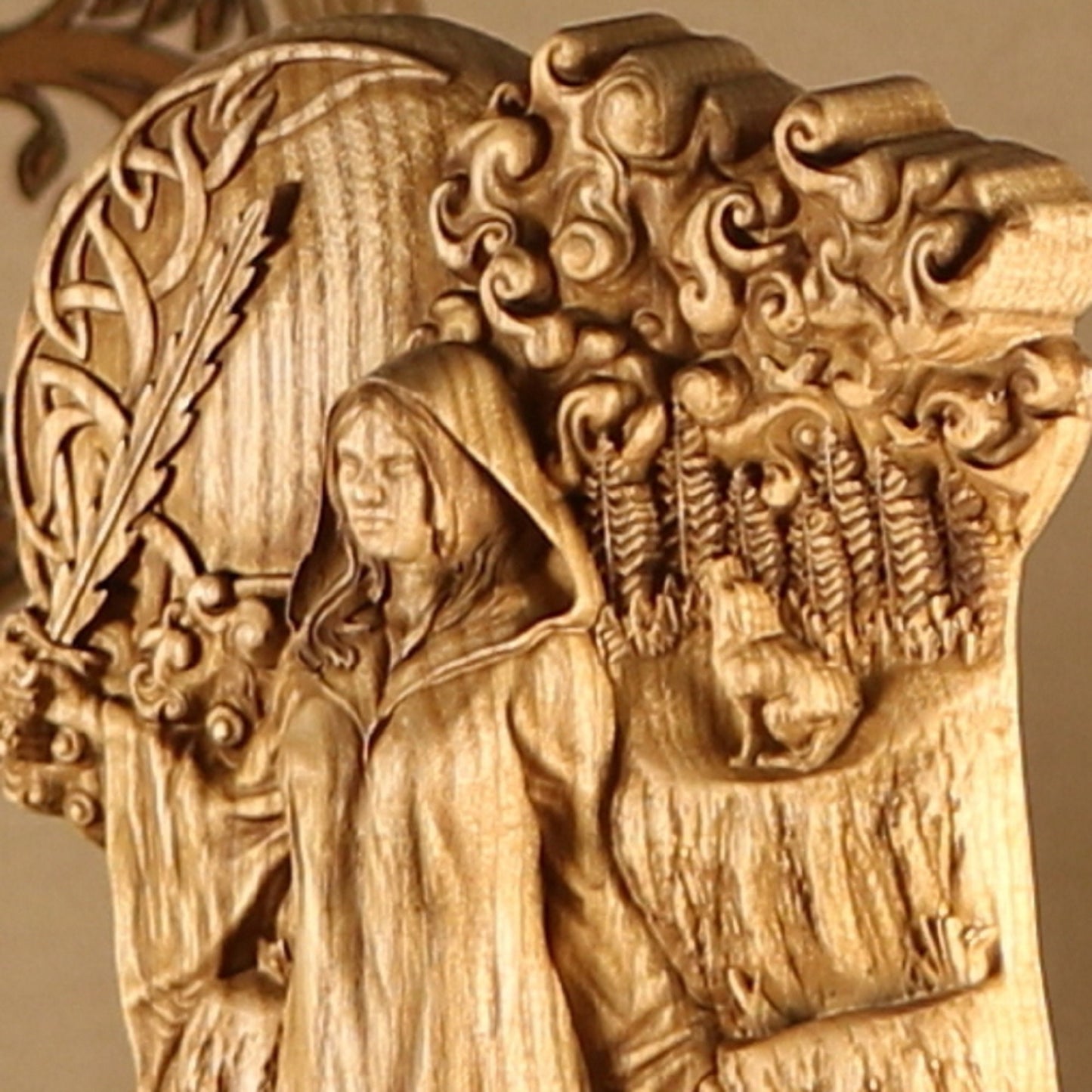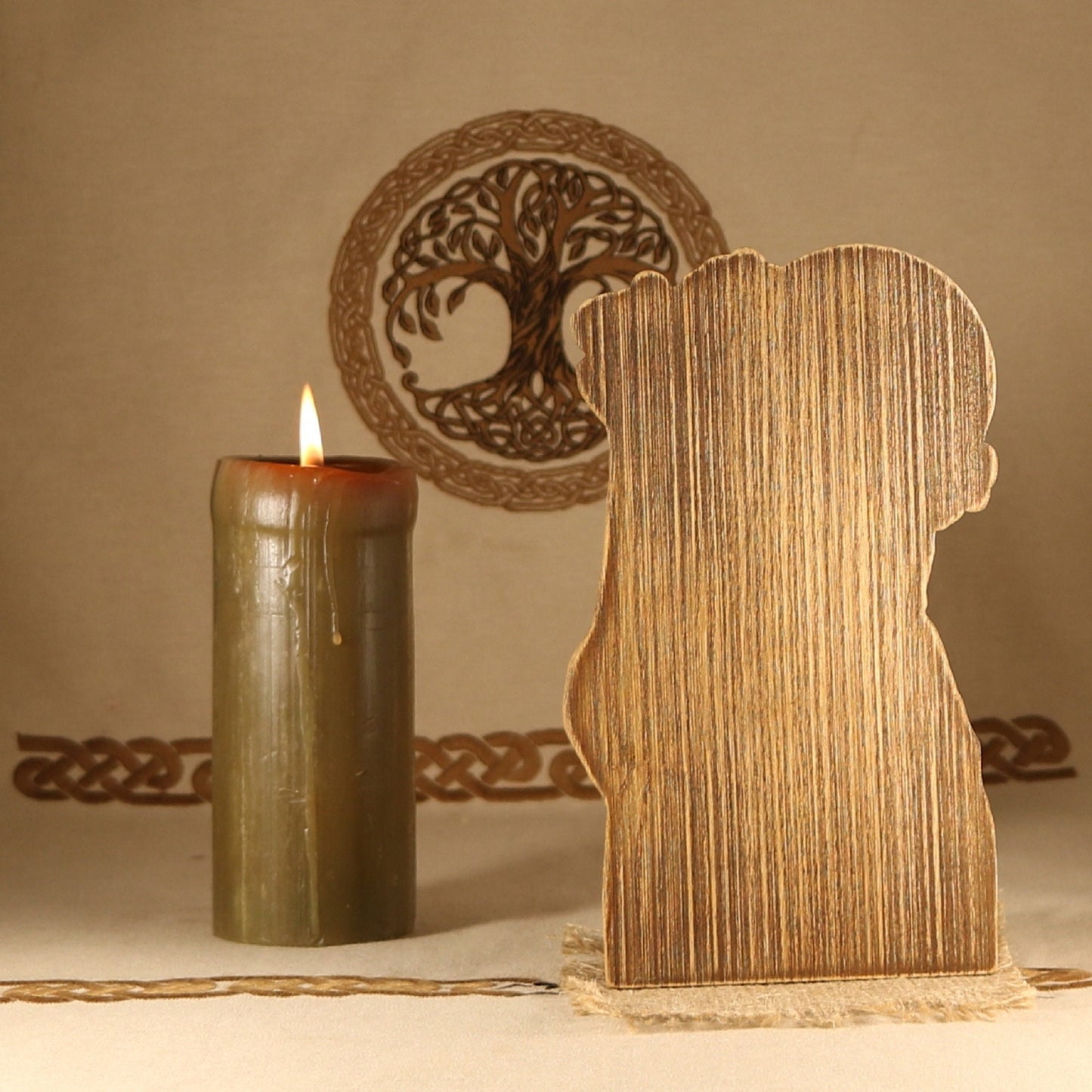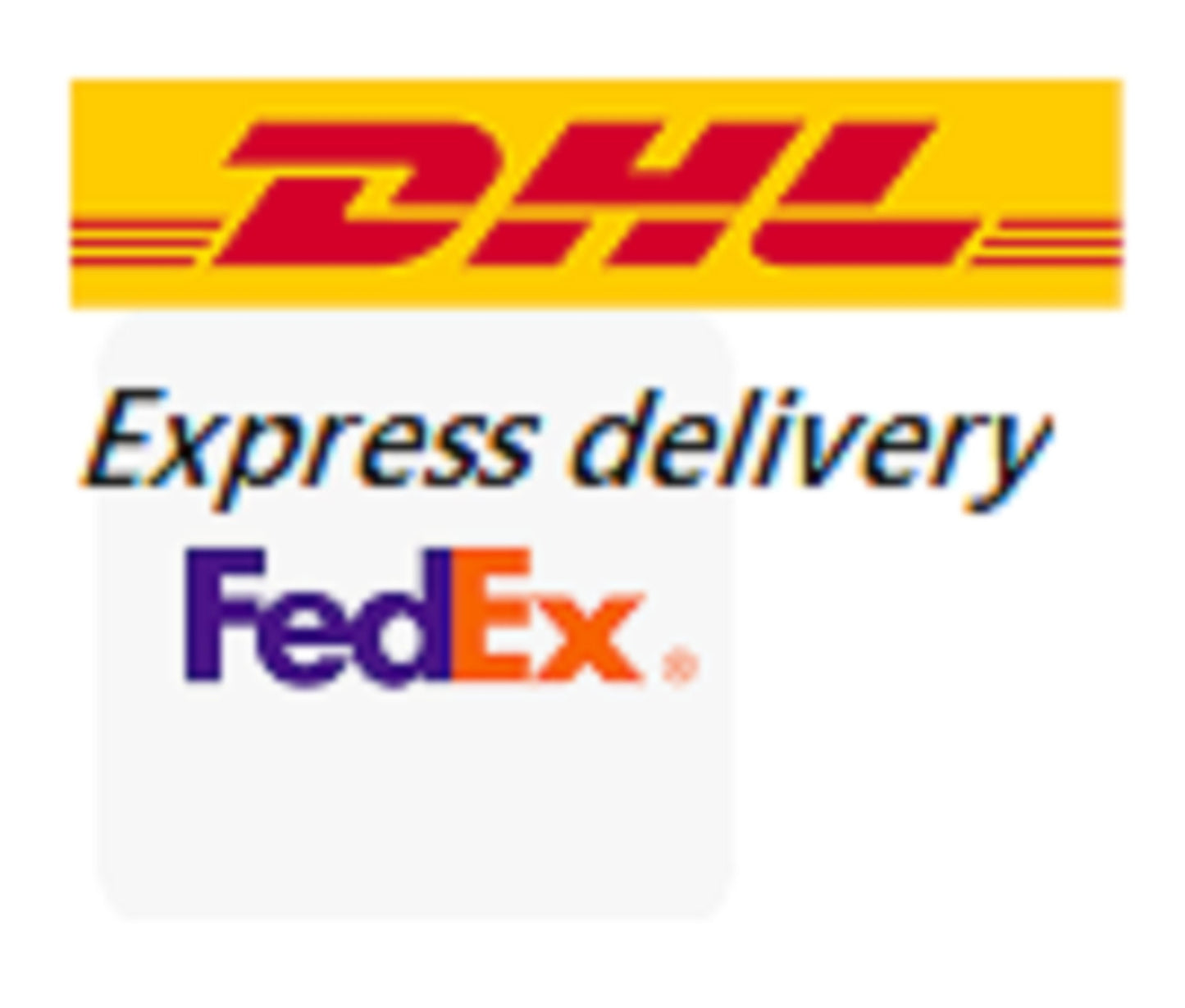 Fantastically made!! I am absolutely amazed at the amount of detail and the craftsmanship!!!!
Love it, a great buy. Highly recommended
This piece was beautifully carved and my husband absolutely adores it! I was immediately added to our shrine, and we appreciate how lightweight and easily hangable it is. We love the small details too 😊
The craftmanship is immaculate which makes it a great piece of art.
This carving looks incredible. So happy to own this. Very well made and looks as good in person. Thanks so much!
Our Advantages
Worldwide Shipping

Free shipping on most orders.

Hassle-Free Exchanges

If any sculpture comes in a damaged state, please let us know.

Absolutely Unique Designs

We create concept, model, adjust and carve. All of our models are nowhere else to be seen.