Regular price
Sale price
$86.00 USD
Unit price
per
Sale
Sold out
This unique sculpture is based on the ancient Irish god of prosperity and wealth, Dagda. It is handmade from ecological materials and finished with a varnish coating. The intricate carving is truly remarkable and makes this piece a work of art. It would make a wonderful addition to any home or office and would be a great conversation starter. Order yours today and bring some of Dagda's good luck into your life!


Dagda Statue Characteristics
Material: ecological ash tree
Сoating: varnish
Height 7.8 inch/20 cm
Width 4.3 inch/11 cm
Depth: 1.5 inch/4 cm

Features
Color shades and textures may differ slightly from actual products. It depends on your monitor or phone settings.
The statues are very easy to clean. Wipe clean with a dry towel or tissue.

Shipping
We ship our products from Spain to the EU. To the USA and other countries, the goods are shipped from a warehouse located in the USA.
We tried to do it for you with great pleasure and put effort into this wooden sculpture, a wooden statue from the ash tree for your complete delight.


He is ("good, kind God"), in Irish mythology, one of the gods of the Tribes of the goddess Danu, the owner of the cauldron of abundance. He, the character of many Old Irish legends, embodied the traits that the Celts endowed with the omnipotent representatives of the kingdom of the dead, the divine rulers of the world.

He was portrayed as a giant with a mighty club, which was sometimes taken after him in a cart. It was believed that with one end of his weapon he could kill, and with the other, revive the dead to life.

He appears as a god who patronizes good harvests and has unlimited power over natural phenomena. So, according to legend, he could control a thunderstorm, lightning, hail, rain, etc.

He was considered a wise, omniscient sorcerer and a great warrior. He demanded unquestioning obedience and led the Tribes of the goddess Danu into battle, defeating anyone who dared to contradict him.

The god owned the "Undying Cauldron" - one of the four main treasures of the people of the goddess Danu. According to legends, in this bottomless cauldron, everyone found food for themselves on their merits, and therefore no one was ever dissatisfied, and Dаgdа himself was considered a great lover and tireless eater of oatmeal, and the cauldron was never empty.

For this cauldron, God had a large ladle in which two people could fit. He had two pigs, one of which was always growing and the other was always roasted in a fire and an abundant harvest on all fruit trees.

Dаgdа - СеІtic god, the embodiment of the power of the world of the dead and the recreation of internal energy for the living

Keeper of the gates of time and who wants to help the common man. Not every CеІtic god could have received such a look. Therefore, only the chosen pantheons of the gods could simultaneously relate to the forces of the other world and give strength to the living.


We tried to do it for you with great pleasure and put effort into this wооdеn sсuІрturе from ash tree for your complete delight.

The design of our products is a one-of-a-kind artwork created by me and my team.

Share
View full details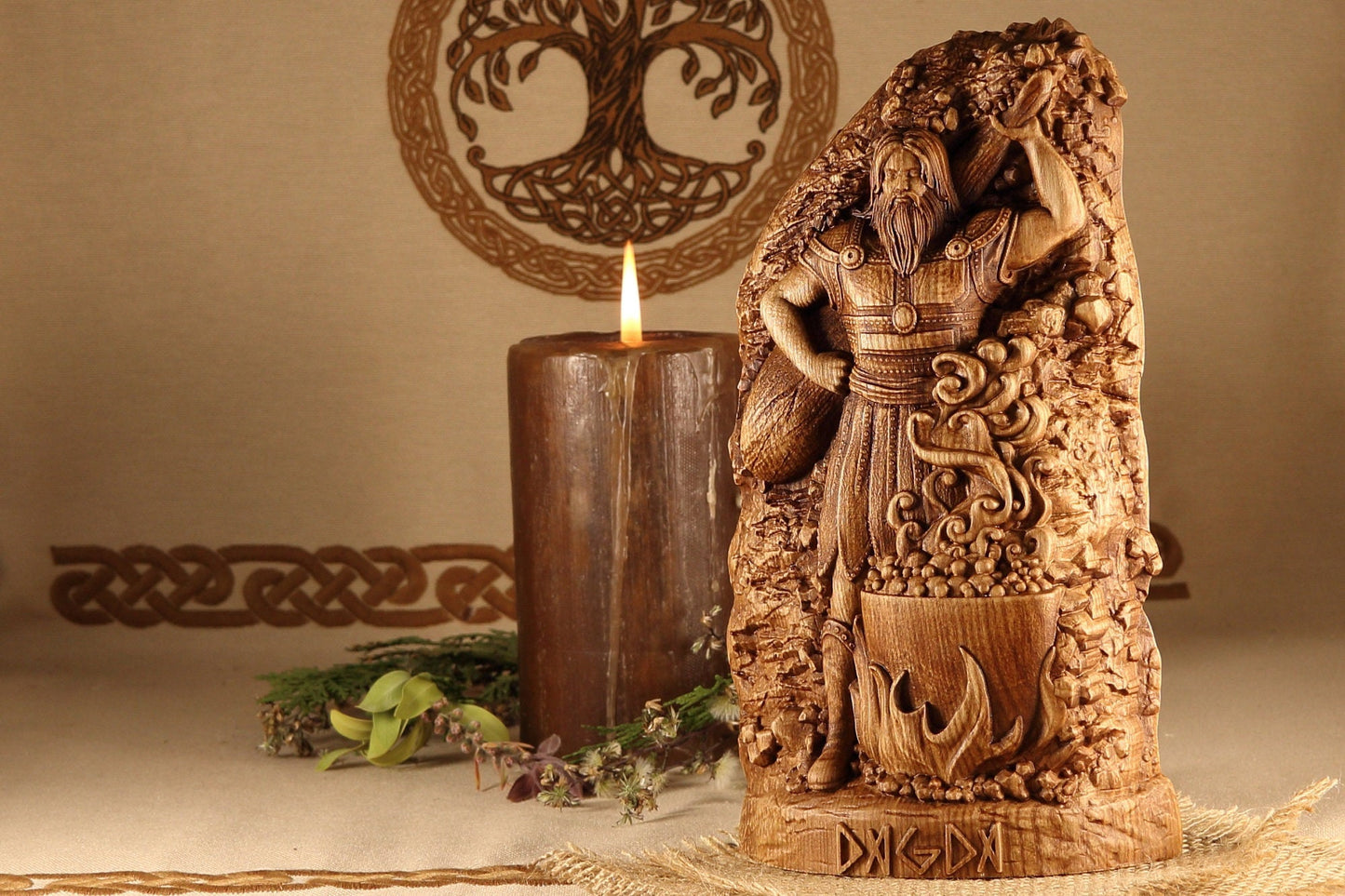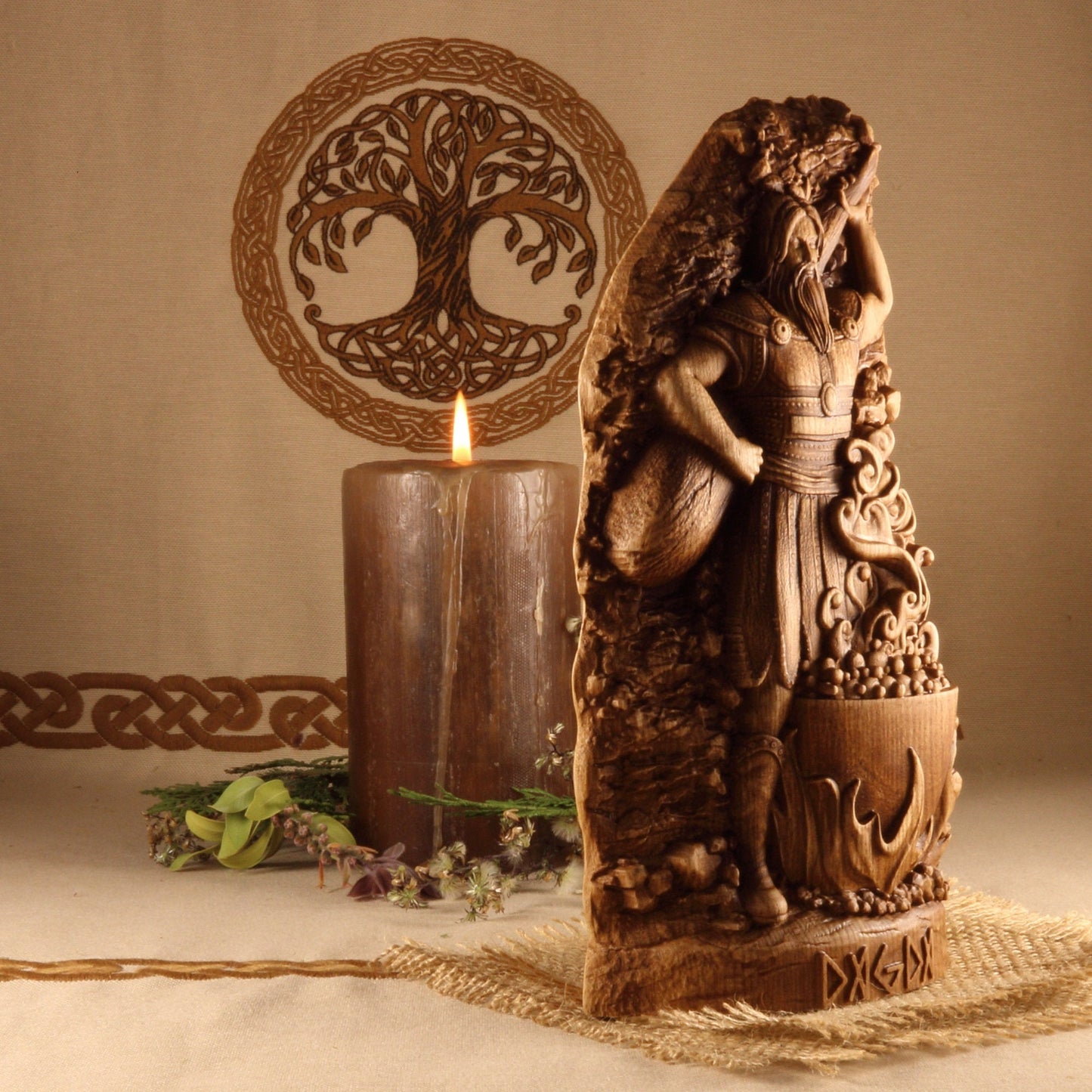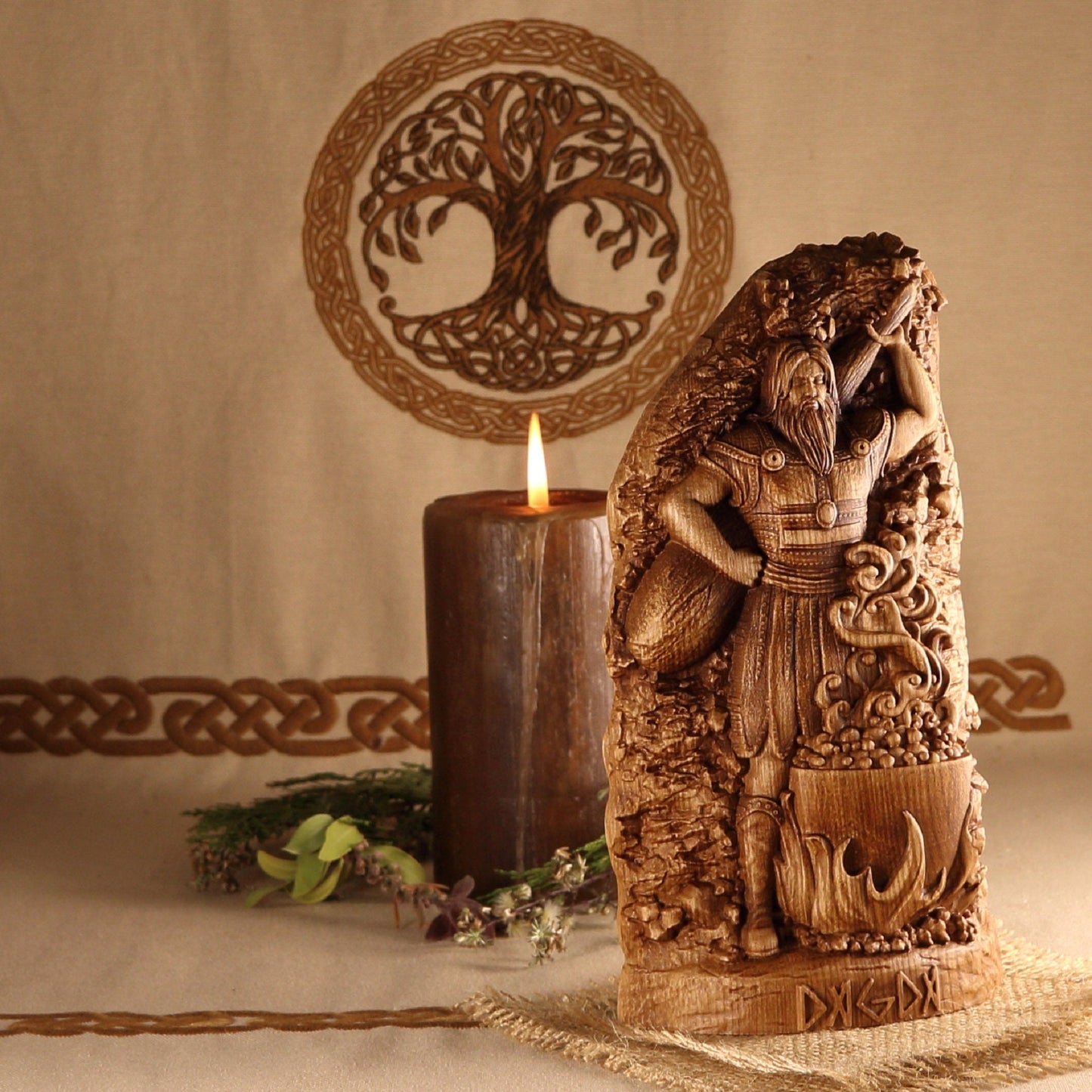 I've always been amazed at the carved artistry of these wooden statues and I'm proud to add the Dagda to my collection in my pantheon. A pleasure doing business.
Beautiful craftsmanship. Delivered quite early!
What an amazing piece, my wife loved it.
Absolutely stunning, thank you.
I was glad to find this beautiful image of Lugh. :)
Our Advantages
Worldwide Shipping

Free shipping on most orders.

Hassle-Free Exchanges

If any sculpture comes in a damaged state, please let us know.

Absolutely Unique Designs

We create concept, model, adjust and carve. All of our models are nowhere else to be seen.