Regular price
$0.00 USD
Sale price
$45.00 USD
Unit price
per
Sale
Sold out
Introducing Eir, the Norse goddess of healing! This beautifully hand-crafted wooden statue is perfect for both home decoration and worship. carved from the ecological ash tree, this mini altar is both eco-friendly and stylish. Her protective coating of varnish ensures that she will remain beautiful for years to come. Whether you're a pagan or simply appreciate beautiful art, this unique piece is sure to add some personality to your home.


Eir Statue Characteristics
Material: ecological ash tree
Сoating: varnish
Height 5.9 inch/15 cm
Width 3.9 inch/10 cm
Depth: 1.3 inch/3.5 cm

Features
Color shades and textures may differ slightly from actual products. It depends on your monitor or phone settings.
The statues are very easy to clean. Wipe clean with a dry towel or tissue.

Shipping
We ship our products from Spain to the EU. To the USA and other countries, the goods are shipped from a warehouse located in the USA.
We tried to do it for you with great pleasure and put effort into this wooden sculpture, a wooden statue from the ash tree for your complete delight.


Eir is a healer goddess in Scandinavian mythology, so she has no right to cause physical harm.

The name Eir means "peace, calmness, gentleness, kindness, mercy".

The main function of this goddess was healing; she heals all diseases and wounds. The legend says that any girl who climbs Mount Lifya will be healed of any disease. She used to be at enmity with the male aesir, but soon they were reconciled by Seth.

Before visiting Eir, the priestesses had to wash, not eat meat, and fruits, or drink milk, and alcohol.

Her powers as a healer are urgently needed in the world today. Eir is obviously the personal patroness of all those who deal with any form of health care or healing, but anyone in need of healing can appeal to her.

Eir is likely to be a goddess who favors gentle and slow "alternative" methods of healing such as aromatherapy, herbal medicine, and massage in conjunction with considering and balancing emotions. Even when her path of healing uses more radical medical means such as surgery and antibiotics in cases of exacerbation, when the situation for the patient is too dangerous or extreme for the cure to pass safely without intervention, then the greatest attention is paid to such things as nutrition and condition, the spirit and emotions of the patient.

Eir is by no means a foe of technology when applied correctly - all healing tools are hers as well - but her efforts focus more on prevention than on cure and medical care, and tend to promote natural healing rather than unnecessary radical intervention.

Any healing magic must also be accompanied by a promise to take concrete practical steps in the physical world to improve one's health; asking Eir to help you with your cholesterol levels while eating as many cheeseburgers as you can during this time won't work. Eir, like Frigg, is a practical goddess who loves her petitioners to be willing to do something for themselves and to be able to take care of themselves in the everyday world. Eir rituals are often accompanied by a strong desire to do something nice for oneself. Do something special for yourself, like the food your mom made you when you were sick, sleep late, take it easy, and cleanse your body and soul - this is a chance to be healthy and happy.

Since most of the healing knowledge of our predecessors was magical, we can reasonably assume that Eir is the patroness of such magic, that her enchantments work on the soul and mind, as well as the body, to lead to truly holistic recovery. Like a goddess who is both a spiritual and a physical healer, Eir is especially good to call upon those who need help fighting addictions.


We tried to do it for you with great pleasure and put effort into this wooden sculpture from an ash tree for your complete delight.

The design of our wooden products is a one-of-a-kind artwork created by my team and me.

Share
View full details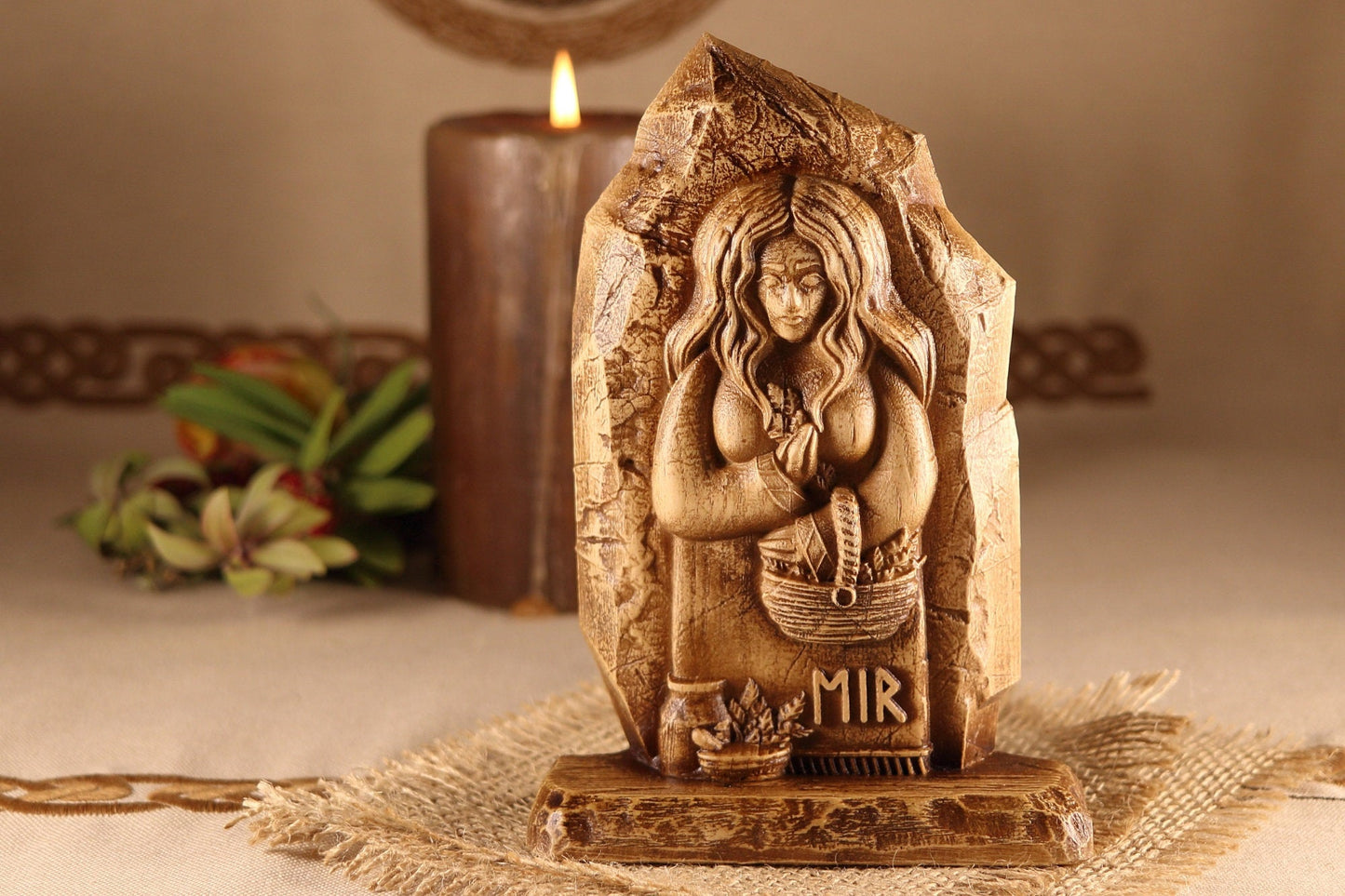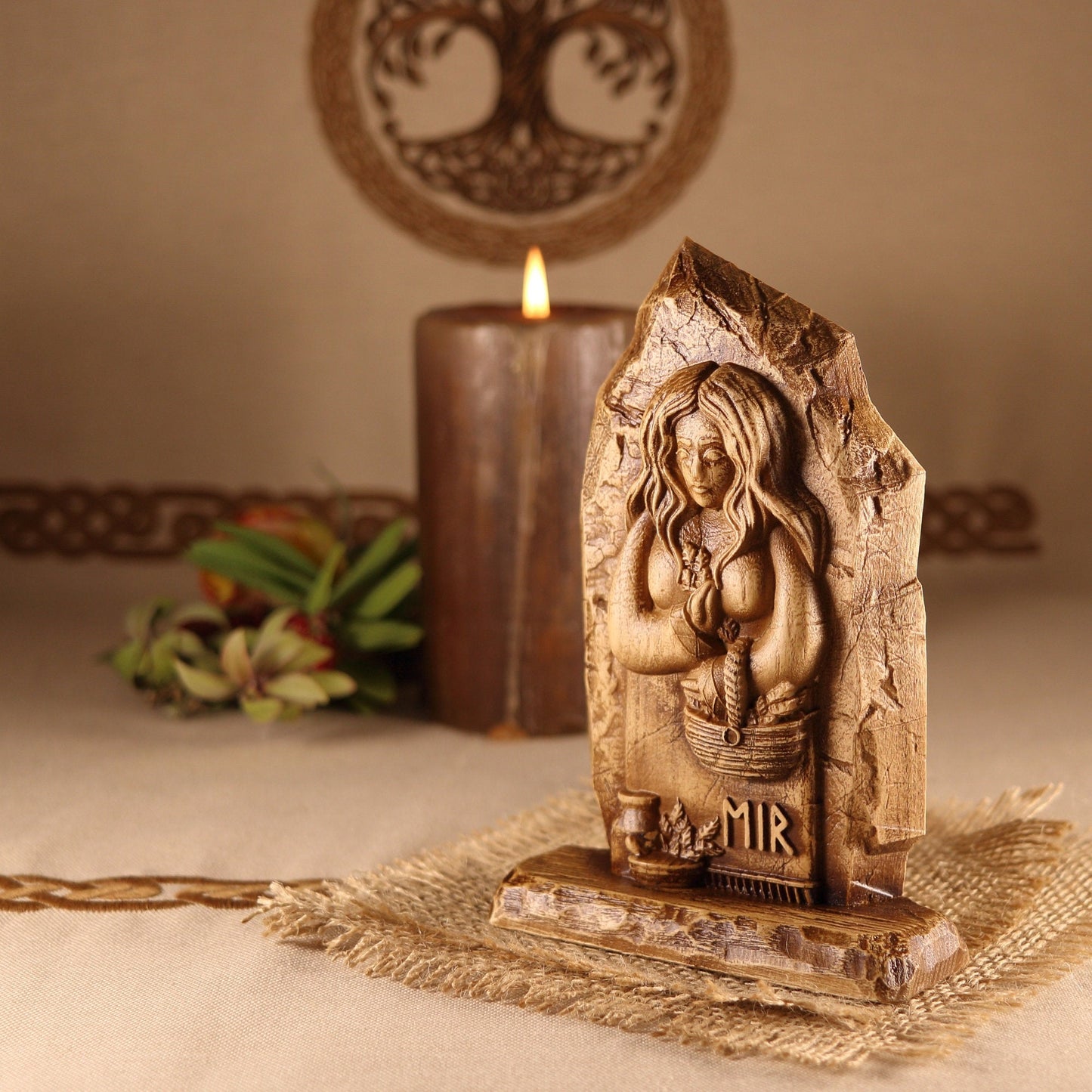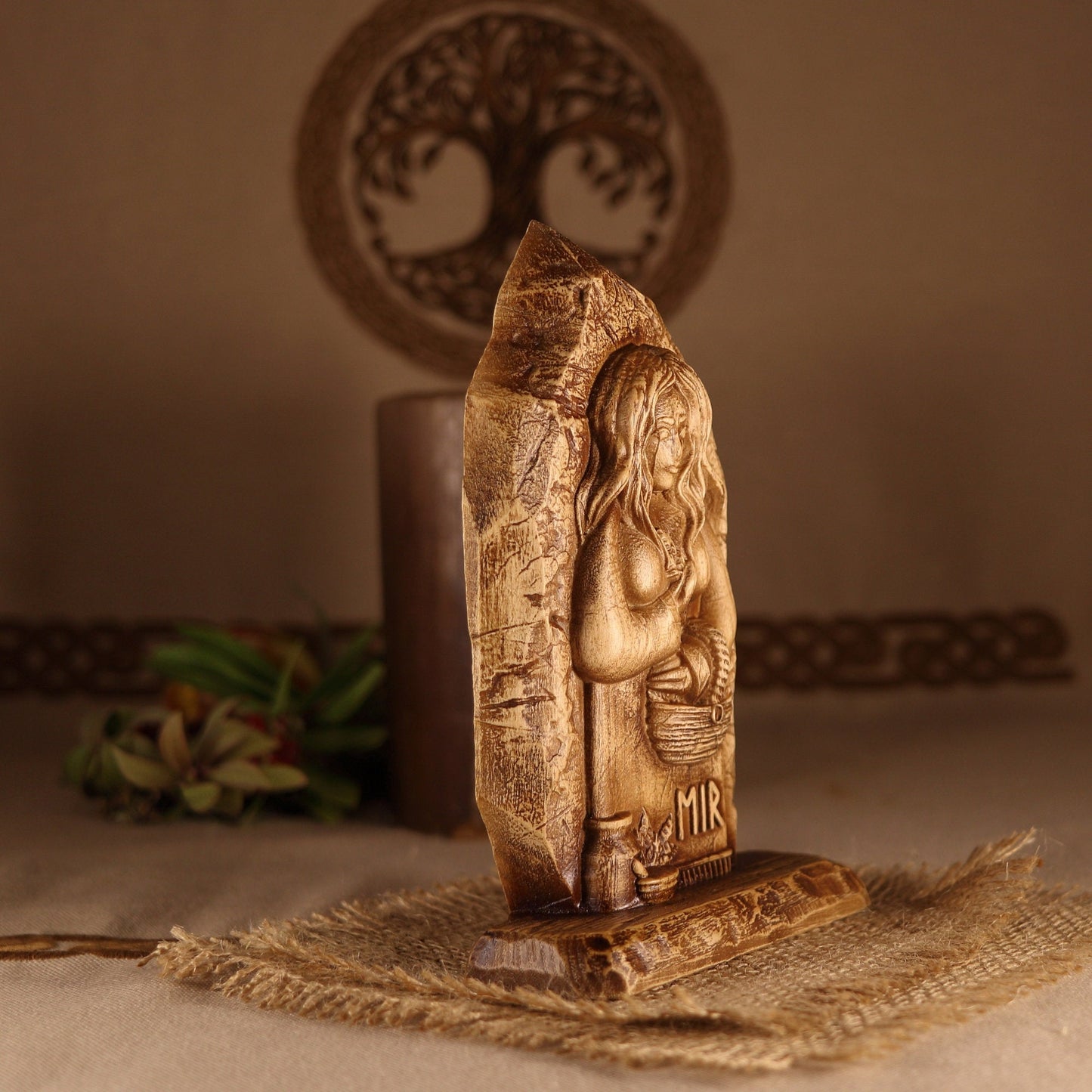 She's a wonderful addition to my Eir representations. I hope to see one of your larger designs of her!
Everything excellent!!! GREAT customer service, and beautiful carving. Very happy! The Odin statue is strong and bold.
always a beautiful design. I've been wanting to see how Eir would be from this shop and then they released her and she's so beautiful! thank you
Beautiful statue of Eir! It's so hard to find such a detailed statue of her! The artist did a good job, right down to the tiny details on the wheat! <3
Our Advantages
Worldwide Shipping

Free shipping on most orders.

Hassle-Free Exchanges

If any sculpture comes in a damaged state, please let us know.

Absolutely Unique Designs

We create concept, model, adjust and carve. All of our models are nowhere else to be seen.