Regular price
Sale price
$98.00 USD
Unit price
per
Sale
Sold out
Elen, the Celtic Goddess of the ways, is one of the most venerated deities in Celtic mythology. Elen's story is one of strength, beauty, and courage. This hand-carved wooden statue depicts her in all her glory, with antlers adorning her head and a wild look in her eyes. Made from natural materials, this statue is eco-friendly and would make a stunning addition to any nature-themed home or garden. The varnish coating protects the wood and gives the statue a beautiful shine. Invite Elen into your home and let her story inspire you!


Elen Statue Characteristics
Material: ecological ash tree
Сoating: varnish
Height 8 inch/20.5 cm
Width 6.1 inch/15.5 cm
Depth: 1.7 inch/4.5 cm

Features
Color shades and textures may differ slightly from actual products. It depends on your monitor or phone settings.
The statues are very easy to clean. Wipe clean with a dry towel or tissue.

Shipping
We ship our products from Spain to the EU. To the USA and other countries, the goods are shipped from a warehouse located in the USA.
We tried to do it for you with great pleasure and put effort into this wooden sculpture, a wooden statue from the ash tree for your complete delight.


In ancient Britain, she was Elen of the Hosts. She is now known as Elen of the ways. She is the patroness of the paths, physical, mental or spiritual paths. She is the keeper of all travelers. In myths and legends, Elen represents the very land of Britain, with marriage which confers royal status. Rather, she is a Goddess from much earlier times who directed the paths of dreams; Elen of the ways is the pinnacle of legends, myths, and history.

Elen symbolizes nature, water, and fog, as well as riddles and wisdom. She is the heartbeat of the forest, wilderness, wasteland, and moor. She dances under the moonlight in the starry sky, her dance is exciting and free. And in the blink of an eye, Elen disappears, lost in the fog, slowly enveloping the earth in eloquent snowdrifts. In ancient Britain, the goddess Elen was the patroness of roads and wanderings, especially travel in a dream.

She appears in front of us in a green dress and with huge deer antlers in front of the entrance to the other world, next to which you can see the arch of a dolmen and a rainbow. She is a goddess with horns, her horns displaying her free natural spirit. Her hair is long and red, with braided branches and often leaves, sometimes braided in a long braid over her slender back. Its limbs are white - they glow in the shadows and glow in the moonlight. Her green eyes, full of mischief, hold the secret of the Paths. In the famous series of Welsh epic poems called Mabinogion, Elen calls the king to her in his dream, and when he finds her embodiment in the physical world when he gains the ability to use his dreams as a map and follow the path indicated on it.

You feel like your soul is spreading when in the heart of the forest or among the wilderness, where you can search exactly there and, if you're lucky, find Elen. Look for a flash in the shadows at sunset, a glimpse of a horn. When you find Elen, you will know it and change forever.


We tried to do it for you with great pleasure and put effort into this wooden sculpture from the ash tree for your complete delight.

The design of our wooden products is a one-of-a-kind artwork created by my team and me.
Share
View full details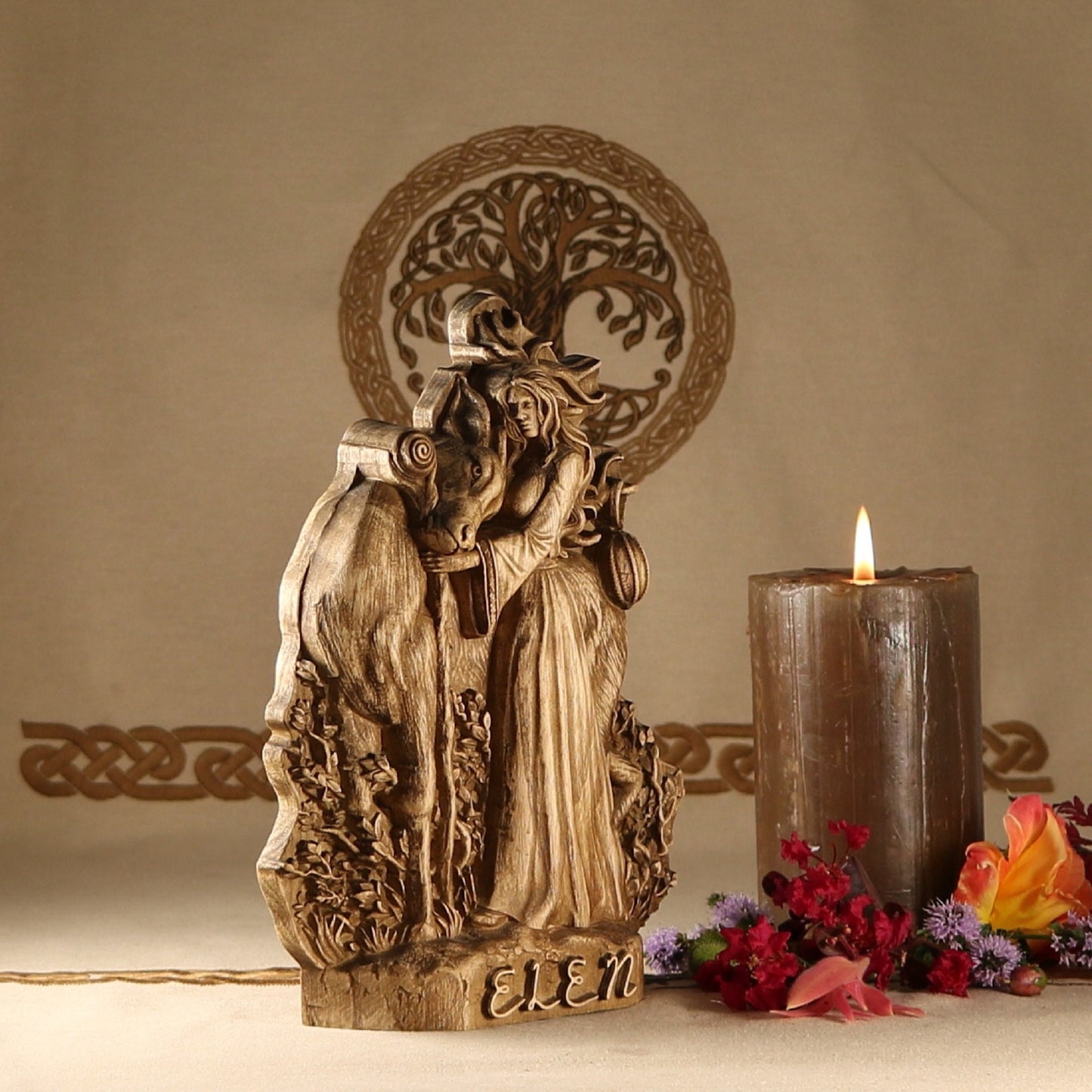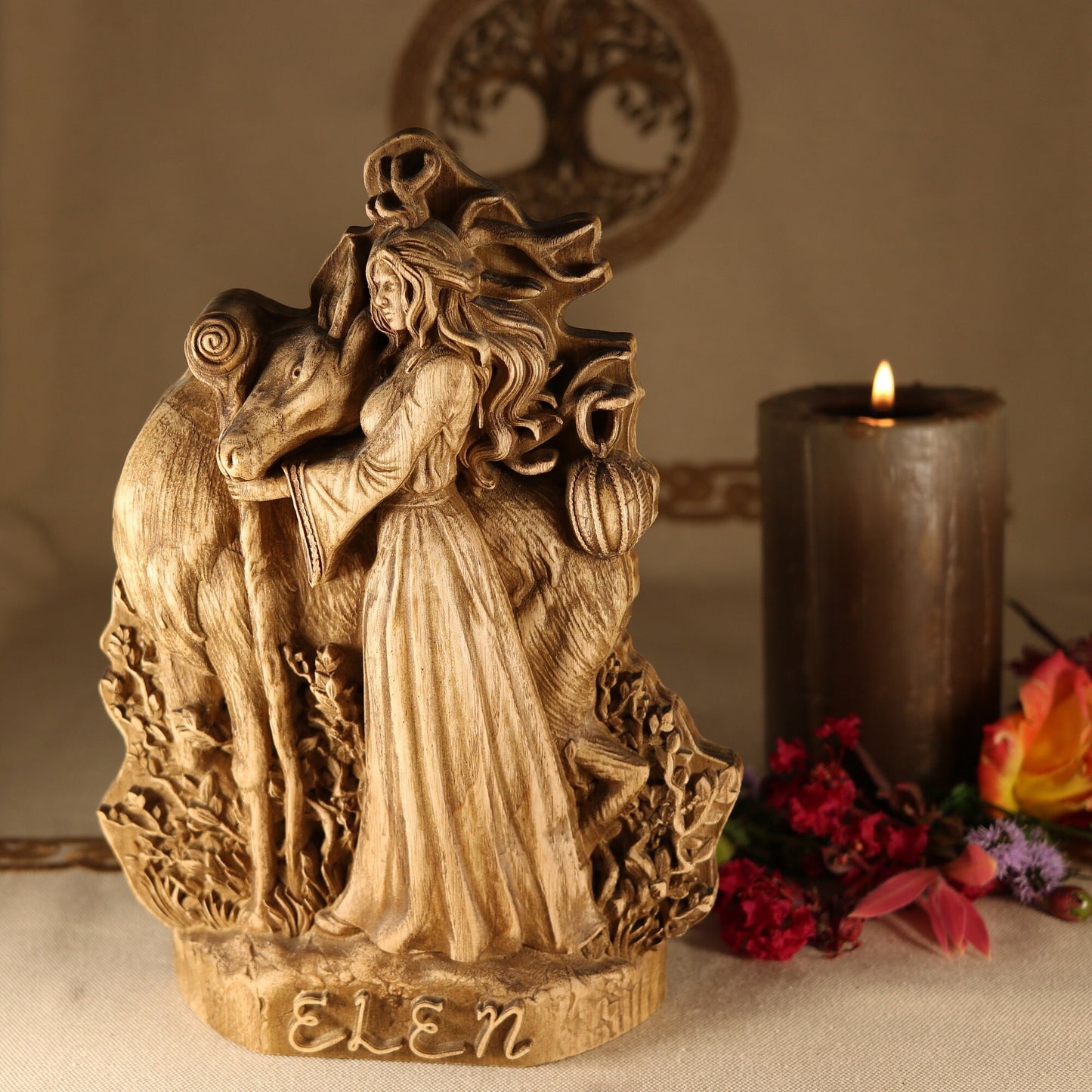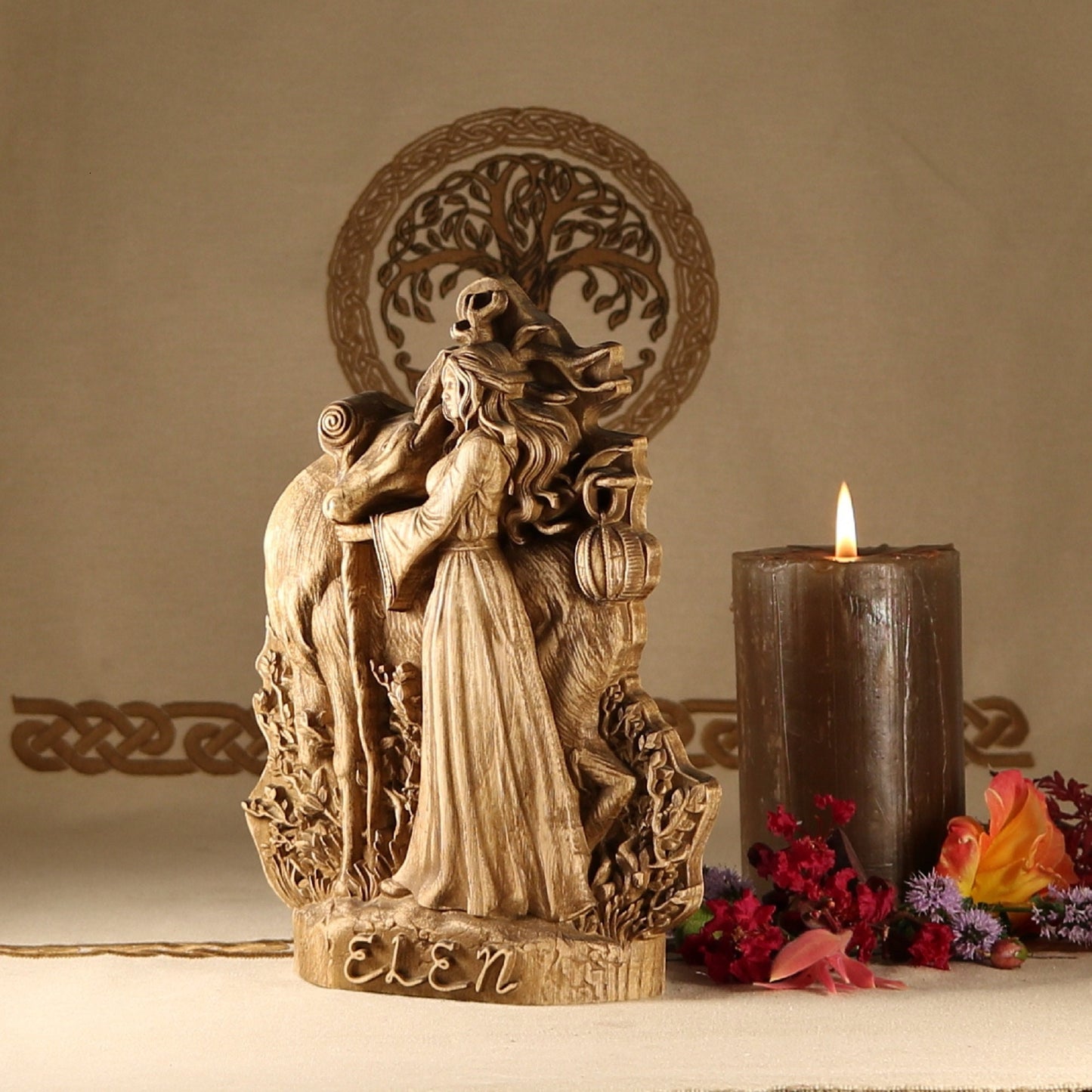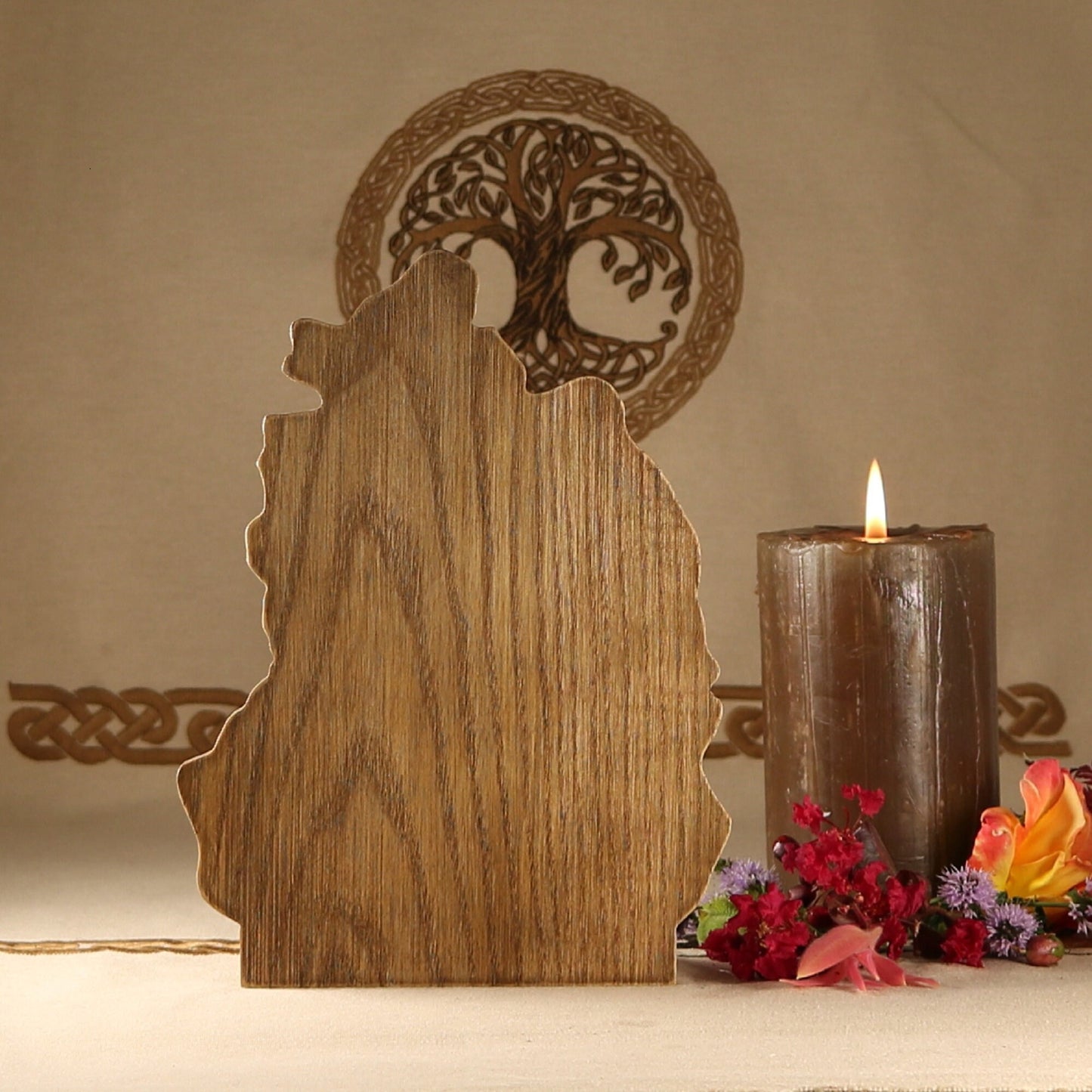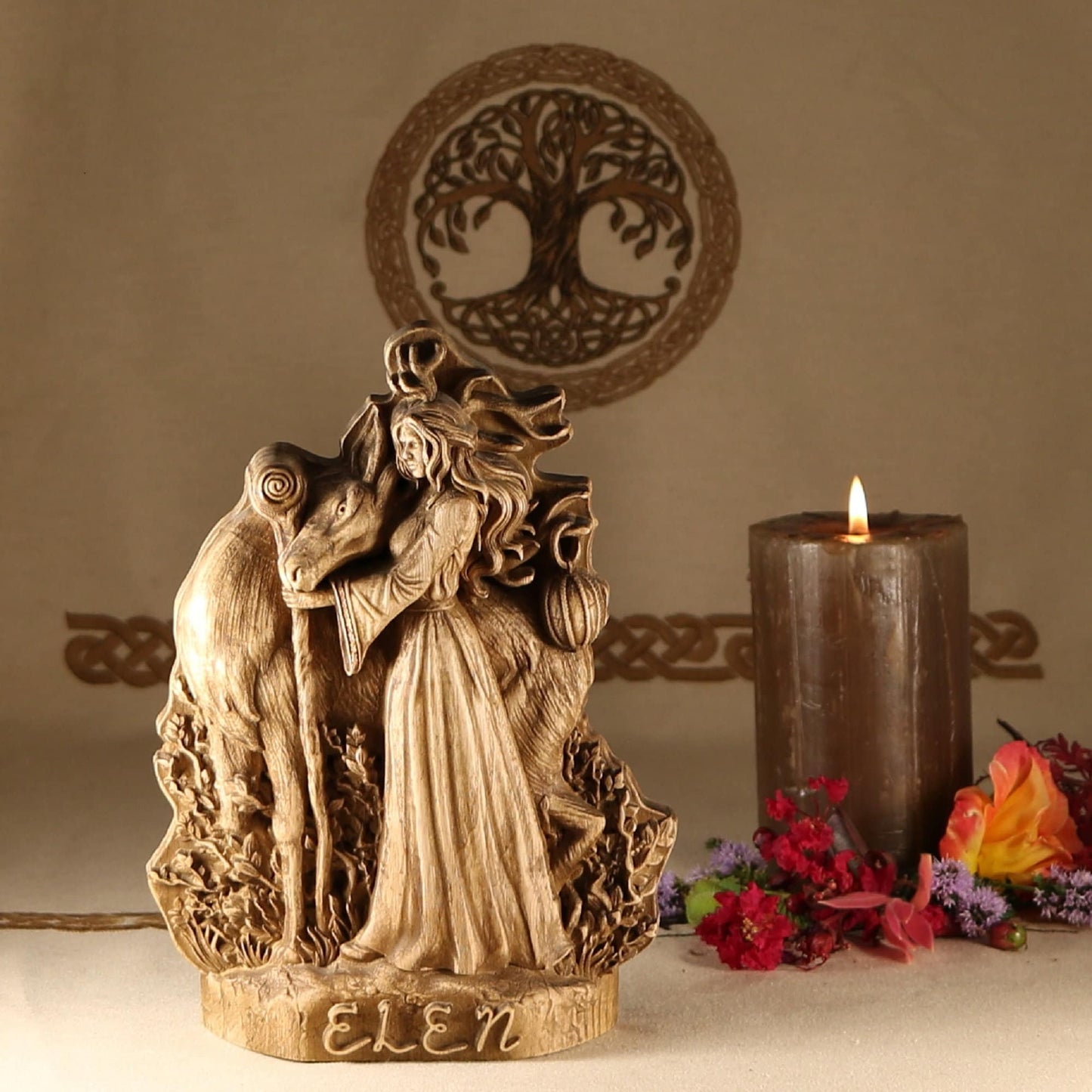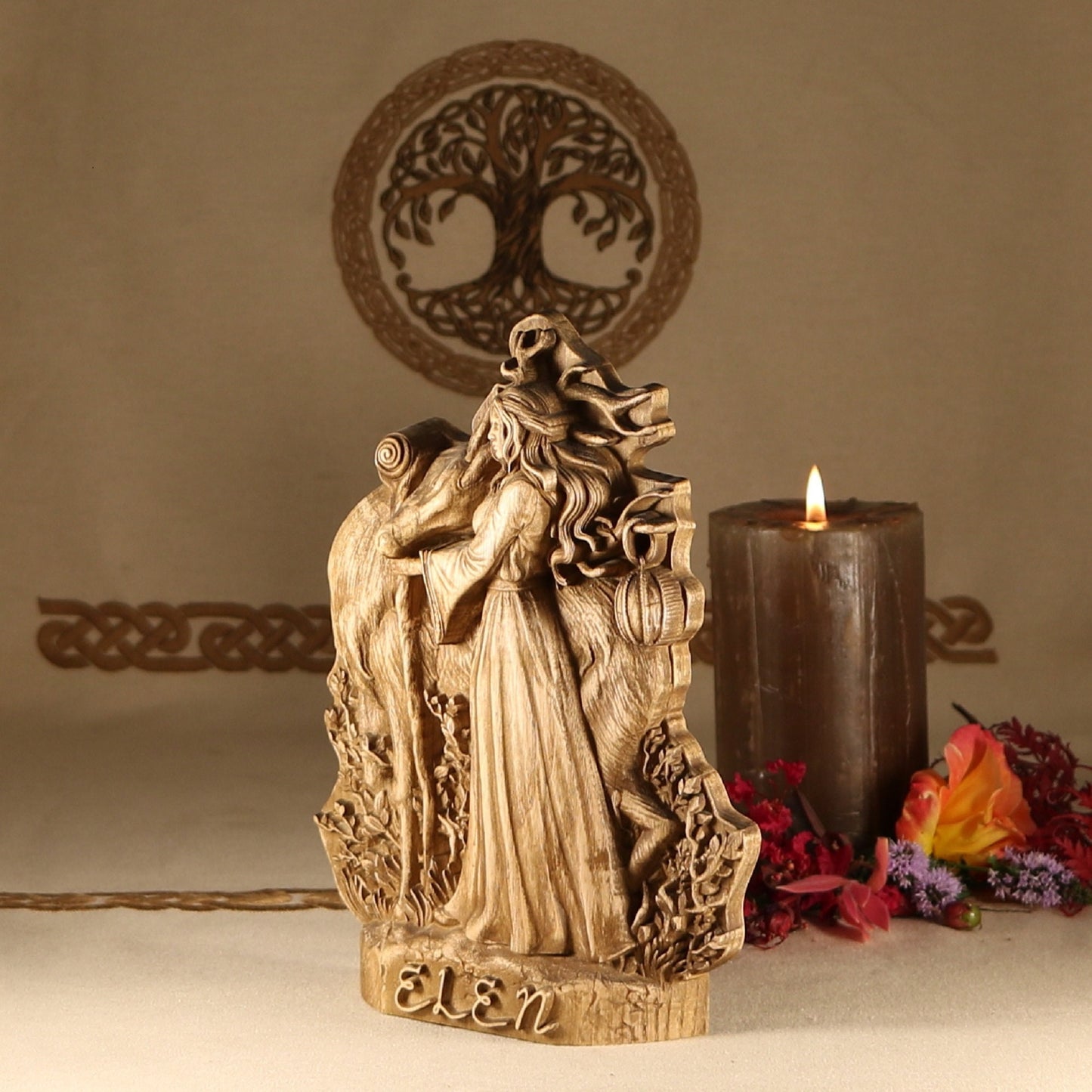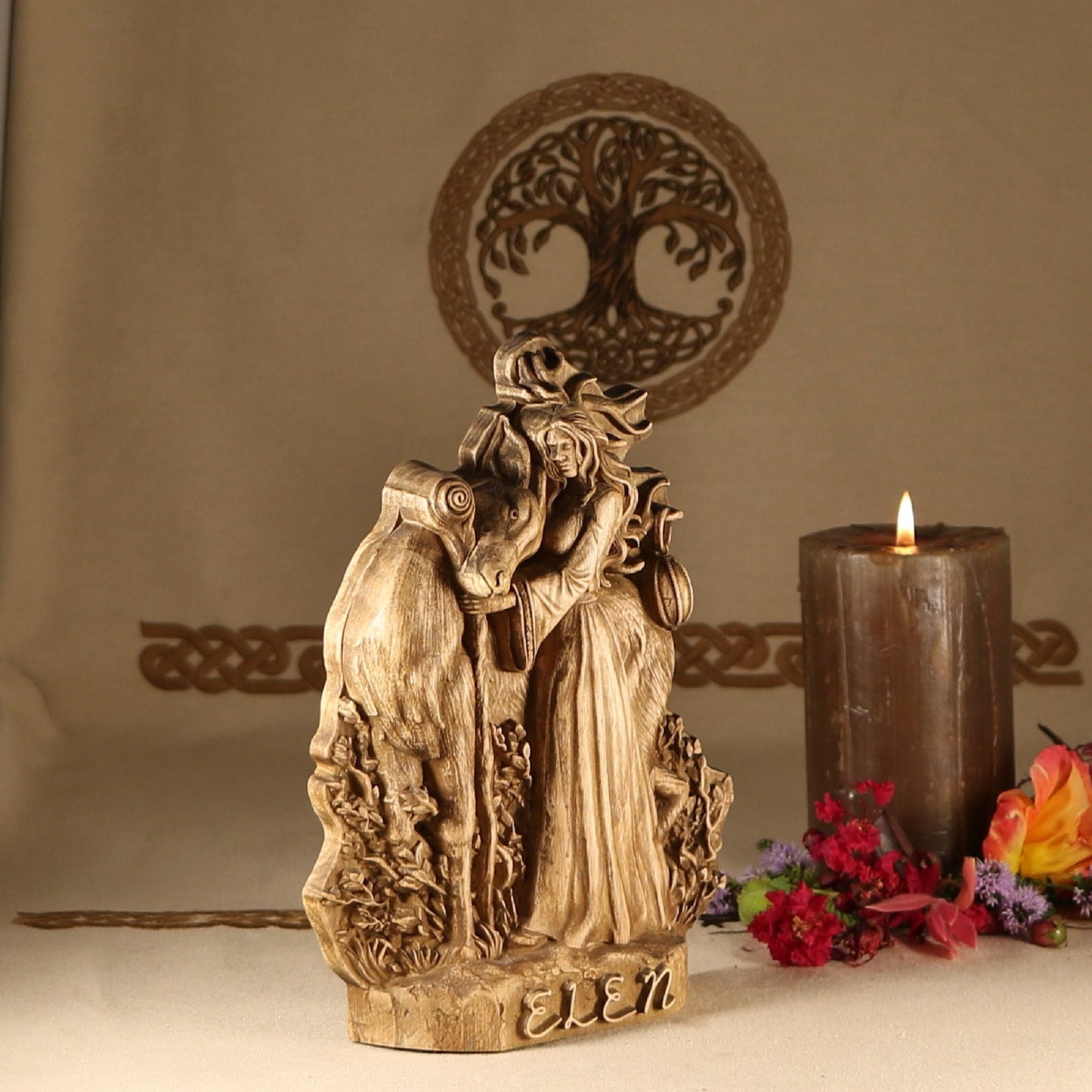 Beautiful addition to my altar 😊 Elen's blessings 🦌
This statue is the epitome of gorgeous, I have now purchased a total of (3) statues from art carving and am absolutely overwhelmed with their high level of quality. I look forward to purchasing more art from this seller.
Absolutely amazing!!! The picture does not do this piece of art justice…It arrived very quickly.
A very nice statue of Elen but I would have liked a bit more attention to detail for the price.
Statue is awesome, shipping was fast. Would definitely recommend this artist!
Our Advantages
Worldwide Shipping

Free shipping on most orders.

Hassle-Free Exchanges

If any sculpture comes in a damaged state, please let us know.

Absolutely Unique Designs

We create concept, model, adjust and carve. All of our models are nowhere else to be seen.