Regular price
Sale price
$89.00 USD
Unit price
per
Sale
Sold out
Enigmatic Tezcatlipoca Description
This wooden Tezcatlipoca statue serves as more than just a beautiful decorative piece, it also creates an aura of enigma and sparks curiosity about aztec mythology and culture.
Enigmatic Tezcatlipoca Characteristics 
Material: ecological ash tree.
Coating: varnish.
Height 8.1inch/20.6cm.
Width 3.5inch/9cm.
Depth 1.5inch/4cm.
Shipping
We ship our products from Spain to the EU. The USA and other countries, the goods are shipped from the USA(USPS) or Ukraine (DHL)

Returns & exchanges

We gladly accept returns and exchanges
Contact me within 14 days of delivery
Ship items back within 30 days of delivery
Detailed return information
here
About the Brand
We have a rich and fascinating story behind our brand. If you have a couple minutes to read and watch how we work, please see About Art Carving page.
Features
Color shades and textures may differ slightly from actual products. It depends on your monitor or phone settings. The statues are very easy to clean. Wipe clean with a dry towel or tissue.
It is a unique and inimitable decorative object. You can place it on tables, shelves, and desks. Ideal for traveling. An excellent option for a gift.
We tried to do it for you with great pleasure and put effort into this wooden sсuІрture from ash tree for your complete delight.
About Enigmatic Tezcatlipoca
With its intricate carvings and symbolic design, this statue embodies the essence of Tezcatlipoca, the aztec god of magic and power.
This wooden carved statue of Tezcatlipoca brings a unique power and mystique of the Aztec god to any space. Tezcatlipoca, in aztec mythology, was one of the most influential gods, possessing magic, wisdom, and military prowess.
Also known as the "Mirror of the Black Eagle," Tezcatlipoca symbolizes unpredictability, strength, and magical transformation. He was the god of celestial light, night, wind, and magic, and his presence was sometimes associated with thunderstorms. He was believed to have the ability to move between the realm of the living and the dead, possessing supernatural wisdom.
Known as "Tezcatlipoca" in aztec culture, this wood-carved statue captures the essence of the aztec god with its detailed craftsmanship and powerful presence. Each intricately carved feature, from the strong stance to the elaborate headdress and embellishments, showcases the artistry and skill of the Aztec artisans.
As an important deity in aztec mythology, Tezcatlipoca represented both the unpredictable forces of nature and the transformative power of magic. He was revered as a symbol of strength and wisdom, influencing various aspects of aztec life. Having this statue in your space serves as a tangible connection to the rich aztec heritage, allowing you to explore and appreciate the intricate belief system and cultural significance of Tezcatlipoca.
The Tezcatlipoca statue not only adds a touch of aztec-inspired decor but also becomes a conversation starter and a focal point, igniting curiosity and inviting discussions about the aztec gods and their influence. Its presence in your home or office creates a sense of connection to ancient civilizations and adds a distinctive element to your interior design.
Whether you are an admirer of aztec art, a collector of cultural artifacts, or simply drawn to the mystical aura of Tezcatlipoca, this wood-carved statue is a testament to the power and beauty of aztec mythology. It serves as a reminder of the enduring legacy of the aztec civilization and its impact on art, spirituality, and human history.
Share
View full details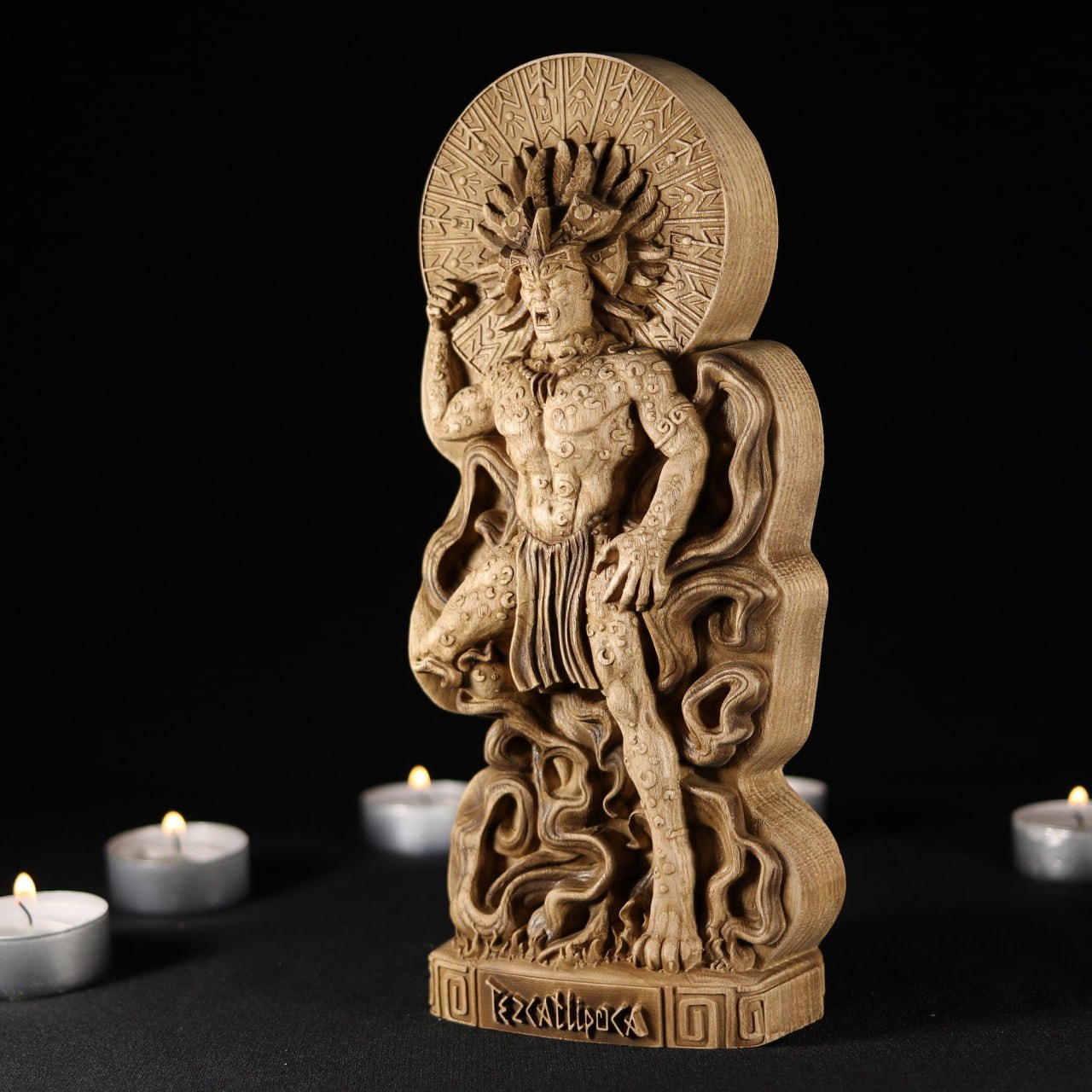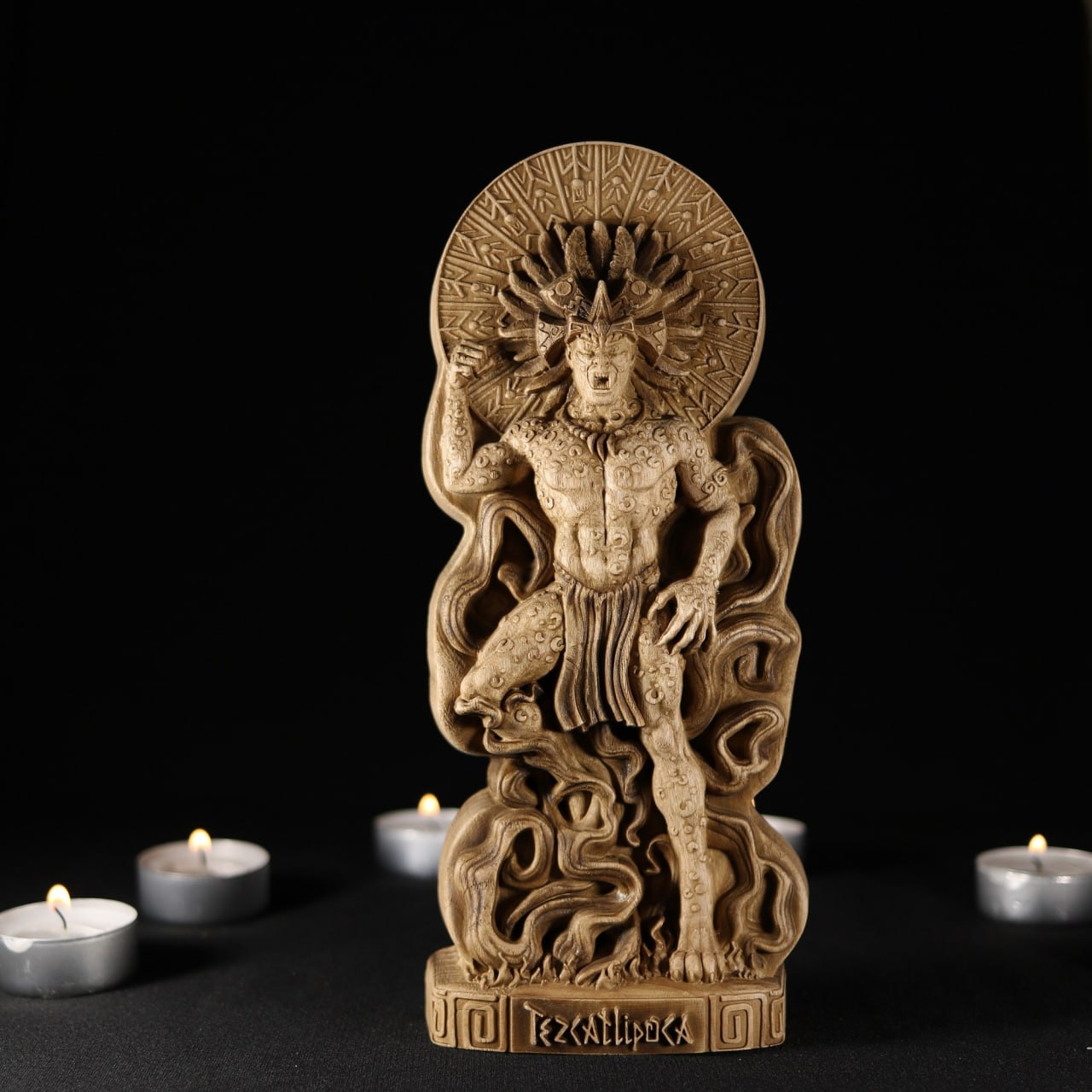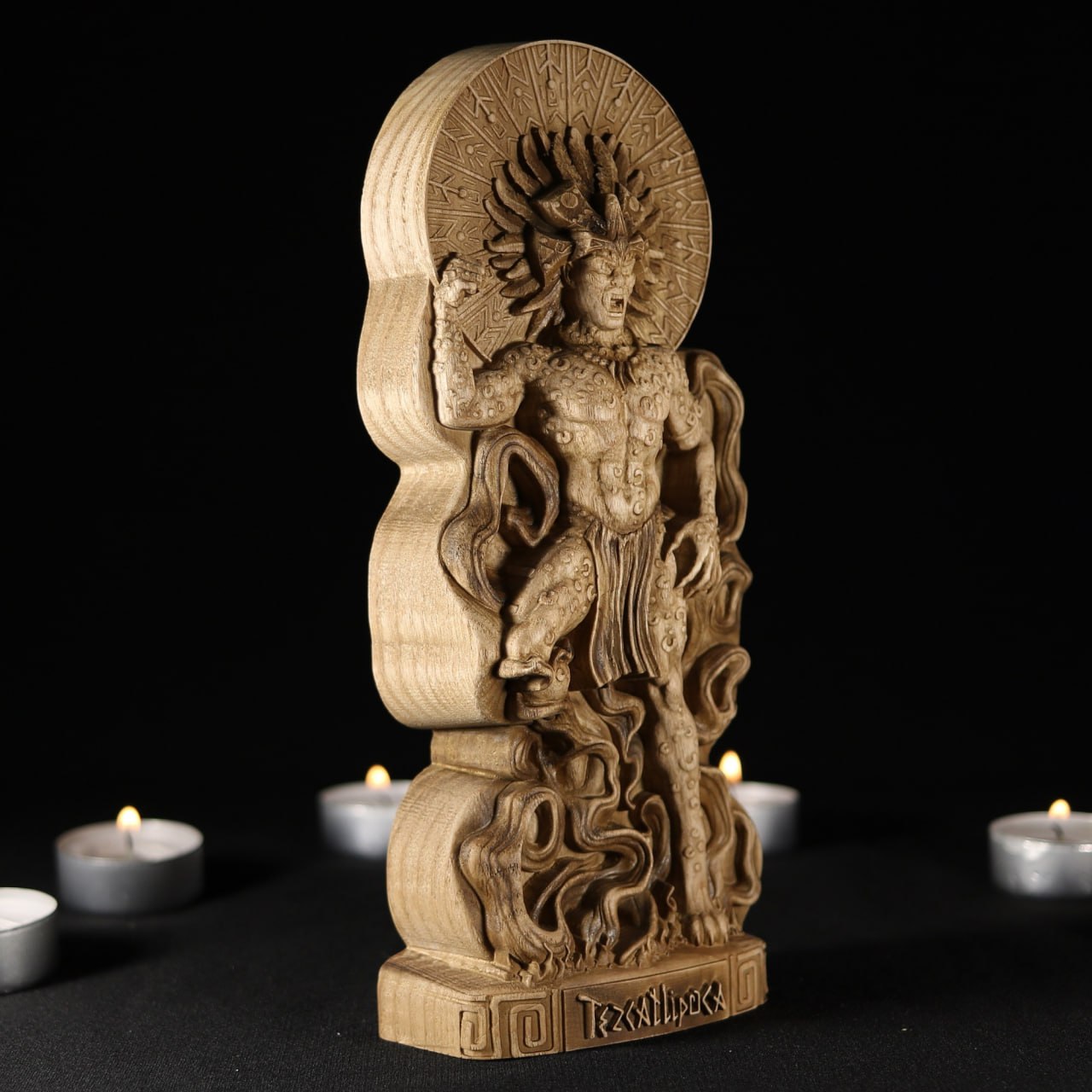 Our Advantages
Worldwide Shipping

Free shipping on most orders.

Hassle-Free Exchanges

If any sculpture comes in a damaged state, please let us know.

Absolutely Unique Designs

We create concept, model, adjust and carve. All of our models are nowhere else to be seen.