Regular price
$0.00 USD
Sale price
$79.00 USD
Unit price
per
Sale
Sold out
Introducing Frigg, the goddess statue handmade wood sculpture carved from ecological material. This beautiful statue is Carved from an ash tree, making it environmentally friendly as well as stunning to look at. Perfect for your home altar or as a decoration in your living room or office, Frigg is a wonderful addition to any space.


Frigg Statue Characteristics
Material: ecological ash tree
Сoating: varnish
Height 8 inch/20.5 cm
Width 4.9 inch/12.5 cm
Depth: 1.5 inch/4 cm

Features
Color shades and textures may differ slightly from actual products. It depends on your monitor or phone settings.
The statues are very easy to clean. Wipe clean with a dry towel or tissue.

Shipping
We ship our products from Spain to the EU. To the USA and other countries, the goods are shipped from a warehouse located in the USA.
We tried to do it for you with great pleasure and put effort into this wooden sculpture, a wooden statue from the ash tree for your complete delight.


In German-Scandinavian mythology, Frіgg is the gоddеss of marriage, love, family hearth, the personification of the feminine in nature, the wife of Odіп, sitting next to him on the throne of Hlidskjalve, from where the divine spouses could survey all nine worlds.

She has a prophetic gift, she knows the fate of people and gоds, but does not reveal the secrets of the future to anyone.

She is called the wisest of the gоddеssеs and the mother of all ages. She is usually represented as a tall, beautiful and stately woman, adorned with a heron feather headdress, a symbol of silence or forgetfulness. She is dressed in snow-white clothes, at the waist, she wears a golden belt from which hangs a bunch of keys, a distinctive feature of the Old Norse housewife, whose special patroness was Frigg. Often appearing next to her husband, Frigg prefers to live in her own palace - Fensalir, the palace of fog or sea, in which she diligently rotates the spinning wheel, from where a golden thread or long canvases of brightly colored clouds appeared. For this work, she uses a jeweled spinning machine that shines brightly as a constellation in the night. In her palace, this goddess invited only those husbands and wives who led a virtuous life on earth, so that after death they could enjoy each other's company and never be separated again. Frіggа was the gоddеss of conjugal and maternal love and was primarily worshiped by loving married couples and loving, affectionate parents.

Frigg was the gоddеss of the atmosphere or clouds, and therefore, in accordance with her changeable mood, she was represented either in snow-white or in dark clothes. She was the queen of the gods and the only one who had the right to sit on the throne of Hlidskjalf next to her husband.

Оdіп, although he was the god of intelligence and wisdom, sometimes could not equal his wife Frіggа, who, using her female tricks, could achieve her own means.

The design of our wooden products is a one-of-a-kind artwork created by my team and me.

Share
View full details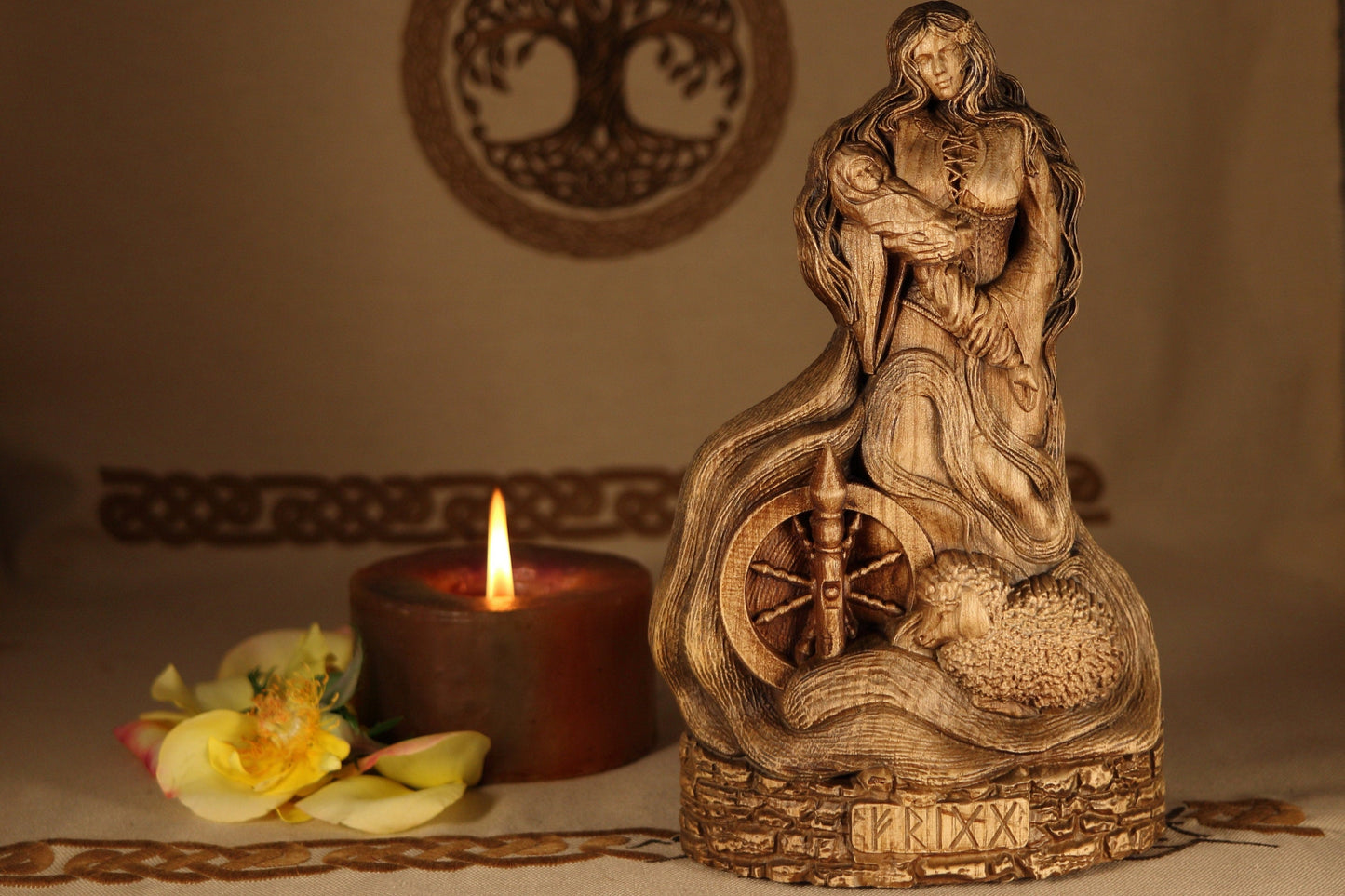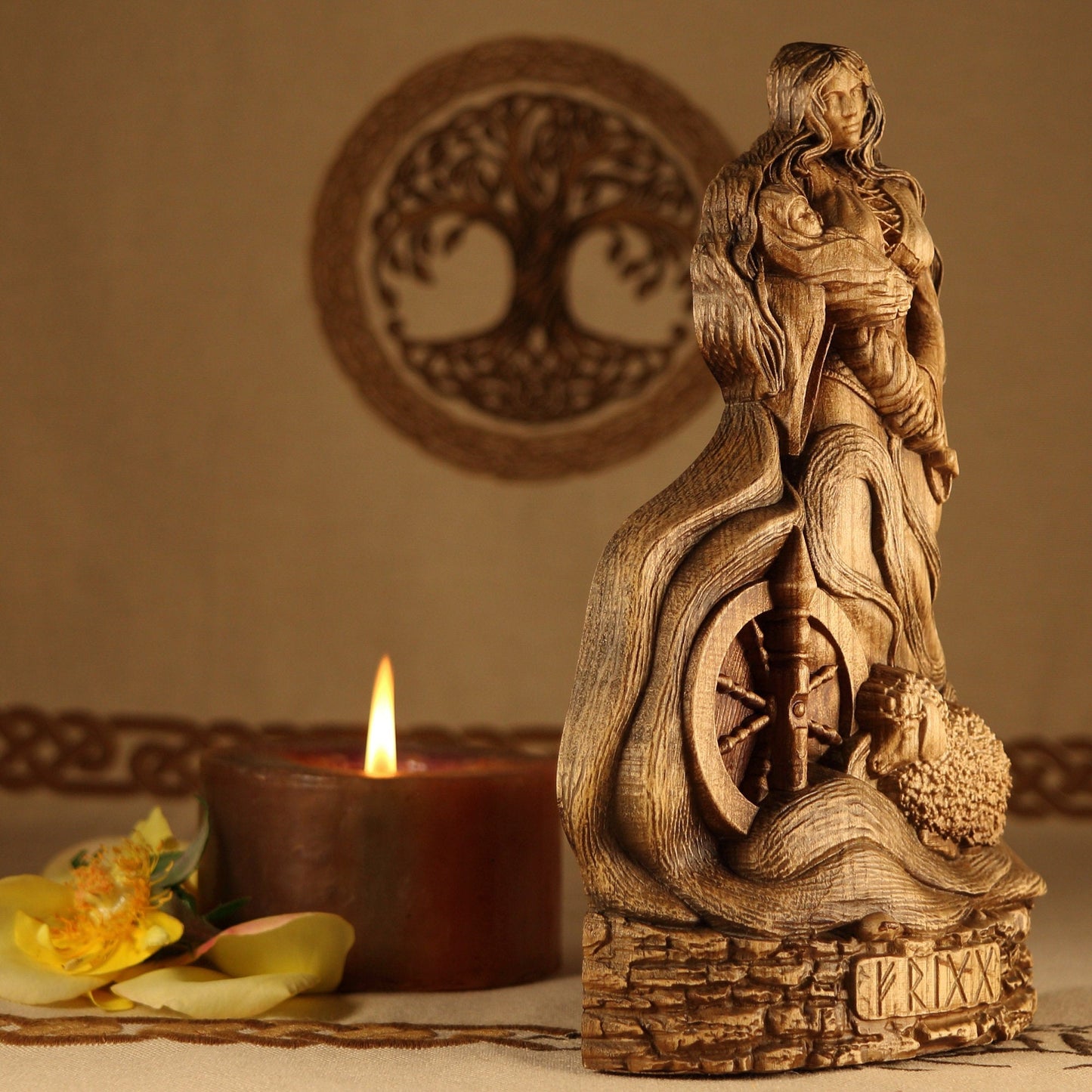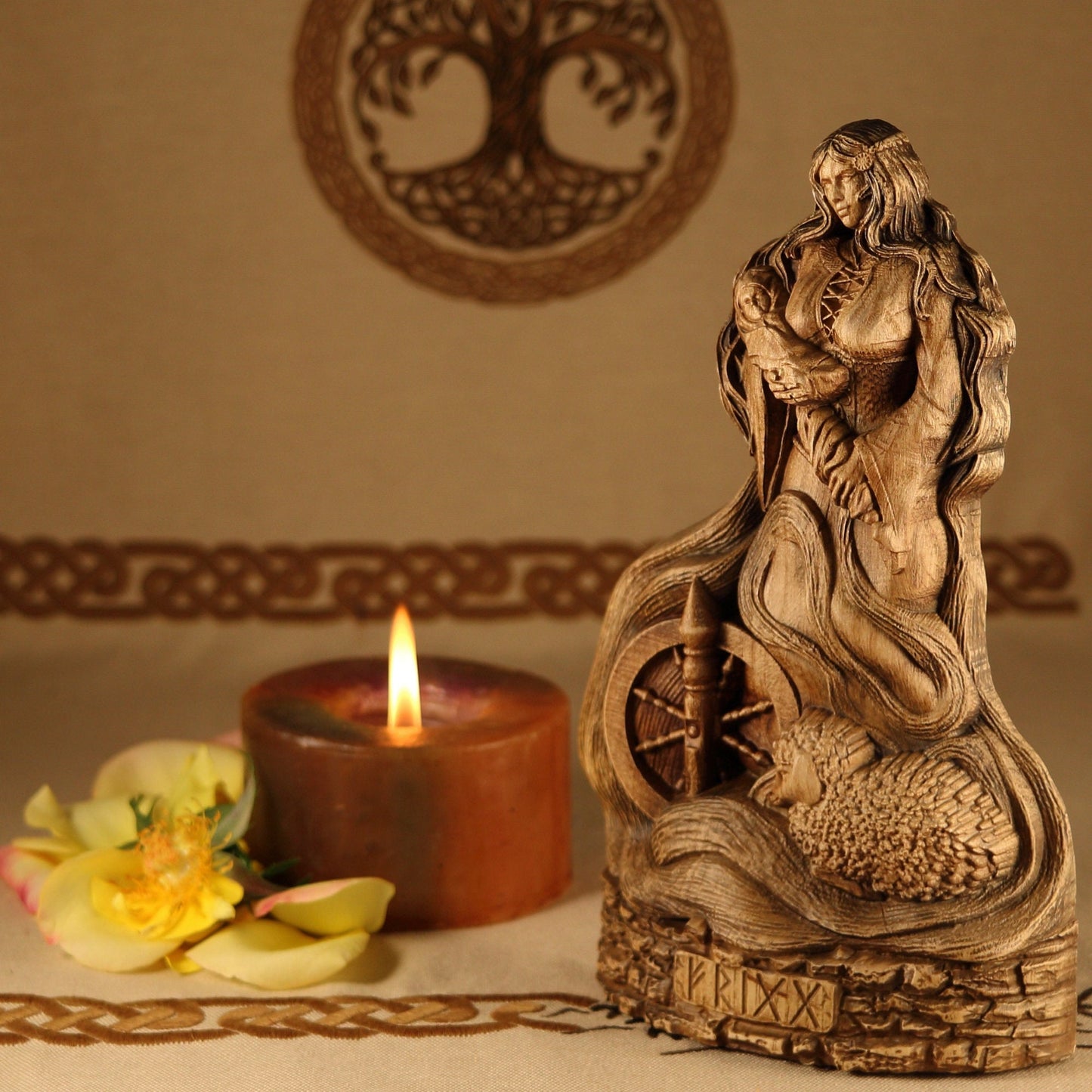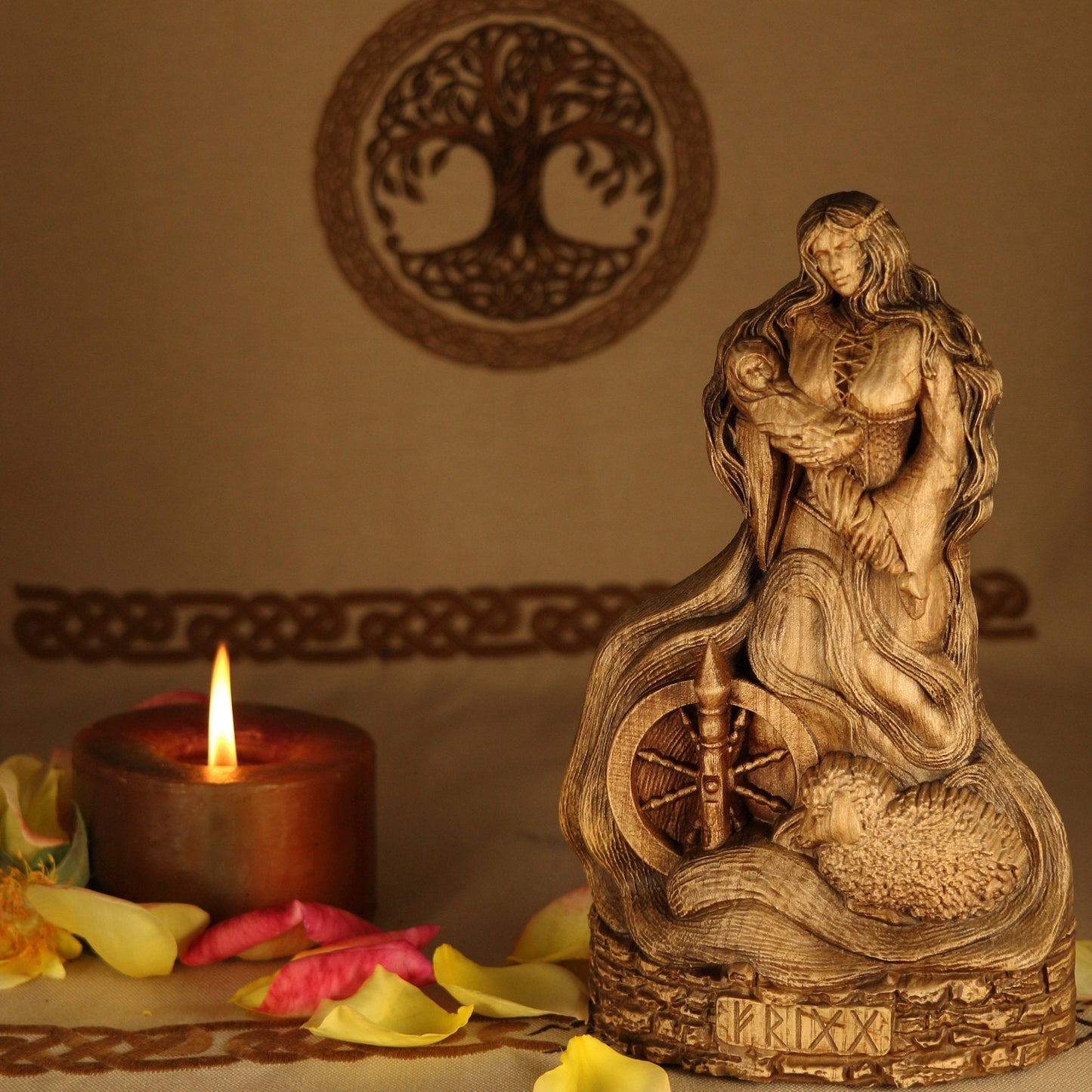 amazing artwork. the detail is breath taking. shipped and received way sooner than expected. i will be buying again most deff. highly recommend. shipped nicely and no damage. 10/10.
Beautiful item, and shipping was incredibly fast. definitely got everything expected and more!
Shipping was much faster than I thought it would be, and the statue is exactly as pictured.
Absolutely stunning the finest craftsmanship I've seen. Great shipping.
This piece is nothing less than stunning g and faith inspiring.
Our Advantages
Worldwide Shipping

Free shipping on most orders.

Hassle-Free Exchanges

If any sculpture comes in a damaged state, please let us know.

Absolutely Unique Designs

We create concept, model, adjust and carve. All of our models are nowhere else to be seen.