Regular price
Sale price
$82.00 USD
Unit price
per
Sale
Sold out
Introducing Vali, the hand-carved wooden statue that's sure to add a touch of Norse mythology to your home decor. Vali is the god of revenge in Norse mythology, and this striking statue is hand-carved from ecological ashwood. It's then coated with varnish to protect it from the elements and ensure that it will last for years to come. Whether you're a fan of Viking culture or simply looking for a unique and eye-catching piece of home decor, Vali is a perfect choice.


Vali Characteristics
Material: ecological ash tree
Сoating: varnish
Height 8 inch/20.5 cm
Width 3.5 inch/9 cm
Depth: 1.5 inch/4 cm

Features
Color shades and textures may differ slightly from actual products. It depends on your monitor or phone settings.
The statues are very easy to clean. Wipe clean with a dry towel or tissue.

Shipping
We ship our products from Spain to the EU. To the USA and other countries, the goods are shipped from a warehouse that is located in the USA.
We tried to do it for you with great pleasure and put effort into this wooden sculpture, a wooden statue from the ash tree for your complete delight.


He in German-Scandinavian mythology is of vengeance. He can endow those he loves with intuition and discernment.

He is who bore just retribution for all the misdeeds that were only committed by both people and gоds. Little was said about him, but it was his retribution that those who committed the crime feared most of all.

It should be noted that, unlike many other mythologies, in the Sсаndinavіаn, the avenger god had very little meaning. This is unusual because vengeance was quite normal for these people, and they often waged long wars for an outraged part or as part of a blood feud. But among the warriors, there was almost no one who would not commit a crime, just as today there are almost no crystal honest people. So it turned out that the son of Оdіn himself, a powerful god, became one of the least significant.

He was born to a giant named Rind. The birth of a god was not an accident, just as everything that happened in this world before Ragnarok was not an accident. His birth was only a reflection of justice and revenge. After he was born, this god grew up quickly and became strong and powerful in just one day. This is a sign that the punishment for a misdemeanor, that justice can be very, very quick, and that there is no need to wait for it.

To say that he was born with a specific purpose, his description in mythology allows. Exactly what he did, and the fact that he did only that, speaks of his clear purpose. And his story intersects with the sad and strange story of the god Balder, who, by the way, is his half-brother on his father's side.

When Hodr, at the instigation of Loki, became the killer of a beautiful and bright ace, the killers received their punishment. And it was the god of retribution that brought this punishment. He himself found out what had happened and himself came first to the scene of the crime. The blind man who became a murderer was punished by the god of vengeance with death. And it was he who seized and imprisoned the deity of magic and lies, the first of all the gods.

According to the myth, when he was born, he fully matured in one day and avenged Baldr's murder.


We tried to do it for you with great pleasure and put effort into this sculpture from ash tree for your complete delight.

The design of our products is a one-of-a-kind artwork created by my team and me.

Share
View full details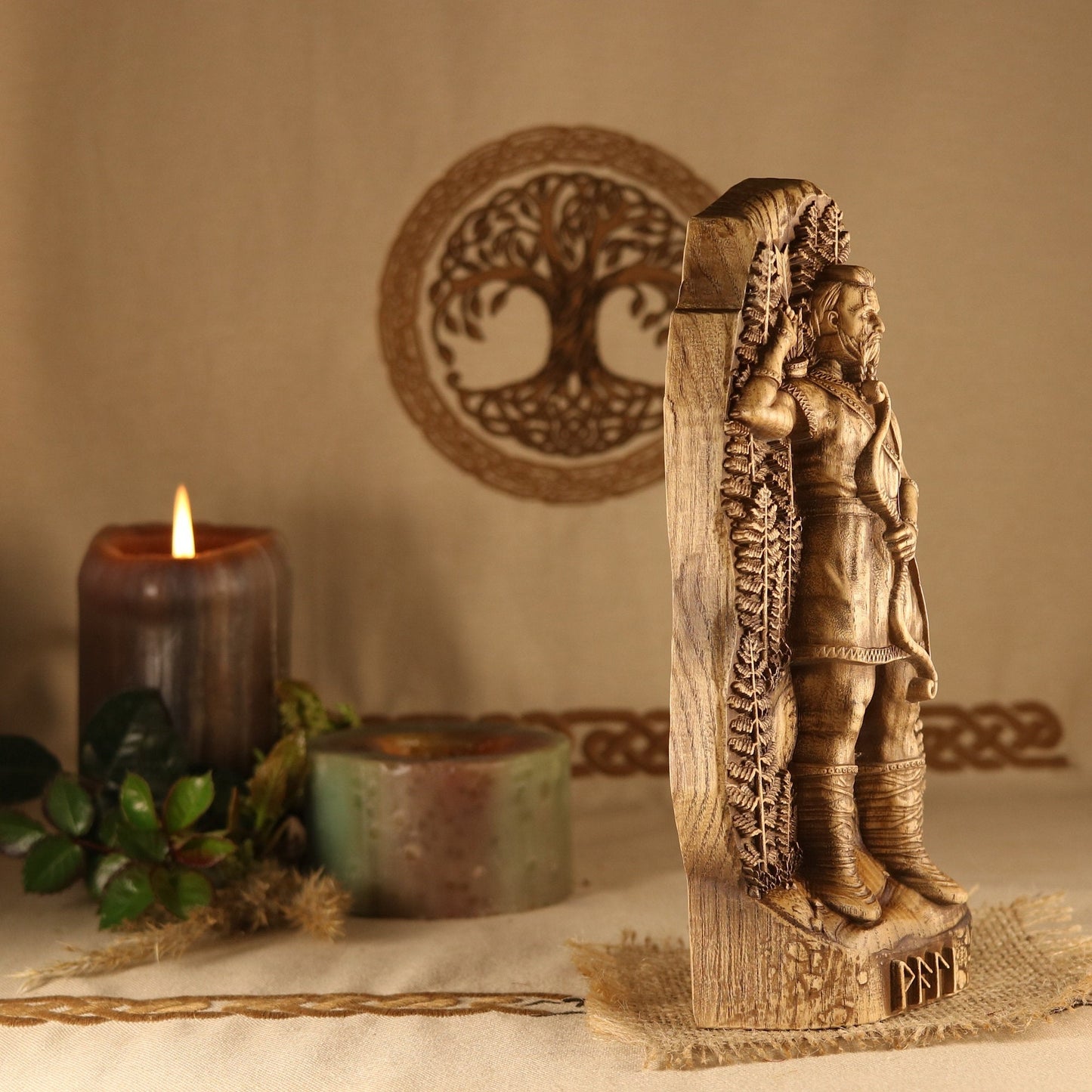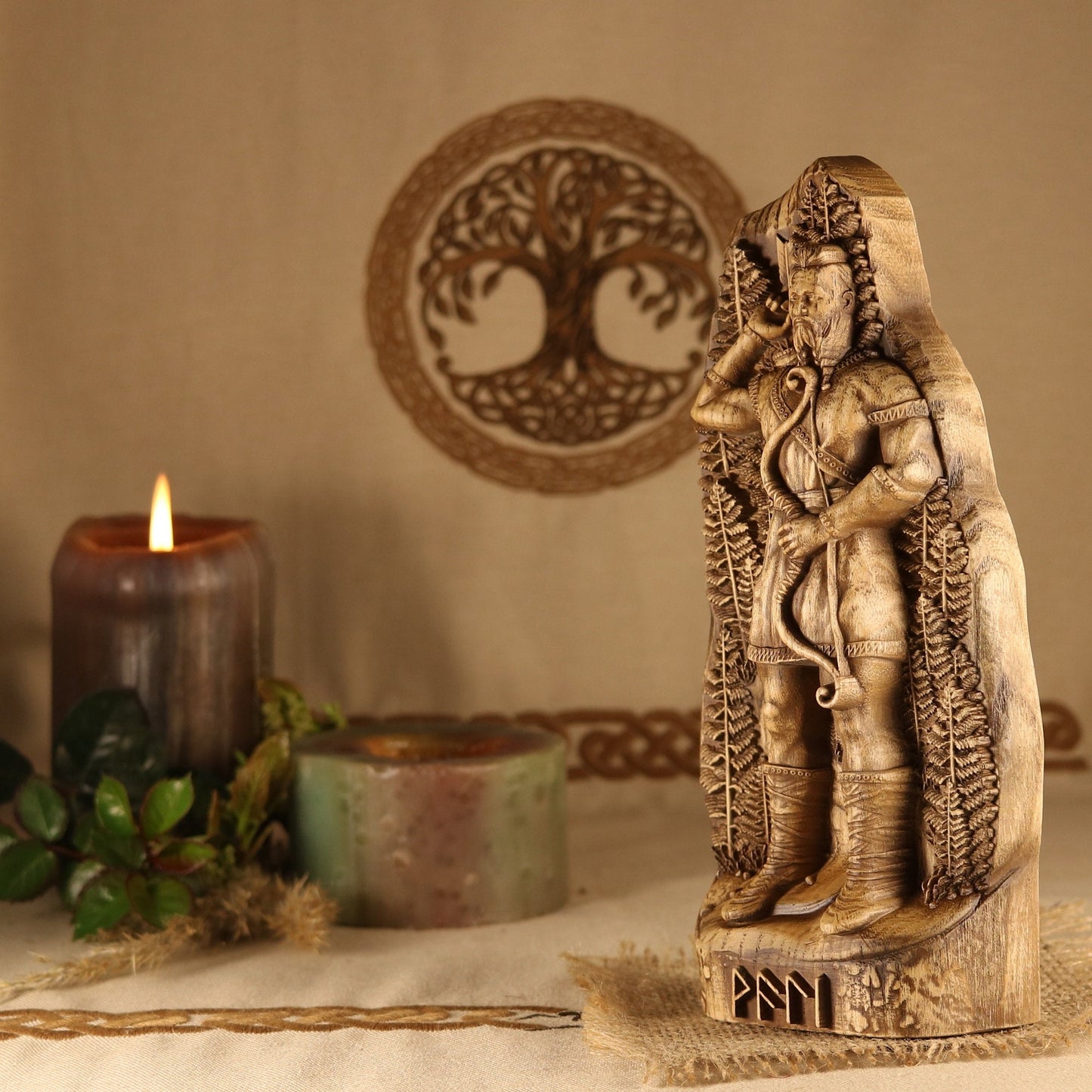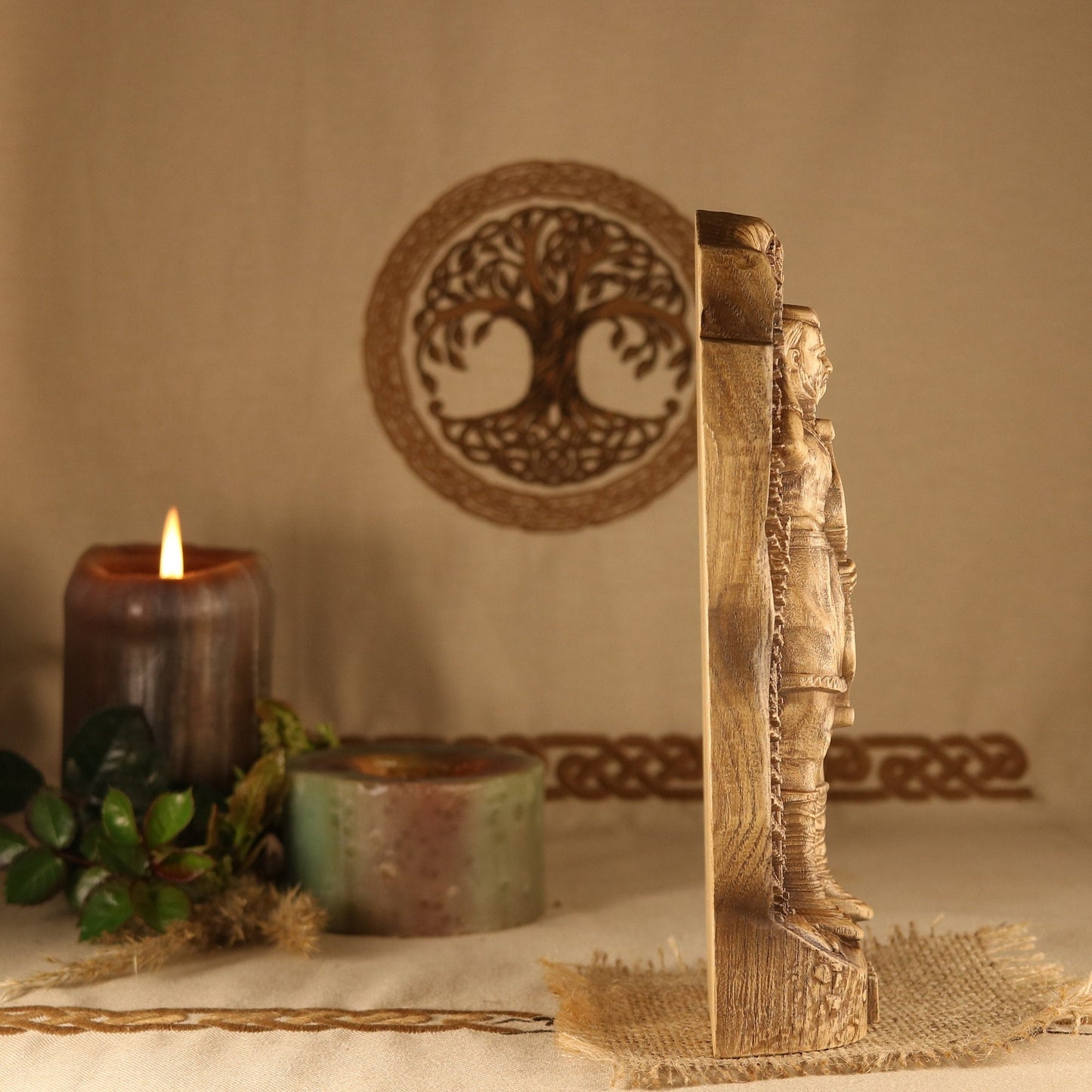 She is so beautiful! Nice details, good quality, sanding is perfect, shipping was extremly fast... I'm very happy with my purchase!
Absolutely beautiful carving, carefully packed. A+++ Seller
A great idea to have personalization on your carvings.
Absolutely beautiful and stunning statue of Athena. This is my favorite one! Craftsmanship is gorgeous.
Our Advantages
Worldwide Shipping

Free shipping on most orders.

Hassle-Free Exchanges

If any sculpture comes in a damaged state, please let us know.

Absolutely Unique Designs

We create concept, model, adjust and carve. All of our models are nowhere else to be seen.