Regular price
$88.00 USD
Sale price
$88.00 USD
Unit price
per
Sale
Sold out
"Why so serious?" This is what you might ask Hel, the goddess of death if you ever had the misfortune of meeting her. But there's nothing funny about death, as Hel well knows. As the mistress of the world of the dead, she takes her job very seriously.

But even Death has a sense of style. This handmade wooden statue carving of Hel is made from ecological materials and finished with a varnish coating. She is a striking addition to any décor, whether gothic or modern. And with her haunting beauty, she's sure to be a conversation starter.

So if you're looking for a unique piece that is both beautiful and deadly, look no further than this statue of Hel, the goddess of death.


Hel Characteristics
Material: ecological ash tree
Сoating: varnish
Height 7.9 inch/20.3 cm
Width 4.6 inch/11.7 cm
Depth: 2 inch/5.2 cm

Features
Color shades and textures may differ slightly from actual products. It depends on your monitor or phone settings.
The statues are very easy to clean. Wipe clean with a dry towel or tissue.

Shipping
We ship our products from Spain to the EU. To the USA and other countries, the goods are shipped from a warehouse that is located in the USA.
We tried to do it for you with great pleasure and put effort into this wooden sculpture, a wooden statue from the ash tree for your complete delight.


Неl is the goddess of death in Scandinavian mythology. The queen of Helheim - the world of the dead. Неl is the daughter of the deceitful god Loki and the giantess Angrboda, the gоddеss of the depths of the unconscious. In her kingdom, people who die ingloriously fall. For example, from hunger, old age, or illness. Those who did not distinguish themselves by feats of arms and did not replenish Odin's army in Valhalla.

The Scandinavian Неl is different from other rulers of the underworld. In her domain, there is no hellfire, torment, and suffering. She is endowed with an uncompromising character. She knows what leads to happiness and what leads to grief. She demonstrates the inevitability of death to people. She knows the deepest, most secret motives of human behavior, she is at the very bottom of his soul, the unconscious, therefore it can give awareness. Therefore, her image consists of the appearance of a beautiful lady on the one hand and the bones of a corpse on the other.

She destroys the illusions, "castles in the sand", built for themselves by stupid, narrow-minded people. Only by losing can one find the truth.


We tried to do it for you with great pleasure and put effort into this wooden sculpture from an ash tree for your complete delight.

The design of our wooden products is a one-of-a-kind artwork created by my team and me.

Share
View full details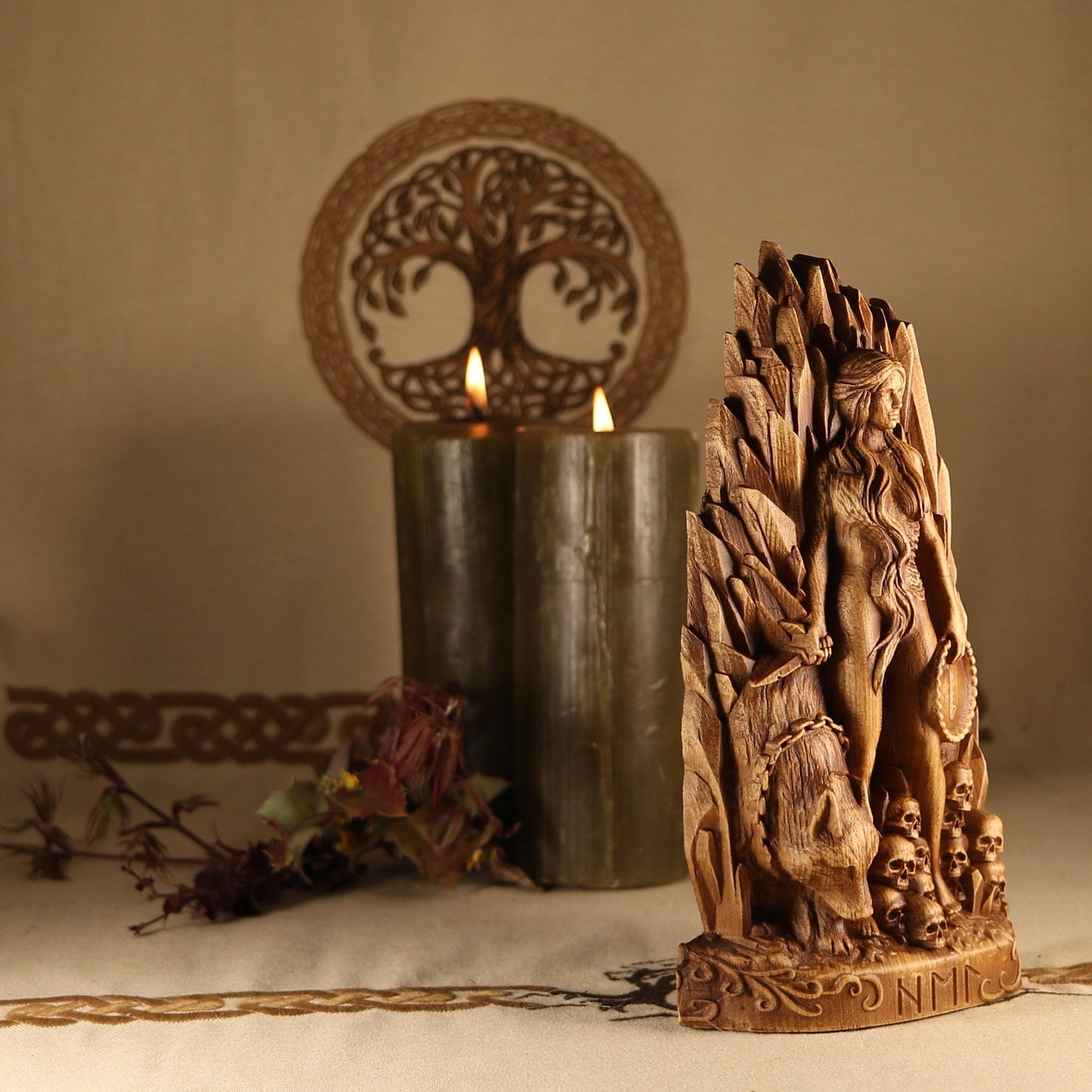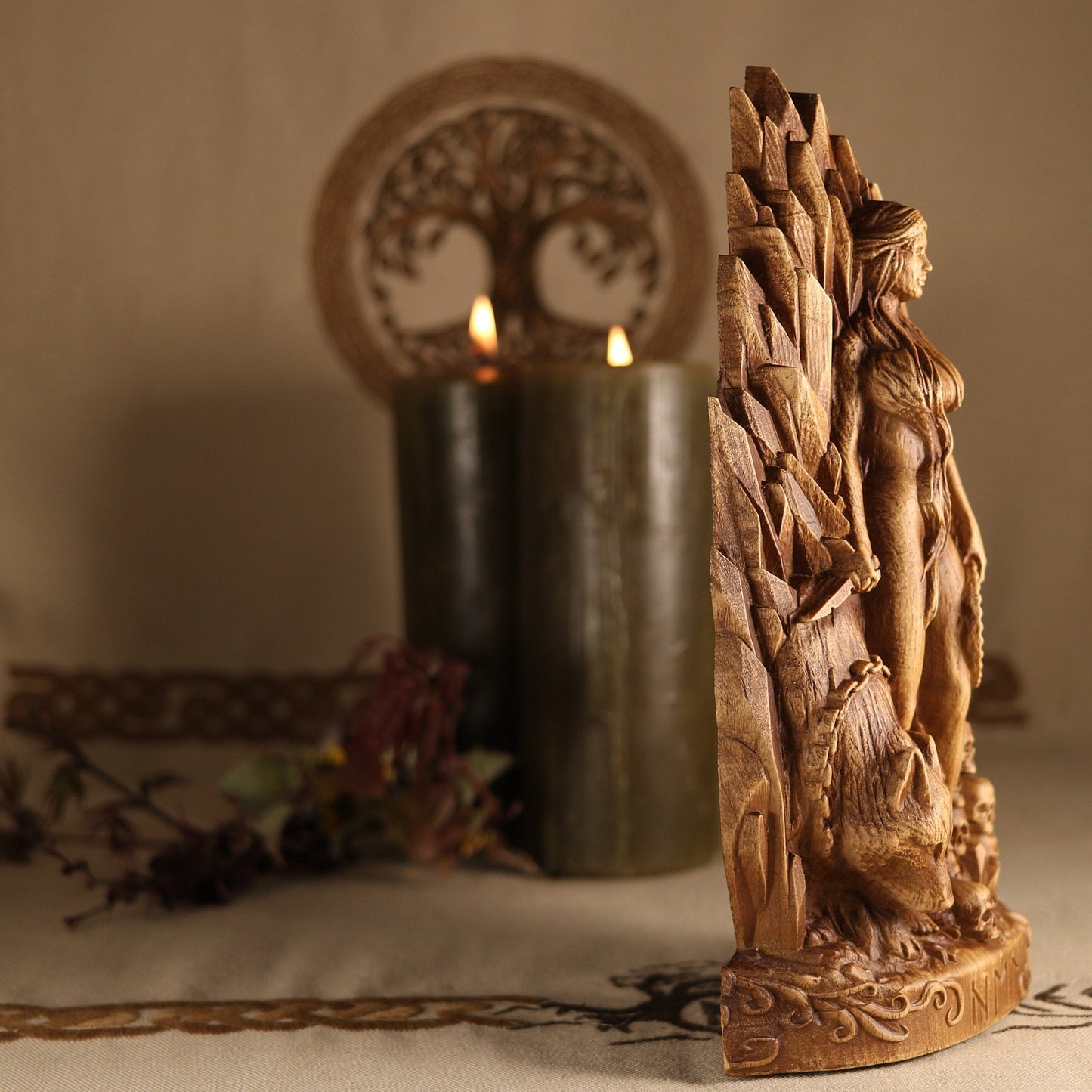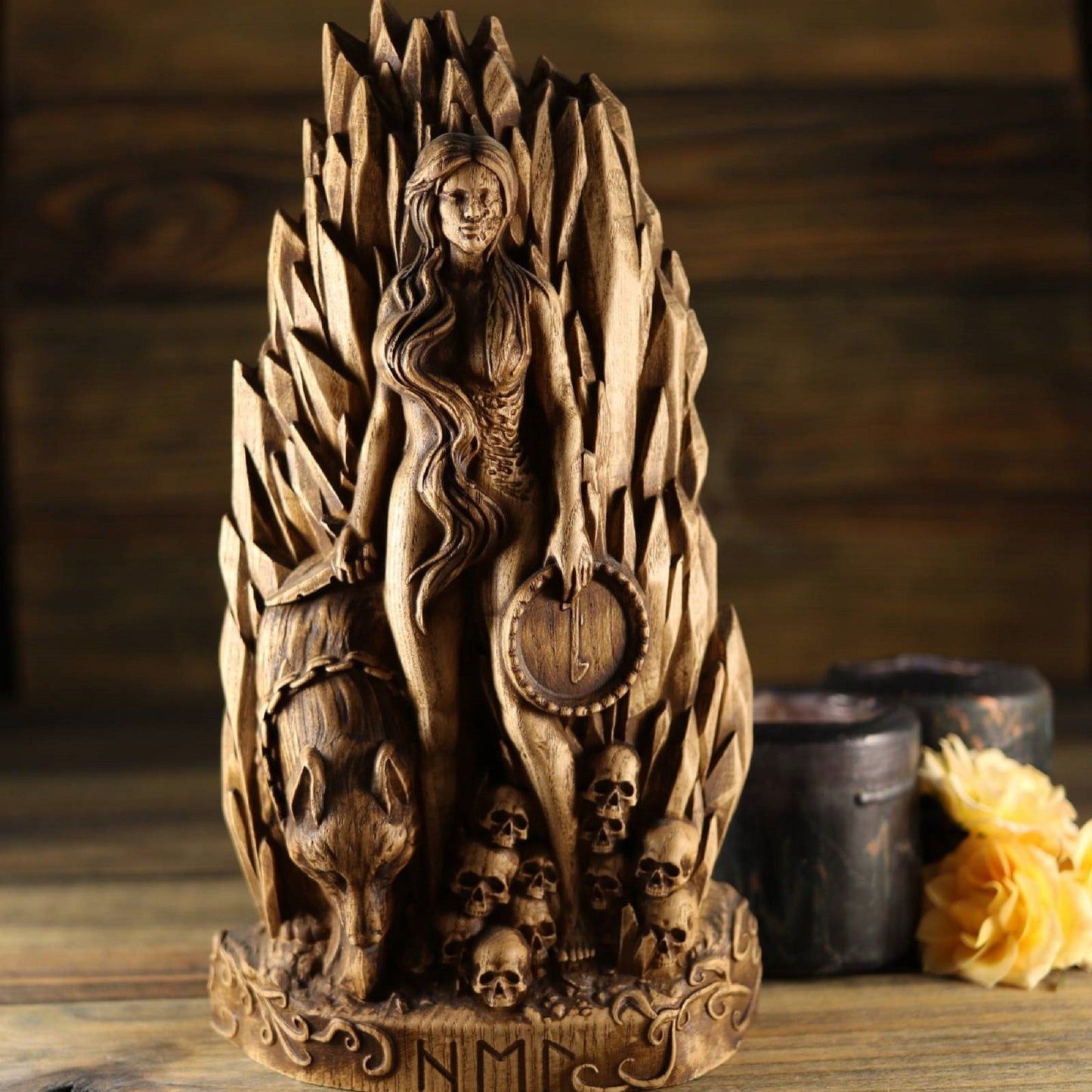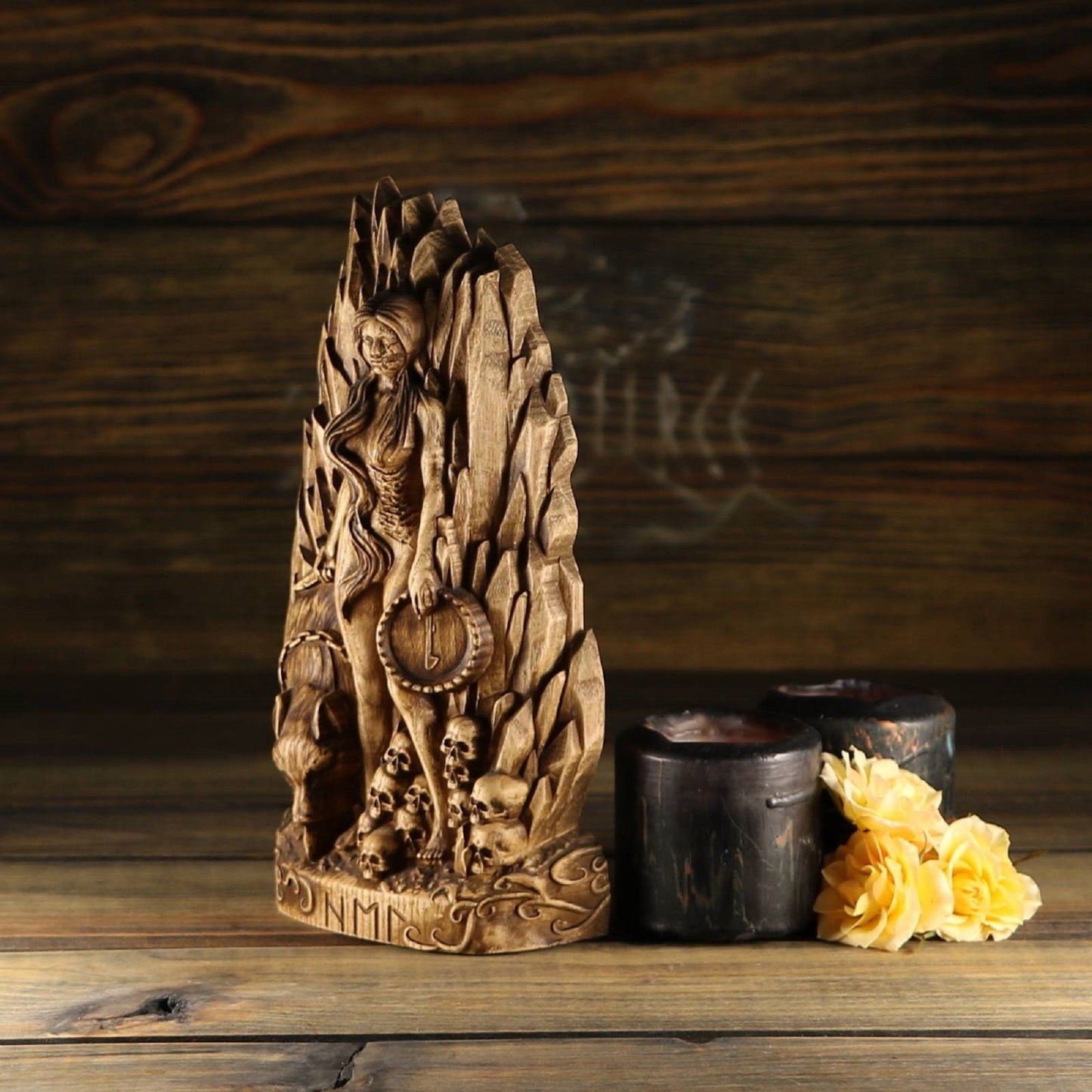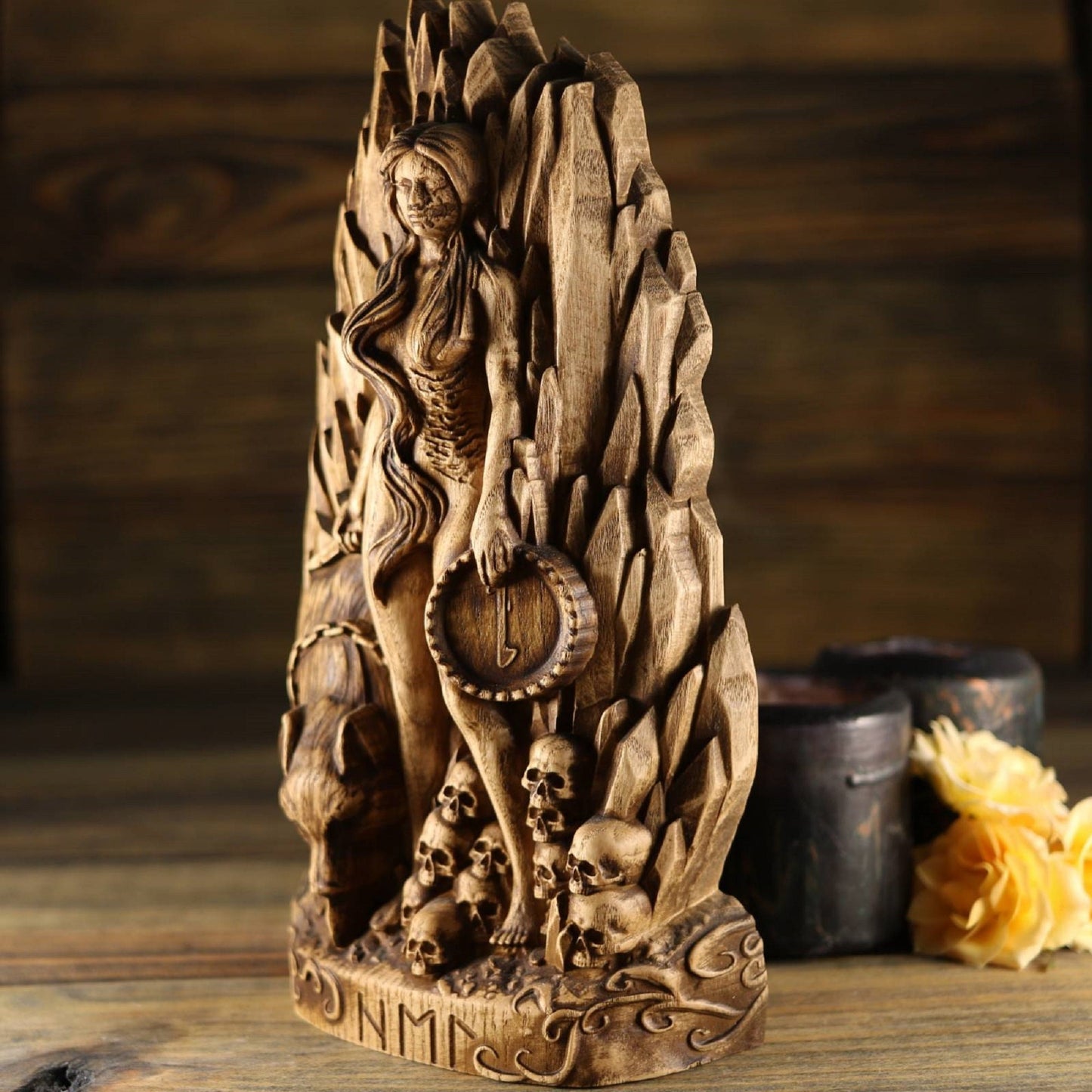 Fantastic statue highly detailed 100% recommended
Beautiful, detailed statue. Thank you so much!
Amazing quality as always! This is my favorite I have found of Hel. She's so beautiful. This is definitely my favorite shop!
This piece is stunning. As soon as I saw it, I knew it was needed. Shipping was surprisingly fast and Maryna was the sweetest to speak with. She answered all of my questions before I purchased. I will absolutely buy from them again in the future.
Beautifully done and looks exactly as shown in the pictures! I love it and would definitely recommend this store and this item!
Our Advantages
Worldwide Shipping

Free shipping on most orders.

Hassle-Free Exchanges

If any sculpture comes in a damaged state, please let us know.

Absolutely Unique Designs

We create concept, model, adjust and carve. All of our models are nowhere else to be seen.