Regular price
$166.00 USD
Regular price
Sale price
$166.00 USD
Unit price
per
Sale
Sold out
The horse is a symbol of speed, grace, as well as courage, and lust, and a handmade wooden statue carved from ecological material.
Horse Statue Characteristics
Material: ecological ash tree. 
Сoating: varnish.
Height 11.8inch/30 cm
Width 6.8inch/17.5cm.
Depth 1.9inch/5cm

Shipping
We ship our products from Spain to the EU. The USA and other countries, the goods are shipped from the USA(USPS) or Ukraine (DHL)
Features
Color shades and textures may differ slightly from actual products. It depends on your monitor or phone settings. The statues are very easy to clean. Wipe clean with a dry towel or tissue. 

The horse is a symbol of vital animal strength, beauty, grace, power, and bewitching harmonious movement. A symbol of fidelity and at the same time indomitable freedom, fearlessness, military prowess, and glory. It is a typical symbol of fertility, courage, and power. Also, this image is an ancient symbol of the cyclic development of the world. The Bible says that the horse is the embodiment of the perfect creation of God.
In Norse mythology, the horse is dedicated to Odin, who rode the eight-legged mare Sleipnir.
The four horses of the Apocalypse are war, death, famine, and epidemic.
The horse personifies male solar power and is a footstool for the rising spirit of man. It is a combination of blind strength and a guiding spirit.
Horse and man coexist together for a very long time. These animals are present in almost all cultures of the world. From birth to death, in battles, at work, and at rest, the horse accompanied man. A strong, hardy, powerful animal that can travel great distances cannot be associated with weakness and helplessness. Until now, the noble beauty and grace of movements delight and capture. One look at a running horse is enough to believe in its magic.
 The horseshoe is a well-known symbol of good luck and prosperity. Horsehair, so strong that bowstrings were made from it, is a powerful amulet for many peoples.
Among the Romans, Greeks, Slavs, and Europeans, the horse was revered and highly valued, almost magical properties were attributed to it. Horses were sacrificed to the gods as a good and rich tribute. The images of the gods themselves in different cultures were either presented in the form of a horse or a divine rider on this glorious animal. Sleipnir, Pegasus, Unicorn, Hippocampus - all these images are, in fact, the embodiment of different sides of the horse spirit.
The horse is a psychopomp and a messenger of the gods. In various traditions, the horse was once a funeral animal, carrying the deceased to another world. Thus, the horse symbolizes both life and death (a pair of horses, white and black, represent life and death).
The creator, father, or giver of horses is Poseidon - the god of the sea, earthquakes, and springs. According to legend, the enamored Poseidon pursued Demeter, but she, avoiding him, turned into a mare. Then Poseidon himself turned into a horse and united with Demeter, from this marriage Arion was born, a divine horse who could speak.
The winged horse Pegasus was the son of Poseidon and Medusa.
We tried to do it for you with great pleasure and put effort into this wooden horse sculpture from the ash tree for your complete delight.
The design of our wooden horse sculpture is a one-of-a-kind artwork created by my team and me.
Share
View full details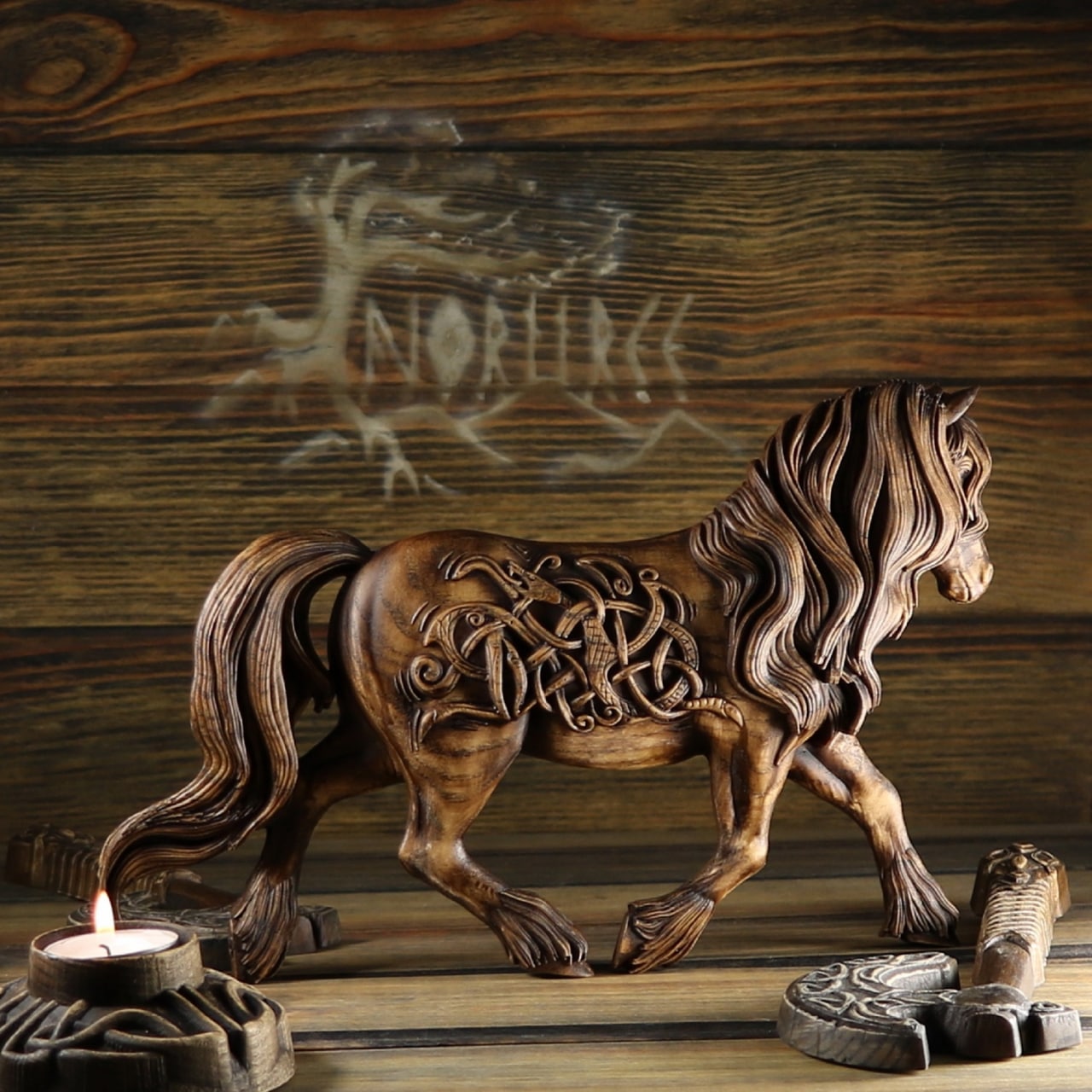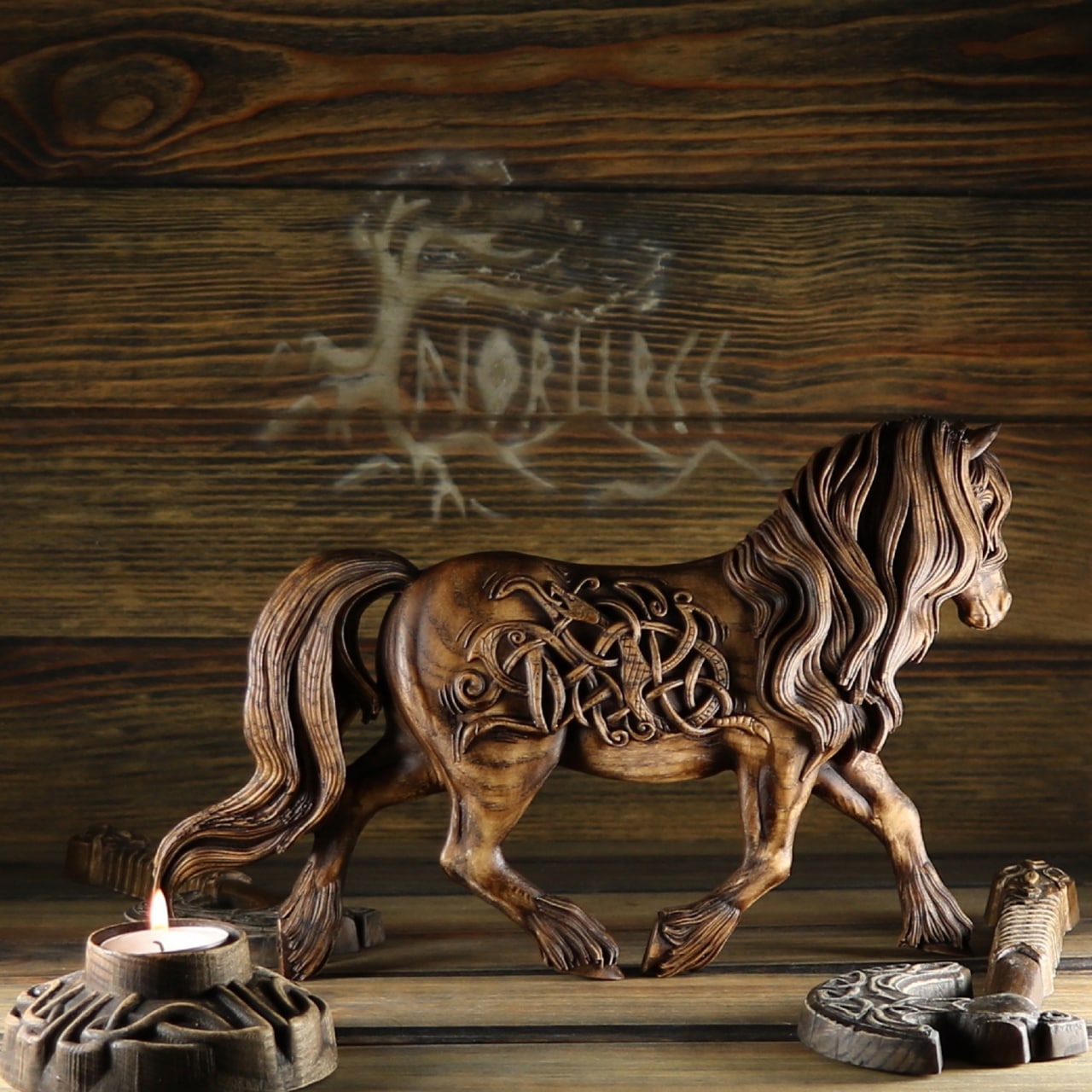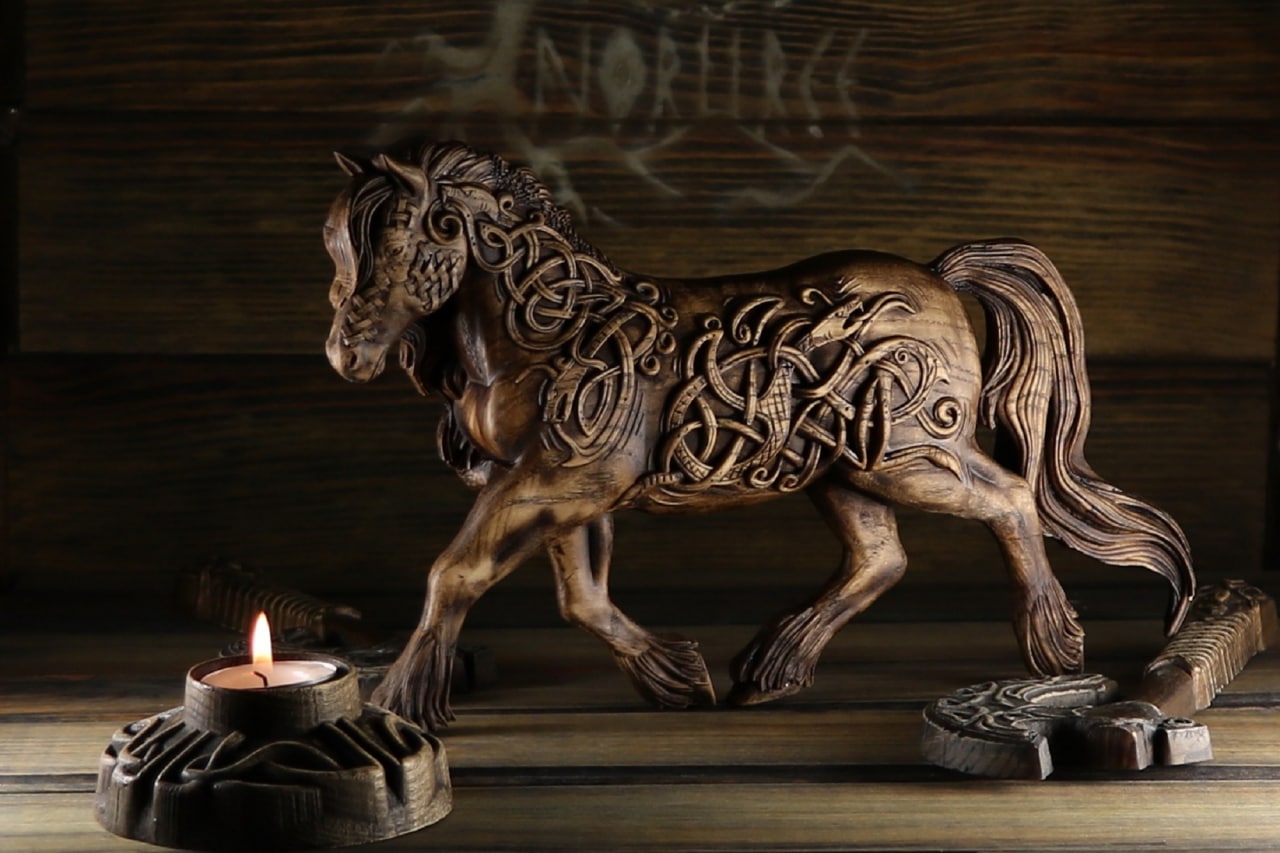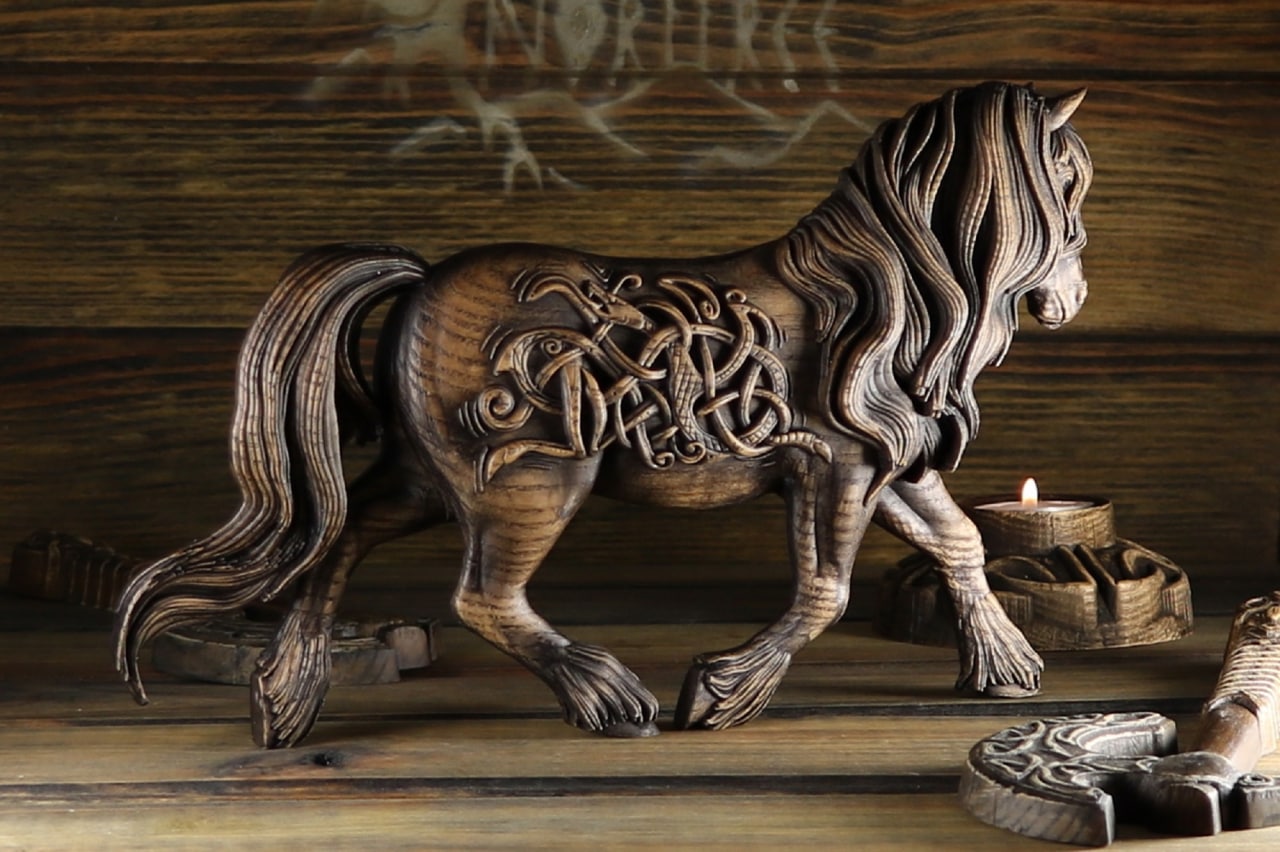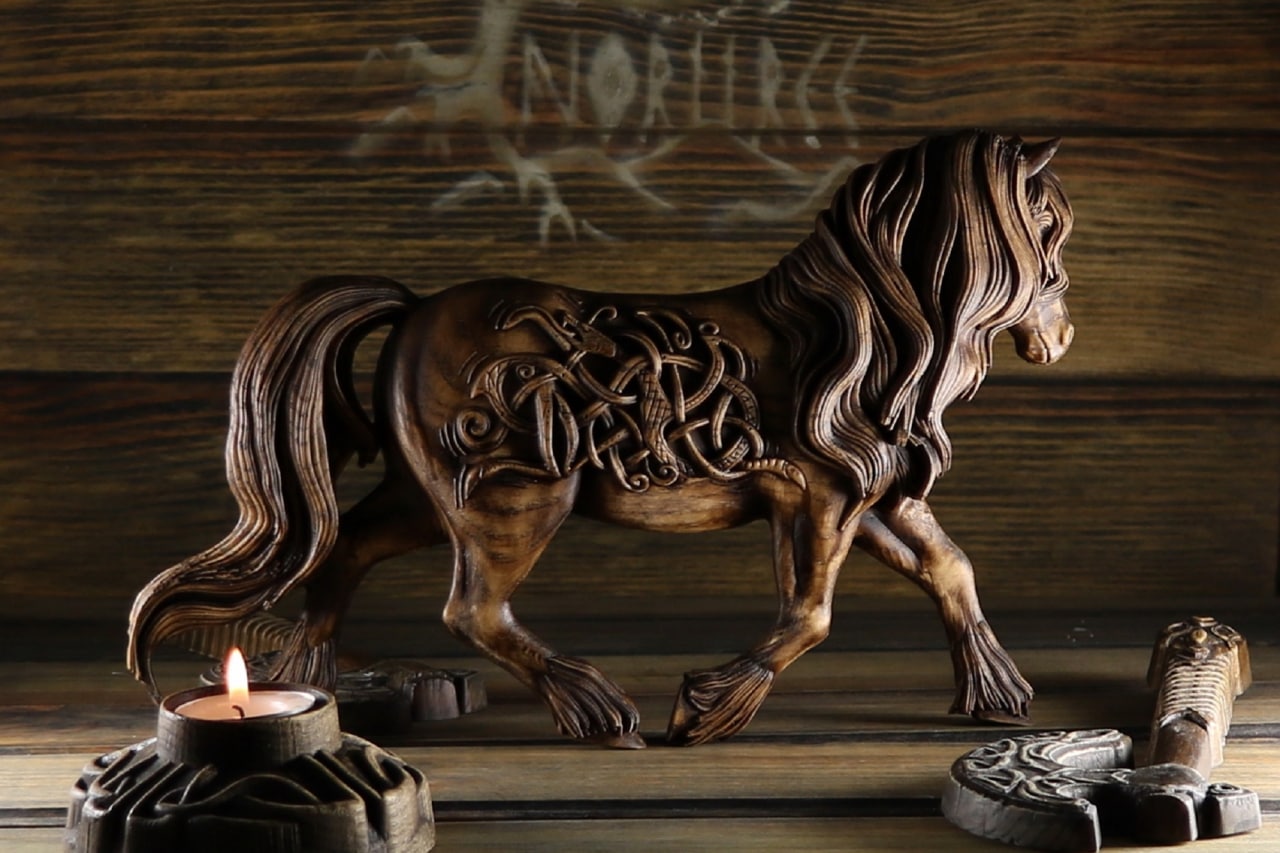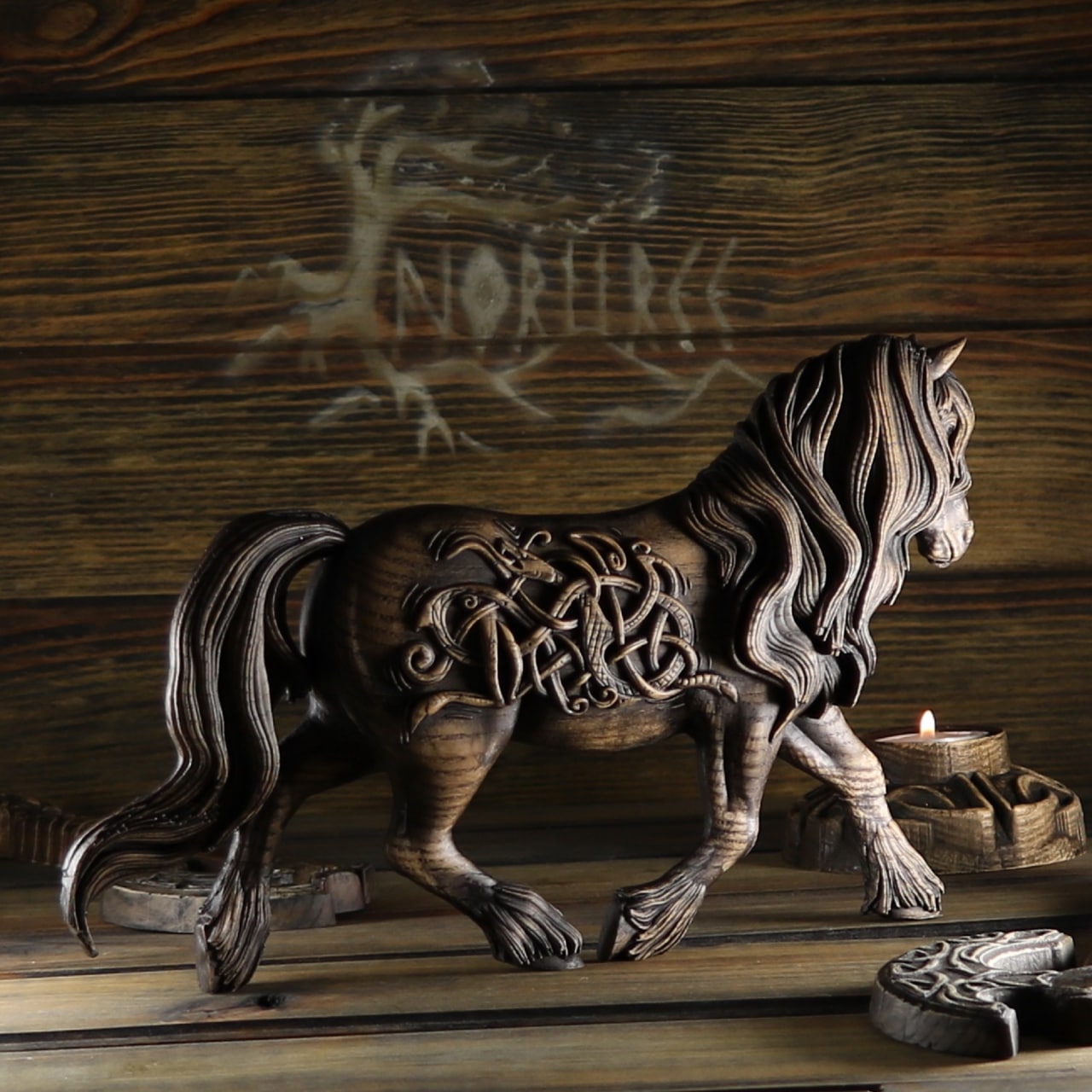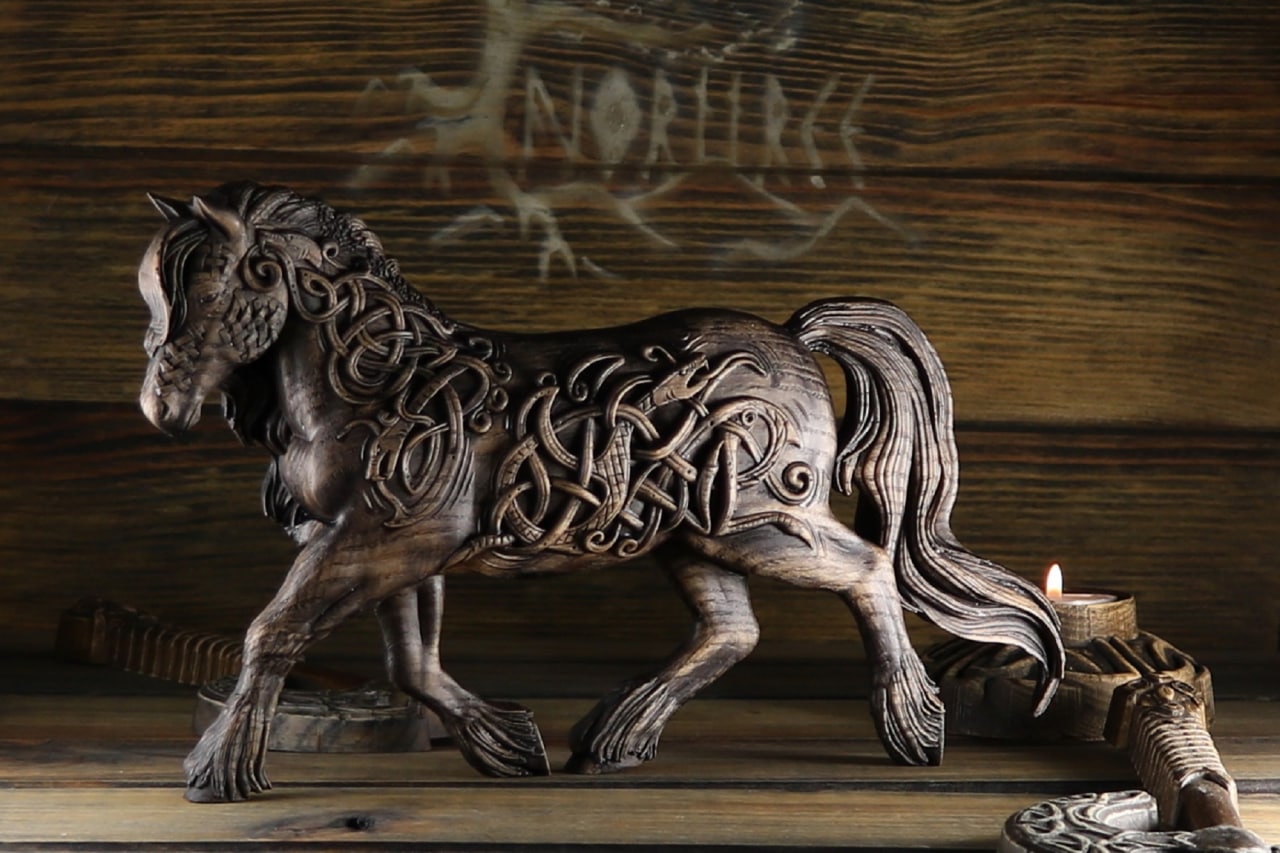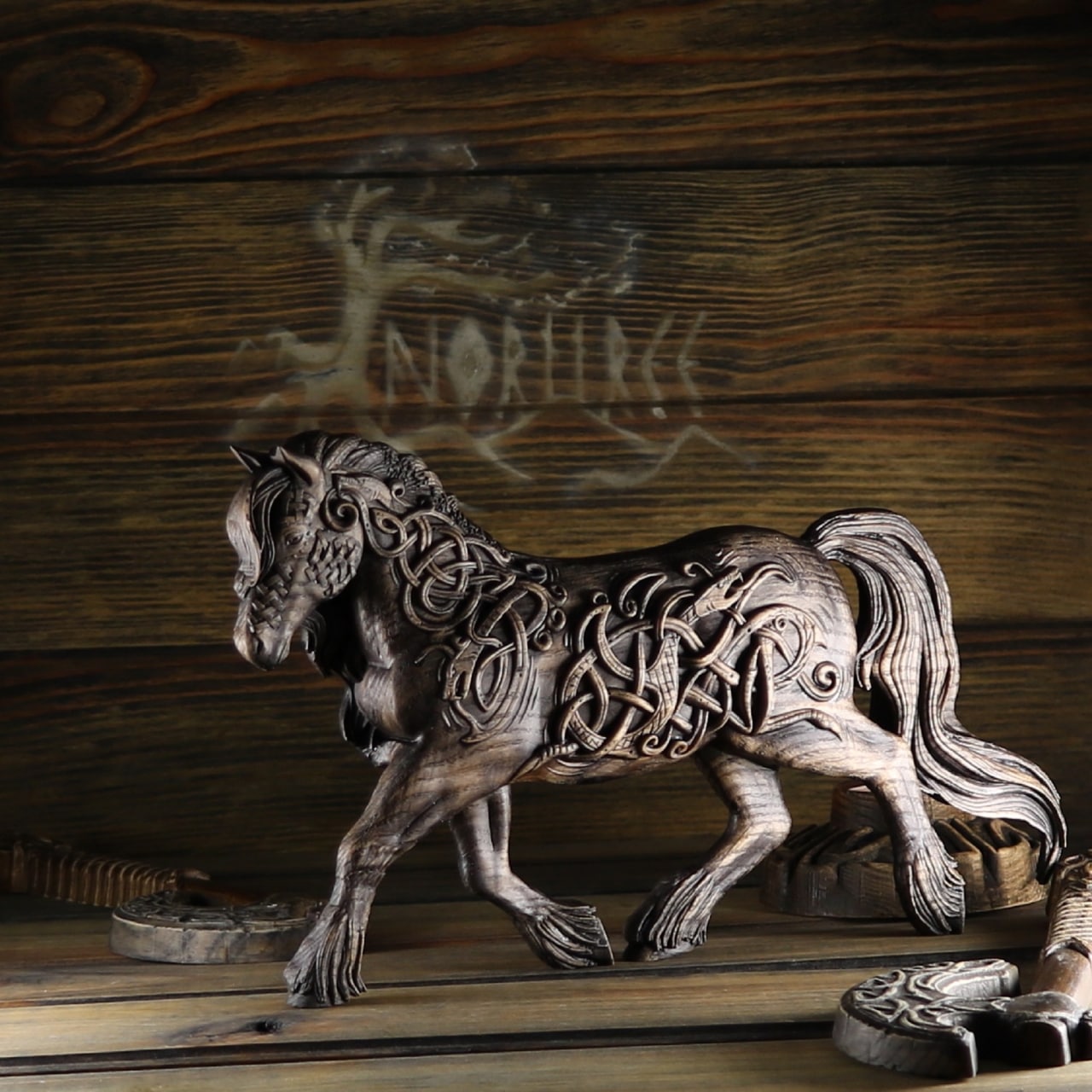 Great work! I simply love it ;) Fast Shipment.
Absolutely stunning, I've not been able to find many 3D statues before, especially of less popular deities. I'm really pleased, hope to get another later. :)
Gorgeous statue that arrived safely and shipped quickly. Thank you!
Perfect ! Amazing work, thank you very much
Gorgeous. Simple gorgeous! Thank you so much. This piece is breath taking. Both are! Will totally tell everyone about your work. A dear friend had recommended you. I own that friend a bottle of mead! Amazing! Thank you again!
Our Advantages
Worldwide Shipping

Free shipping on most orders.

Hassle-Free Exchanges

If any sculpture comes in a damaged state, please let us know.

Absolutely Unique Designs

We create concept, model, adjust and carve. All of our models are nowhere else to be seen.