Regular price
$45.00 USD
Sale price
$45.00 USD
Unit price
per
Sale
Sold out
Looking to add a little mystery and magic to your home décor? Check out our Idunn statue! This handmade wooden carving of the pagan goddess is perfect for creating a mini altar. Idunn was believed to possess rejuvenating apples that granted eternal youth, making her the perfect symbol of love and fertility. Our statue is made from ecological materials and can be finished with either varnish or hemp oil. Whether you're a seasoned witch or just beginning your exploration of paganism, this statue is a beautiful and unique addition to your home.


Idunn Characteristics
Material: ecological ash tree
Сoating: varnish or ecological hemp oil
Height 5.9 inch/15 cm
Width 3.9 inch/10 cm
Depth: 1.3 inch/3.5 cm

Features
Color shades and textures may differ slightly from actual products. It depends on your monitor or phone settings.
The statues are very easy to clean. Wipe clean with a dry towel or tissue.

Shipping
We ship our products from Spain to the EU. To the USA and other countries, the goods are shipped from a warehouse located in the USA.
We tried to do it for you with great pleasure and put effort into this wooden sculpture, a wooden statue from the ash tree for your complete delight.


Her father is a giant and a star hero Ivaldi, and her husband is the gоd of inspiration and eloquence Bragi. Idunn, the personification of spring and eternal youth, according to some mythologists, was never born and therefore will never experience death.

She tends to the sacred garden of Asgard, growing all kinds of fruits, including magic golden apples, which give the Aesir eternal youth and immortality. The Sсаndіnavian gоds, born from mixed marriages between gоds and giants, and people, did not possess immortality, but thanks to these magical fruits they managed to postpone the approach of old age and disease and they remained energetic, beautiful, and young for many centuries. As you might expect, these apples were highly prized, and Idunn carefully kept them in her magic chest. The number of apples distributed during the feast to the gods did not change. Only they were allowed to taste them. Dwarfs, like giants, only dreamed of possessing these wonderful fruits.

Idunn is a working goddess and patroness of health and longevity. In her understanding, these qualities are closely related to each other: physical labor, especially on earth, is, from her point of view, the second most important thing that is necessary to maintain health. And the first is, of course, proper nutrition. She is one of the deities that patronize agriculture and healthy food, and among the Aesir, she is the only deity of her kind.

Іdunn's husband is Bragi, the skald god, the patron saint of poetry, music, and eloquence. Like Bragi, she prefers to solve problems peacefully, and war and strife are alien to her.

You can turn to Idunn for help in healing from any disease. Also, she helps to get the body in shape, get rid of bad eating habits, make the diet more effective, switch to a healthy diet, and so on. And, of course, it is she who should be asked for the blessing of the gardens and fruit trees.


We tried to do it for you with great pleasure and put effort into this wооden scuІрture from ash tree for your complete delight.

The design of our wооden products is a one-of-a-kind artwork created by my team and me.

Share
View full details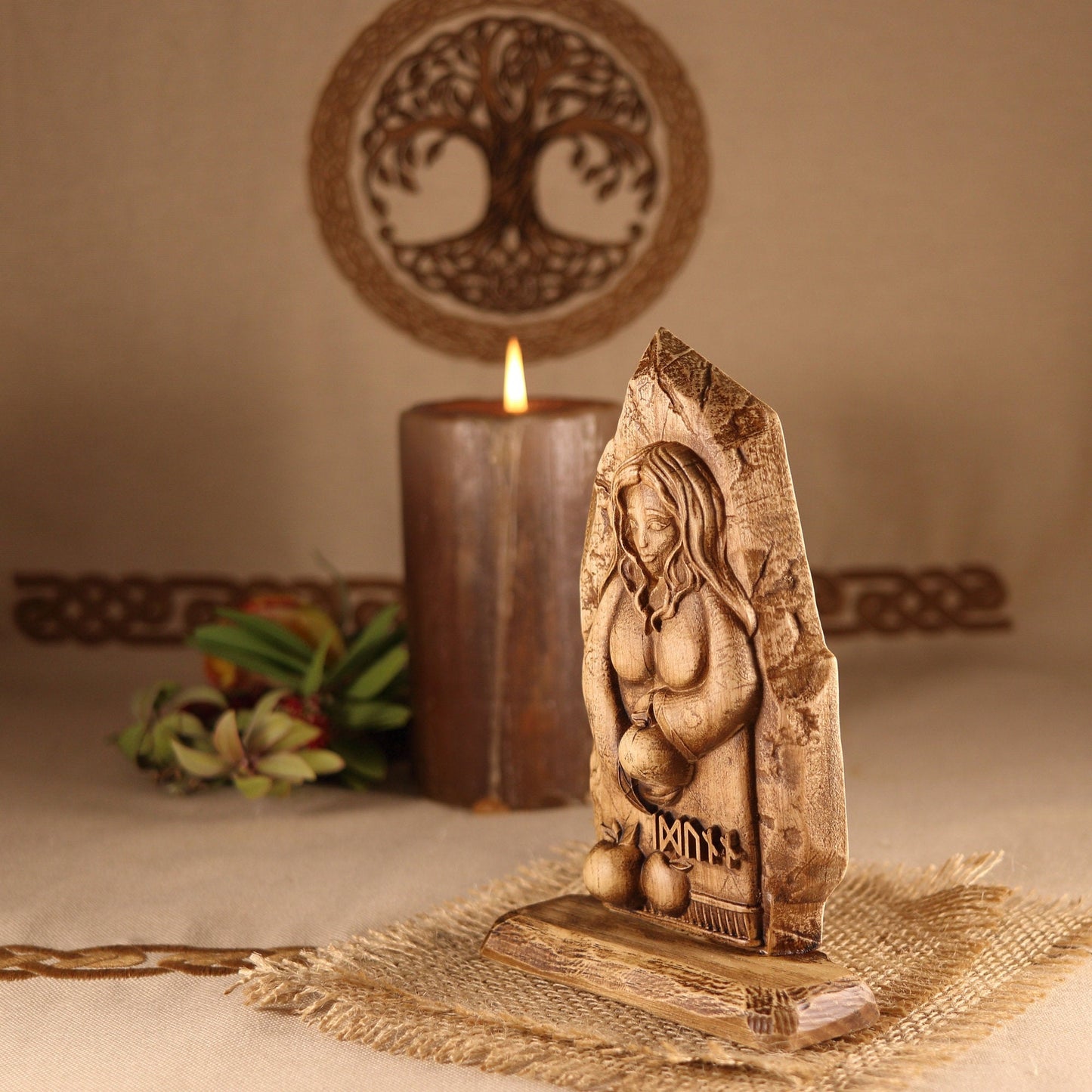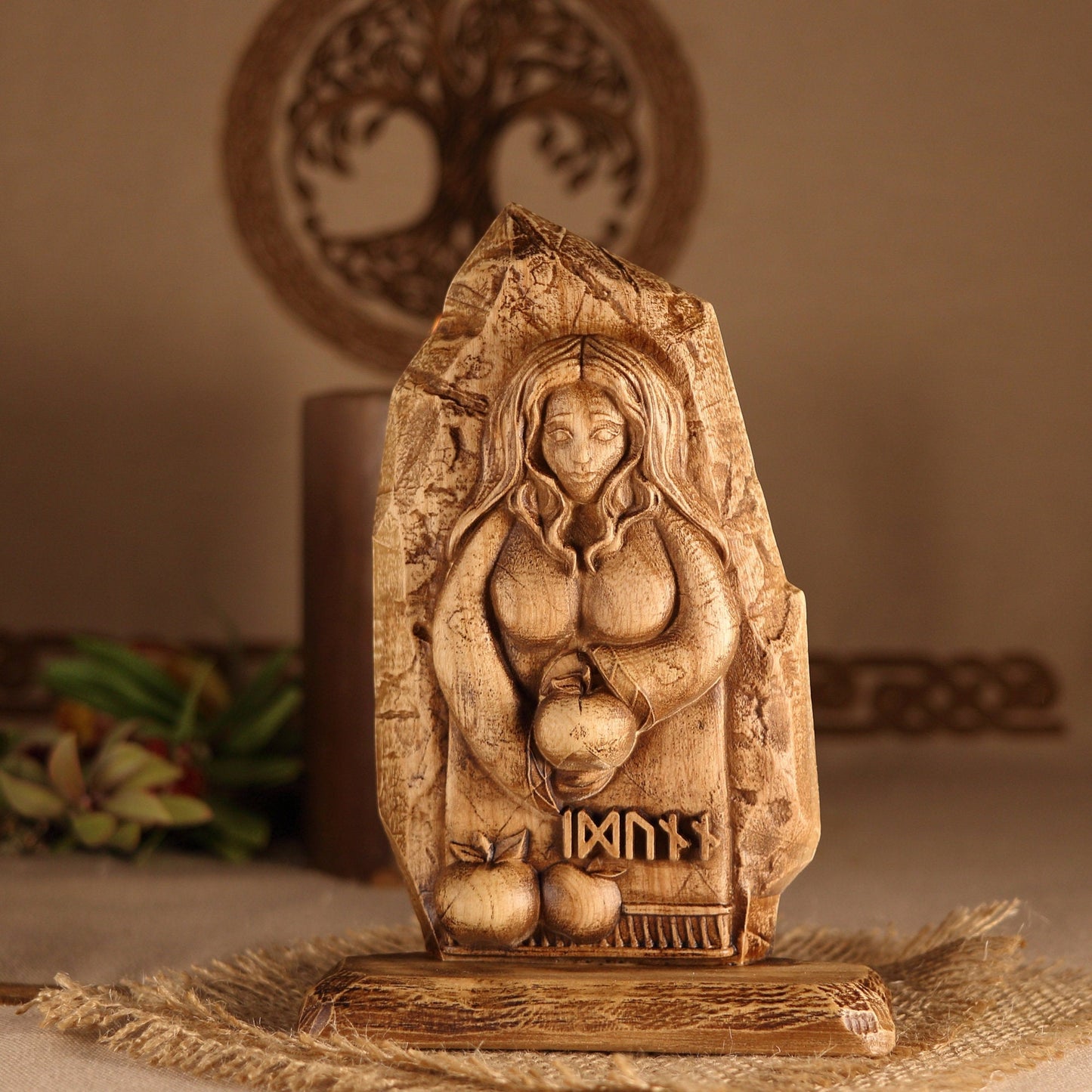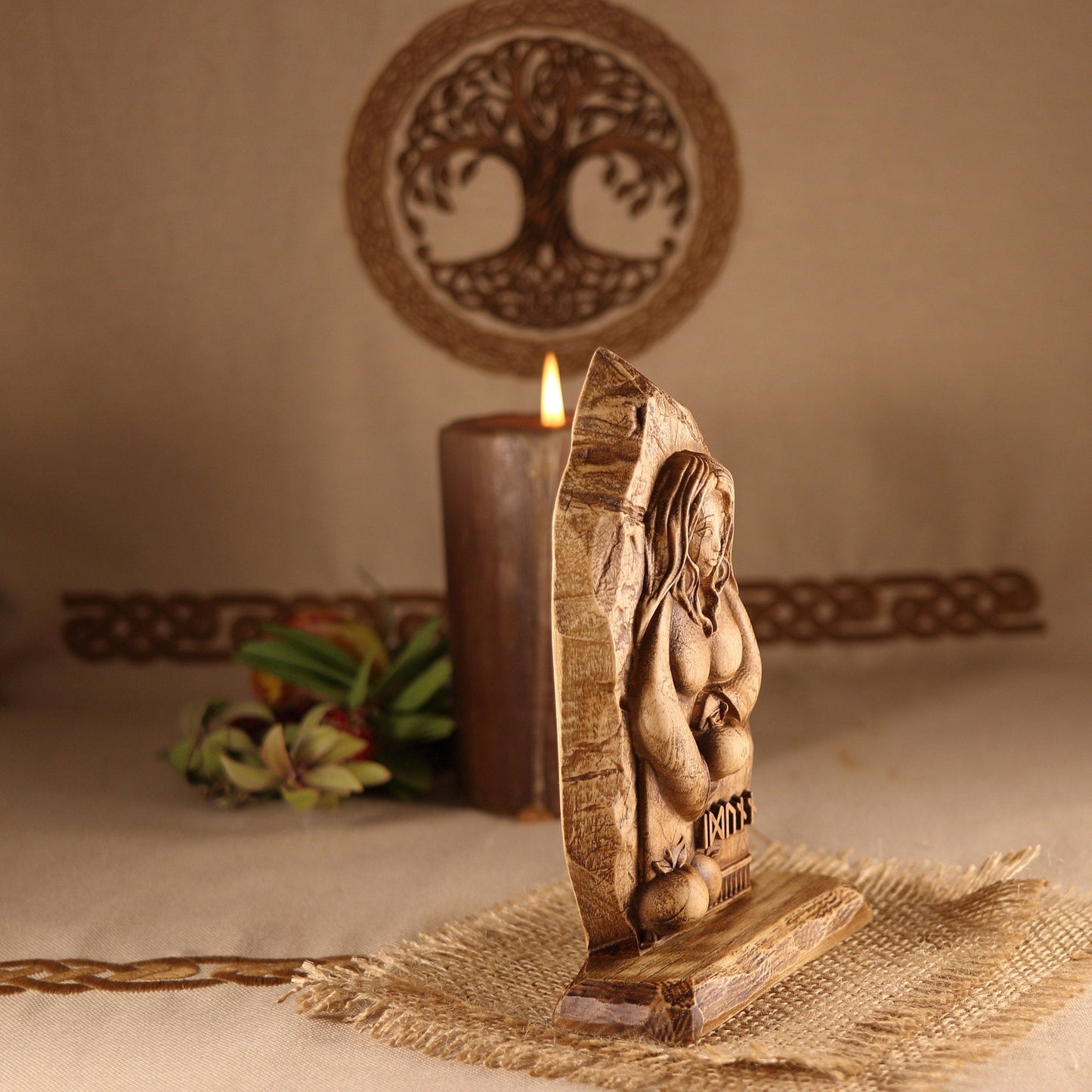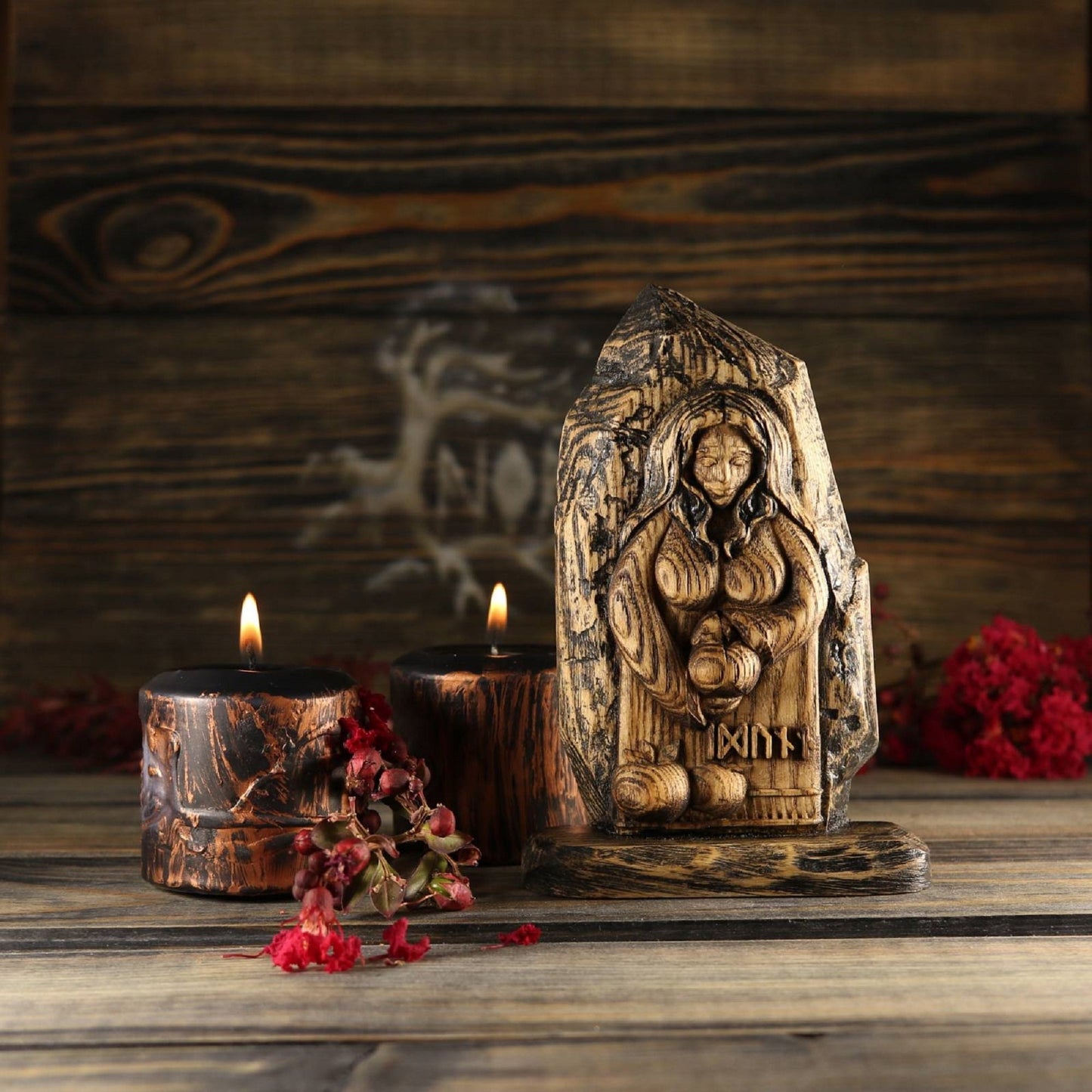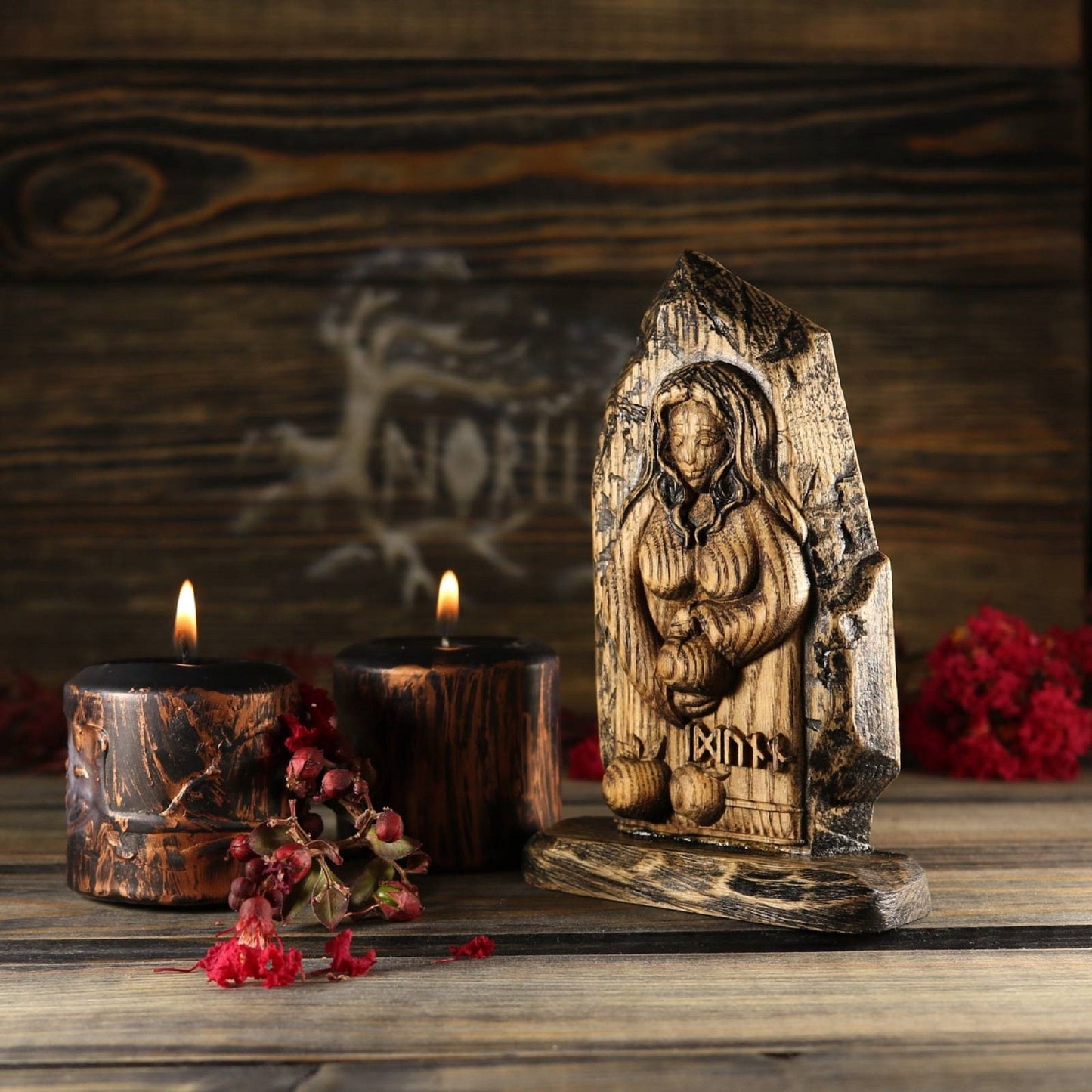 Our Advantages
Worldwide Shipping

Free shipping on most orders.

Hassle-Free Exchanges

If any sculpture comes in a damaged state, please let us know.

Absolutely Unique Designs

We create concept, model, adjust and carve. All of our models are nowhere else to be seen.