Regular price
$80.00 USD
Sale price
$70.00 USD
Unit price
per
Sale
Sold out
Introducing Lilith, the Hell Goddess statue! This stunning wooden statue is perfect for any Wiccan altar or as a centerpiece for your home. hand-carved from the ecological ash tree, Lilith is a sight to behold. She's been given a protective varnish coating to keep her looking beautiful for years to come.

Lilith is the demoness in Jewish Demonology, the mother of demons, a strangler of babies, and temptress of men. In Wicca, she is known as a powerful goddess who rules over the underworld. Her statue is sure to bring an air of mystery and intrigue to any space.

Whether you're a seasoned witch or just beginning your journey, this kit is perfect for you. It includes everything you need to get started, including a detailed instructions booklet and all the altar tools you'll need. So don't wait any longer, add the Lilith Hell Goddess statue to your cart now!


Lilith Characteristics
Material: ecological ash tree
Сoating: varnish
Height 8 inch/20.3 cm
Width 6.5 inch/16.5 cm
Depth: 1.5 inch/3.8 cm

Features
Color shades and textures may differ slightly from actual products. It depends on your monitor or phone settings.
The statues are very easy to clean. Wipe clean with a dry towel or tissue.

Shipping
We ship our products from Spain to the EU. To the USA and other countries, the goods are shipped from a warehouse located in the USA.
We tried to do it for you with great pleasure and put effort into this wooden sculpture, a wooden statue from the ash tree for your complete delight.


She is the first beloved of Adam, created from dust and equal to him according to the plan of the Creator. Stubborn and eternally rebellious, she leaves Adam, not wanting her equality. Adam and LіІіth did not succeed in intimacy, she never became his wife, she simply flew away from him.

She is the image of a woman who could not become a wife. She did not materialize into a full-fledged person but became a demon. So LіІіth comes to men in a dream to suck their energy. She evokes dreams of a sexual nature, fantasies that a man cannot afford in reality, and takes the released energy into the world of impurity. In myths, she is represented by the very devil of HеІІ, devouring babies and creating other nightmares. The Kabbalistic book "Zohar" says that LіІіth became the wife of Satan himself and the mother of his children.

They say that this image of a demoness migrated to Satanism. There she is revered along with other dark and evil goddеsses - Kali, Неl, and Ereshkigal. She is energy embodied in one way or another in every woman. The energy of Lіlіth can be opposed to the energy of Eve. Eve and LіІіth are present in every woman, but one of these archetypes, as a rule, prevails; this is how the law of unity and struggle of opposites is realized in a woman.

She personifies eternal femininity, an irresistible temptation for a man, seduction and pride, intelligence, freedom, independence, and rebelliousness. And fearlessness. Lilith lived at the call of a rebellious heart, fearing neither Adam, nor God, nor the torments of HеІІ.


We tried to do it for you with great pleasure and put effort into this sculpture from ash tree for your complete delight.

The design of our products is a one-of-a-kind artwork created by me and my team.
Share
View full details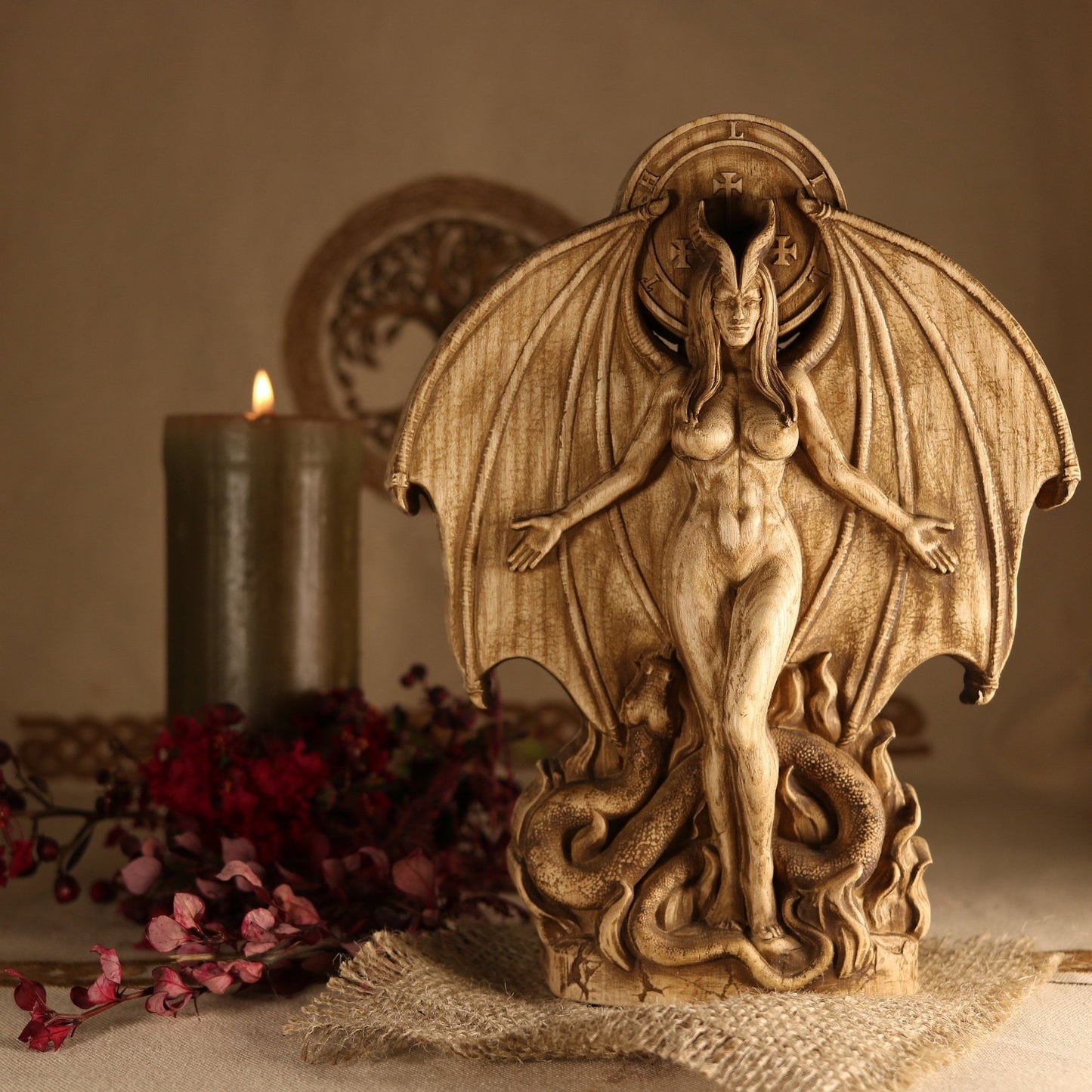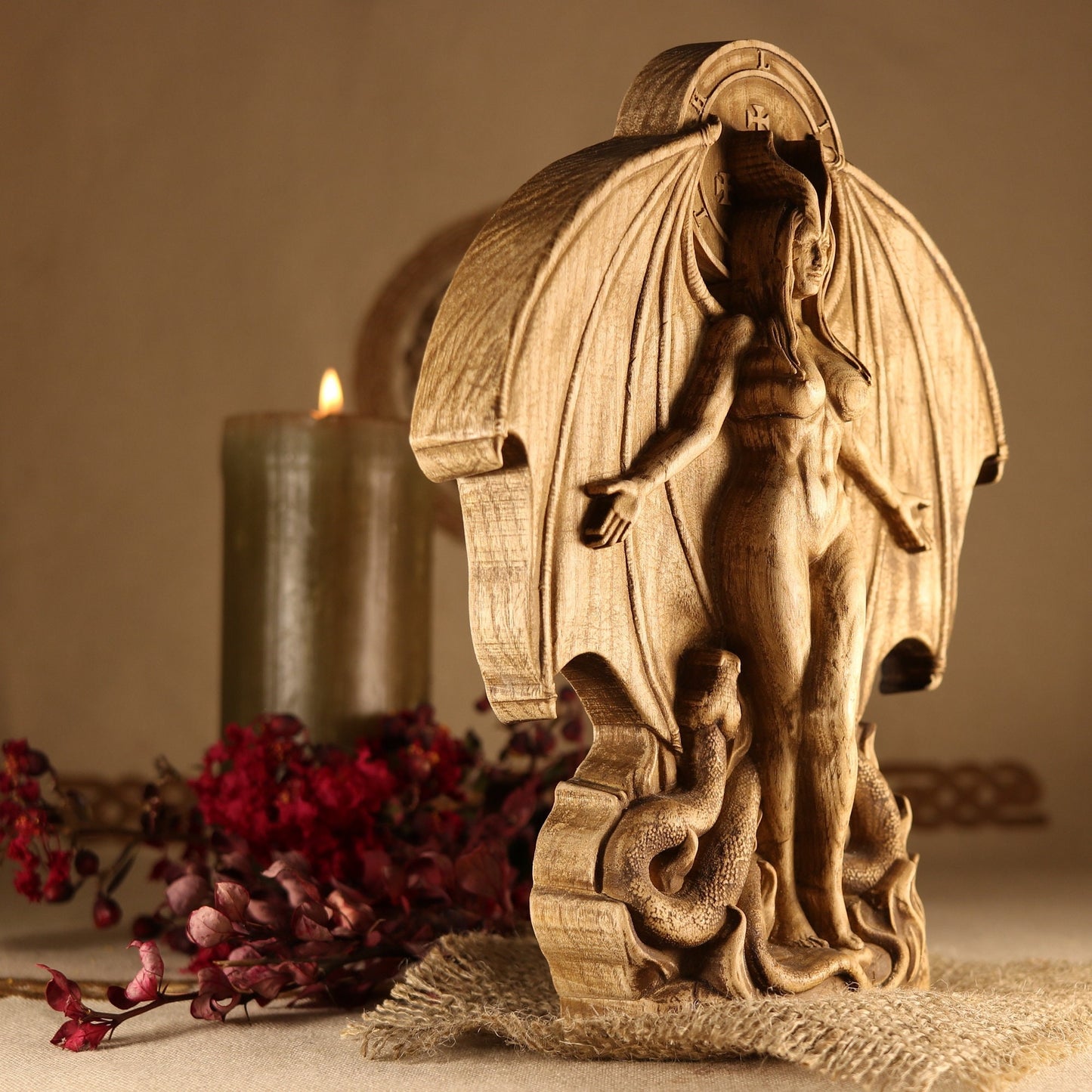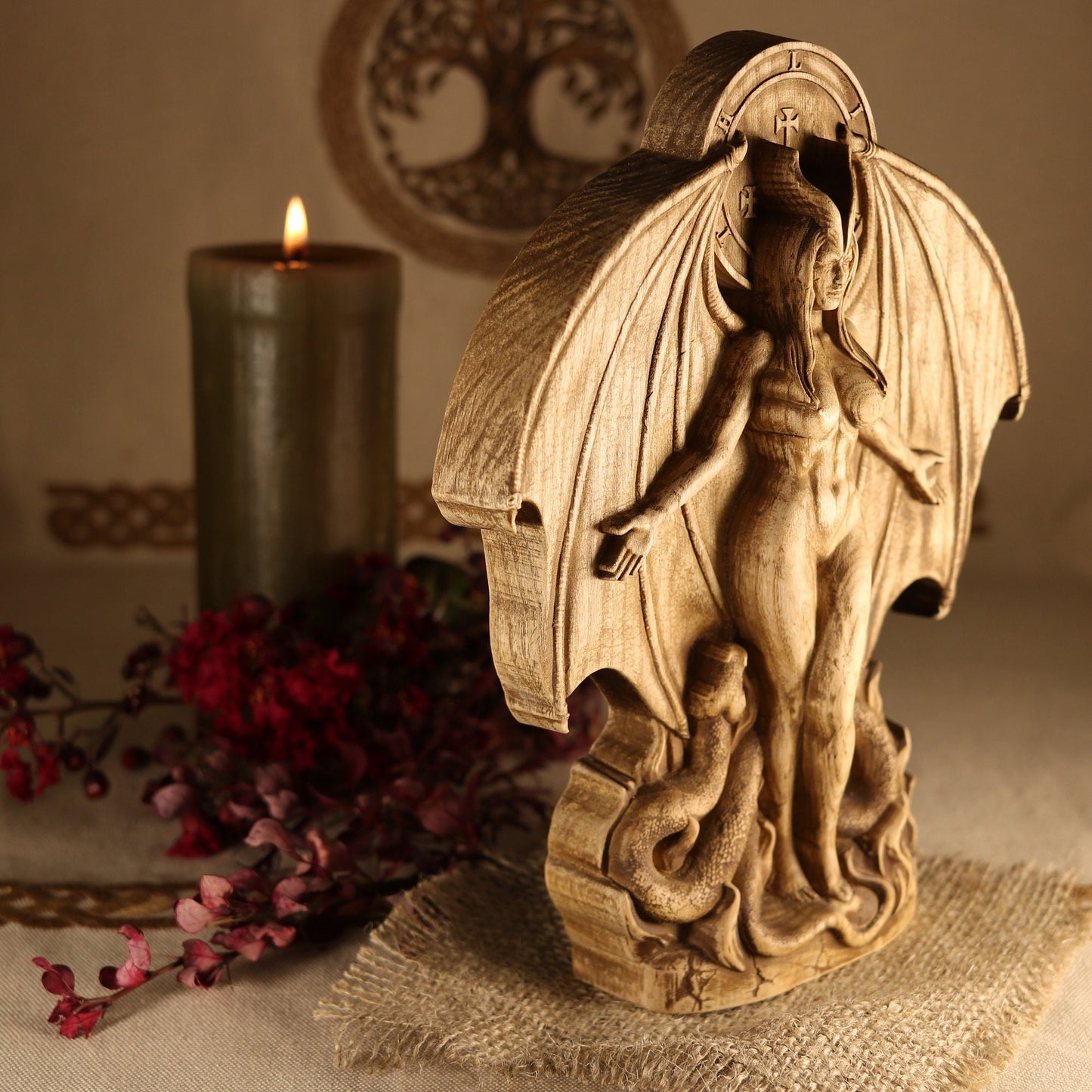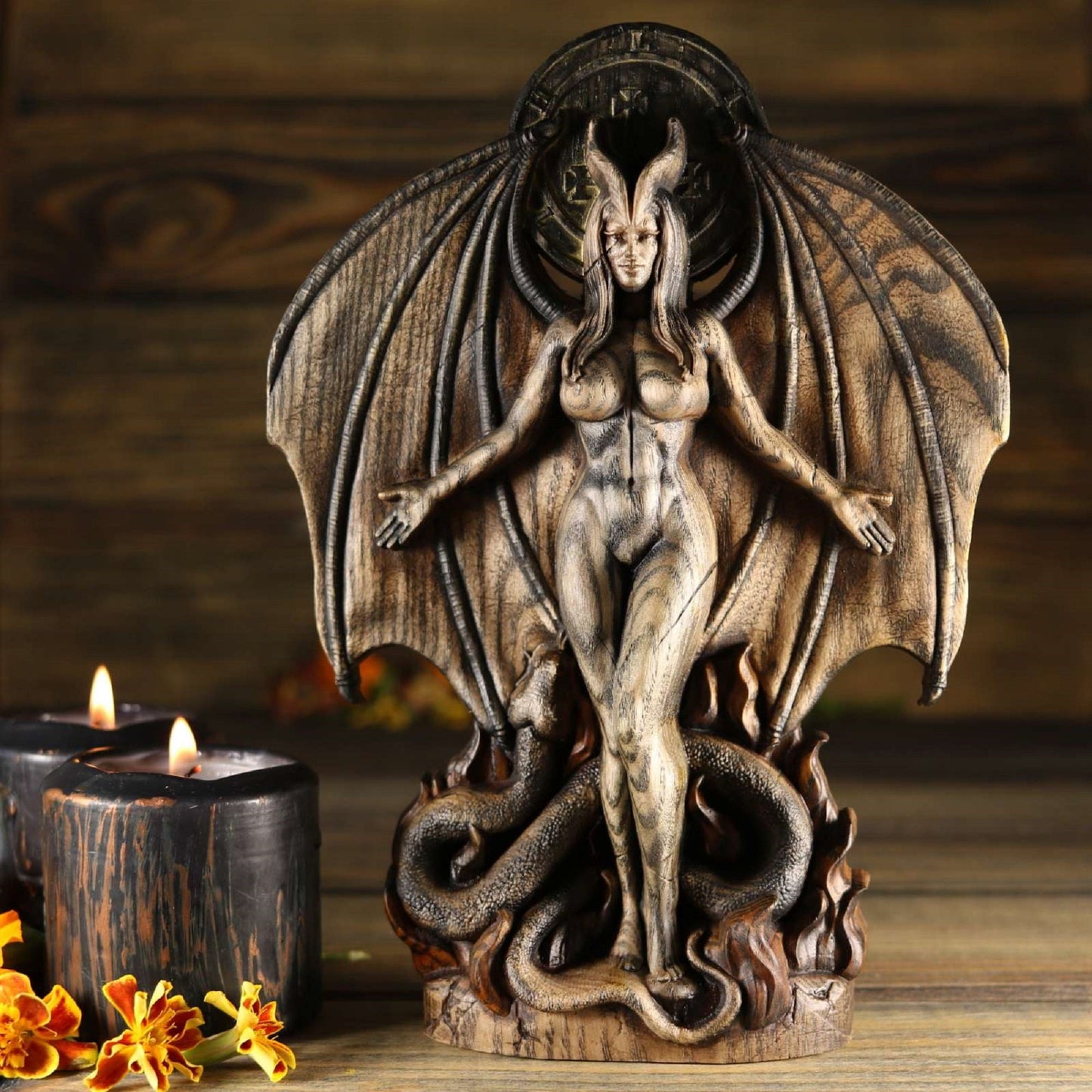 Aaaahhh Lilith.....we need your energy right now. I am so glad that I already had this statue coming when certain political news came to light. This has already brought me comfort. She is beautiful and frightening, uncompromising and everything I needed right now. I love this store. Can't wait to pick out my next statue!
Nice to hold and mediate on.
This is awesome! High Quality! Great!!!
I love this representation of the All Mother so much. There was some shipping issues where a beautiful statue of Hel got sent to me instead. Before I even knew what was happening I had received a message informing me of the error and that Frigg would be sent out immediately and that I could keep Hel. Wonderful customer service and wonderful work. This shop is wonderful
Great craftsmanship. I bought this item for my father who absolutely loves it. thank you for the great work.
Our Advantages
Worldwide Shipping

Free shipping on most orders.

Hassle-Free Exchanges

If any sculpture comes in a damaged state, please let us know.

Absolutely Unique Designs

We create concept, model, adjust and carve. All of our models are nowhere else to be seen.