Regular price
Sale price
$86.00 USD
Unit price
per
Sale
Sold out
Lorelei, the beautiful maiden of the Rhine, sang her way into sailor's hearts - and now she can sing her way into yours with this stunning handmade wooden statue. Carved from ecological ash wood, this statue is a must-have for anyone who appreciates natural beauty. And with a varnish coating, it's sure to last for years to come. So bring a little bit of magic into your home with the Lorelei Nymph Goddess statue.


Lorelei Characteristics
Material: ecological ash tree
Сoating: varnish
Height 8 inch/20.5 cm
Width 5.1 inch/13 cm
Depth: 1.4 inch/3.8 cm

Features
Color shades and textures may differ slightly from actual products. It depends on your monitor or phone settings.
The statues are very easy to clean. Wipe clean with a dry towel or tissue.

Shipping
We ship our products from Spain to the EU. To the USA and other countries, the goods are shipped from a warehouse located in the USA.
We tried to do it for you with great pleasure and put effort into this wooden sculpture, a wooden statue from the ash tree for your complete delight.


An old Germanic legend tells of a beautiful girl named Lorelei, she sat on the rocky bank of the Rhine and sang so beautifully that the rowers of the ships sailing past forgot about everything. After listening to the songs of Lorelei, they threw the oars, the ships out of control rushed along with the current and crashed against the coastal rocks. On the banks of the Rhine, near the town of Bacharach, there is a high rock, since ancient times famous for its surprisingly distinct echo, which carries voices far across the water and repeats each spoken word several times.

This rock is called the Lorelei rock. Legend has it that in ancient times, not far from this rock in a coastal village, lived a poor fisherman with his daughter, the golden-haired Lorelei. Lorelei fell in love with the noble knight and fled with him from her father's house. The knight took her to his castle, but the beauty's happiness was short-lived. Time passed - and the knight lost interest in the beautiful Lorelei. She returned to her native village and began to live as she had before, but her heart was broken.

The beauty of Lorelei attracted many worthy young men, many truly and faithfully loved her and wanted to make her their wife, but she did not trust anyone and did not want to love anyone. People began to accuse her of hard-heartedness, and some said that she lured men with witchcraft to avenge them for the betrayal of the knight. These rumors reached the local bishop. He summoned Lorelei to him and began to reproach her severely.

The unhappy beauty cried and swore that she was innocent of witchcraft, and then said that her only desire was to end her days in the monastery, in silence and solitude. The bishop approved her intention and escorted her to the nearest monastery. The way there lay along the banks of the Rhine. Lorelei climbed a high cliff to take a last look at the knight's castle, where she was so briefly happy. Meanwhile, her unfaithful lover was sailing on a boat along the Rhine, approaching a dangerous whirlpool at the foot of the cliff. Seeing him, Lorelei stretched out her arms to him - and called his name. The knight looked up, forgetting about the oars, and immediately the boat was caught in a whirlpool, turned over, and carried away to the bottom.

Lorelei, with a sad cry, threw herself off the cliff into the waters of the Rhine, following her lover - and drowned. But since then, in the evenings, at sunset, her ethereal shadow began to appear over the Rhine. As if alive, Lorelei sits on the top of the rock, combing her golden hair with a golden comb, and sings so sadly and tenderly that everyone who swims along the Rhine at this hour, having heard, forgets about everything in the world and dies in a whirlpool at the foot of Lorelei's rock. It is said that one man managed to see Lorelei up close.

It was a young fisherman from Oberwesel who saw her every evening by the river and spent several delightful hours beside her, reveling in her beauty and listening to her sweet singing. As the legend says, when parting with the fisherman, Lorelei indicated the places on the river, where the next day, throwing the nets, he could get a big catch. He always followed her advice, which invariably brought him good luck. One night, a young fisherman was spotted heading for the river, after which he never returned.

They went to look for him and, not finding it, decided that it was Lorelei who dragged him to her coral caves, where she could always enjoy his presence.


We tried to do it for you with great pleasure and put effort into this wooden sculpture from the ash tree for your complete delight.

The design of our wooden products is a one-of-a-kind artwork created by my team and me.
Share
View full details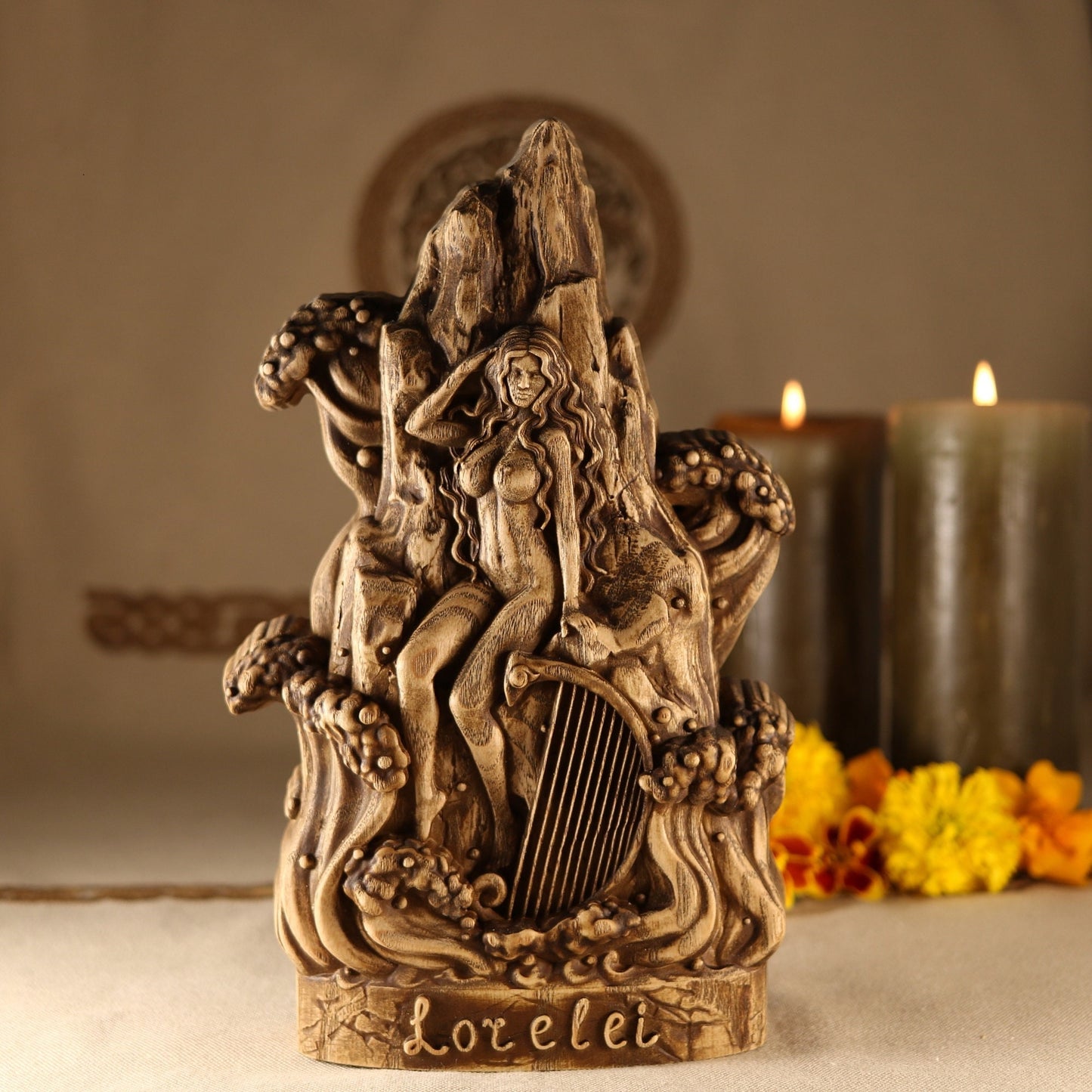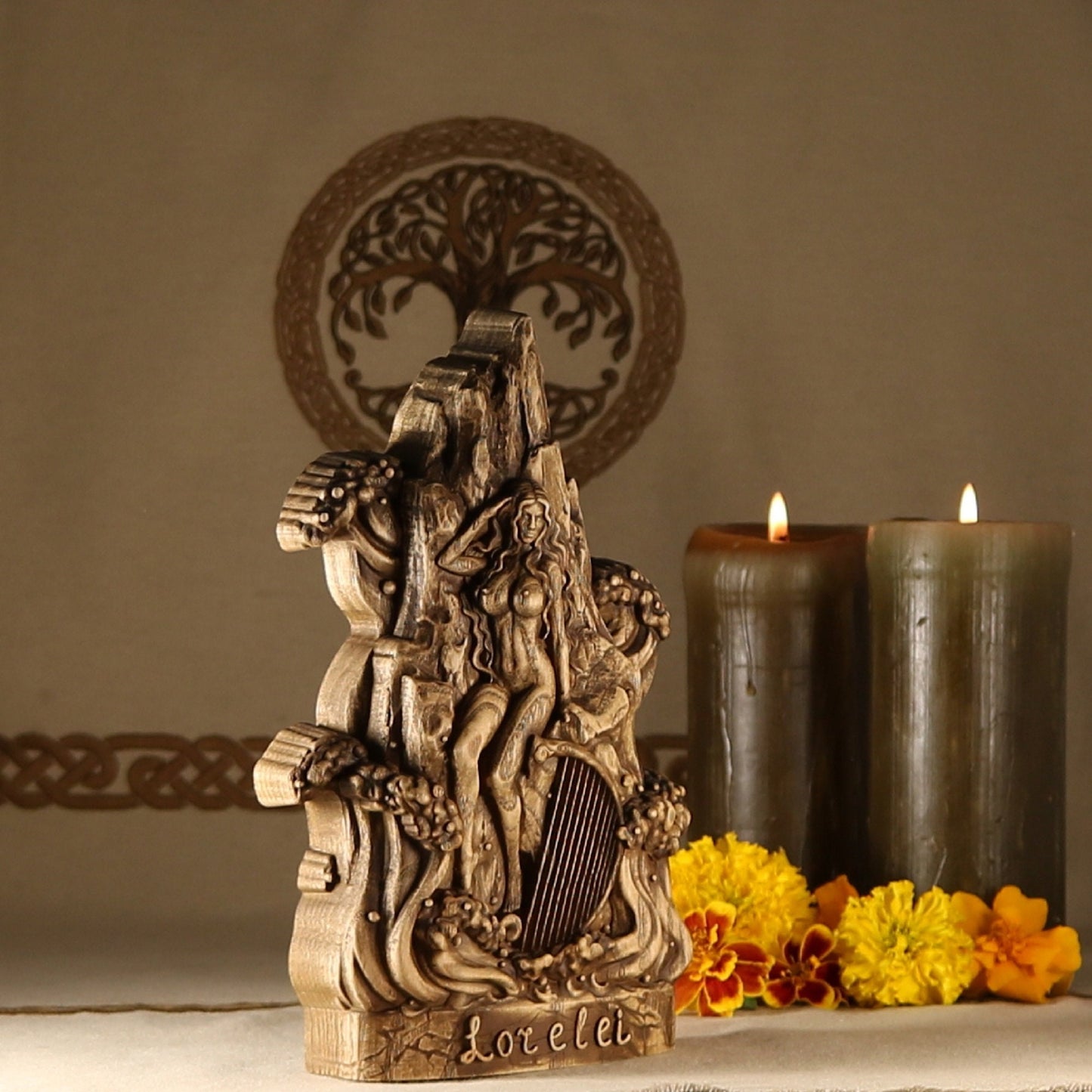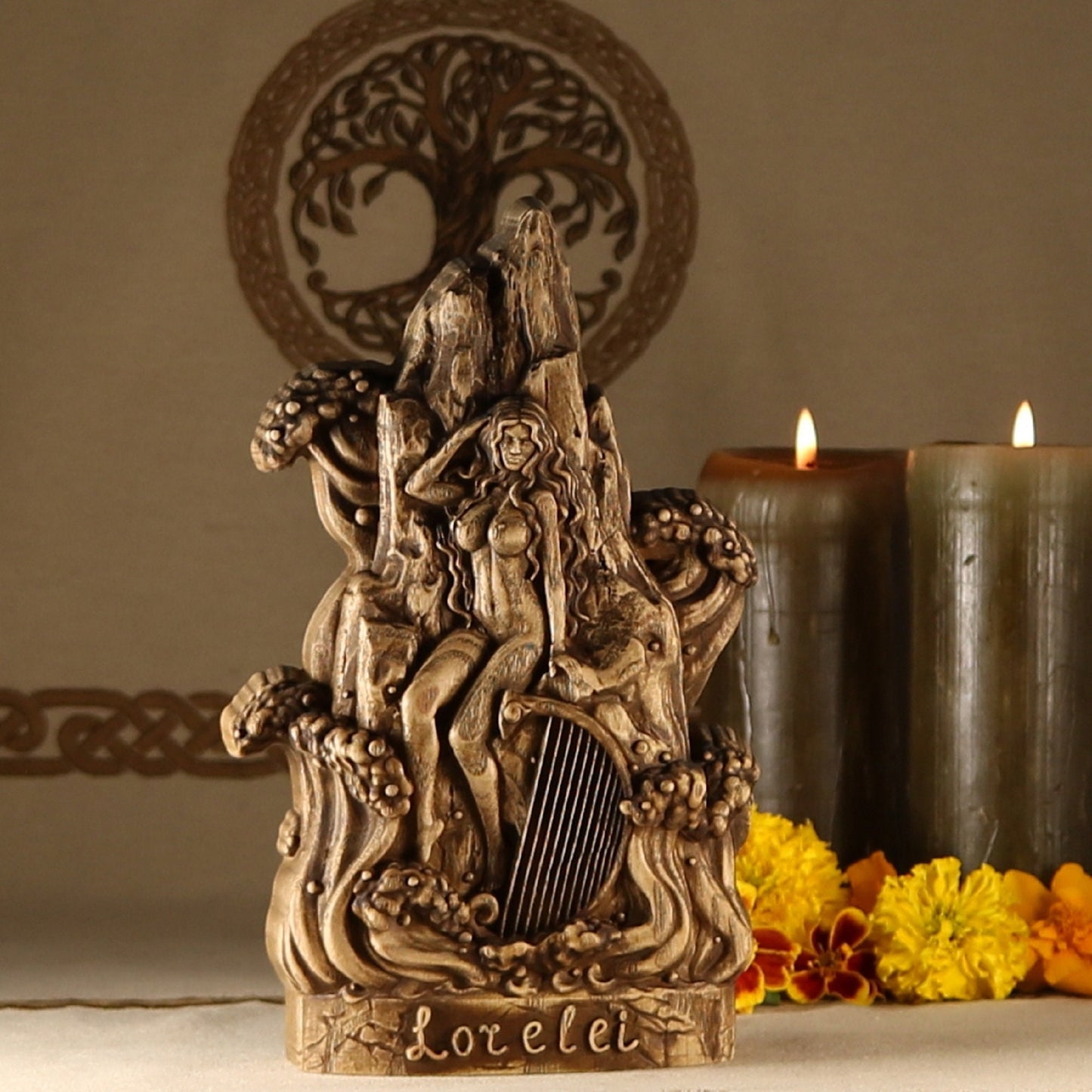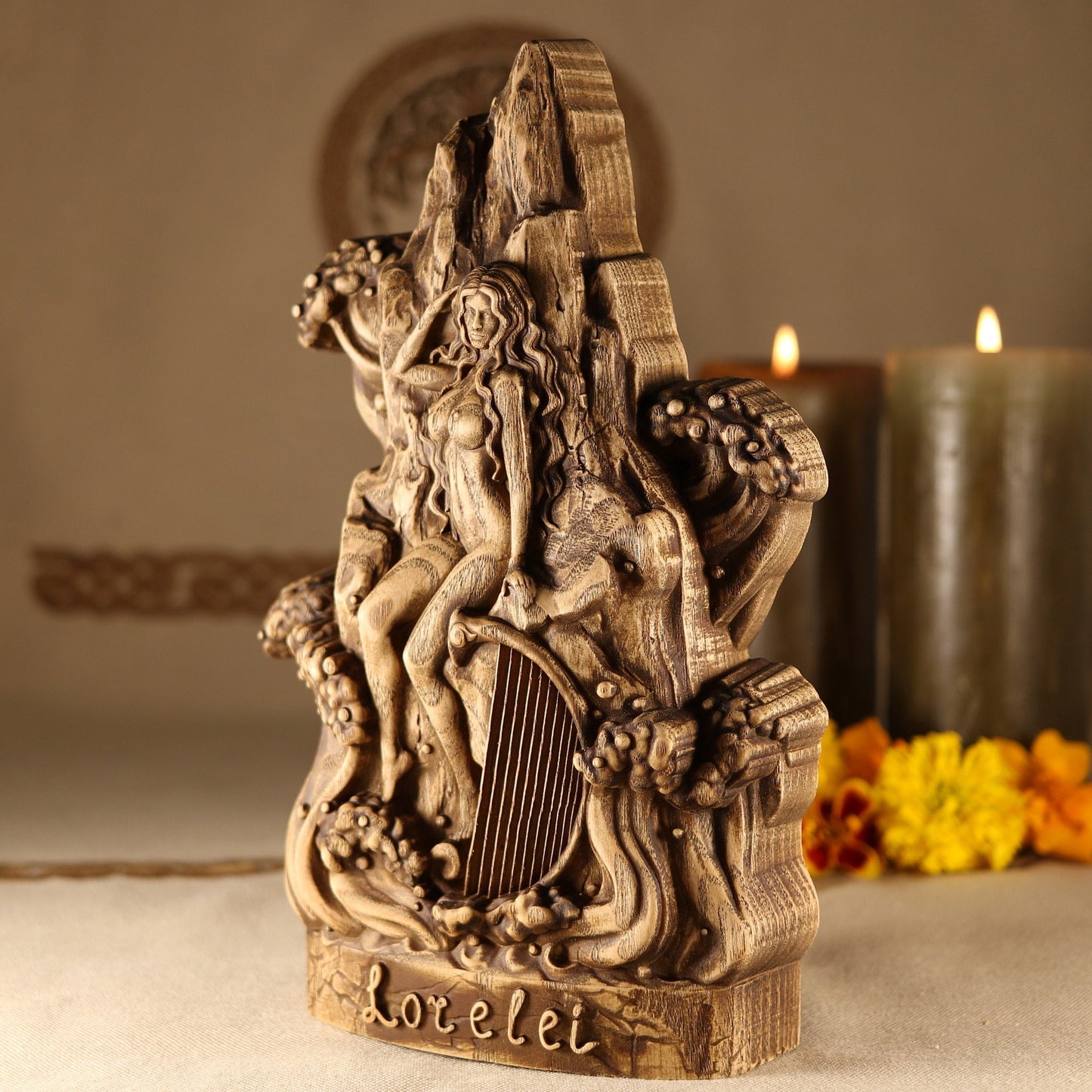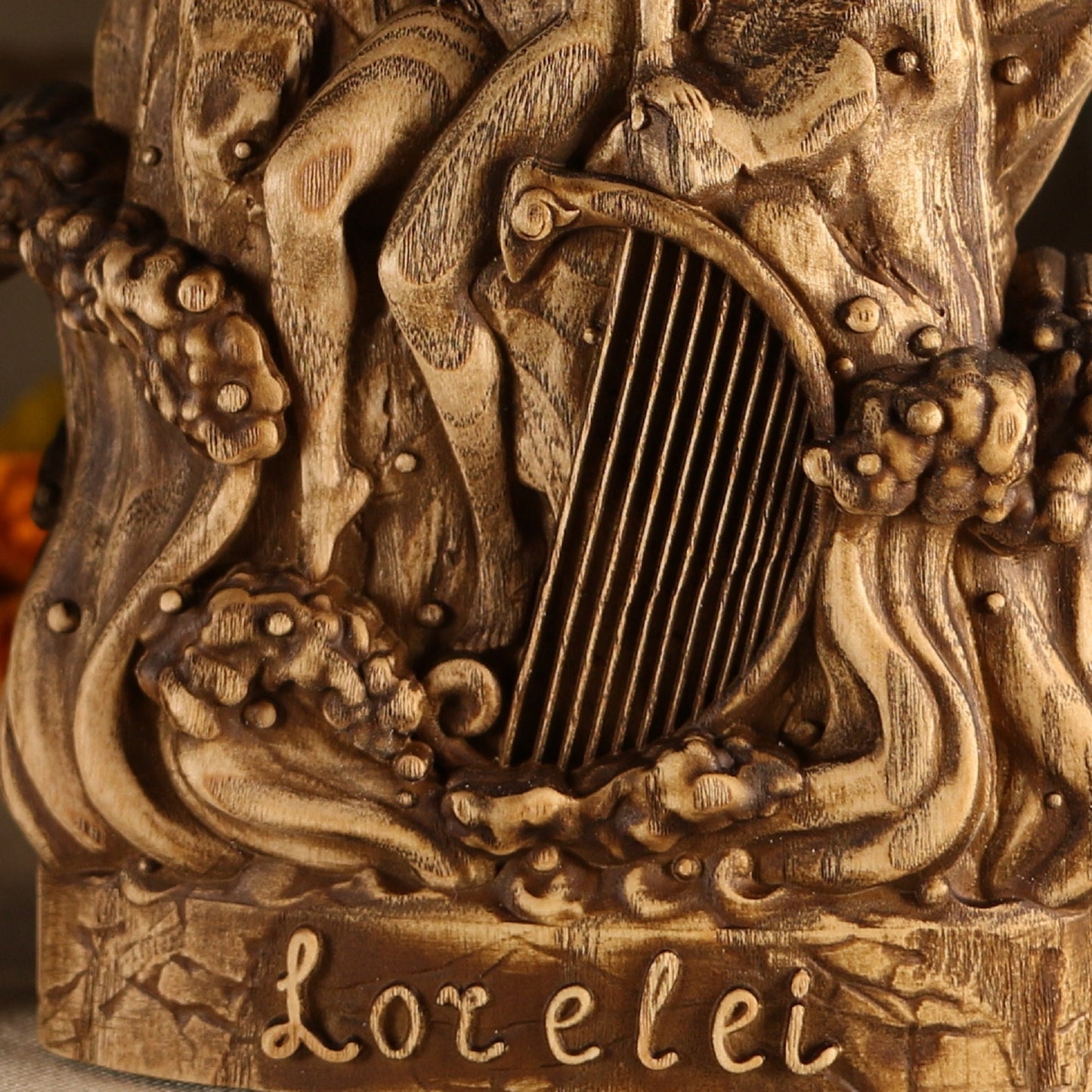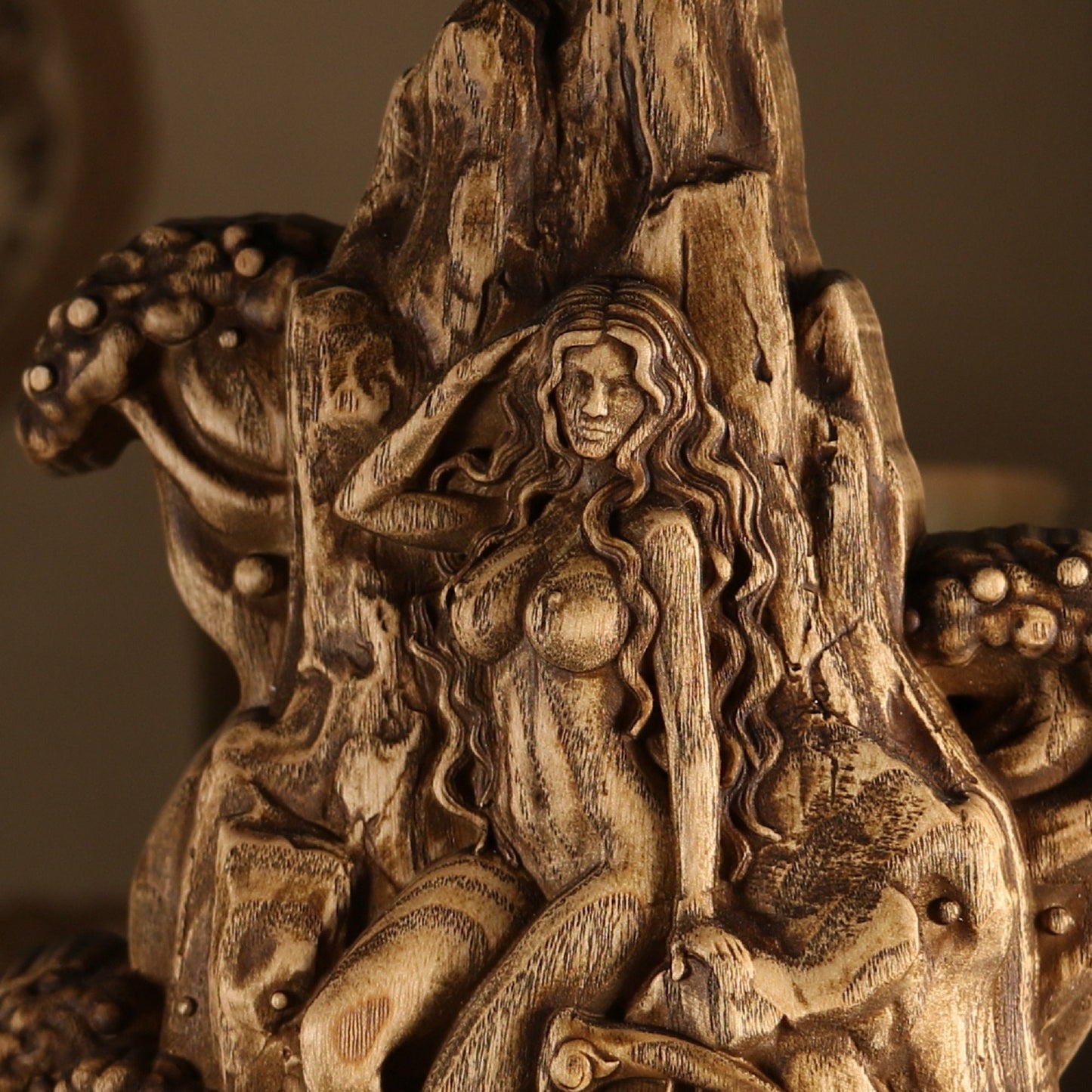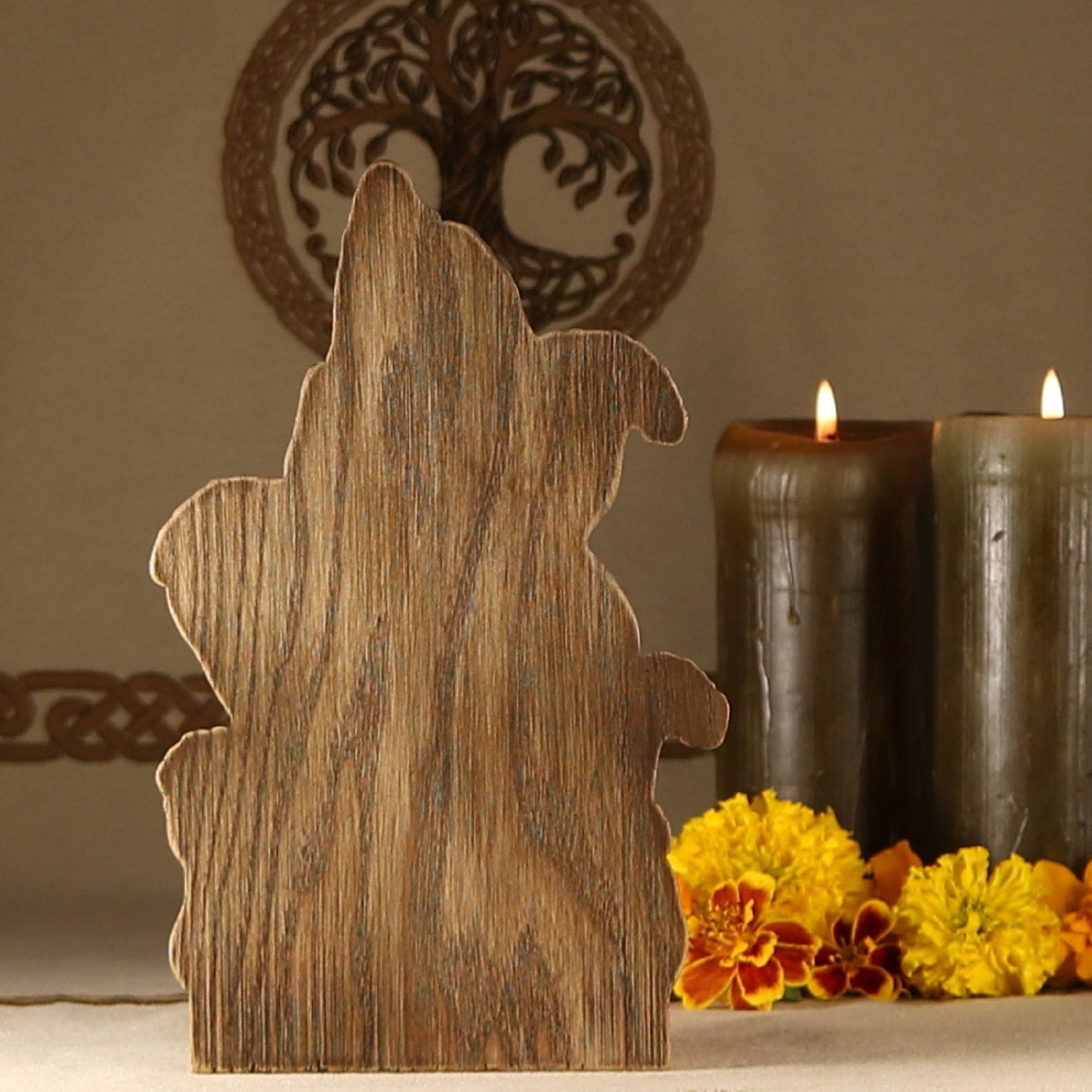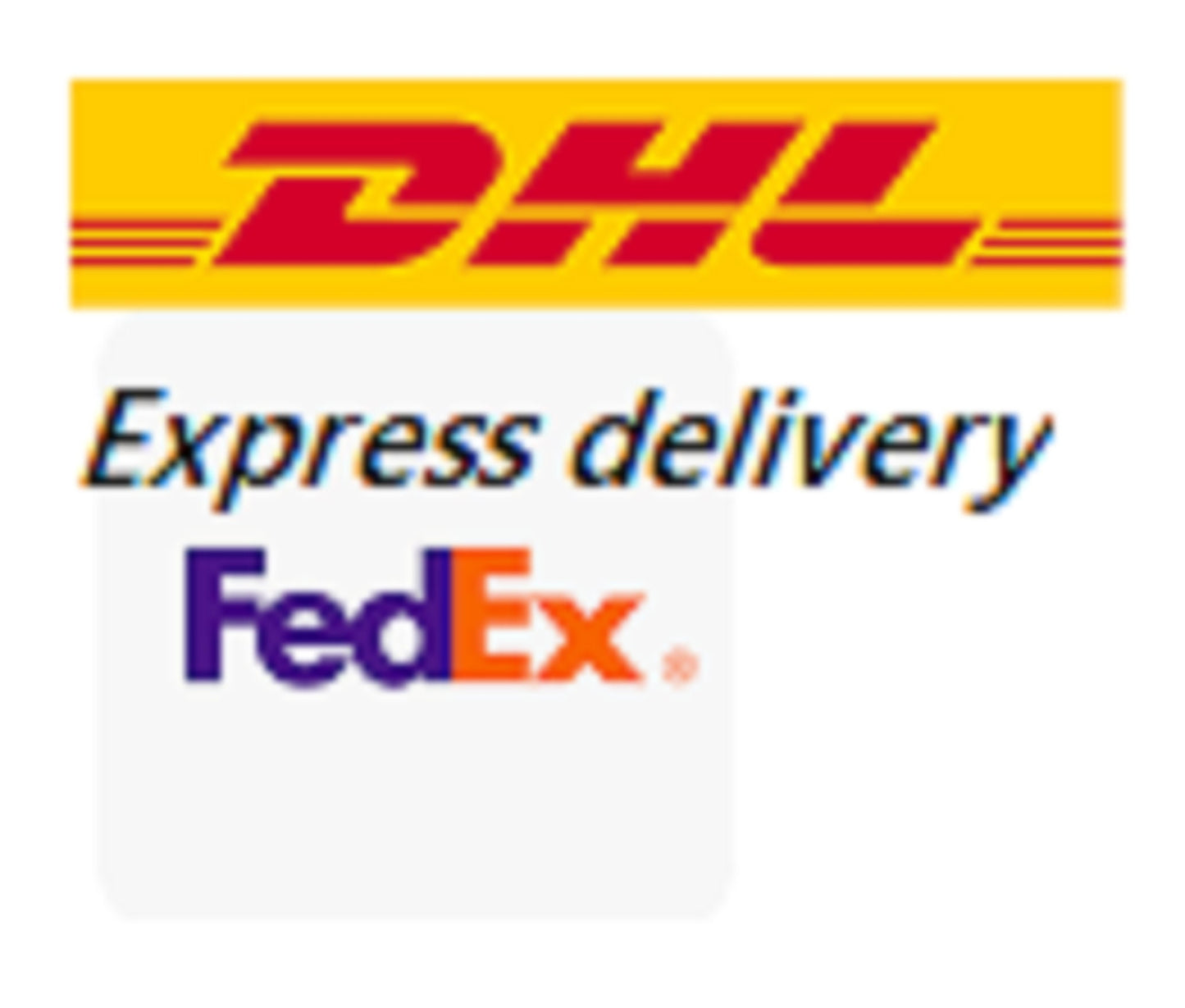 It was a custom work and turned out great!! Love this shop :)
This was given as a gift and they loved it.
Absolutely beautiful! Exactly what I wanted
Our Advantages
Worldwide Shipping

Free shipping on most orders.

Hassle-Free Exchanges

If any sculpture comes in a damaged state, please let us know.

Absolutely Unique Designs

We create concept, model, adjust and carve. All of our models are nowhere else to be seen.