Regular price
$106.00 USD
Regular price
$0.00 USD
Sale price
$106.00 USD
Unit price
per
Sale
Sold out
Lucifer & Lilith is the perfect duo for your dark home decor needs! This amazing wooden statue set features the fallen angel Lucifer and the demoness Lilith, both beautifully carved from an ecological ash tree. The wood is given a dark varnish finish to highlight its natural grain, making this statue set even more stunning.

Both Lucifer and Lilith are powerful beings in their own right, and together they make a commanding presence in any room. Whether you place them in your living room, bedroom, or den, they are sure to add an air of mystery and intrigue. And with their witty expressions, they are sure to keep you entertained for hours on end!

So if you're looking for a unique and stylish way to add some darkness to your life, then this wooden statue set is definitely for you!


Lucifer & Lilith Characteristics
Material: ecological ash tree
Сoating: varnish
Height 8 inch/20.5 cm
Width 5.3 inch/13.5 cm
Depth: 1.4 inch/3.8 cm

Features
Color shades and textures may differ slightly from actual products. It depends on your monitor or phone settings.
The statues are very easy to clean. Wipe clean with a dry towel or tissue.

Shipping
We ship our products from Spain to the EU. To the USA and other countries, the goods are shipped from a warehouse located in the USA.
We tried to do it for you with great pleasure and put effort into this wooden sculpture, a wooden statue from the ash tree for your complete delight.


Lucifer is a name derived from the combination of the words "light" and "bears", for the Romans it meant "bearer of light" or "early star". Lucifer was originally the name of the planet Venus, which was seen during the morning or evening dawn. Lucifer is the greatest of angels created by God.

At a certain moment, being proud, he wanted to become higher than God, for which he was cast out of Heaven. Lucifer is one of the names of Satan that was given to him before the Fall. Judging by the records of scientists, Lucifer is one of the few who managed to visit both sides of the human earth, both in heaven and in hell. He was raised without a mother, created only by the father-God. But some sources mention the mother of all living things - Lucida.

She is not alive but is equated with the Universe, which creates everything that is. His father endowed him with incomparable power, thanks to which Lucifer was kept alive. God could not have killed him, since they were almost equal. But Lucifer himself did not realize this until he was in hell and became the main opponent of God's rule. Lucifer was endowed with a great gift - personal freedom and the ability to self-determination. He could choose between mutual love for God or selfish feelings for himself. It is believed that God specifically allows Lucifer to tempt people. So each person has the opportunity to choose between good and evil, and he has the right to choose the desired path himself.

He surpassed all angels in dignity and beauty. But his desire to equalize with God and become higher than Him led him to inevitable death. Pride is a sin that underlies all acts that are displeasing to God and crimes. This is the feeling of one's superiority over everyone else, including over the Lord. It is because of pride that the fall of the greatest of all angels began, it is this sin that is the root cause of other sins. Lucifer's qualities, such as anger, pride, and vanity, were useful to him in hell and allowed him to rule there.

His dream of power came true, he was like a king, he was worshiped, and he was exalted. There he was proclaimed the king of hell. Being in "hell", Lucifer considered it his duty to spoil his father's creation with negative qualities. Instilling greed and selfishness in people, he fulfilled his mission in full. Life after heaven for Lucifer turned out to be much richer than in heaven. He did not obey anyone and dictated his own rules. As the king of hell, he found a wife. She was a demon named Lilith. According to legend, she is the first wife of Adam, even before Eve.

Lilith was a human, not a demon. Once she resisted the instructions of Adam and, considering herself equal to him, and not his slave, did not obey. For this, she became also rejected by God, like Lucifer. This united two souls filled with anger. All demons, demons created by him and Lilith are considered children of the devil Lucifer. All creatures living on the soil of evil come from them.

Lucifer, of course, has his symbol. The seal of Satan has long been considered such a sign. It is a kind of pentagram, in the core of which you can see a goat's head. The word "Leviathan" is written from each sharp corner of the pentagram. This is one of the names of Lucifer. We tried to do it for you with great pleasure and put effort into this wooden sculpture from the ash tree for your complete delight. The design of our wooden products is a one-of-a-kind artwork created by my team and me.
Share
View full details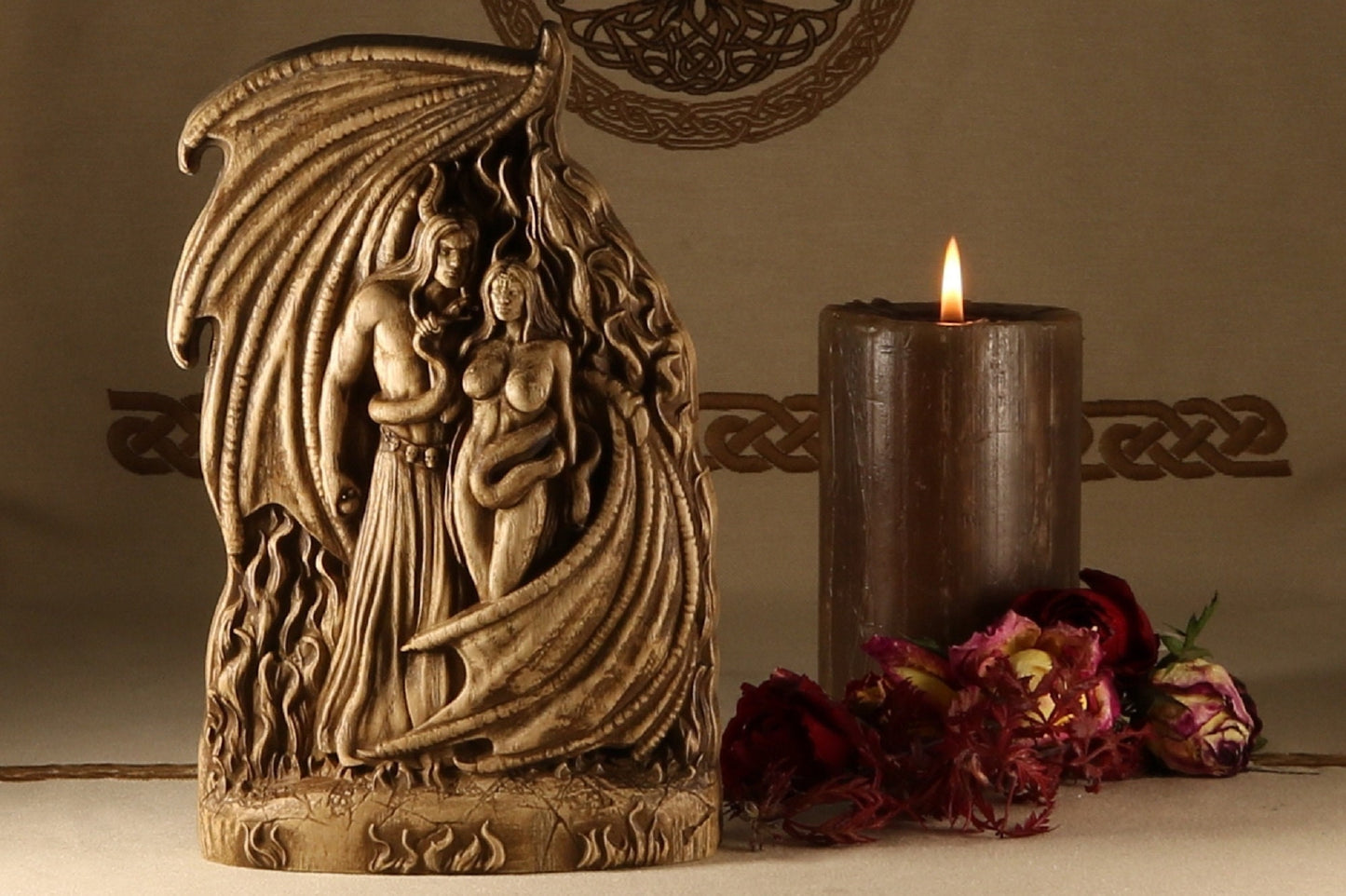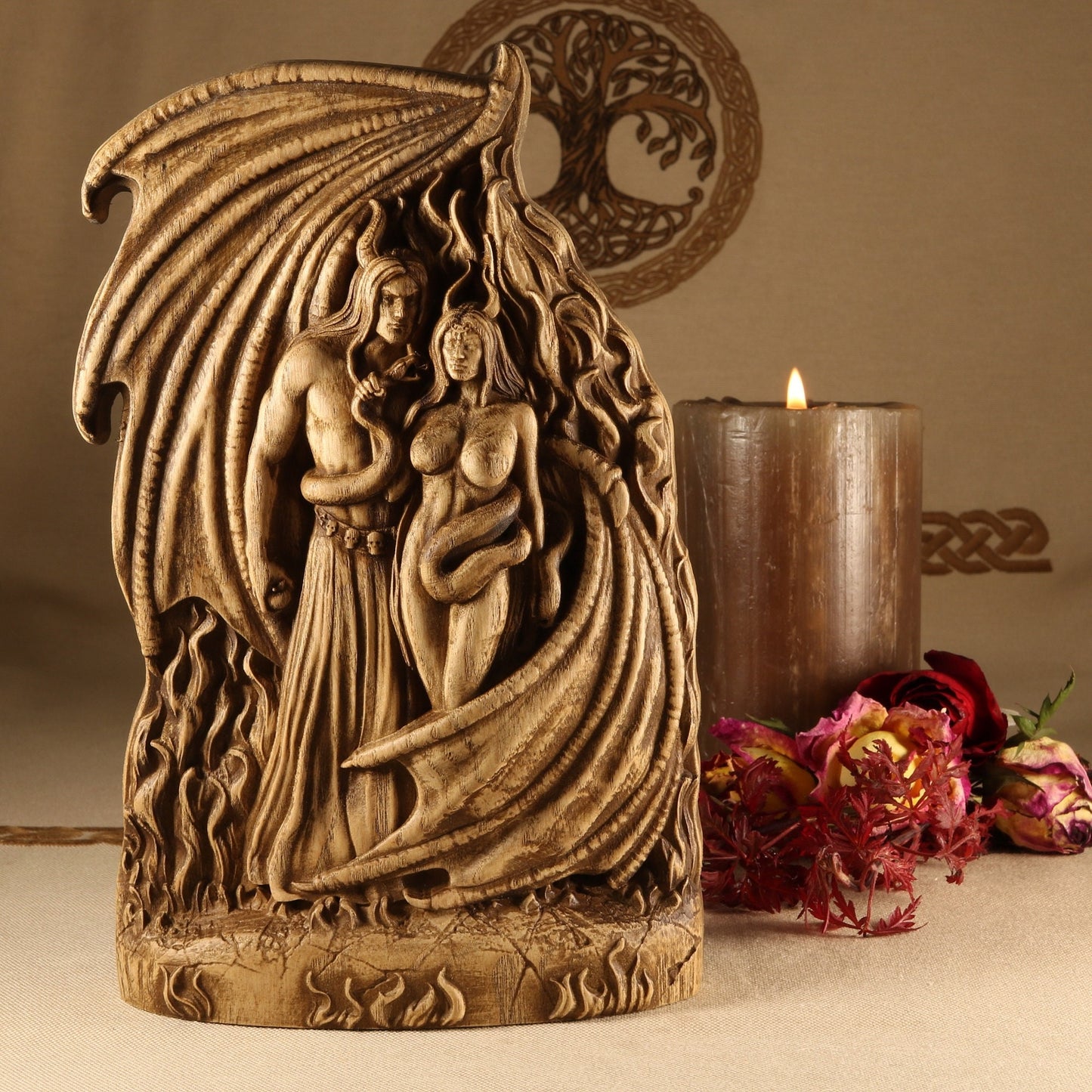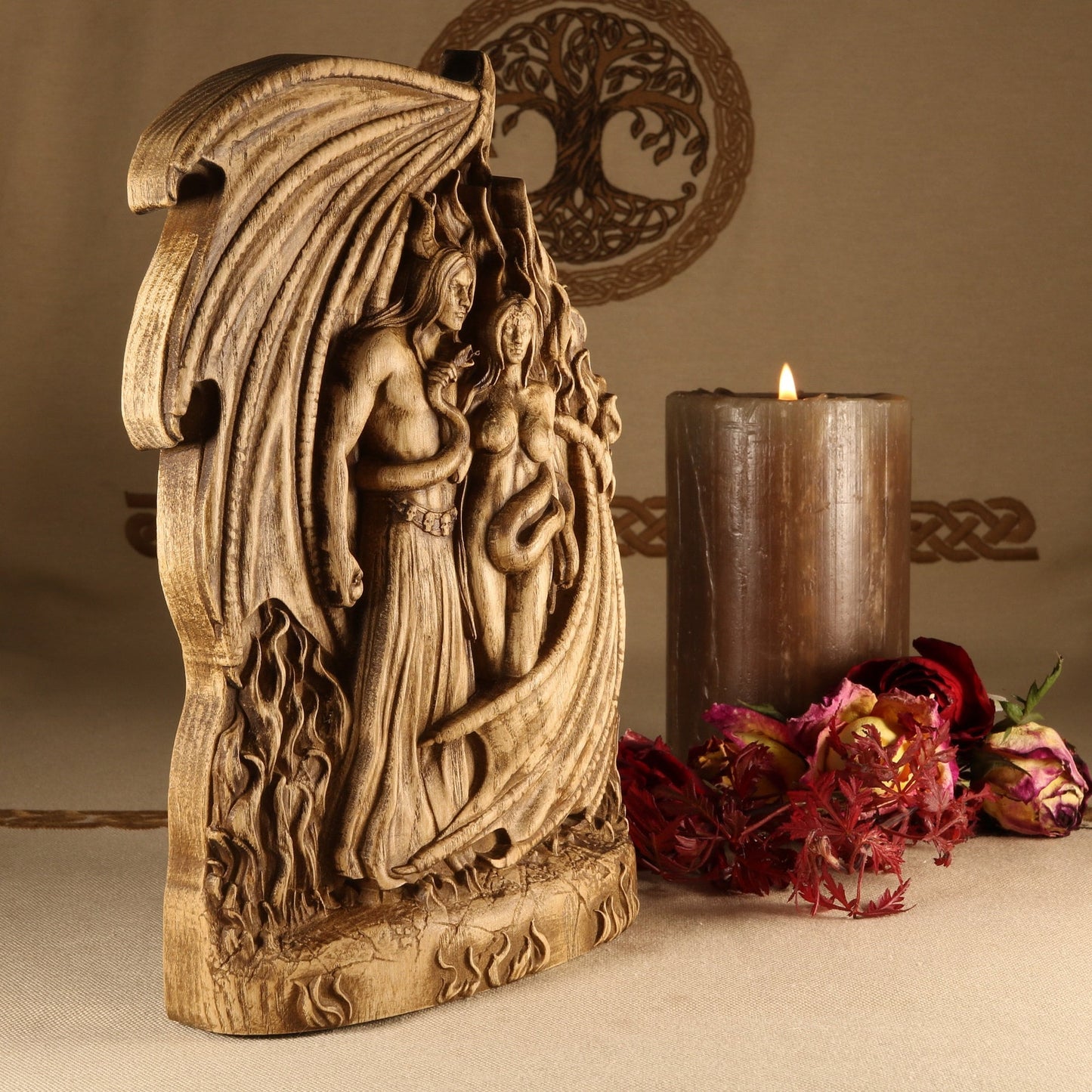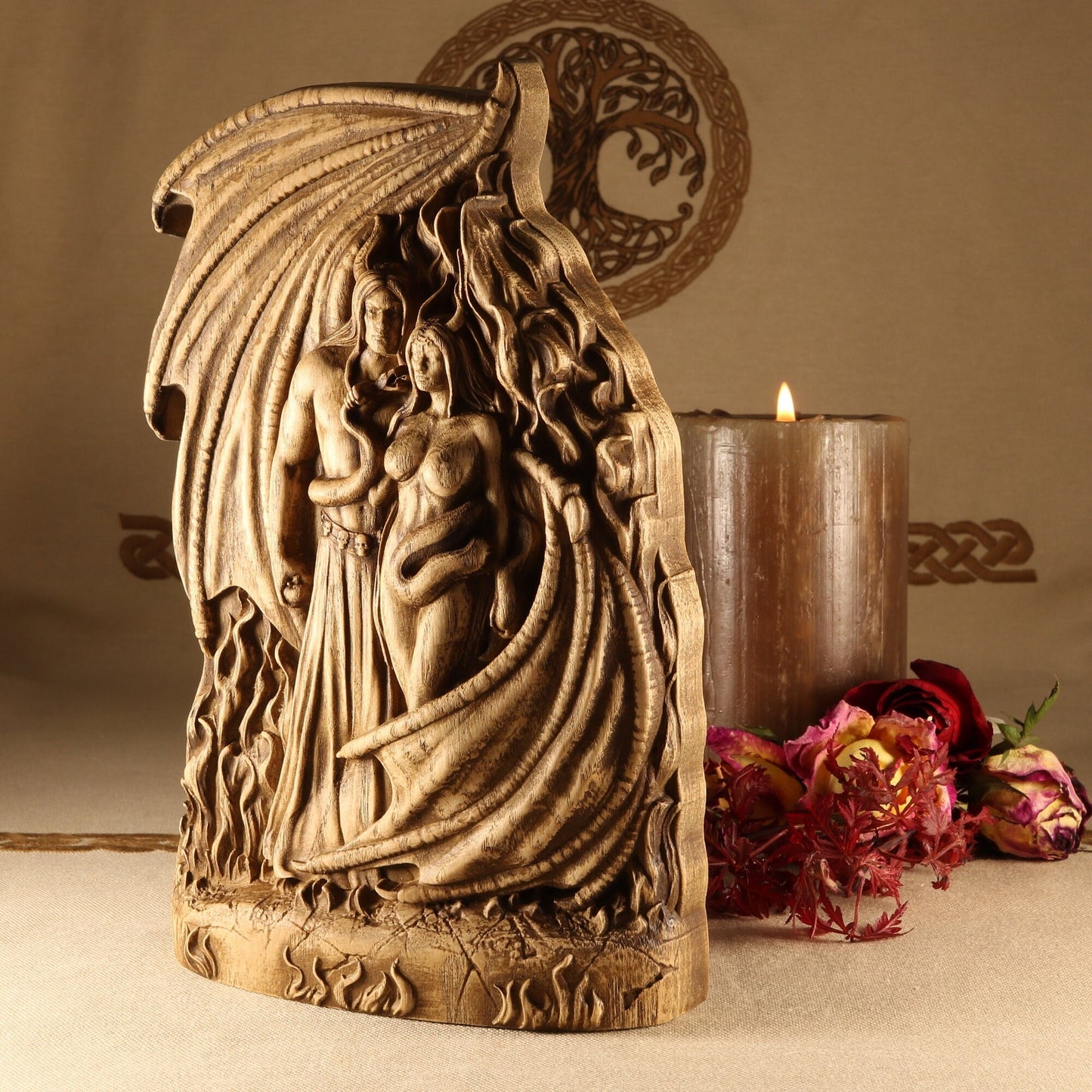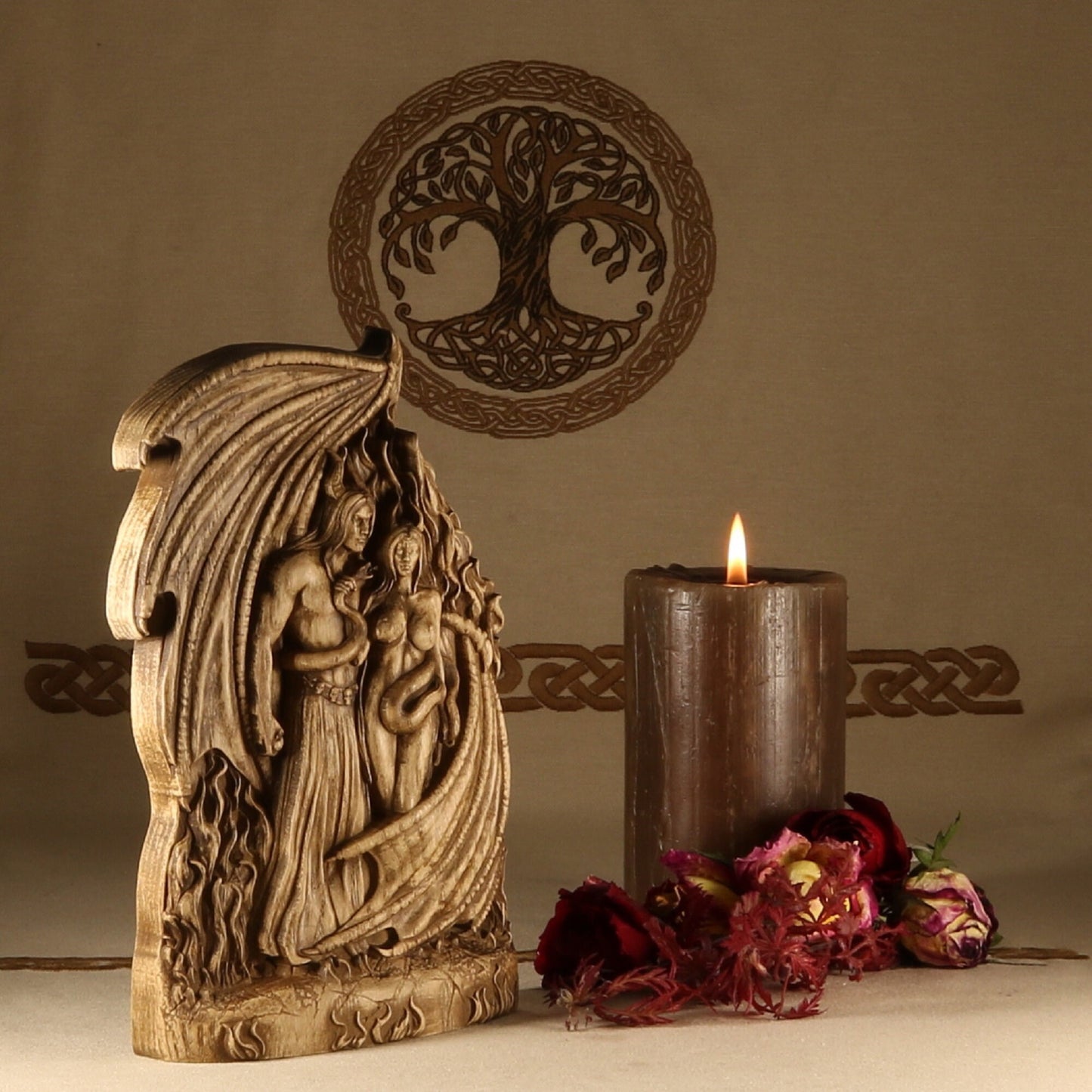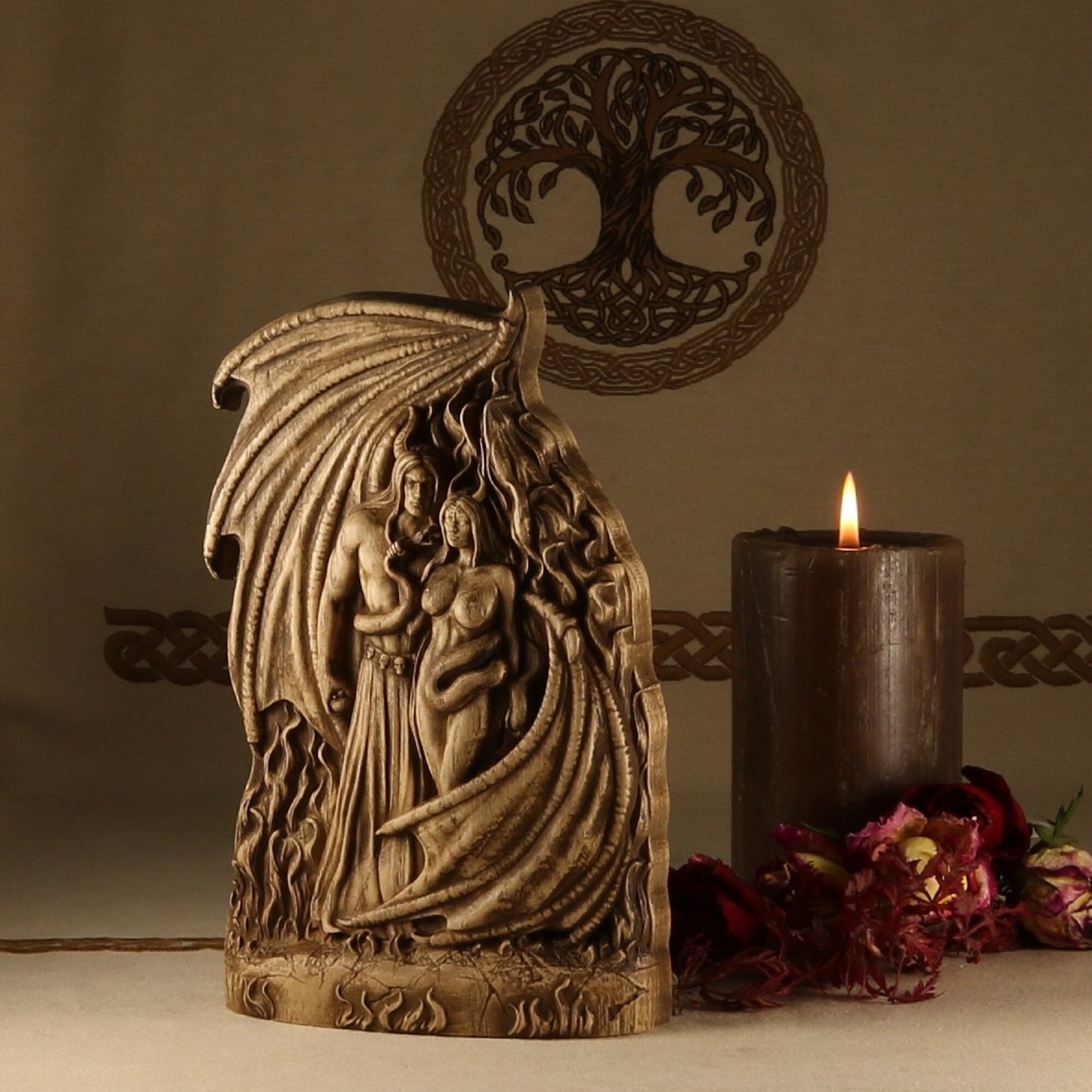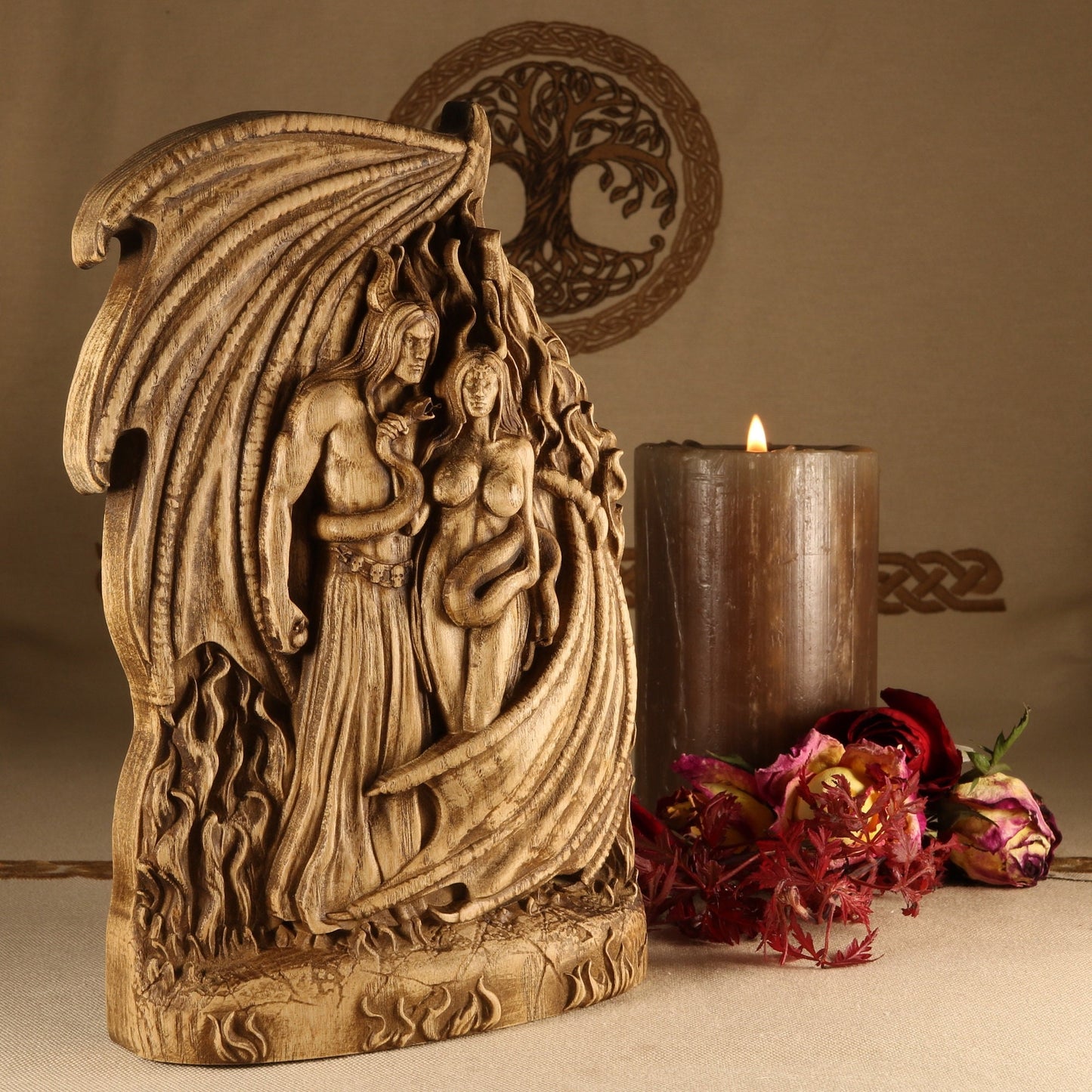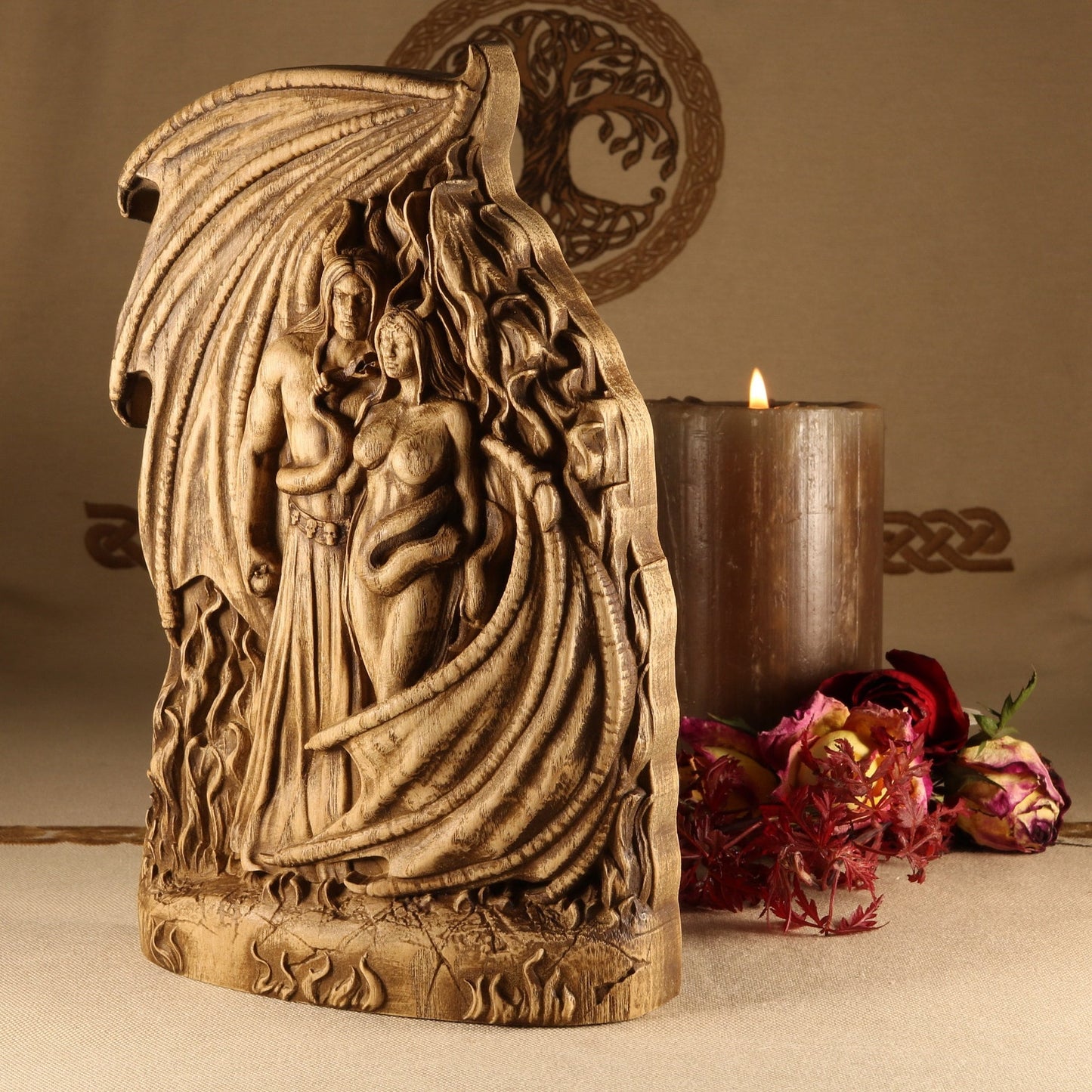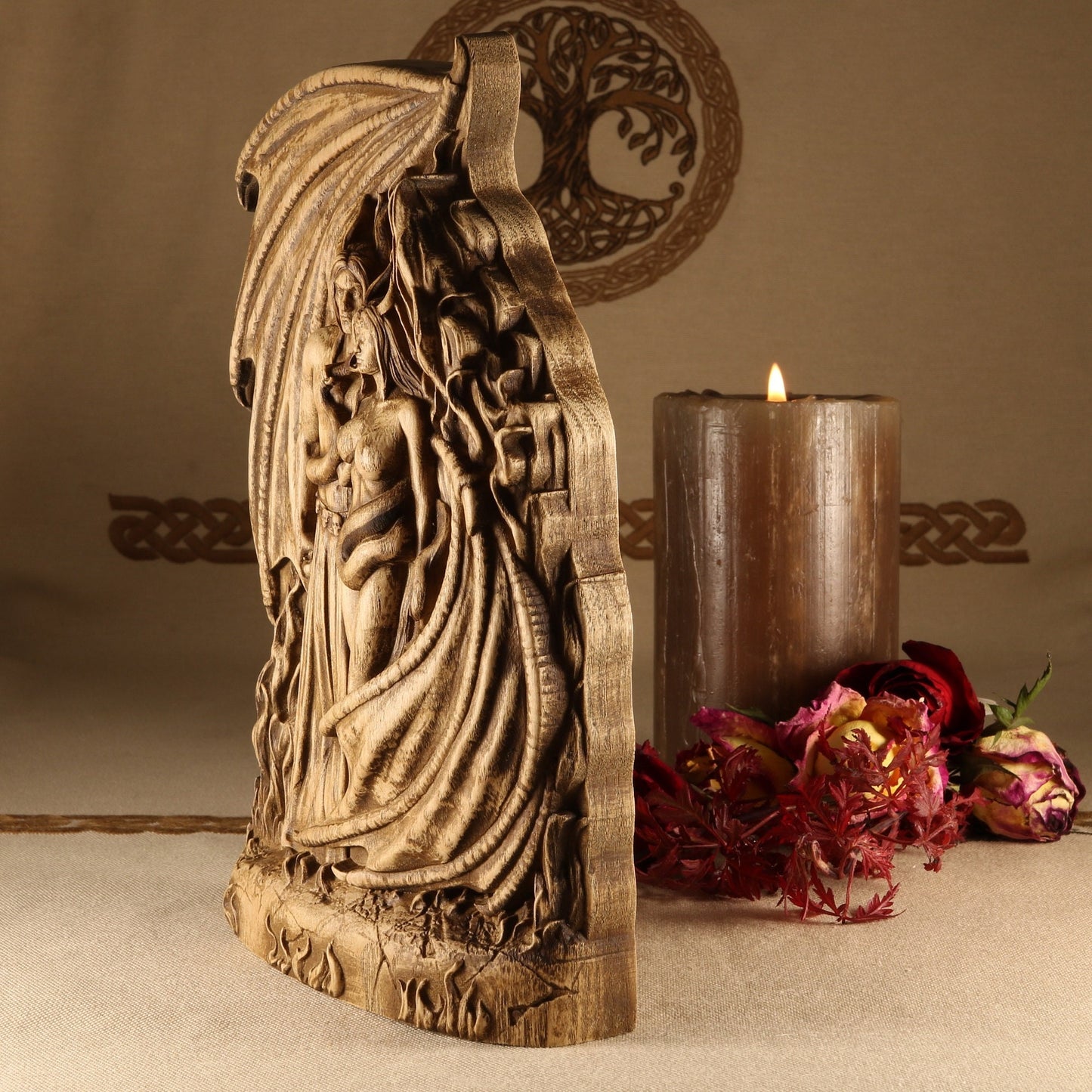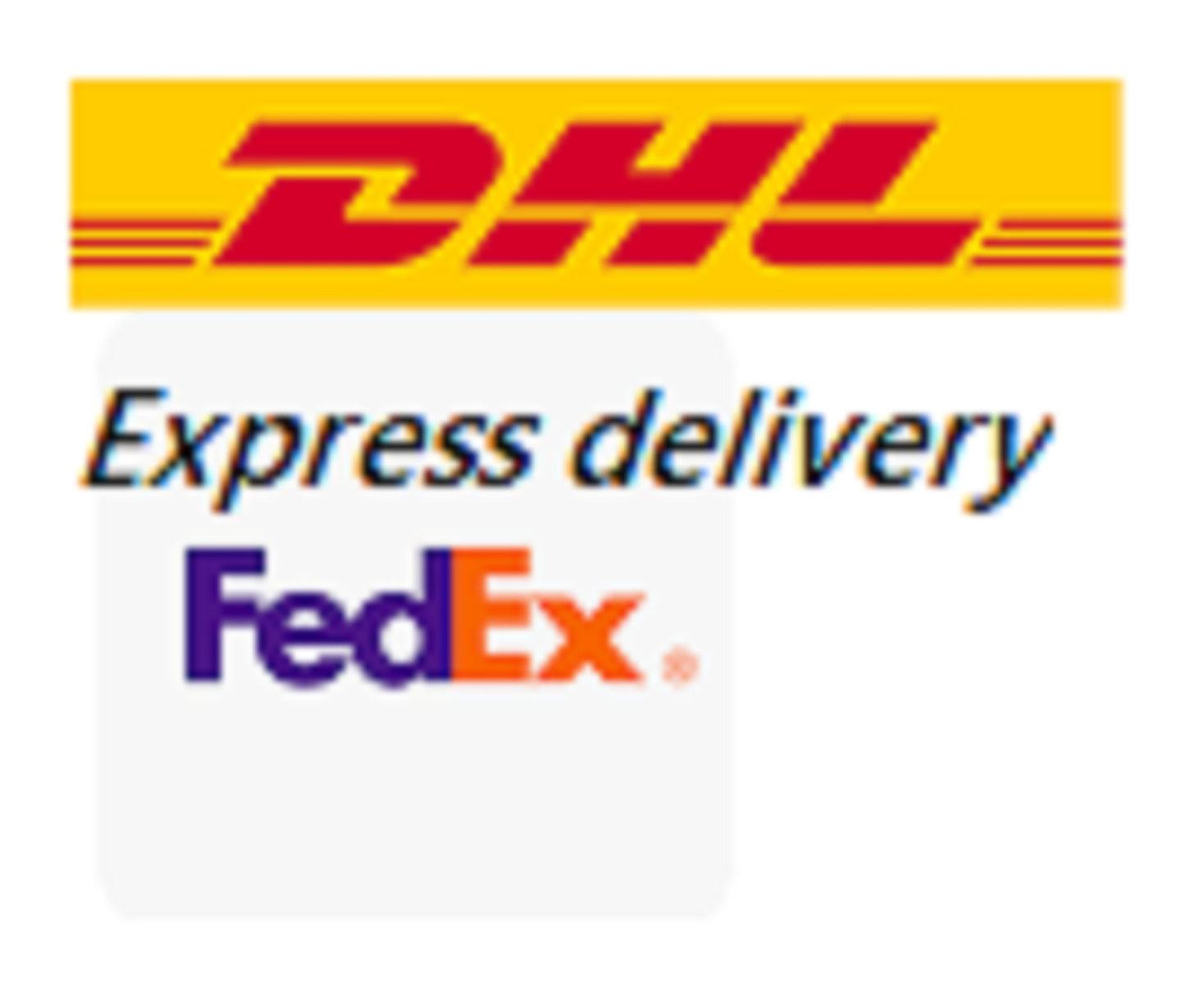 This statue arrived in perfect condition!! It took months to arrive, but I'm amazed it got here considering the shop is in Ukraine. Excellent customer service!! Ave Lilith et Samael!!
🖤🔥
I have bought three statues and all of them are amazing! I love the detail that went into making these. It is hard to find a good Lilith statue. The one I had gotten was the ONLY one I found at the time and it did her no justice! So when I found the one that I had gotten, I knew it was perfect. And like Lilith, it is basically impossible to find a Belial statue for some reason. Many work with him and love him and yet no statue (that I have known of) exists of him until now. I love how you have incorporated untraditional aspects into him. From the demon king all the way to a hunter and mighty warrior. When I have placed him on his altar I definitely felt he approved. And of course Lucifer/Satan. I love how you incorporate both into one. I see all of him in a harmonious balanced way. I love them all! Excellent job!
Absolutely beautiful. Wonderful craftsmanship and a stunning representation of Lilith. Thank you, Di. Urban Dharma
My jaw dropped when I saw the video of this. It's even more impressive in person! Gorgeous work and quality! Captures the sensuality and also the power and dignity of Lilith all at once.
Exceptional Lilith carving! Exceeded my expectations! This carving is beautifully displayed in the listing, although one cannot appreciate the time and effort that went into creating this piece. She has already commanded a central place on my altar. Absolutely stunning!
Our Advantages
Worldwide Shipping

Free shipping on most orders.

Hassle-Free Exchanges

If any sculpture comes in a damaged state, please let us know.

Absolutely Unique Designs

We create concept, model, adjust and carve. All of our models are nowhere else to be seen.