Regular price
$9,600.00 USD
Regular price
$0.00 USD
Sale price
$9,600.00 USD
Unit price
per
Sale
Sold out
This handsome Celtic god statue is handmade from ecological ash wood and boasts a lovely carved design. The perfect way to add a touch of Celt magic to your home, this statue depicts Lugh, the god of light and patron of crafts and arts. He's shown holding a spear in one hand and what appears to be a wheel in the other, surrounded by intricate Celtic knotwork. The wood has been given a natural finish and coated with varnish to protect it from the elements. Whether you use it as decoration indoors or out, this unique piece is sure to add intrigue and conversation starter piece.


Lugh Characteristics
Material: ecological ash tree
Сoating: varnish
Height 7.8 inch/20 cm
Width 5.5 inch/14 cm
Depth: 1.5 inch/4 cm

Features
Color shades and textures may differ slightly from actual products. It depends on your monitor or phone settings.
The statues are very easy to clean. Wipe clean with a dry towel or tissue.

Shipping
We ship our products from Spain to the EU. To the USA and other countries, the goods are shipped from a warehouse located in the USA.
We tried to do it for you with great pleasure and put effort into this wooden sculpture, a wooden statue from the ash tree for your complete delight.


He is, in Irish mythology, the god of light associated with the solar cult. In СеІtic legends, he often acts as a rogue (trickster), similar to the Sсаndinavian Loki. At the same time, he is a positive hero.

He is a young handsome warrior in a helmet, with a spear and a magic dog. This completely protects him and those who call out to him.

He is a connoisseur of many arts and crafts (he is a carpenter, a blacksmith, a harper, a phili, versed in the affairs of antiquity, a healer, a warrior, and a hero), for which he is nicknamed Samildanah, which means "skilled in the arts" and Lamfada, "Lоng Arm" (some explain this nickname by the solar nature of this god, comparing the hand with a ray of the sun).

The blood of the Fomorians flowed in the veins of this god, he is the grandson of the one-eyed Balor, the leader of the Fomorians, who fought with the Tribes of the goddess Danu for power over Ireland.

Lugh's courage was legendary. He killed the giant Balor, hitting him with a stone thrown from a sling. The enemy had one eye with a heavy eyelid - it took the efforts of four servants to lift it. As soon as his eyes opened, Balor crept up to the enemy with a magic sling and then threw a stone with all his might. From the blow, an eye jumped out of the back of Balor's head.

Gjd was called long-armed.

In Ireland, It was dedicated to the annual (August 1) holiday of Lughnasad, or "Feast of the Lugh". Big bonfires were made on the tops of the hills, and fairs, merry festivities, and weddings were held.

The cult of the hero, apart from Ireland and Britain, was widespread in Gaul.


We tried to do it for you with great pleasure and put effort into this wооden sсuІрture from ash tree for your complete delight.

The design of our wооden products is a one-of-a-kind artwork created by my team and me.

Share
View full details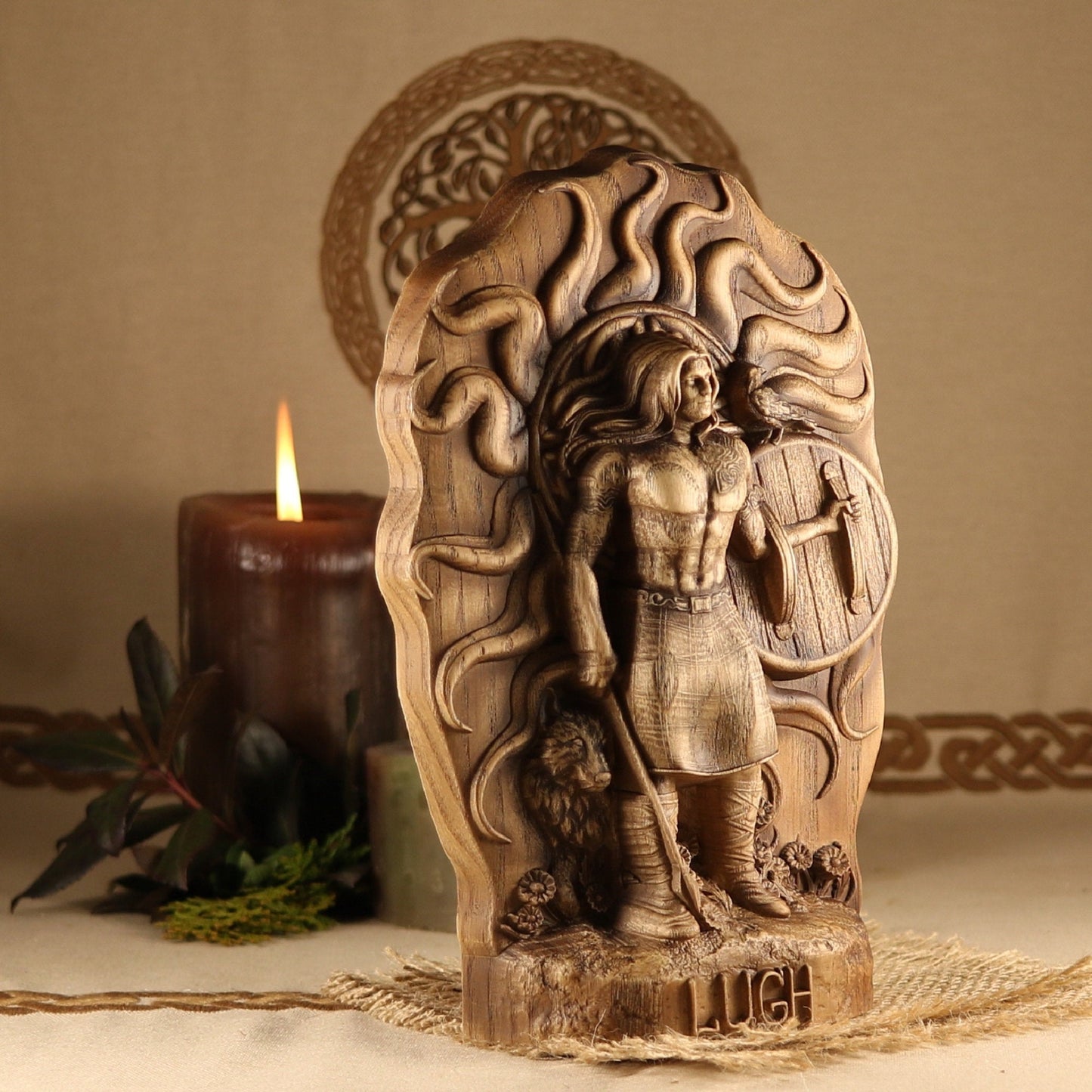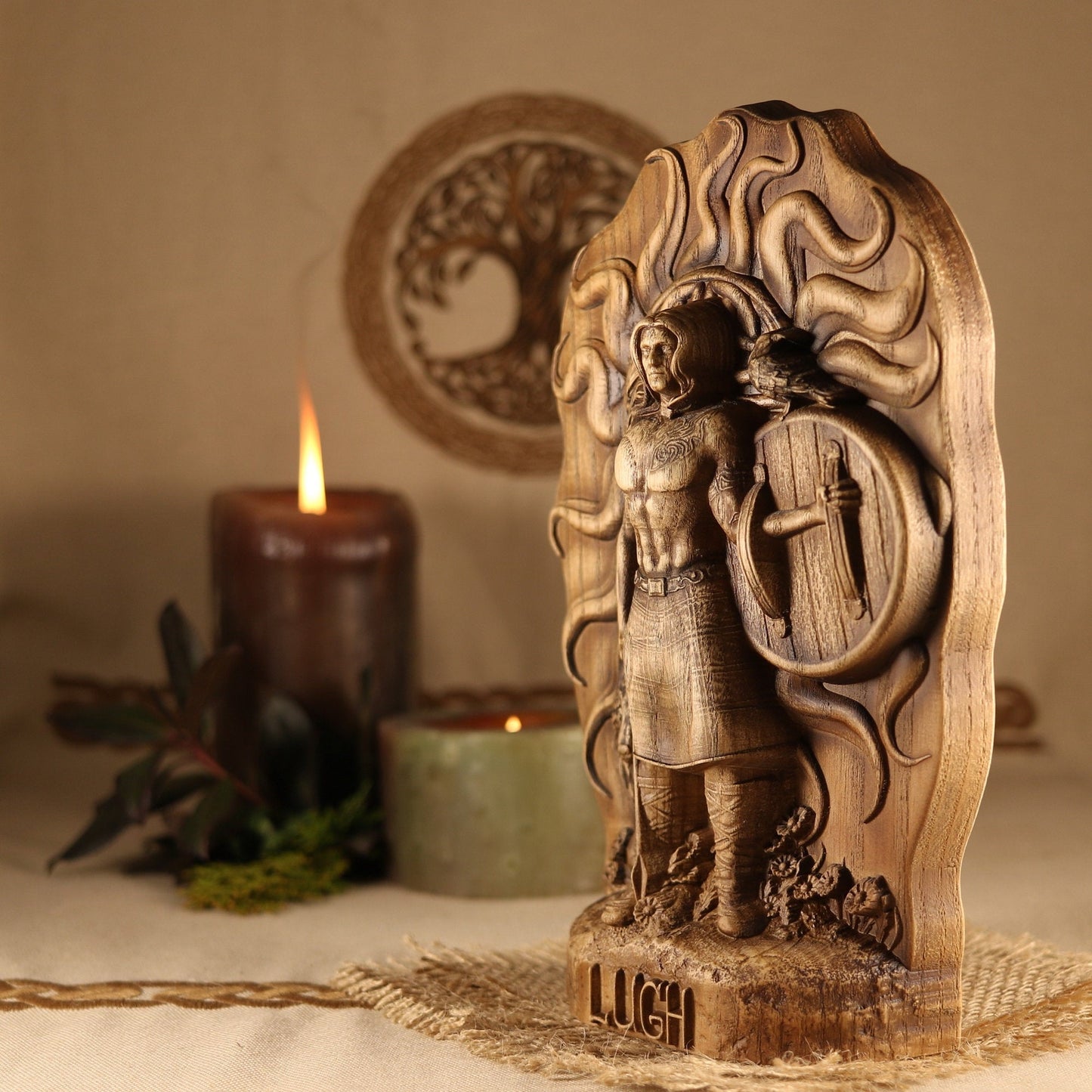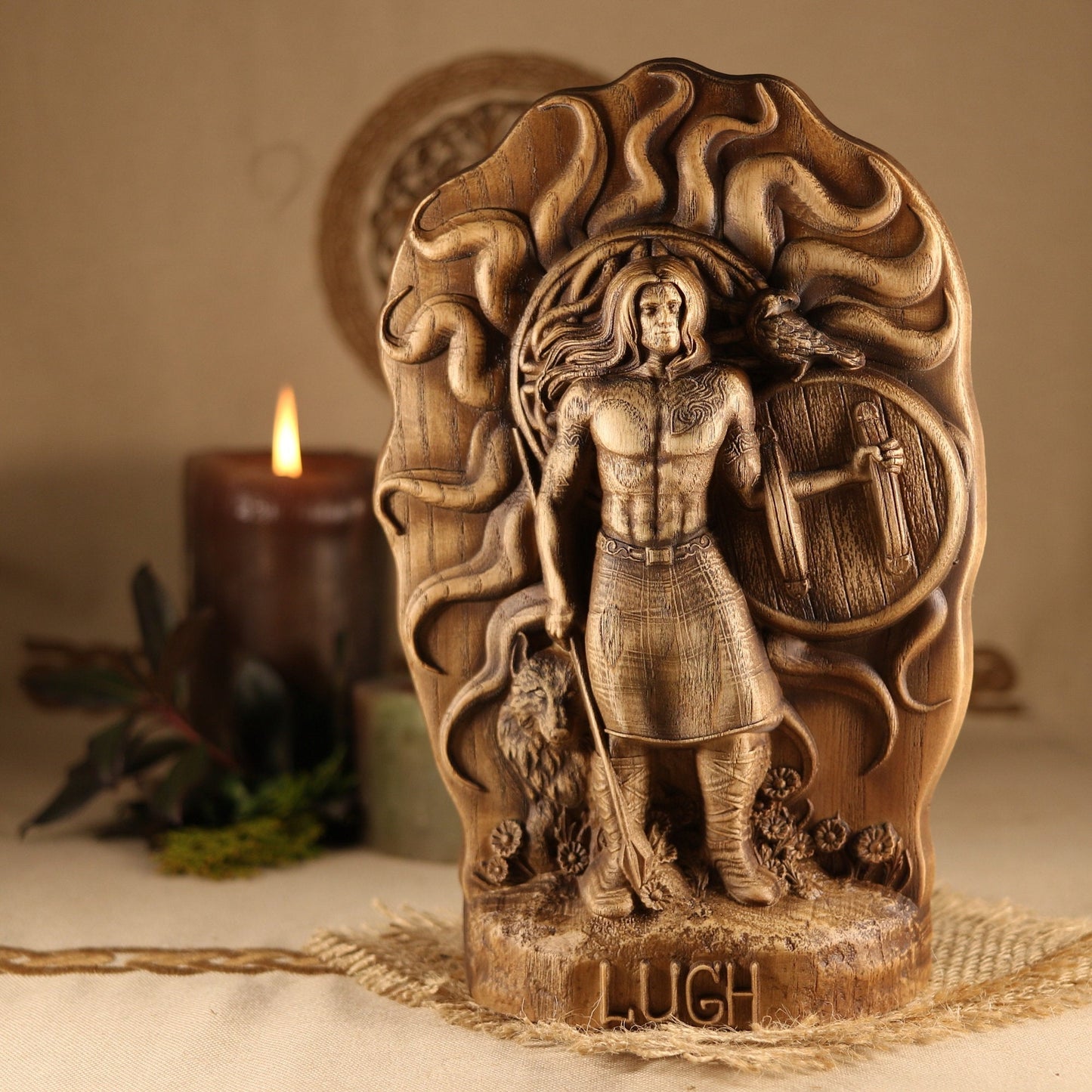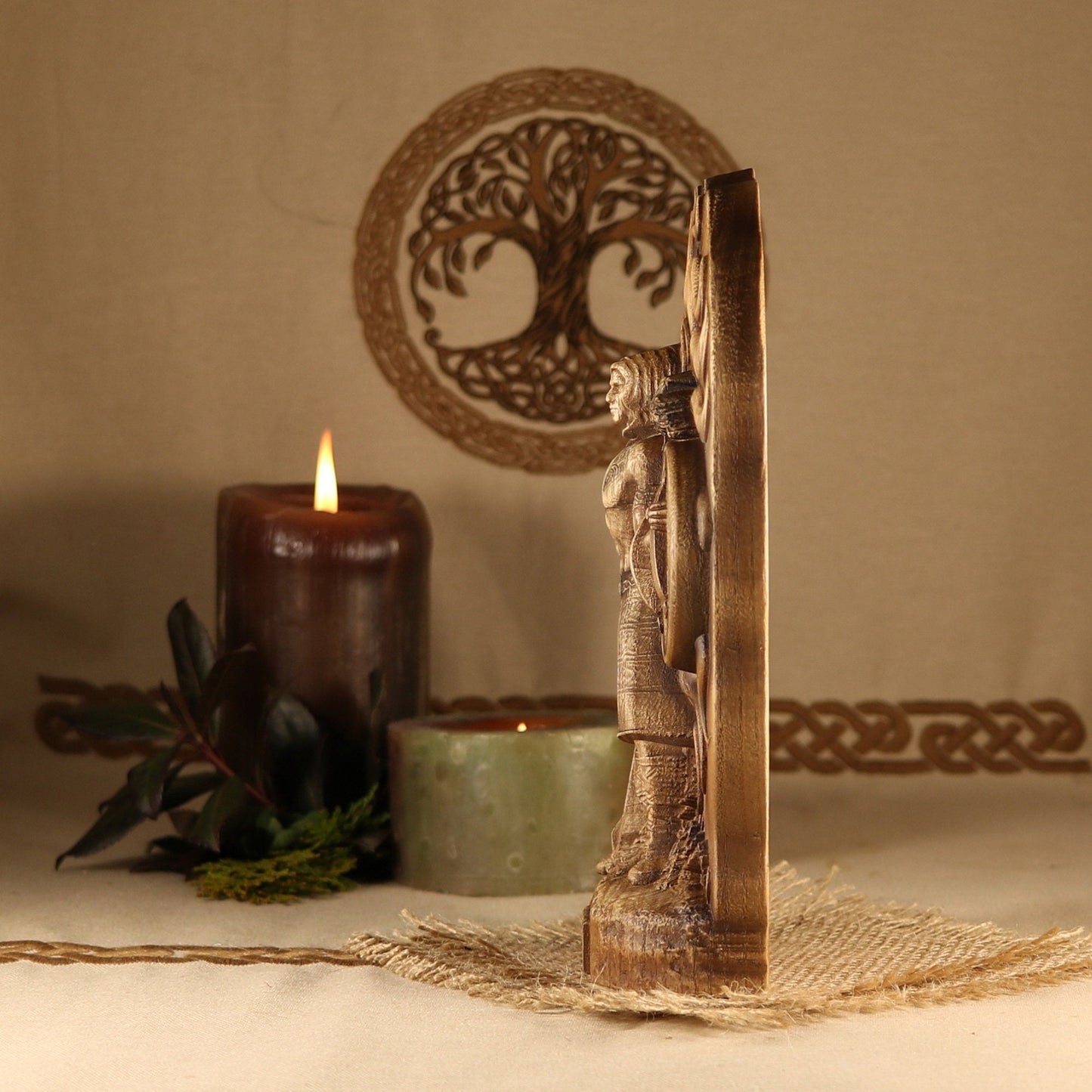 I came to this shop for a custom order for a Lugh statue. Lugh is one of the most prominent gods in Irish Celtic mythology and yet it is hard to find decent statues of him. Art Carving did an incredible job with the commission and I'm so elated to own a beautiful state of a god that is close to my heart. Thank you for the incredible artistry and excellent customer service. To any Lugh worshippers out there, please support this store if you can. To me, right now, they hold the best Lugh statue. Thank you so much again for the beautiful statue.
This statue is beautiful! I am VERY pleased with its quality and beauty.
Simplemente maravilloso. Ya esta en nuestro altra junto a su padre.
Absolutely gorgeous! Thank you! ♥️
I had not expected to arrive when it had, I was expecting it to come at a later date. I had an usuall dream where I was holding the statue of Lugh the night before it arrived,and the next day it arrives. Lugh is so beautiful, this statue show's off his stregth and power, I'm in love! Just in time for August. I apperciate the effort it took to make him. I shall return one day with a faraway project about a Mayan god
Our Advantages
Worldwide Shipping

Free shipping on most orders.

Hassle-Free Exchanges

If any sculpture comes in a damaged state, please let us know.

Absolutely Unique Designs

We create concept, model, adjust and carve. All of our models are nowhere else to be seen.