Regular price
$0.00 USD
Sale price
$92.00 USD
Unit price
per
Sale
Sold out
Mesopotamian Wood Sculpture Description 
This wood carving statue of the Marduk God is made from high-quality ash wood, imbuing it with natural warmth and sophistication.
Marduk Sculpture Characteristics
Material: ecological ash tree.
Coaring: varnish.
Height 8inch/20.5cm.
Width 4.1inch/10.5cm.
Depth 1.5inch/3.9cm.
Shipping
We ship our products from Spain to the EU. The USA and other countries, the goods are shipped from the USA(USPS) or Ukraine (DHL)

Returns & exchanges

We gladly accept returns and exchanges
Contact me within 14 days of delivery
Ship items back within 30 days of delivery
Detailed return information
here
About the Brand
We have a rich and fascinating story behind our brand. If you have a couple minutes to read and watch how we work, please see About Art Carving page.
Features
Color shades and textures may differ slightly from actual products. It depends on your monitor or phone settings. The statues are very easy to clean. Wipe clean with a dry towel or tissue.
It is a unique and inimitable decorative object. You can place it on tables, shelves, and desks. Ideal for traveling. An excellent option for a gift.
We tried to do it for you with great pleasure and put effort into this wooden sсuІрture from ash tree for your complete delight.
Marduk Cernunnos
Marduk is a prominent deity in ancient Mesopotamian mythology, particularly within Babylonian and Assyrian cultures. He was revered as the patron of the city of Babylon and became one of the most powerful and respected gods in the Mesopotamian pantheon.

Marduk is often associated with the Enuma Elish, the Babylonian creation myth, where he defeats the chaos goddess Tiamat and establishes order in the cosmos. This victory is seen as a symbol of Marduk's supremacy and the elevation of Babylon as a significant city-state.

As a deity, Marduk was frequently depicted as a warrior with a dragon or serpent, one of his symbols. He was also linked to justice, wisdom, and the arts of civilization. The cult of Marduk and his influence grew over time, particularly during the rule of Hammurabi when Babylon was a pivotal center of power in Mesopotamia.

The history and significance of Marduk underscore the complexities of ancient Mesopotamian religious beliefs and their connections to the political and cultural identity of the city.

This unique carved statue captures the grandeur and significance of the Marduk God , who held a central place in the Mesopotamian pantheon. Known for his role as the patron deity of the city of Babylon and a symbol of wisdom, justice, and power, Marduk is depicted in this carved statue with all the majesty and details of his image.

The handcrafted wood carving showcases skill and artistry in execution. The detailing of the face, attire, and symbolism adds depth and authenticity to this artistic piece.

This carved statue is not only a distinct masterpiece of woodworking but also a unique means of bringing ancient Mesopotamian cultural heritage into your environment. It can serve as a valuable decorative element, enhancing your understanding and interest in ancient history and religion. Place this carved statue in your space to feel a connection to the past and the striking symbolism of the Marduk God.
Share
View full details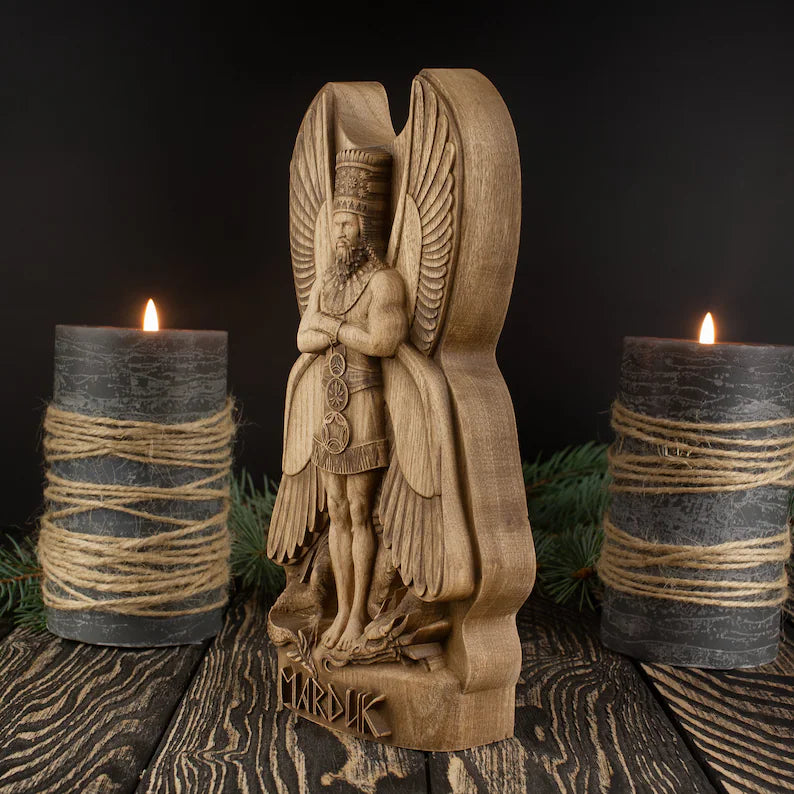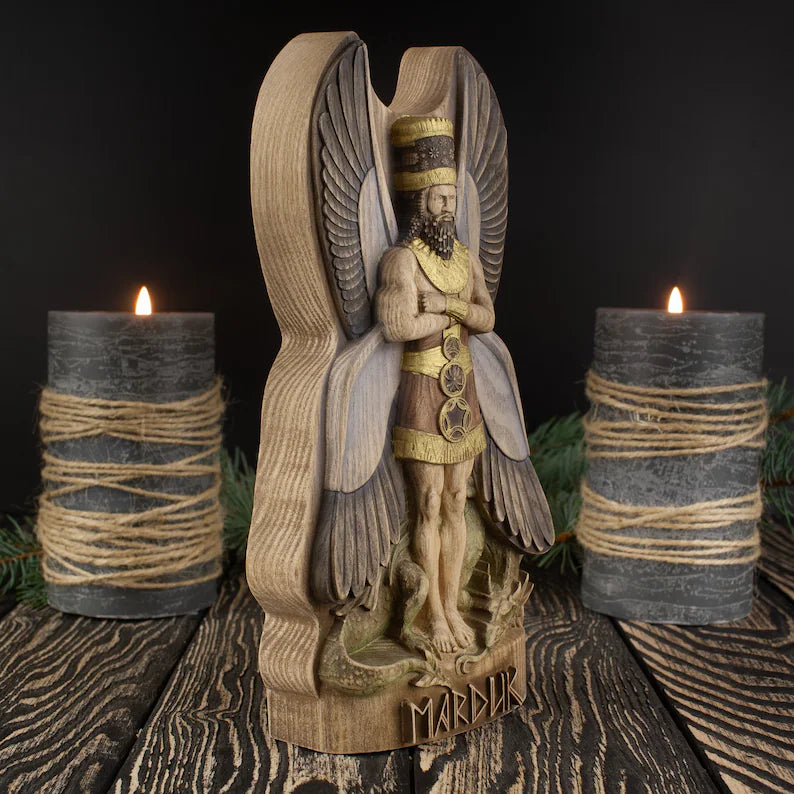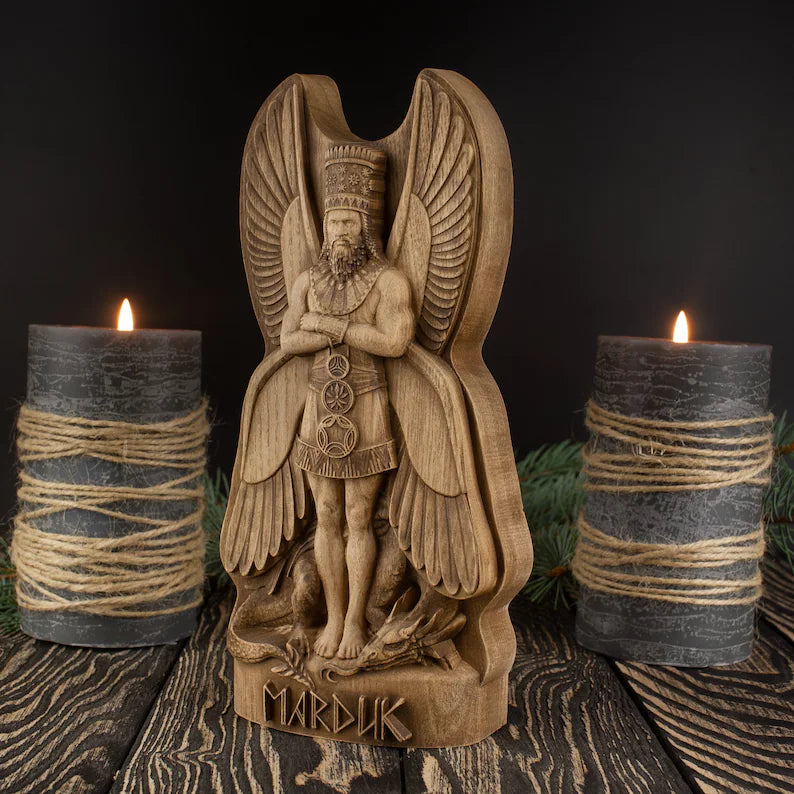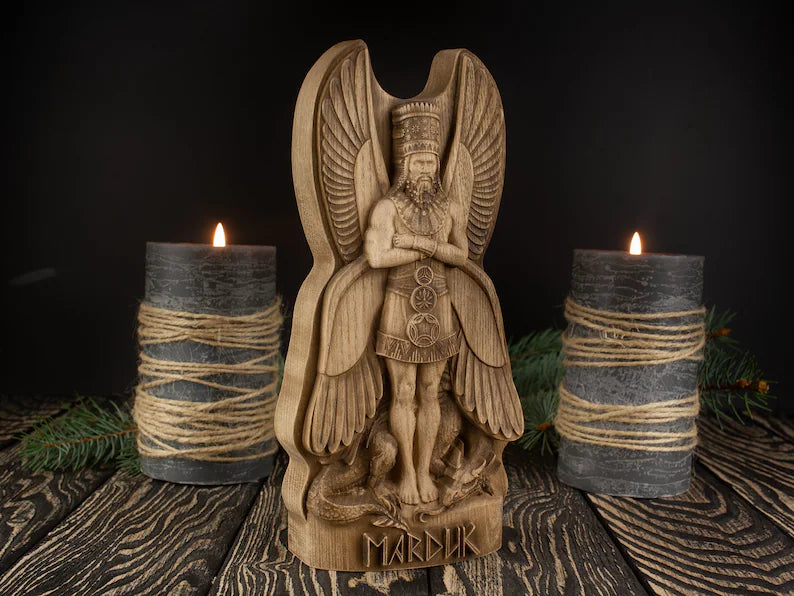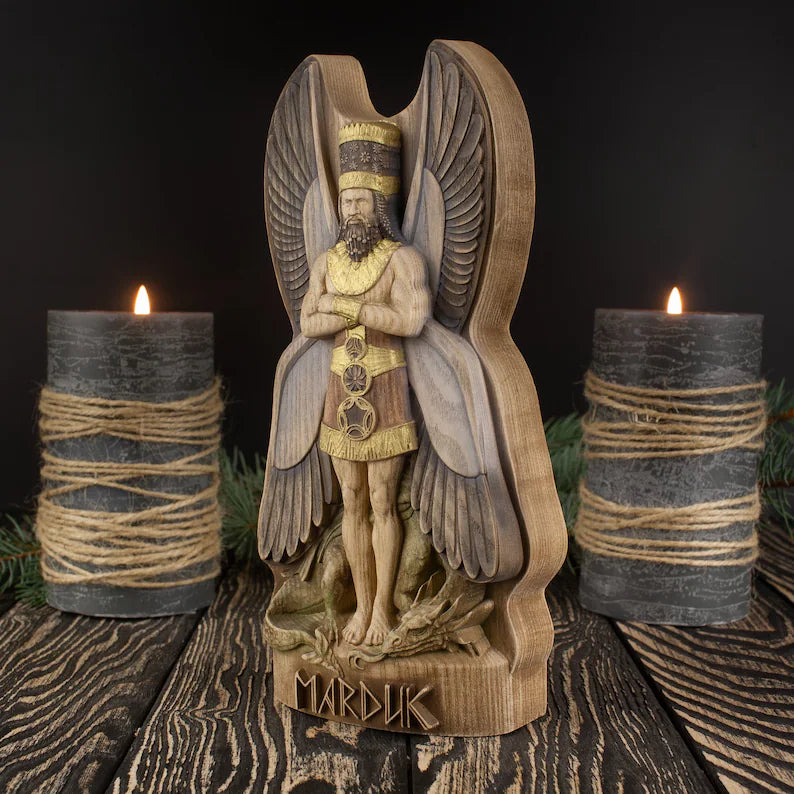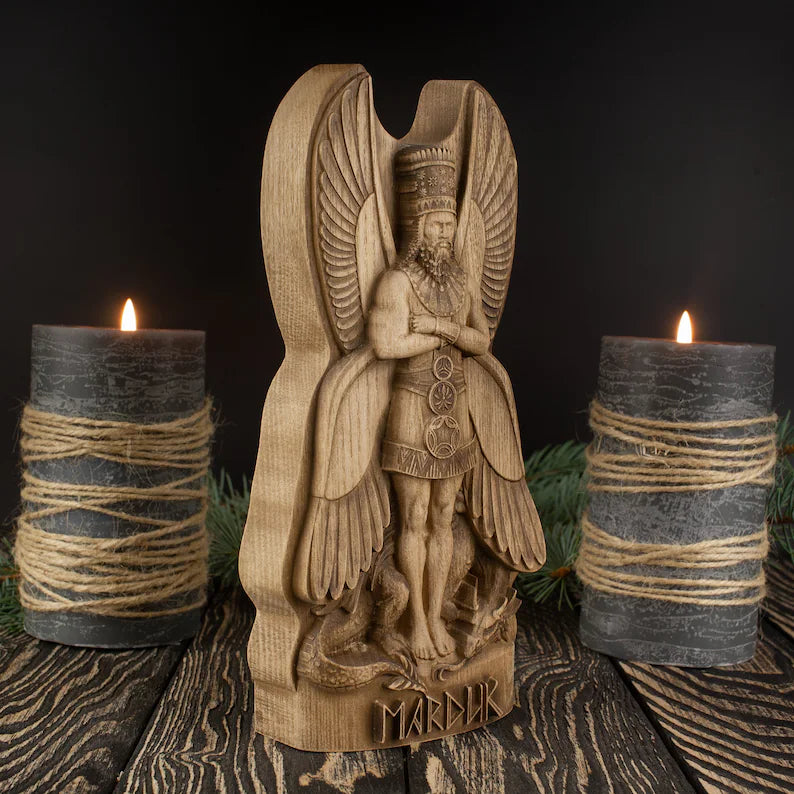 Our Advantages
Worldwide Shipping

Free shipping on most orders.

Hassle-Free Exchanges

If any sculpture comes in a damaged state, please let us know.

Absolutely Unique Designs

We create concept, model, adjust and carve. All of our models are nowhere else to be seen.