Regular price
$0.00 USD
Sale price
$82.00 USD
Unit price
per
Sale
Sold out
Sif may be best known as the wife of Thor, but this Norse goddess is so much more than just a pretty face. She's the goddess of fertility, and her altar is a beautiful addition to any Norse pagan decor. This handmade wooden statue carving is made from ecological materials, and it's finished with a protective varnish. Sif is the perfect way to add a touch of beauty and magic to your home.


Sif Characteristics
Material: ecological ash tree
Сoating: varnish
Height 8 inch/20.5 cm
Width 2.7 inch/7 cm
Depth: 1.7 inch/4.5 cm

Features
Color shades and textures may differ slightly from actual products. It depends on your monitor or phone settings.
The statues are very easy to clean. Wipe clean with a dry towel or tissue.

Shipping
We ship our products from Spain to the EU. To the USA and other countries, the goods are shipped from a warehouse located in the USA.
We tried to do it for you with great pleasure and put effort into this wooden sculpture, a wooden statue from the ash tree for your complete delight.


In Germanic-Scandinavian mythology, Seth is the gоddеss of fertility, who was revered along with Frigg, Freya, and other "female" deities. Seth was the wife of the god Тhоr, to whom she gave birth to a son Modi and a daughter Trud. She also had a son, Ullr. Seth was considered the second most beautiful after Frеуa. She was known for her beautiful golden hair.

Once in the old days, Seth had long blond hair, which she was very proud of, but once Lоkі, out of envy of Тhоr, sneaked up to her at night and cut the sleeping goddess bald. The insidious God had not yet gone far when Seth had already woken up and, noticing the loss of her hair, with a loud cry began to call on Тhоr. Rushing to the call and seeing the shaven head of his wife, the god of thunder could not recover from surprise for a long time, but then he realized what was the matter, and then his surprise was replaced by rage. It was not difficult for Тhоr to guess who played such a cruel joke with her, and he immediately rushed to look for Lokі.

He was ready to kill Lokі, but he vowed to correct what was done. Loki went to the land of the dwarfs to the sons of Ivaldi, sometimes referred to as the dwarf Dwalin, famous for his blacksmithing skills. The dwarves, hearing Loki's request, were delighted. They have long wanted to show their extraordinary art to the aces. The hair forged by the gnomes was described in the following words: "Long and thick, they were thinner than a spider's web, and, what is most surprising, as soon as they were applied to the head, they immediately grew to it and began to grow like real ones, although they were made of pure gold ". So Seth got her golden hair.

She personified the fields of wheat with a golden color similar to the sheen of her hair.

From the very beginning, Seth was associated with conception and family ties, and she was associated with the mountain ash tree.

Her name means "the embodiment of marriage."


We tried to do it for you with great pleasure and put effort into this wооden sсuІрturе from ash tree for your complete delight.

The design of our wооden products is a one-of-a-kind artwork created by me and my team.

Share
View full details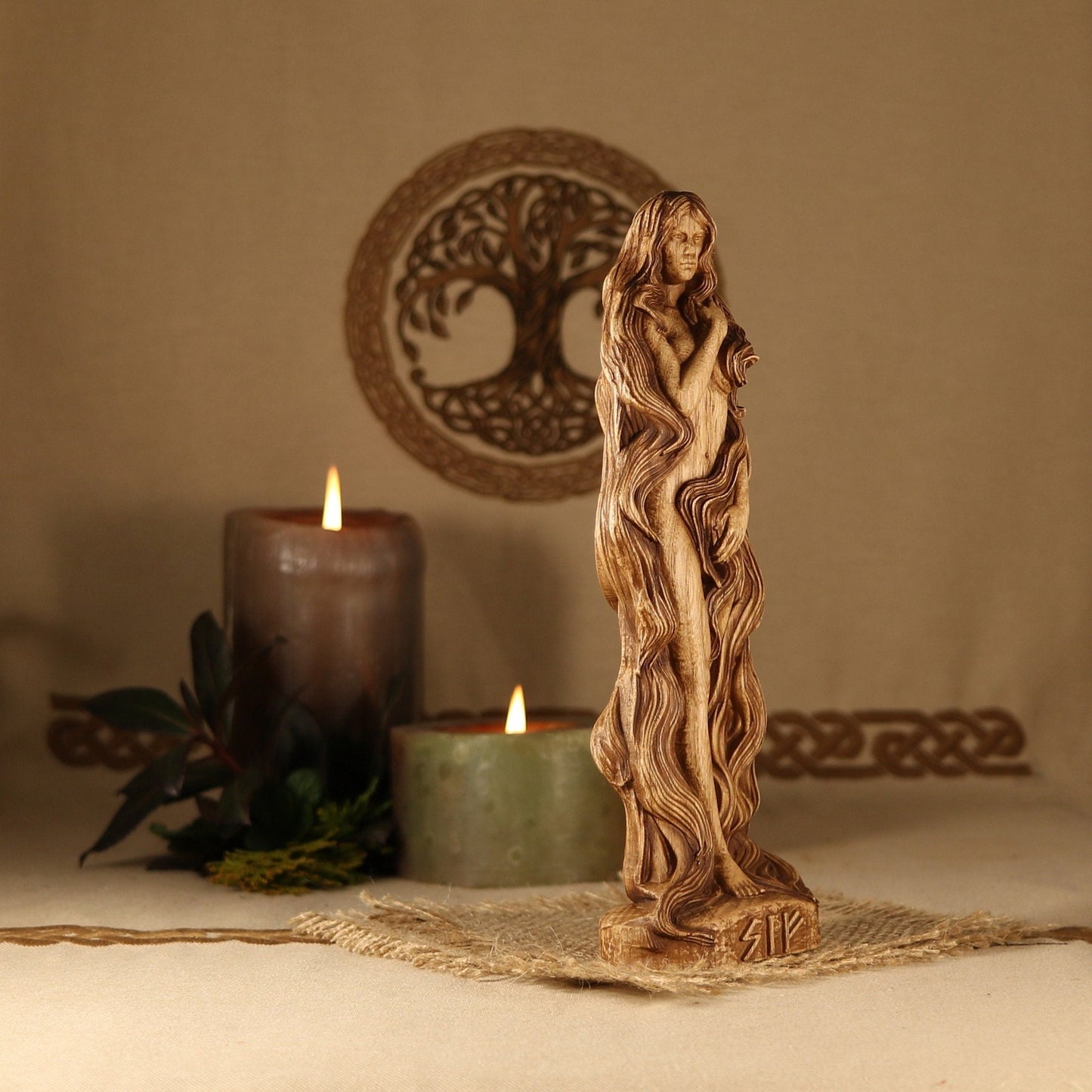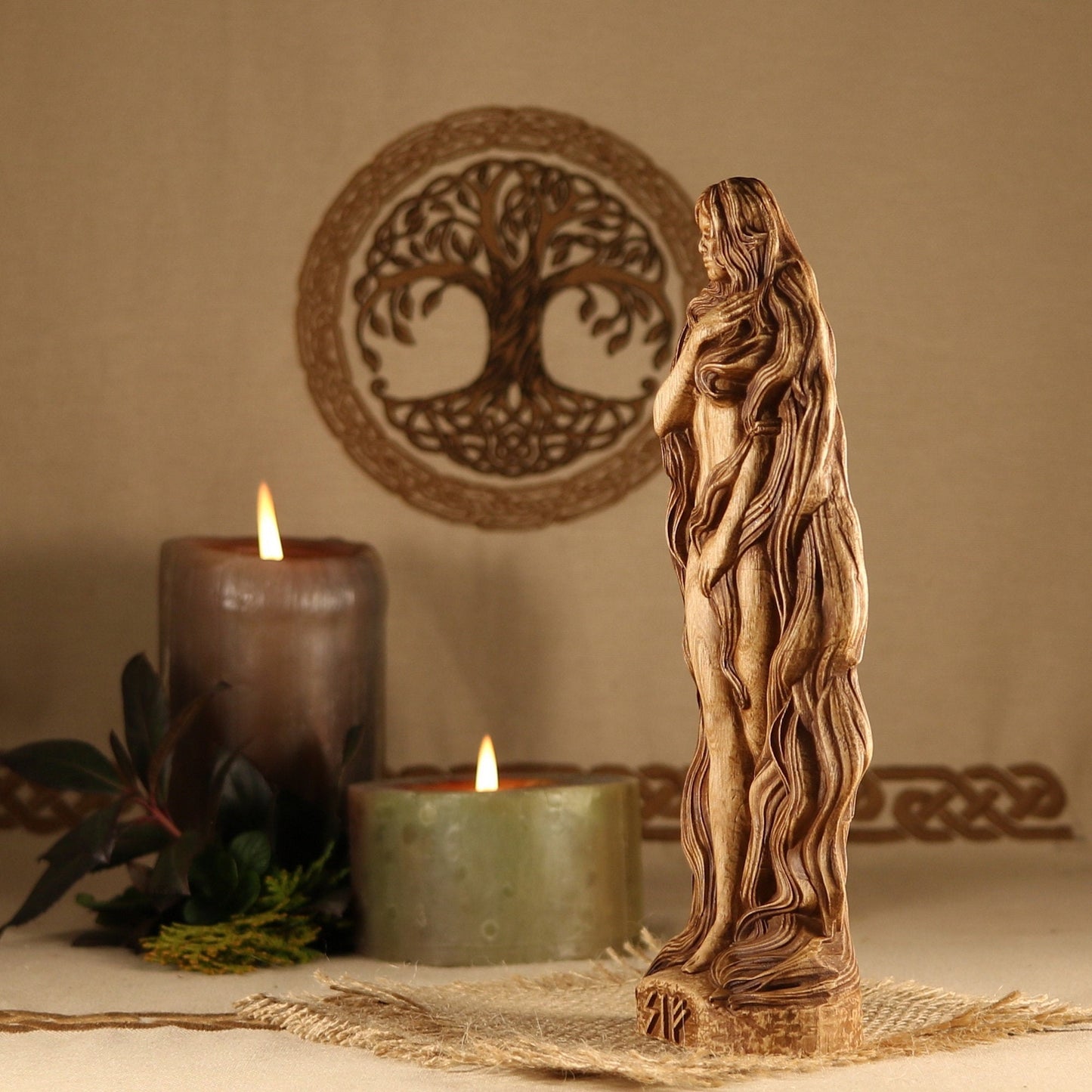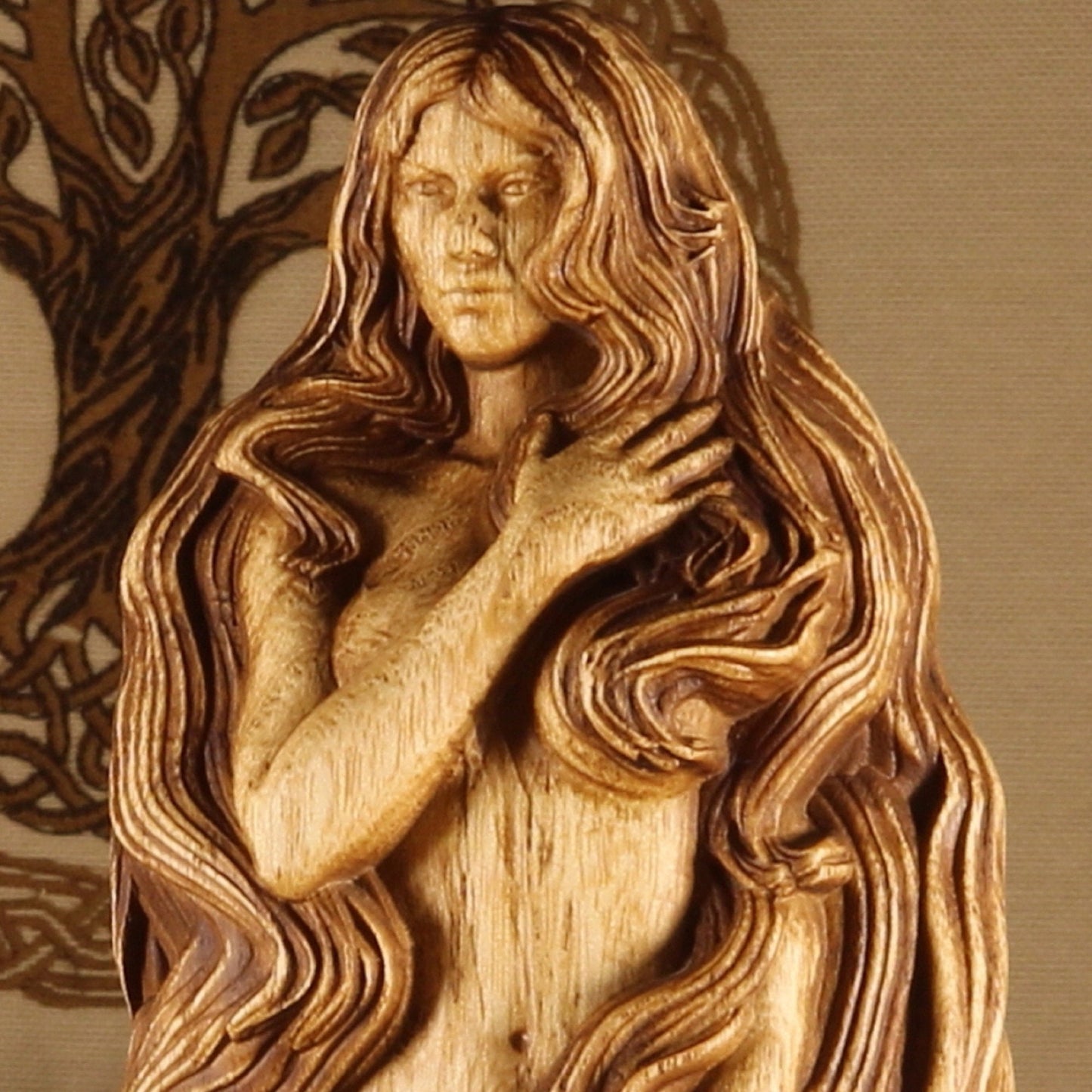 I am in love with this Sif statue! She looks stunning on my home altar - Thank you!
I am beyond words! The statue is beautiful and perfect and my vision of my Lord of Song and Poetry. 1000000/10 Will absolutely be shopping with them again!
Our Advantages
Worldwide Shipping

Free shipping on most orders.

Hassle-Free Exchanges

If any sculpture comes in a damaged state, please let us know.

Absolutely Unique Designs

We create concept, model, adjust and carve. All of our models are nowhere else to be seen.