Regular price
$120.00 USD
Regular price
Sale price
$120.00 USD
Unit price
per
Sale
Sold out
Wooden Ixchel statue - symbol of feminine power and luxury, wooden statue carving, aztec statue from ecological material.
Wooden Ixchel Statue Characteristics 
Material: ecological ash tree.
Coating: varnish.
Height 8.1inch/20.6cm.
Width 4.5inch/11.5cm.
Depth 1.9inch/5cm.
Shipping
We ship our products from Spain to the EU. The USA and other countries, the goods are shipped from the USA(USPS) or Ukraine (DHL)

Returns & exchanges

We gladly accept returns and exchanges
Contact me within 14 days of delivery
Ship items back within 30 days of delivery
Detailed return information
here
About the Brand
We have a rich and fascinating story behind our brand. If you have a couple minutes to read and watch how we work, please see About Art Carving page.
Features
Color shades and textures may differ slightly from actual products. It depends on your monitor or phone settings. The statues are very easy to clean. Wipe clean with a dry towel or tissue.
It is a unique and inimitable decorative object. You can place it on tables, shelves, and desks. Ideal for traveling. An excellent option for a gift.
We tried to do it for you with great pleasure and put effort into this wooden sсuІрture from ash tree for your complete delight.
This unique wooden elephant statue, also known as an elephant sculpture, elephant figurine, or elephant statue, is a handcrafted work of art made from natural wood. It serves as an exquisite piece of elephant decor that adds an exotic touch to any space.

In Maya mythology, Ixchel is depicted as a divine feminine presence in harmony with the world around her. She symbolizes inner strength, wisdom, and serenity. As the goddess of the moon, she influences natural cycles, fertility, and the birth of new life.
Ixchel is also known as the goddess of crafts, creativity, and textiles. She embodies the value of handiwork, luxury, and uniqueness. In Maya culture, textiles held great significance and were woven with care and expertise. Ixchel was regarded as the patroness of weaving and a symbol of artistry.
As the goddess of childbirth, Ixchel is also a protector of women, especially pregnant women and mothers. Her power is connected to the cyclic nature of nature and the process of giving birth to new life. She bestows blessings and safeguards pregnant women, helping them navigate through this special period.
This wooden Ixchel statue is a mesmerizing work of art, intricately carved with the essence of ancient mayan and aztec craftsmanship. Inspired by the mighty Ixchel, the mayan goddess and revered moon goddess, this statue embodies the sacred feminine and the divine power that she represents.
Crafted with meticulous attention to detail, this wooden statue showcases the mastery of aztec carving techniques. The intricate patterns and symbols carved into the wood depict the rich mythology and spirituality associated with Ixchel. The statue serves as a testament to the reverence and adoration bestowed upon this powerful deity.
Ixchel, the moon goddess, is believed to hold the key to the cycles of life, fertility, and abundance. She is revered as a guiding force, nurturing the connection between earth and sky. This wooden statue beautifully captures her essence, invoking a sense of awe and admiration.
This Ixchel statue is not only a remarkable piece of art but also a spiritual talisman. Its presence can grace an aztec altar or be displayed as a symbol of devotion and reverence. The intricate wood carving adds depth and texture, further enhancing the statue's beauty and significance.
Owning this wooden Ixchel statue is an opportunity to connect with the ancient wisdom and traditions of the mayan and aztec cultures. It serves as a reminder of the powerful feminine energy that resides within each of us and celebrates the divine feminine in all its forms.
Add this exquisite wooden statue to your collection or gift it to someone who appreciates the intertwining of art, spirituality, and cultural heritage. Let the sacred presence of Ixchel graceyour space, infusing it with the timeless allure of the mayan and aztec civilizations.

Share
View full details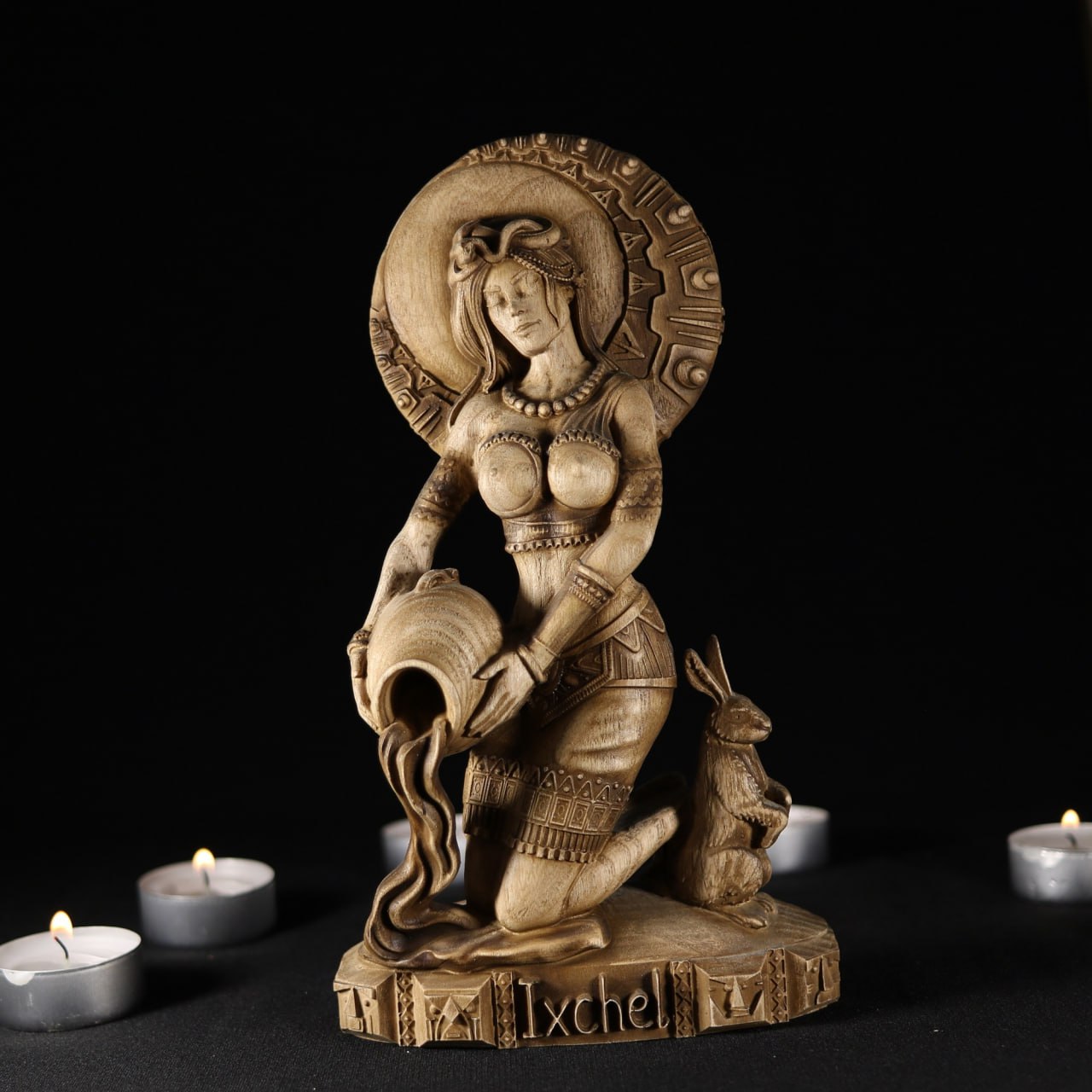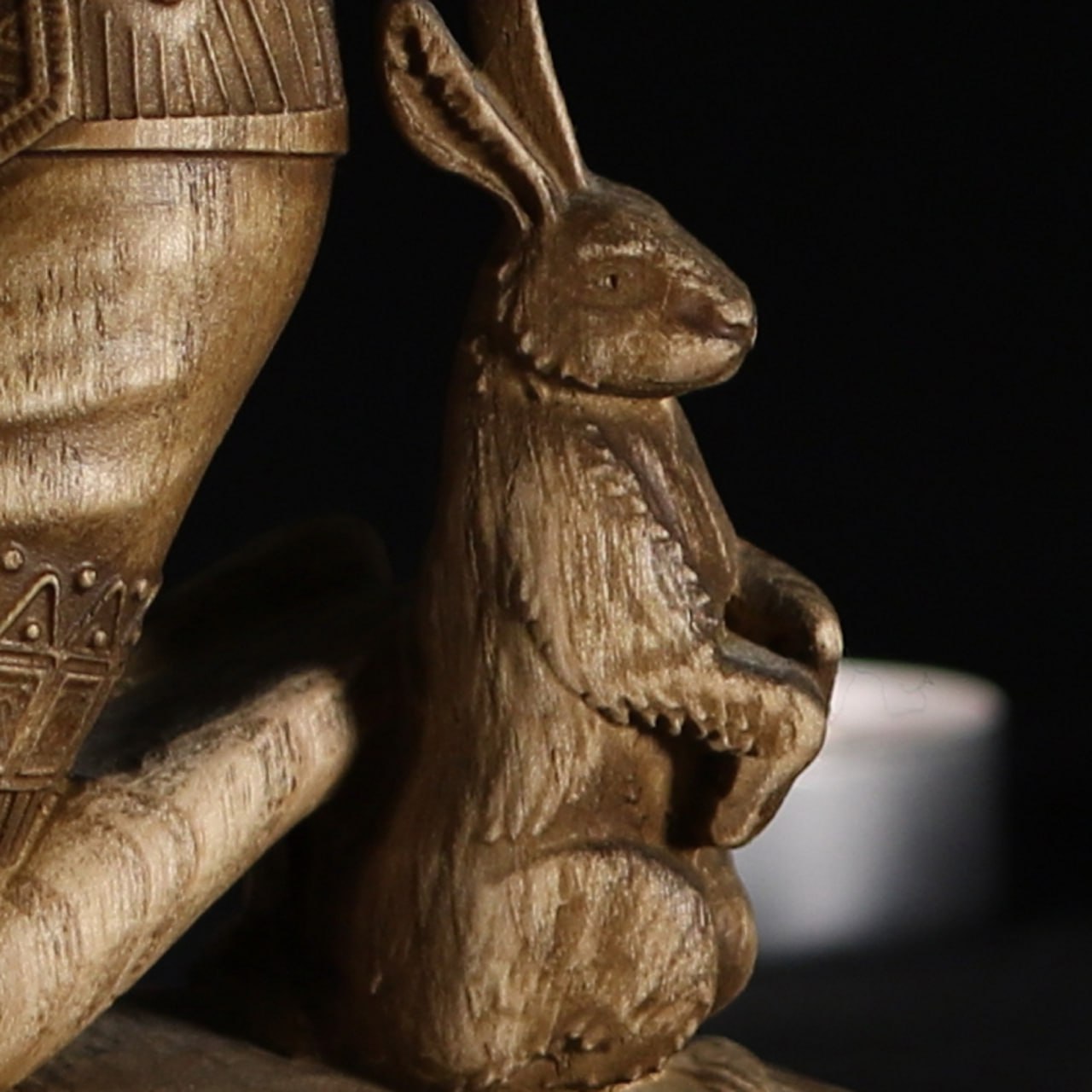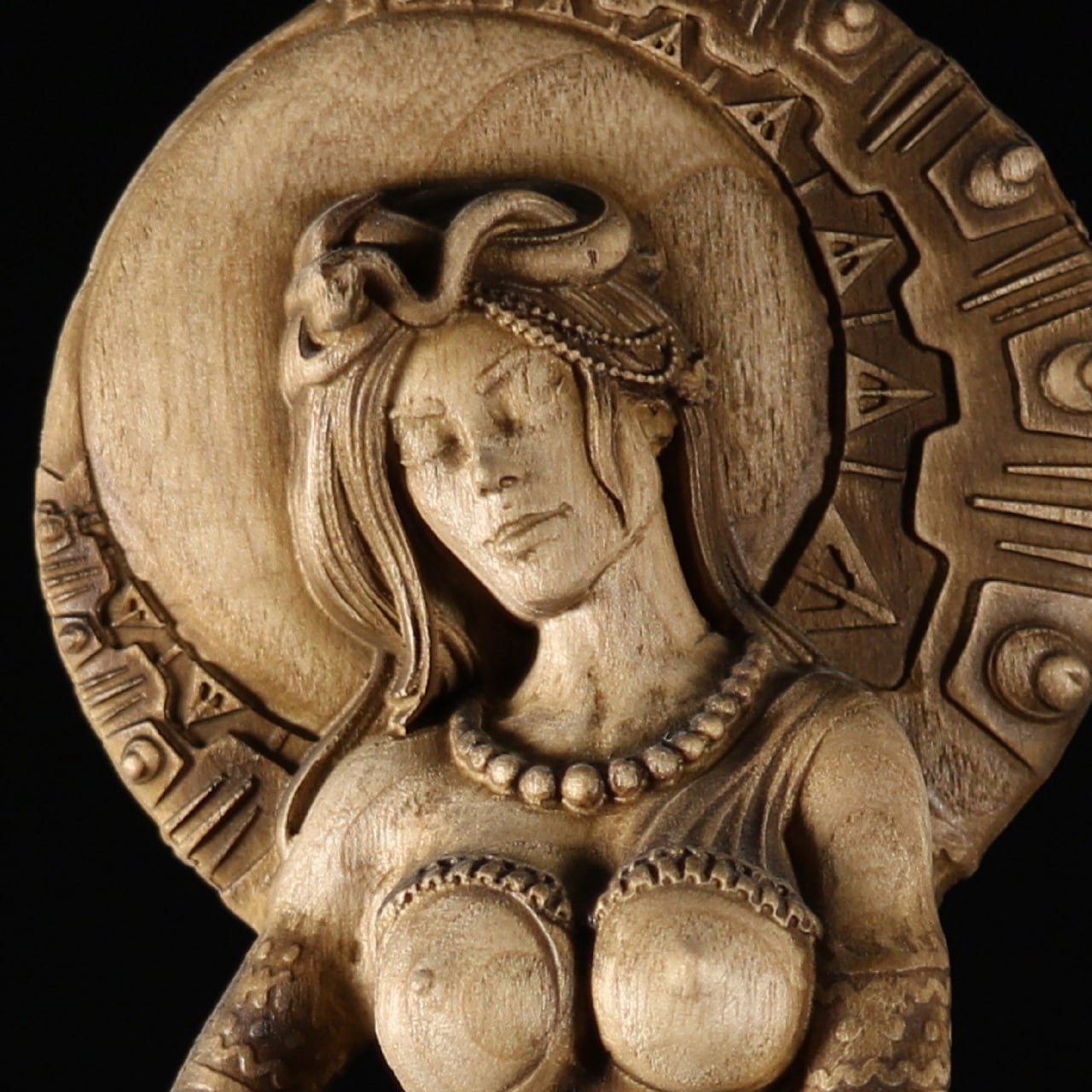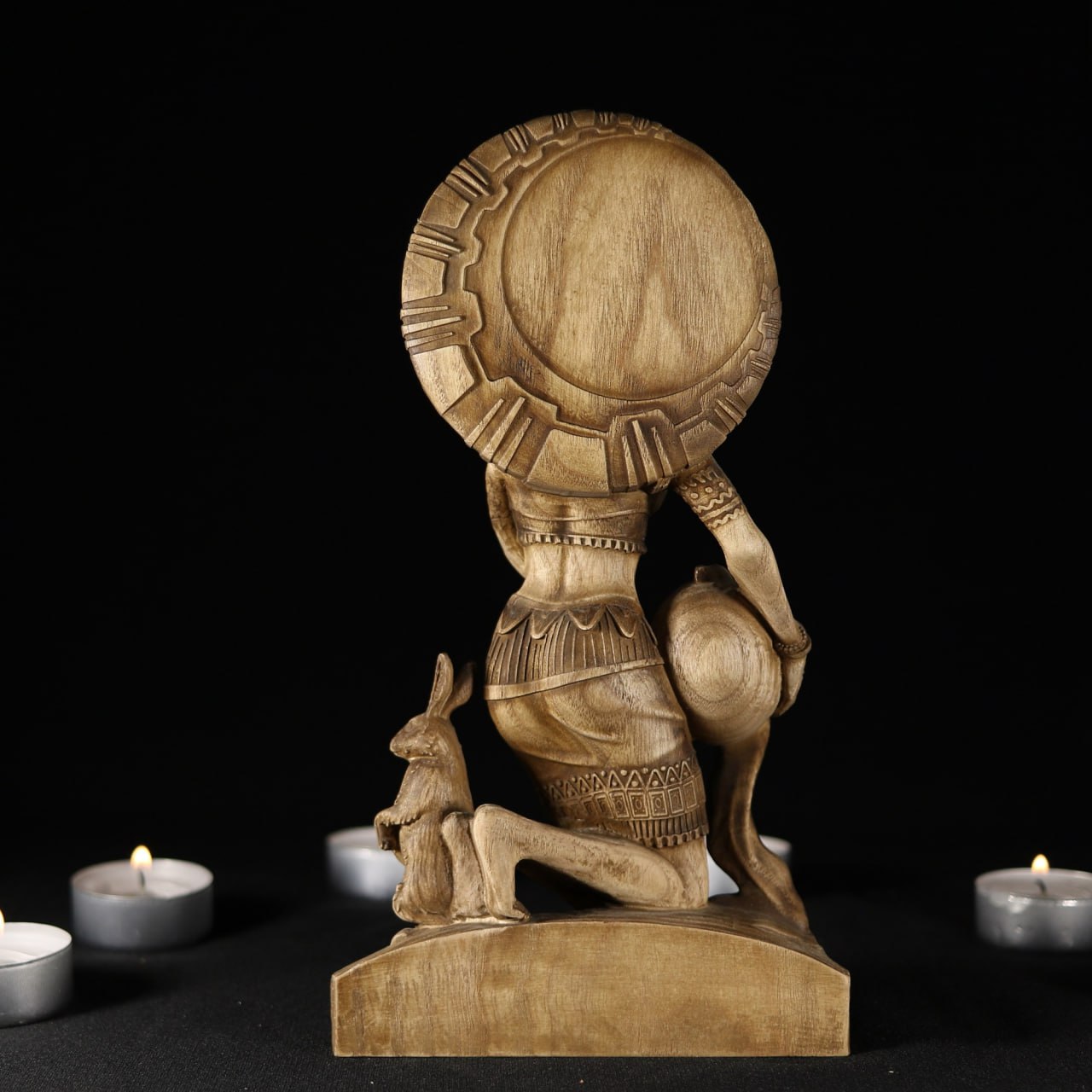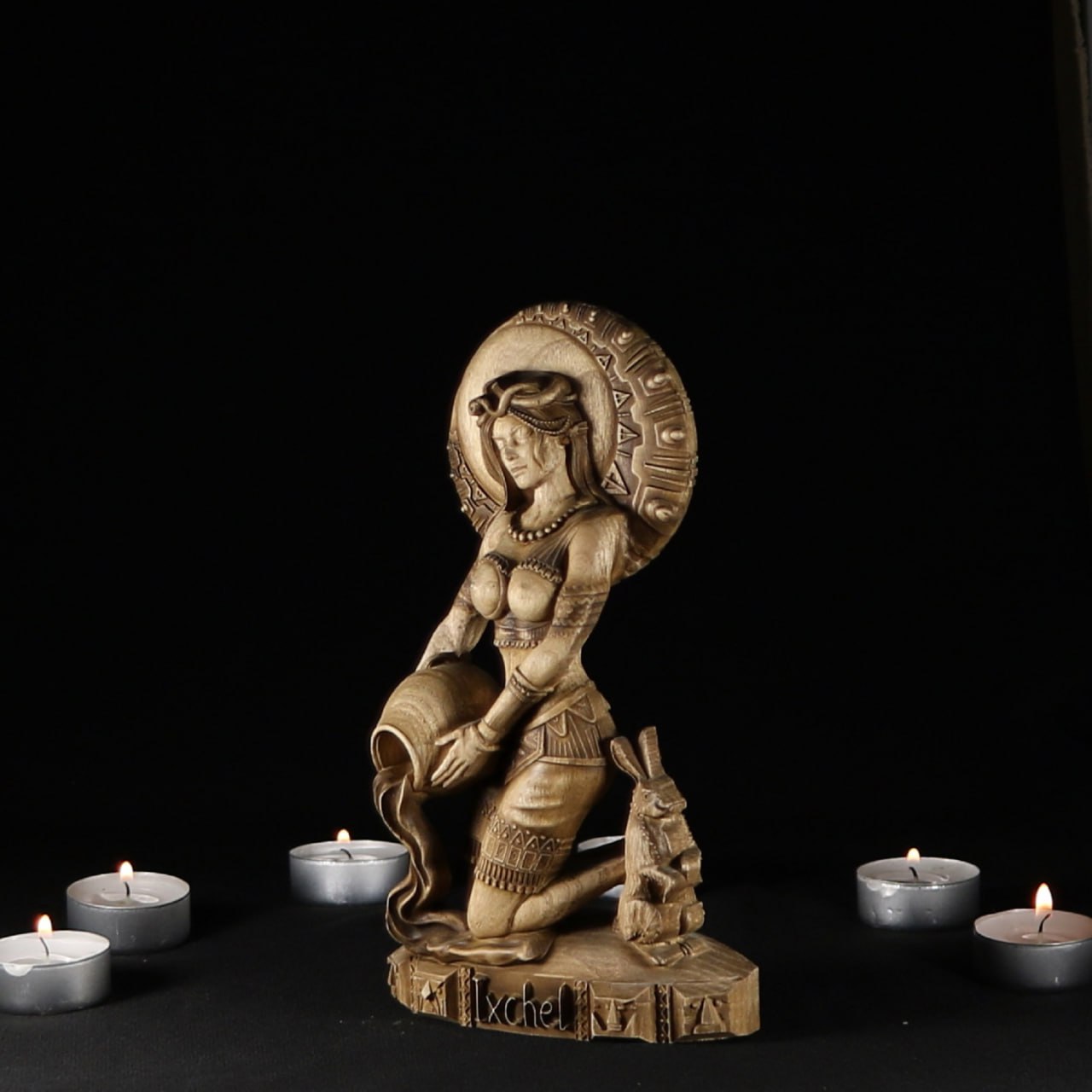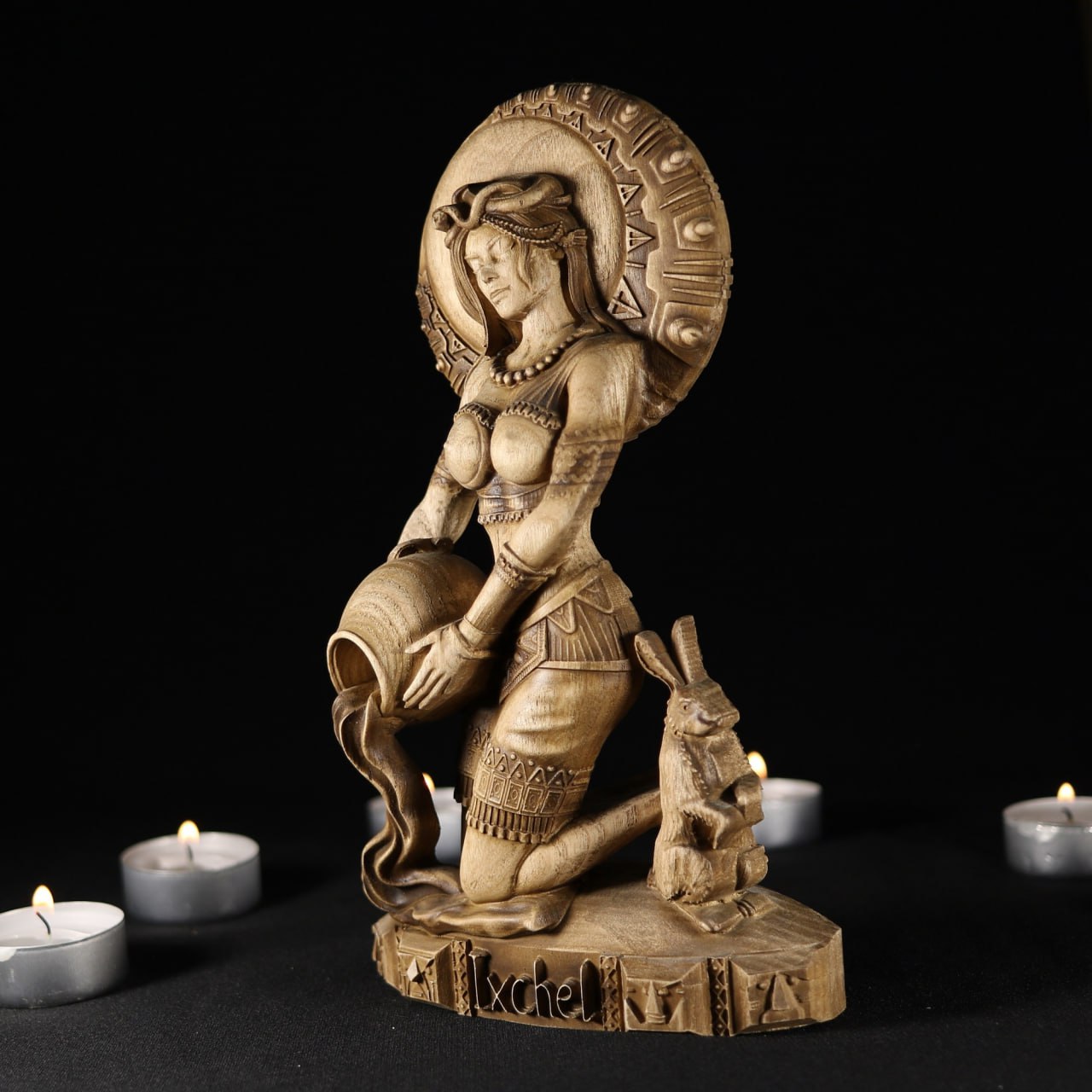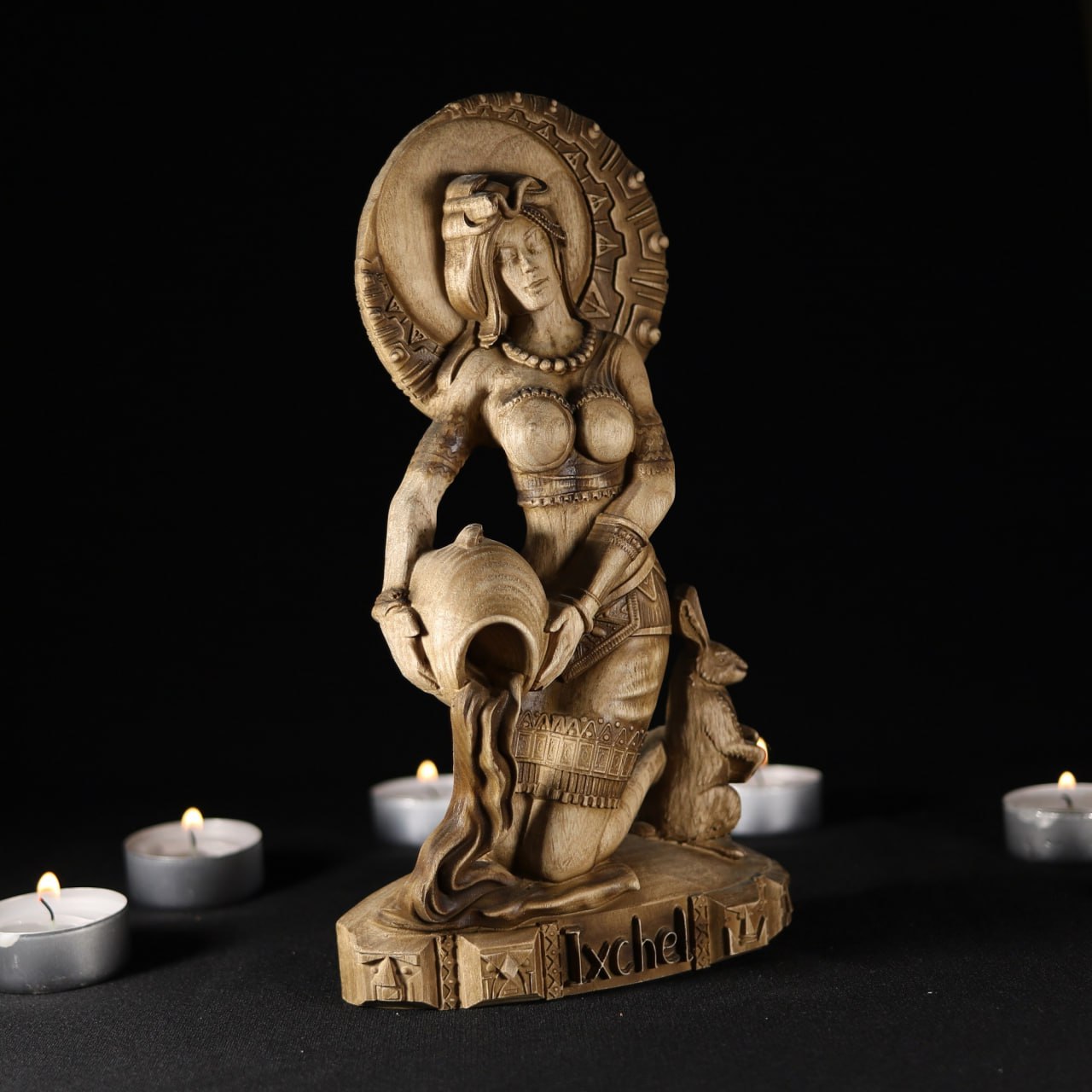 Our Advantages
Worldwide Shipping

Free shipping on most orders.

Hassle-Free Exchanges

If any sculpture comes in a damaged state, please let us know.

Absolutely Unique Designs

We create concept, model, adjust and carve. All of our models are nowhere else to be seen.