Regular price
Sale price
$45.00 USD
Unit price
per
Sale
Sold out
Introducing Mani, the Viking wood carving that is sure to bring some extra pizzazz to your home decor! This handmade wooden statue is perfect for anyone who loves Scandinavian mythology or is looking for some unique Norse pagan decor. Made from ecological materials, this little guy is sure to make a big splash in your home. So don't wait any longer, add Mani to your cart today!


Mani Characteristics
Material: ecological ash tree
Сoating: varnish
Height 5.9 inch/15 cm
Width 3.5 inch/9 cm
Depth: 1.3 inch/3.5 cm

Features
Color shades and textures may differ slightly from actual products. It depends on your monitor or phone settings.
The statues are very easy to clean. Wipe clean with a dry towel or tissue.

Shipping
We ship our products from Spain to the EU. To the USA and other countries, the goods are shipped from a warehouse located in the USA.
We tried to do it for you with great pleasure and put effort into this wooden sculpture, a wooden statue from the ash tree for your complete delight.


According to legend, he was the brother of the goddess SоІ (the sun) and the sоn of Mundilfari. It was believed that he controls the course of the stars.

He is not like his sister: he is quieter and brooding. It is said that sometimes he goes out of his way to take care of those who live on earth, especially the people of Midgard. He has a gentle, compassionate heart, and he is always ready to help those in trouble, especially children faced with cruelty and violence. He is often approached with requests for the protection of children. They say that he once saved two children from a cruel father - a girl Biel and a boy Hewki (their names mean "a month at a loss" and "a young month") - and transferred them to Asgard. Now they help the mооn gоd and accompany him on his night travels. In addition, our mооn is eternally pursued by the wolf Hati, who does not let him go astray.

He really loves humanity and with interest - albeit from afar - watches his charges. Therefore, a hard job fell to Hati's lot: he now and then strives to deviate from the prescribed path, becoming interested in what is happening on Earth.

He controls the movement of the moon and the periods of its rise and fall. As the Mооn itself reflects the light of the Sun, so Маnі reflects the light and power of SоІ in his usual subtle manner; however, this does not mean that he has no power of his own.

In addition, he is the gоd of chronology, mathematics, and other fields of science and activity related to counting and numbers. On the way, he usually plays the flute, and those who work with him say that his mооn chariot is being driven not by horses, but by big dоgs.

He is the patron saint of hikers.


We tried to do it for you with great pleasure and put effort into this sculpture from ash tree for your complete delight.

The design of our products is a one-of-a-kind artwork created by me and my team.

Share
View full details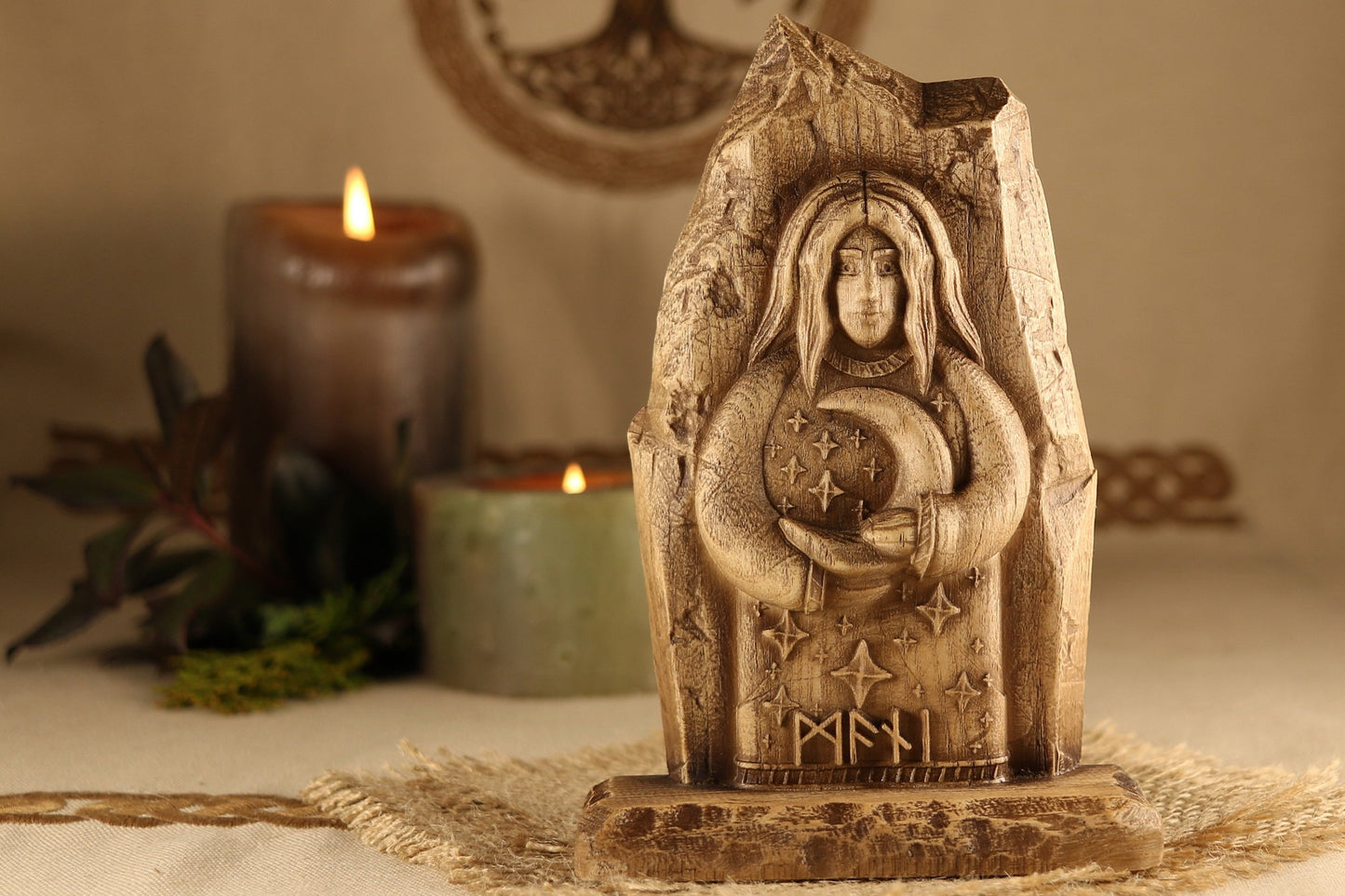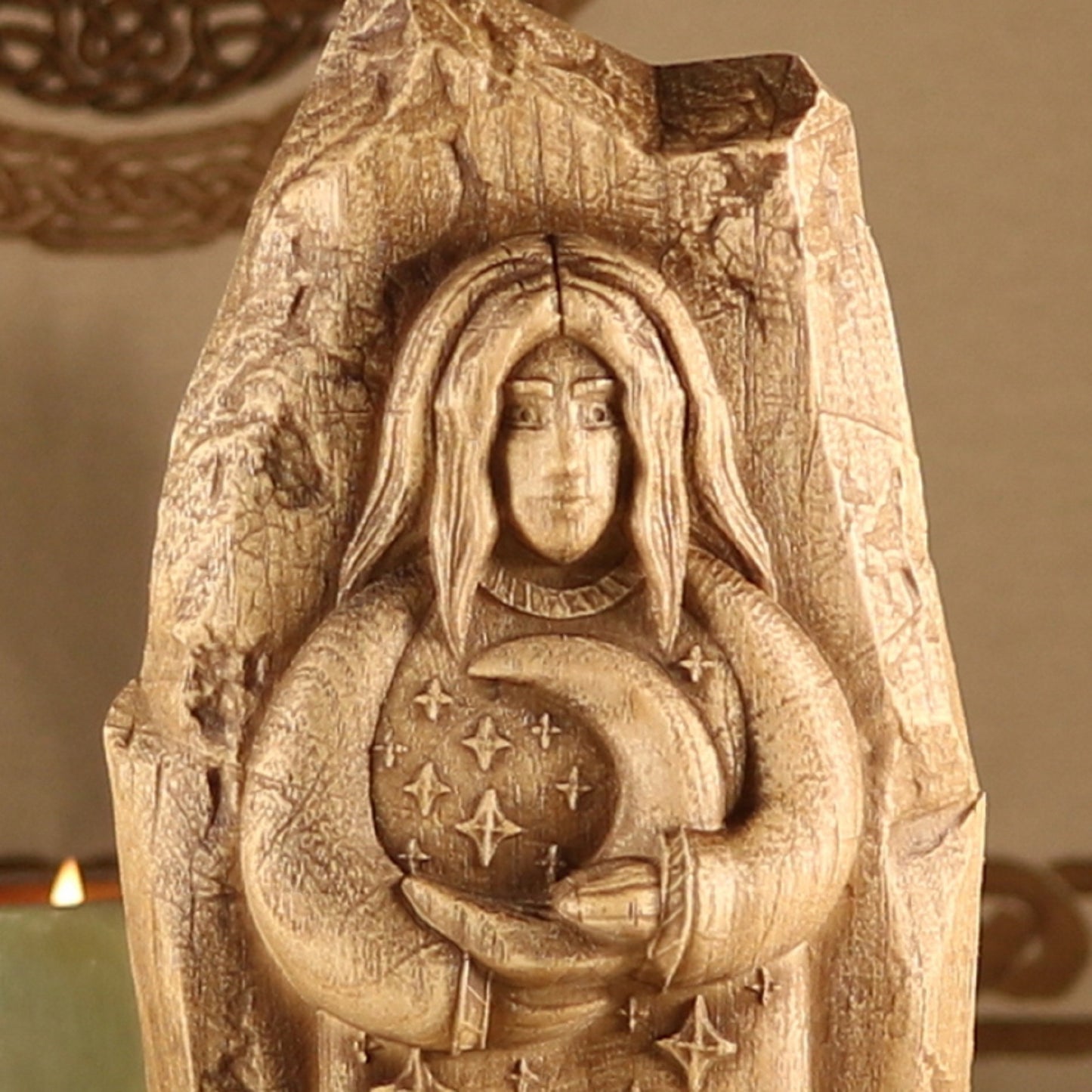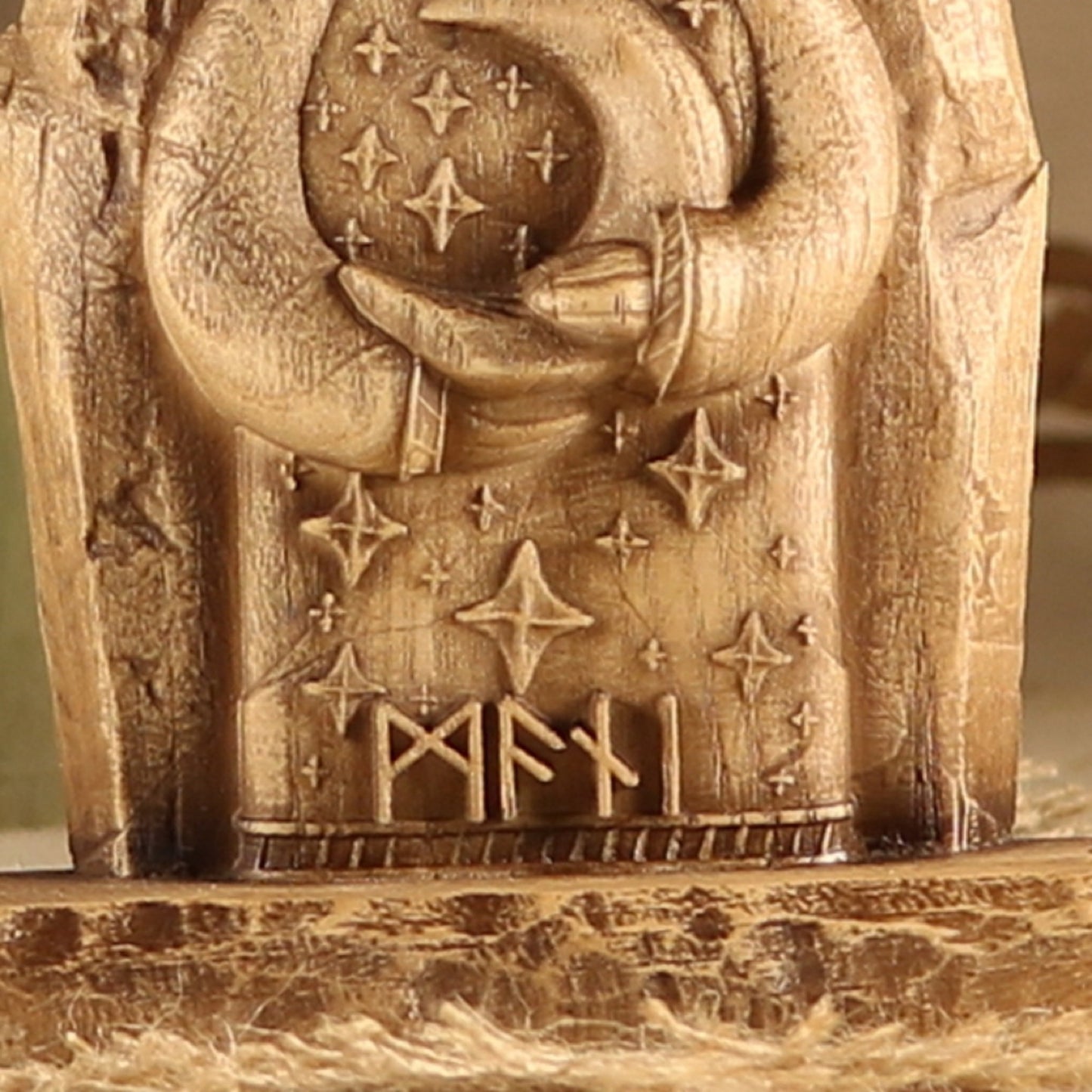 I love this so much!!!!!! Thank you!!! To Canadians there is a COD fee so be prepared… but product is beyond expectations!!! Thank you!
This statue was so beautiful that I cried. The artist took great care in the tiniest of details!!!! Truly one of the most amazing depictions of Mani that I've ever seen!!!! It gives him a sense of stern but gentleness.
I cried when I unwrapped this. Amazing to work with, amazing products
Absolutely stunning! Great quality and love it so much!! Fantastic details!
a stunning piece -- as always, I am extremely happy with my purchase. A+++
Our Advantages
Worldwide Shipping

Free shipping on most orders.

Hassle-Free Exchanges

If any sculpture comes in a damaged state, please let us know.

Absolutely Unique Designs

We create concept, model, adjust and carve. All of our models are nowhere else to be seen.